By Seth Eggert, Staff Writer
In a race reminiscent of the 2020 Clash at Daytona International Speedway, Tyler Foti won an attrition filled Homeplace Beer Co. Daytona 500.
Attrition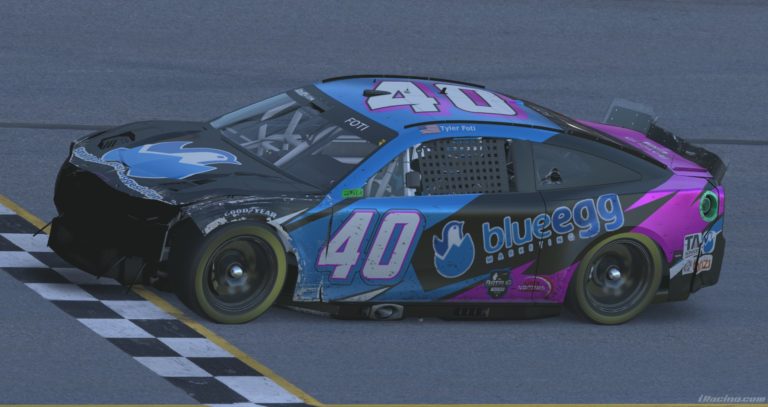 The season opener for the second 2022 season for the JoinAPS.com Elite Racing League saw just 12 cars finish on the lead lap. However, despite the attrition the competition throughout the race proved that both strategy, and survival were key to be at the finish.
As the race inched closer to the finish, the energy ramped up in the iRacing league. A caution with a handful of laps to go pushed the race into the first of three overtime attempts. With each overtime attempt, the fuel situation became a greater factor. Though he was caught in one of the late accidents, Foti, Bronson Stafford, and others pitted after the second overtime attempt resulted in a caution. One driver that didn't pit was Chad Frankenfield.
Final Overtime Chaos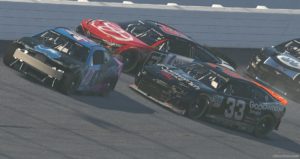 On the final restart, Frankenfield's No. 15 Kickin' the Tires Ford Mustang was down to under a gallon of fuel left. Coming to the white flag, he pitted from third, in one of the least damaged cars in the field.
Though it was missing the front bumper, Foti's No. 40 Blueegg Marketing machine was still the class of the field. With pushes from Dustin Duerr and Michael Daniel Martinez the No. 40 swept back into the lead in the final corner of the Homeplace Brew Co. Daytona 500. Contact behind Foti sparked a wreck that swept up several of the remaining competitors, including Martinez and Stafford. Duerr finished second, several car lengths behind. It was Foti's first win in Elite Racing's version of 'The Great American Race.'
"Unbelievable, I can't even put into words right now how long I've been trying to get this race," admitted Foti. "(This is) maybe bigger than some of the titles (that I've won). That's how much this race means. There were so many moments where I thought we lost it, got it again, and then lost it again. It's just crazy.
"Those last 10 laps with all of the restarts and running out of gas. I was basically out of gas when I got spun during that second green-white-checkered. We came in, put tires on it, fuel in it, and were 10th on that restart. Just by some miracle I saw Chad running out of gas, moved up. Tooker gave me a good shot into the wall coming to the white, but I stayed in it, kept driving. I just limped the car home; I can't believe it."
Notables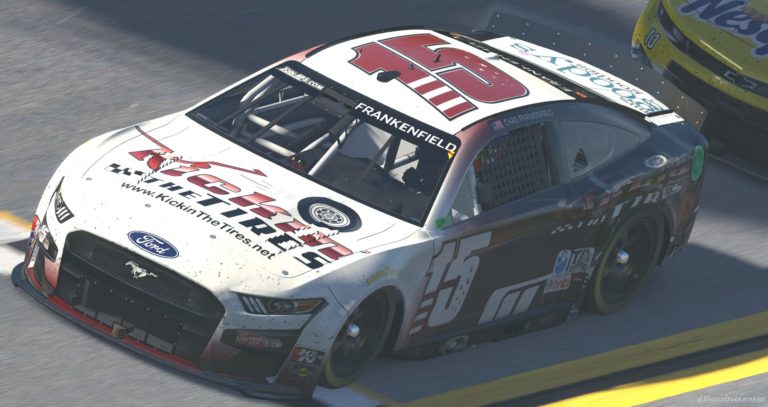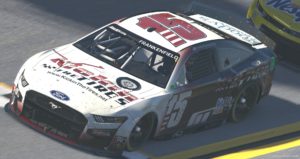 Brent Jones, Robert Hill Jr., and Josh Clark completed the top-five. Wyatt Knadle, Johnny Thomas, Shayne Therrien, Martinez, and David Tooker rounded out the top-10. Stafford and Frankenfield were the final two drivers on the lead lap.
Trevor Elam ran the fastest lap of the race on Lap 32. The 46.017 second, 195.580 MPH lap was unmatched despite strong runs late in the race.
Polesitter Josh Adams appeared to be one of the drivers that could challenge Foti early in the race. However, Adams was swept up in one of the nine accidents that brought out a caution throughout the race. Though there were several incidents that ended the day for contenders that did not trigger a caution from iRacing's system.
The results:
1 40-Tyler Foti [2], 2. 32-Dustin Duerr [20], 3. 89-Brent Jones [24], 4. 2-Robert Hill Jr. [22], 5. 28-Josh Clark [6], 6. 84-Wyatt Knadle [11], 7. 91-Johnny Thomas [34], 8. 83-Shayne Therrien [27], 9. 33-Michael Daniel Martinez [3], 10. 19-David Tooker [32], 11. 61-Bronson Stafford [19], 12. 15-Chad Frankenfield [21], 13. 10-Jared Rexing [39], 14. 60-Joey Chapman [12], 15. 17-Hunter Smith [26], 16. 29-Trevor Elam [7], 17. 2-Garrison Hogan [38], 18. 44-Michael Goodman [8], 19. 48-Nick Masse [14], 20. 3-Scot Haney [37], 21. 06-Cole Snyder [4], 22. 56-Tate Lightle [9], 23. 8-Josh Robbin [23], 24. 88-Tre Holmes [33], 25. 5-Alek Balvanz [15], 26. 57-Chris Wright [30], 27. 24-Michael Hossack [18], 28. 36-Kyle Wahlgren [25], 29. 66-Cody Harrington [40], 30. 08-Mark Keeler [41], 31. 1-Joshua Adams [1], 32. 23-Harrison Taillon [36], 33. 64-Andrew Rucker [31], 34. 9-Rusty Caple [10], 35. 7-Josh Hodges [29], 36. 02-Chad Thurnquist [17], 37. 38-Jeff Green [16], 38. 90-Scott Crump [13], 39. 11-Mathieu Weeks [5], 40. 81-Alexander Gray [35], 41. 4-Ryan Schuld [28].
Lead Changes: 51 among 20 drivers.
Lap Leader(s): Josh Adams 1-2, Michael Daniel Martinez 3, Josh Adams 4-14, Josh Robbin 15-16, Josh Adams 17, Josh Robbin 18, Tyler Foti 19-20, Scott Crump 21-23, Josh Adams 24-47, Cole Snyder 48-49, Josh Adams 50, Wyatt Knadle 51, David Tooker 52, Michael Goodman 53, Andrew Rucker 54, Chris Wright 55-58, Trevor Elam 59-61, Chad Frankenfield 62-64, Josh Clark 65, Chris Wright 66-68, Chad Frankenfield 69, Jared Rexing 70, David Tooker 71-72, Jared Rexing 73-76, Tyler Foti 77-83, David Tooker 84, Nick Masse 85-87, Tyler Foti 88-103, Chris Wright 104, Tate Lightle 105, Tyler Foti 106-125, Wyatt Knadle 126, Chris Wright 127, Wyatt Knadle 128, Tyler Foti 129-131, Bronson Stafford 132-142, Tate Lightle 143, Bronson Stafford 144-163, Chad Frankenfield 164, Wyatt Knadle 165, Hunter Smith 166-169, Joey Chapman 170-171, Bronson Stafford 172-173, Tyler Foti 174-189, Bronson Stafford 190, Tyler Foti 191-196, Trevor Elam 197-200, David Tooker 201-204, Michael Daniel Martinez 205-209, Tyler Foti 210.
Laps Led: Tyler Foti 70, Josh Adams 39, Bronson Stafford 34, Chris Wright 9, David Tooker 8, Trevor Elam 7, Michael Daniel Martinez 6, Chad Frankenfield 5, Jared Rexing 5, Wyatt Knadle 4, Hunter Smith 4, Joey Chapman 3, Scott Crump 3, Nick Masse 3, Josh Robbin 3, Tate Lightle 2, Cole Snyder 2, Josh Clark 1, Michael Goodman 1, Adam Rucker 1.
Hard Charger(s): 91-Johnny Thomas (+27).
Caution Flags: Nine for 27 Laps.
Margin of Victory: 0.324 seconds.
Time of Race: Three hours, 12 minutes, 35.753 seconds.
Average Speed: 163.555 MPH.
Pole Winner: 1-Joshua Adams.
Fastest Lap: 29-Trevor Elam, Lap 32, 46.017 seconds, 195.580 MPH.
Stage 1: 15, 40, 57, 06, 8, 28, 10, 44, 17, 3.
Stage 2: 40, 61, 57, 60, 84, 56, 15, 2, 91, 8.
*Race Scheduled for 200 Laps. Extended due to multiple overtime attempts.*
Featured Photo Credit: Photo by Seth Eggert / Kickin' the Tires.