ANAHEIM, Calif. – It's 2014. Vince Friese – one of the biggest names climbing through the ranks of dirt bike racing – fought for his first podium finish in his sophomore 250SX season in MetLife Stadium in East Rutherford, New Jersey.
"Yeah, I'm so stoked," Friese said after the East Rutherford race. "This was my goal to be up here (on the podium). It was a tough racetrack, but I stayed consistent, rode 15 hard laps and put it right where I wanted to be."
Even on Saturday, Friese remembered that race like it was yesterday.
"That was a good one. I was battling with this team's other rider for third in the championship that year. That was a turning point for me to get that one done that night. I remember that it was misting all night, not raining but misting, enough for you to cloud up your goggles."
Weeks went by. Months passed along. Close calls started to become the norm and the lack of stepping on the box in celebration of a podium result started to fade as just a memory. Fans and race team alike were looking to see his career claim more hardware at other races in the Monster Energy AMA Supercross schedule.
But it was not so; for 2,849 days, it wasn't so.
But one thing that hasn't changed is the red bike underneath him. For the majority of his career, he has continued to have Team Honda HRC back his career. Support like that is not only rare in today's world of motorsports but also a mental relief to allow one to focus on performance and improvement race after race.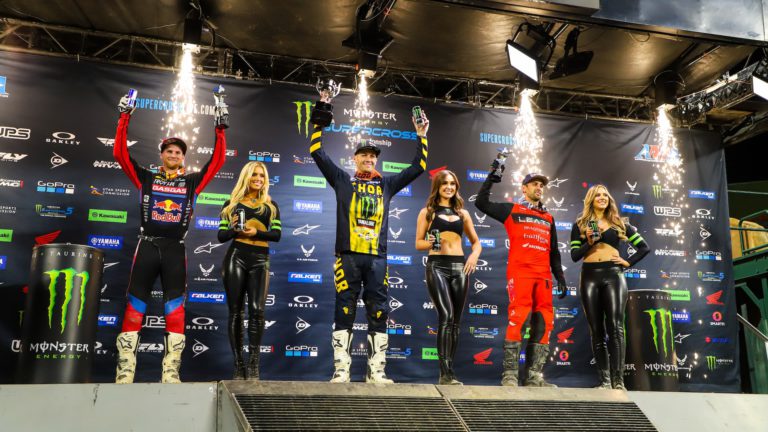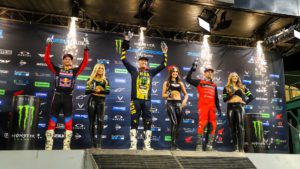 After seven years, nine months and a pinch to check reality, Friese found himself celebrating on the box after the checkered flag waved in Angel Stadium of Anaheim in 2022.
"Absolutely a boost of confidence, and taking some pressure off myself," said Friese with a big smile. "I've wanted to get this done for the team and for myself. We've all been working so hard toward this goal. I've blown it so many times this year that getting it done now frees me up a little bit for when we get back on this bike. My team gave me the bike to get it done. I started up front, had great suspension, engine, just everything made it through the night.
"I'm proud that I got it done."
It was a night of survival, as many riders in the 250SX West class took hard falls throughout the night. Jo Shimoda had a last lap crash in the penultimate rhythm section when fighting for the lead with Garrett Marchbanks in Heat 1. Hunter Lawrence crashed in the whoops during the Main Event, along with Jalek Swoll, Nath Thrasher and others. Friese knew it was more about riding smart than riding fast. The physical strain made the mental stain of a podium finish even tougher to battle.
"That wasn't my best riding, it was a survival deal," admitted Friese when giving feedback about the track conditions. "The main event was tough for me just because I've been so close and blown it for the last few weeks in a row. So keeping my focus was really difficult throughout that main event. Maybe the track being so tough tonight kind of helped me with that because it's almost like you lift your focus at all, you're going to get bit real quick. I was peeking at the board every lap, seeing, counting down the time and making sure where all the other guys were at."
"It was tough to stay somewhat locked in for the whole time. It wasn't my best riding, but I got through it."
The challenges continued to grow for Friese. The American Motocross Association issued a six month probation with an official written warning for rough riding last weekend at Glendale after a controversial pass on Christian Craig. Craig was sent flying off his bike into the outer wall of the track, getting tangled in wires and cords used in the live television broadcast and Supercross's production crews. He was able to get back to his bike to finish the race, but the incident cost him the overall win. As one who has faced multiple serious injuries throughout his career, fans immediately struck down Friese on social media. Friese sent Craig a note, and the two moved on, but never announced their mid-week exchange until the press conference in the following week.
"It honestly made my week a little bit easier," Friese sighed. "I just stayed away from the phone and anything to do with it. I just did a few more reps in the gym, a few more miles on the bicycle or laps at the track. Whatever it was, tried to carry that into this weekend and stay focused."
Craig even admitted that he was focused on the championship eluding his resume.
"(He gave me) a hand-shake and a note. Read that. I can't dwell on that too long. I've completely moved on," stated a heavily-focused Craig.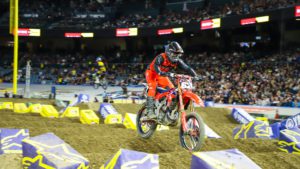 The first five rounds were excruciating for Friese to deal with in race trim. Many times, the MotoConcepts Honda rider was in position for a podium result but mistakes or misfortune ended his run before the checkered flag. With 2022 being his comeback season, it planted a seed of doubt in him.
"Honestly, I was starting to think (a podium) wasn't going to happen," he reflected on the season. "I think I've heard the word podium so many times over the last six months, thinking that's kind of the goal. And I kind of blew a few over the last few weeks. I kind of had a couple locked up and blew them. I don't know. It was just weird little stuff going wrong."
But to his relief, that seed never harvested itself. Instead, he stood on the opposite side of the box for his best career finish of second at Anaheim 3.
"(The doubt) was even in my head tonight with a lap or two to go having to hit those whoops, and I considered rolling every whoop on the last lap. I was just like, 'I can't do it. I can't be second in this race and roll the whoops.' I was that nervous about it. Even when I was celebrating on the podium, my nerves were still going but I realized I got it done."
Now that the pressure is off, his focus not only shifts to his part-time schedule in the 450SX class but to a more fun-spirited effort in the elite division.
"I'm going to hop on the 450 Monday morning and we're going to race Minneapolis on the 450. We're gonna have some fun with those guys."
The 250SX class takes a six week break until they compete in Round 7 on April 26 in Seattle. When that time comes, Friese is hoping this result rolls right over into the next gatedrop, and that his next podium isn't lingering like Saturday's result.
"Hopefully I don't have to wait that long again for the next one."