By Seth Eggert, Staff Writer
The 2022 iRacing 24 Hours of Daytona featured over 18,000 sim racers participating in the twice around the clock event at the virtual Daytona International Speedway Road Course. A handful of those drivers opted to run the 24-Hour event solo for charity.
Keenan Kusan
For Team RICK driver Keenan Kusan, the 24-Hour solo run has become a yearly tradition. Kusan started his charity solo runs to benefit Extra Life and the Children's Hospital of Eastern Ontario (CHEO) with Ian Plasch several years ago. Due to scheduling conflicts, Plasch was unable to complete the solo run this year.
"Normally Ian is our anchor out of the two of us," Kusan admitted. "The fastest driver and usually going for the lap record and all I have to do is drive the car around and look pretty. This year, since he had some real-life obligations, I had to take that torch.
"He did pop in and run about 100 laps throughout the race, but I would be lying if I said even through all of this year's accomplishments it was a little bittersweet not having him right alongside me. That's not to take anything away from Ryan (Burton), though. He still put in a big effort considering he's never even stayed awake for 24hrs before let alone raced it solo."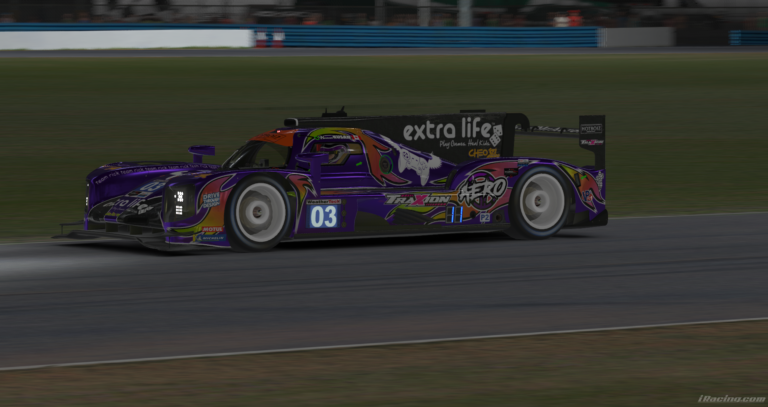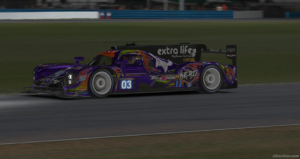 Although Kusan didn't have a physical yardstick to chase, he had a lap record to attack. While the team lap record was over 880 laps, the 24-Hour solo lap record was 868 set in 2021. While the main goal of course was to raise money and awareness for Extra Life, the lap record was an added bonus for Kusan.
In the final minutes, it appeared Kusan would match the record that had been set in last year's iRacing 24 Hours of Daytona. With under a minute left, Kusan took the white flag to start his 869th lap of the race. The Canadian sim racer took the checkered flag, and the solo lap record before iRacing's system disqualified him for lack of driver changes and drive time.
However, the disqualification is expected. And the point of the 24-Hour run is first and foremost, charity.
"Of course, our main goal is to raise a lot of money for our charity," Kusan explained. "That's the main focus. But being able to hang my hat on a world record is pretty special too. Being able to take that and go 'yes this is cool but we also raised money for charity' and use that record to be able to promote our real goal. It means a lot to be to have the accolade though, don't get me wrong. I'm not that fast so doing stupid stuff like this is the only way I can brute-force my name out there."
Between Kusan and Ryan Burton, who was completing his first iRacing 24 Hours of Daytona solo run, the duo raised just shy of $3,000 for Extra Life and CHEO. Their initial goal was $2,000.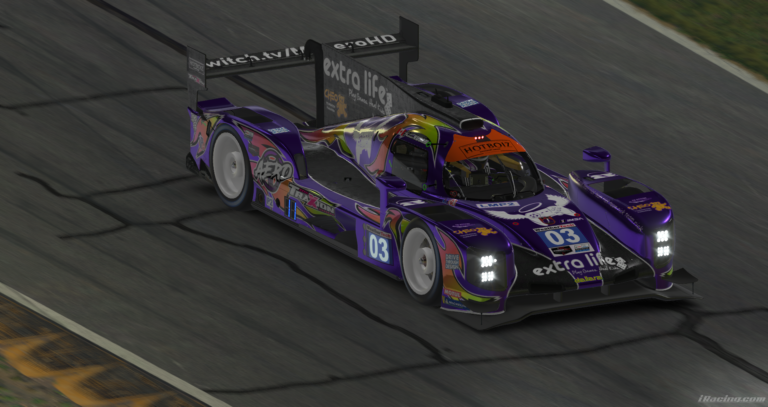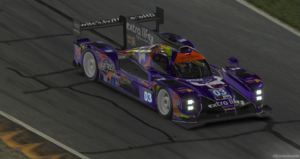 The end of the race marked the highpoint for Kusan. In addition to reaching the fundraising goal and capturing the lap record, he saw the camaraderie of his competitors. Fellow sim racers checked in on him while his Twitch stream chat exploded in praise.
"A bunch of people in the split were checking up on me, and the leader of the race let me pass to get my lap back and ensure the record wouldn't be a tie," Kusan reflected.
"On top of that, my chat basically spammed the last two laps and seeing all that support made me tear up a little. Hitting the fundraising goal, which I genuinely didn't think we were going to do, was also a huge moment. As well as messages from fellow drivers throughout the race with encouragement. Even teams I'd taken out / got into a kerfuffle with accepted my apology and told me to keep going. This was a very, very wholesome 24."
Dylan Connolly
Like Burton, Dylan Connolly made his first solo run in the 2022 iRacing 24 Hours of Daytona. While Burton and Kusan raised money for Extra Life and CHEO, Connolly opted to raise money for St. Jude's Children's Hospital.
"St. Jude's world headquarters is in Memphis, TN," Connolly explained. "Growing up and still now my mom has worked for Chili's and they are a big partner and proponent of St Jude, and in the process I've helped with many fundraisers for St. Jude. Memphis is close to where I live in Arkansas."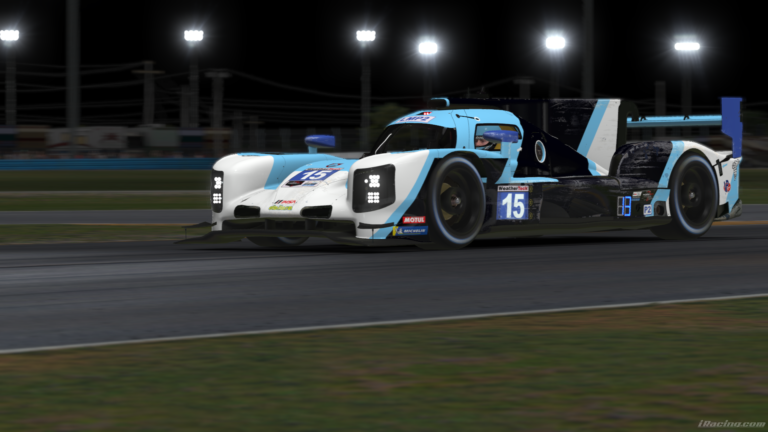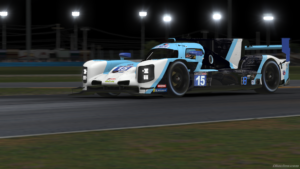 Although this was Connolly's first 24-Hour solo run, he's not a stranger to endurance racing on iRacing. He's competed in the Coca-Cola '1200,' running both the fixed and open setup 600-mile races on the same day. Despite already having competed in endurance races of his own, on ovals, the iRacing 24 Hours of Daytona was a different beast.
"Everything I heard from people told me that the first 10 minutes of it would be like a warzone," Connolly stated. "But once everyone got spaced out it would be fine. I knew it would be a challenge 100%. But I knew that I had to try different things to help stay awake and push through. That includes caffeine, water and switching from different discord and voice chats to talk to folks to help stay away."
Like Kusan, Connolly had many from the iRacing community checking in on throughout the race. Some included current and former eNASCAR Coca-Cola iRacing Series drivers who hopped in Connolly's Twitch chat.
"I did have a lot of cool people that I'm friends with drop by and say 'hi,'" Connolly reflected. "Having folks like Brandon Kettelle, Vicente Salas, Garrett Manes, and Nathan Lyon come by during the course of the stream was awesome. Those dudes are some of my good friends on here. Having guys who are a thousand times better than I'll ever be at this telling me how cool it is I'm doing it is something I cherish."
Lyon also suggested that running the iRacing 24 Hours of Daytona that started at 2:00 a.m. (EST) would be better for Connolly. That way it had less of an impact on Connolly's sleep schedule.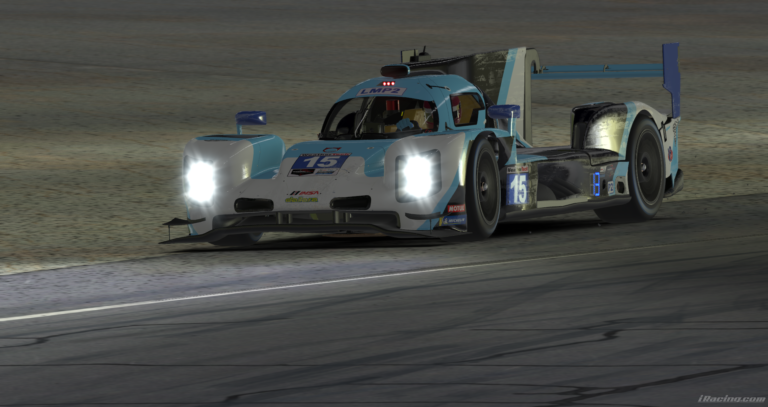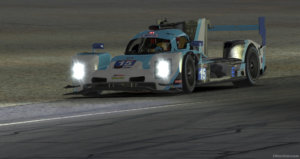 Ultimately, Connolly aimed high, setting a fundraising goal of $5,000 for St. Jude. While he raised just under $500, he still views his 24-Hour solo run a success. He raised money that will go to St. Jude.
"I wanted to aim high but if I reached that it would be amazing," Connolly admitted. "But I also knew that any amount I could contribute would be helpful and great to St. Jude. Ended up being 439.20. But I'm going to keep it open for another stream or until I get to $500 or so."
Featured Photo Credit: Photo by Seth Eggert / Kickin' the Tires.