By Vincent Delforge, special to KickinTheTires.net
After a great 2020 season that saw him go from outsider to race winner and championship contender. Madera, Calif. native Joey Iest, who turns 19 on February 12, will once again be a driver to watch in the 2022 ARCA Menards Series West. He returns for another season with Naake-Klauer Motorsports, the team co-owned by Mike Naake and Tom Klauer.
His Ford Fusion No. 54 will sport the colors of Ag Center 59 and Richwood Meat Company like last year. Mike Naake will also be his crew chief. Naake-Klauer Motorsports and David Gilliland Racing have a technical alliance.
After finishing fifth in the 2021 championship just eight points behind the champion, his only goal in 2022 is to win the championship. After that, his goal is to possibly move up to the NASCAR Camping World Truck Series in 2023.
In 13 career ARCA Menards Series West races he has earned one victory, six top-five and six top-10 finishes. His West Series victory came at Colorado National Speedway in 2021. All of Iest's West Series starts came with Naake-Klauer Motorsports.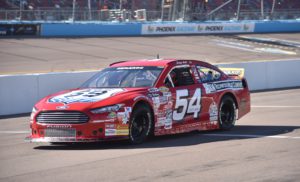 In the ARCA Menards Series East, he competed with David Gilliland Racing. There, Iest has four top-five and six top-10 finishes in eight races last year.
Vincent Delforge: First of all, let's go back for a moment to your 2021 season in the West Series. Once the bad luck of the start of the season ended, you consistently played the leading roles with six consecutive top-five finishes including your first victory in Colorado. What is your assessment of your first full-time season of your development as a driver?
Joey Iest: "I feel we had a good year in our first complete ARCA Menards Series West season! We gained a lot of experience in the race car and gained so much experience racing at many new tracks for me. Having my first season ran, will definitely help going into 2022 but there's still a lot to learn and prepare for the new season."
VD: This year in ARCA Menards West Series, you change your status because you will no longer be an outsider, but you will be one of the favorites for the championship. An additional pressure or on the contrary an additional motivation for you?
JI: "Going into the second year of ARCA, I feel it will neither be an additional pressure or more of a motivation because I know me as well as the team always go into a race putting in 100% effort."
VD: You will drive like last year for Naake-Klauer Motorsports in the ARCA West Series. But not only. Mike Naake told me that you will also drive select Super Late Model and Pro Late Model races for the team. First race scheduled at Irwindale Speedway on February 5. What is your program for the whole season?
JI: "For 2022 I will be fully committed to the ARCA Menards West Series and am looking forward to filling in with select Pro Late and Super Late Model races for extra seat time."
VD: Naake-Klauer Motorsports has a technical alliance with David Gilliland Racing. With Mike and David being longtime friends can we imagine you in the NASCAR Camping World Truck Series with them? Anything planned this year? The Sonoma Raceway Truck race for example?
JI: "I have been very thankful to have worked with two outstanding coaches with Mike Naake on the West and David Gilliland on the East. Their great communication and coaching they share with me, has definitely shaped me into becoming a better race car driver.
"My goal is definitely to run some select NASCAR Camping World Truck Series races this year, all depending on sponsorship. But I don't know which ones yet. My goal would be to race full time in 2023 in NASCAR Camping World Truck Series if sponsorship allows."
VD: In 2022, there will be three road course races. Good omens for you because you have an excellent level on this type of track. The road circuit is becoming more and more popular in NASCAR. Do you like road courses?
JI: "I do like the challenge of the road course tracks. They definitely are tracks of their own!"
VD: Back to the schedule for Bakersfield, where you raced in 2020, but also to the historic Evergreen Speedway in Monroe, WA. Have you ever driven at Evergreen? A track where statistically whoever wins the race is three times out of four the champion at the end of the year!
JI: "I have not had the chance to race at Evergreen, but I am really looking forward to the opportunity this year! I have always heard so much positive about Evergreen and have always wanted to race there!"
VD: Will you still have the support of AG Center 59 this year in the West Series? Because since your debut in 2020, I have always asked myself the question. Why have the No. 54 when there is a big No. 59 on the hood of your car?
JI: "Yes, we are excited again to have the support of the Ag Center 59 back with us as a sponsor. I always thought it would be really cool to have their logo with the 59 on the side of the car as my actual number. I will have to talk to Mike Naake about that one!"
The 2022 ARCA Menards Series West season has 11 races between March and November.
The 2022 ARCA Menards Series West season opener will take place in Phoenix Raceway in Avondale, AZ on March 11th.
All Joey Iest stats are available here: www.racing-reference.info/driver/iestjo01/
Featured Photo Credit: Photo Courtesy of Diego Alvarado via Vincent Delforge.