By Seth Eggert, Staff Writer
NASCAR Xfinity Series driver Anthony Alfredo survived multiple restarts to win the Big Green Egg 150 at the virtual Homestead-Miami Speedway.
Alfredo took the lead just after the halfway mark of the Monday Night Racing Rowdy Energy Pro Series race. Several cautions and two 'big ones' forced the Our Motorsports and Lockdown Racing driver to hold off David Schildhouse, Rajah Caruth, Kyle Busch and others. Although the cautions broke up the long runs, it allowed Alfredo to control the tempo of the race.
"I wanted it to run long, didn't want all of those restarts to stack it up," explained Alfredo. "At the same time, I felt like I was able to manage the lanes really well and control everyone behind me. I had the clean air and that was a big deal for us. Most importantly it feels so great to get a win this season. I've been working so hard. Just feel like they've slipped away too many times."
The big wrecks collected Monday Night Racing playoff drivers Ryan Vargas, Garrett Smithley, and Josh Bilicki. Each wreck altered the playoff cutoff picture. Both Busch and Caruth were seemingly in must-win positions entering the race.
On the final restart, Alfredo slipped away as Schildhouse, Caruth, and Collin Fern battled three-wide for second. When the checkered flag waved, the 22-year-old was 0.285 seconds ahead of Schildhouse. Caruth took third, and a spot in the Round of 7. Fern and Adam Cabot rounded out the top-five, joining both Caruth and Schildhouse in the next round of the playoffs.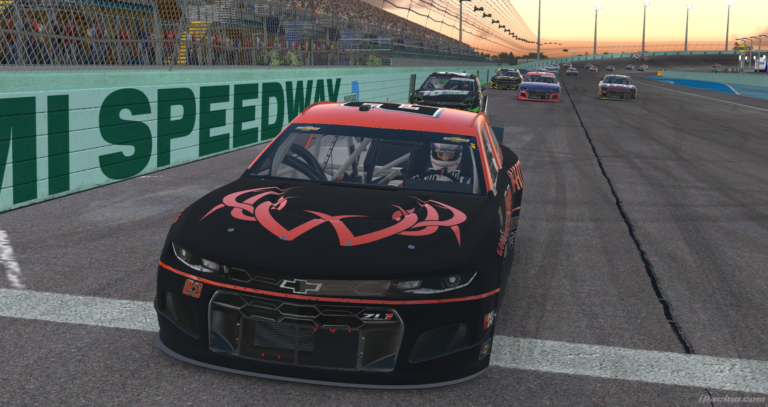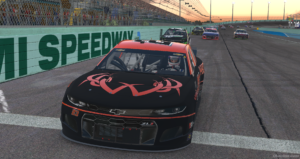 "I was just having a good time tonight," admitted Alfredo. "Felt like I was in a great mood all race long. Tried to mind my own business, stay clean, and just make it to the end. That's what we did. It got a little crazy there at the end with all of the cautions. If anything, it worked in our favor.
"Feels so good to be in victory lane and for the first time with Whitetail Smokeless. First win in the 23 car. Nothing more I'd like to do this year than to win in the Xfinity car and get Chris Our's first."
Gary Sexton, James Bickford, Busch, Preston Pardus, and Shane van Gisbergen completed the top-10. Bilicki, Busch, and Pardus were all eliminated from the playoffs.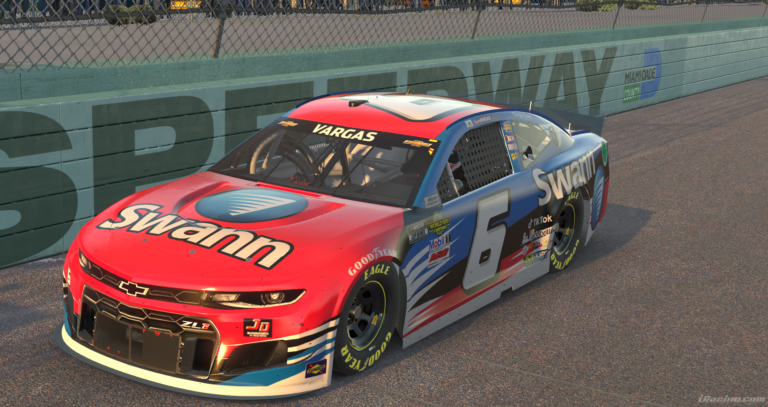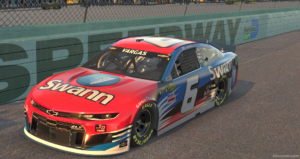 Although one of the big wrecks swept up Vargas, his points cushion entering Homestead was enough to propel him to the next round. The same wreck that the JD Motorsports driver was collected in also swept up Pardus.
It appeared that the Spacestation Racing driver would escape with minimal damage. However, Kase Kallenbach slammed into the wreck after reporting issues with his pedals earlier in the race. The impact sent Pardus flipping down the frontstretch.
The results:
1. 23-Anthony Alfredo [6], 2. 20-David Schildhouse [8], 3. 44-Rajah Caruth [33], 4. 86-Collin Fern [5], 5. 17-Adam Cabot [4], 6. 13-Gary Sexton [31], 7. 29-James Bickford [2], 8. 51-Kyle Busch [13], 9. 42-Preston Pardus [24], 10. 97-Shane van Gisbergen [34], 11. 60-Brad Perez [19], 12. 63-Bryan Boris Cook [17], 13. 24-Will Rodgers [1], 14. 07-Ford Martin [20], 15. 21-Max Kennon [11], 16. 6-Ryan Vargas [3], 17. 99-Mark Rebilas [25], 18. 10-DJ Cummings [9], 19. 52-Garrett Smithley [7], 20. 46-Steven Ellis [20], 21. 27-Michael Massie [30], 22. 93-Garrett Miller [16], 23. 84-Kase Kallenbach [29], 24. 57-Seth Eggert [21], 25. 77-Devon Henry [23], 26. 12-Brandon Brown [18], 27. 53-Justin Melillo [22], 28. 19-Robby Lyons [10], 29. 50-Gabe Wood [14], 30. 4-Brett Baldeck [28], 31. 77-Josh Bilicki [15], 32. 1-Josh Slate [27], 33. 34-Nick Olsen [32], 34. 41-Matt Stallknecht [12].
Lead Changes: 13 among six drivers.
Lap Leader(s): Will Rodgers 1-4, Collin Fern 5-15, Adam Cabot 16, Collin Fern 17-21, Adam Cabot 22, Collin Fern 23-28, Anthony Alfredo 29, Collin Fern 30-35, Will Rodgers 36-47, Shane van Gisbergen 48, Will Rodgers 49-60, Anthony Alfredo 61-76, Garrett Smithley 77, Anthony Alfredo 78-100.
Laps Led: Anthony Alfredo 40, Collin Fern 28, Will Rodgers 28, Adam Cabot 2, Shane van Gisbergen 1, Garrett Smithley 1.
Hard Charger(s): 44-Rajah Caruth (+30).
Rookie of the Race: 86-Collin Fern, Brandonbilt Motorsports, Fourth.
Caution Flags: 11 for 35 Laps.
Margin of Victory: 0.285 seconds.
Time of Race: One hour, 20 minutes, 16.111 seconds.
Average Speed: 112.124 MPH.
Pole Winner: 24-Will Rodgers, 32.631 seconds (165.487 MPH).
Fastest Lap: 17-Adam Cabot, Lap 22, 32.846 seconds (164.404 MPH).
Featured Photo Credit: Photo by Seth Eggert / Kickin' the Tires.