By Seth Eggert, Staff Writer
David Brown took the field to school in the ROUSH Performance eSports NASCAR Past and Future race at Rockingham Speedway.
Brown started the race in the virtual 1987 NASCAR stock cars from the pole. The driver of the virtual No. 83 Mopar / Nexxus eSports 'Chrysler' managed his lead over Michael Frisch, Kevin McAdams, and Blake McCandless throughout the first 20 laps of the race. The quick pace and high tire wear saw multiple drivers fall a lap or more behind the field.
A quick caution allowed the field to catch up to Brown. While Brown and McCandless maintained their position with a four-tire stop, Adam Pettet and Carl Modoff used the opportunity to jump into the top-five with two-tire stops. On the restart, both Brown and McCandless broke away while the field struggled to pass the two drivers on two fresh tires.
McCandless, the grandson of drag racer Herb McCandless, briefly took the lead. The virtual No. 211 Ford Thunderbird that honored the elder McCandless' time racing for Jack Roush, led the way for just four laps.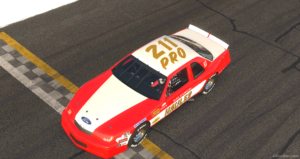 "I've got to shout out Cosmin Ioanesiu who painted this beautiful paint scheme," explained McCandless. "It's a throwback to a car my grandfather drove for Jack Roush back in 1974. It was cool to be able to honor that and be able to throwback to that scheme as well. Drag racing side of things so it was interesting to try and get that onto one of these oval cars. (Cosmin) did a great job as always throwing back to my grandfather's schemes."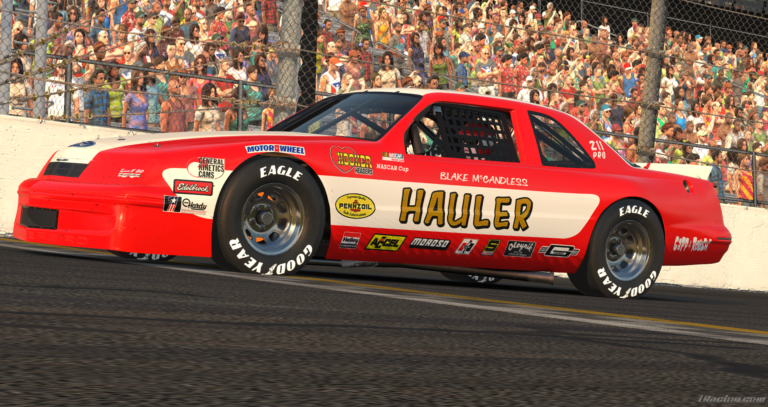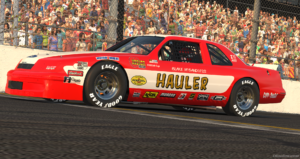 McCandless broke loose on Lap 29 in Turn 2. He lost just enough moment for Brown to recapture the lead. Although McCandless reeled Brown back in, another caution ended the battle for the lead before it could begin.
A mistake during pit stops resulted in McCandless saving fuel throughout the final run of the race. That allowed Brown to cruise, unopposed, to a 2.164 second victory and the $100 iRacing Gift Card grand prize. McAdams, Frisch, and Jeffrey Maconi completed the top-five.
"It was quite a show y'all put on here," Brown admitted. "It's such a great track, an amazing car to run. Just incredible here because the fall off is so much. We go out here and from Lap 1 to Lap 20 we fall off two seconds. I wish we could have had some longer runs in there.
"The cautions definitely made things interesting. Blake was able to fire off so much better than my car was, so I had to be on the defensive there on the restarts. It made things pretty interesting."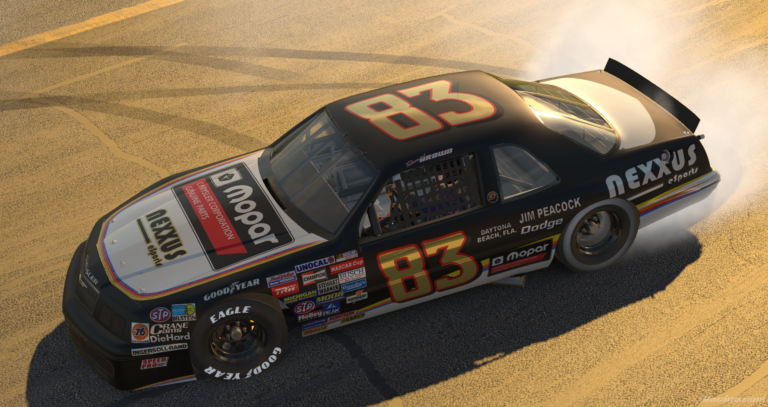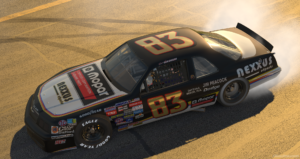 Pettet, Modoff, Geoffrey Souza, Paul Slavonik, and Greg Maconi rounded out the top-10.
Several drivers ran paint schemes that honored past paint schemes from each iteration of what's now RFK Racing. Among those included Alexander Fafinski who ran a paint scheme that threw back to Ted Musgrave's No. 16 Family Channel machine.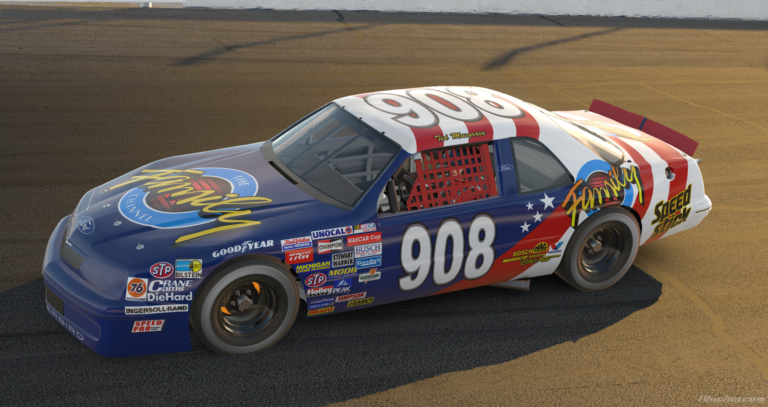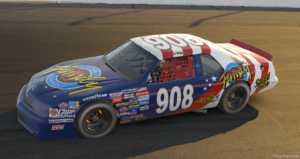 The 75-lap race at Rockingham marked the first half of the ROUSH Performance eSports NASCAR Past and Future event. Next, the event will shift 35 years, from the 1987 NASCAR Cup Series cars to the 2022 NASCAR Next Gen cars at Michigan International Speedway.
The results:
1. 83-David Brown [1] ($100), 2. 211-Blake McCandless [5], 3. 26-Kevin McAdams [3], 4. 56-Michael Frisch [2], 5. 03-Jeffrey Maconi [15], 6. 58-Adam Pettet [7], 7. 948-Carl Modoff [9], 8. 4-Geoffrey Souza [14], 9. 528-Paul Slavonik [11], 10. 16-Greg Maconi [10], 11. 90-Kyle Pease [6], 12. 24-Jamie Barnard [12], 13. 45-Don Avery [18], 14. 98-Bret Malone [17], 15. 12-Cody Riggs [8], 16. 29-Carl Dodson [16], 17. 14-David Levin [21], 18. 17-Stephen Baker [24], 19. 34-Thomas Boileau [26], 20. 23-William Conover [23], 21. 57-Kyle Quintrall [20], 22. 13-Chris Papa [27], 23. 18-Trenton McMillion [19], 24. 22-Zachary Arnold [25], 25. 908-Alexander Fafinski [22], 26. 77-Jerrett Brooks [4], 27. 99-Brenden Johnson [13], 28. 6-Joey Atterbury [28], 29. 93-Matt Hummel [29].
Lead Changes: Two among two drivers.
Lap Leader(s): David Brown 1-24, Blake McCandless 25-28, David Brown 29-75.
Laps Led: David Brown 71, Blake McCandless 4.
Hard Charger(s): 03-Jeffrey Maconi (+10).
Caution Flags: Two for Eight Laps.
Margin of Victory: 2.164 seconds.
Time of Race: 38 minutes, 5.634 seconds.
Average Speed: 118.129 MPH.
Pole Winner: 83-David Brown, 24.277 seconds (148.289 MPH).
Fastest Lap: 83-David Brown, Lap 2, 24.849 seconds (144.875 MPH).
Featured Photo Credit: Photo by Seth Eggert / Kickin' the Tires.