By Seth Eggert, Staff Writer
An excellent restart for Kyle Busch in the closing laps of the Ashleigh Kirsch Mortgages 150 at the virtual Michigan International Speedway netted the NASCAR Cup Series driver his first Monday Night Racing Rowdy Energy Pro Series victory of the season.
With 12 laps to go, Busch lined up eighth in his virtual No. 51 Rowdy Energy Toyota Camry Super Late Model. By the time the field exited Turn 2, he was up to seventh, on the inside. What happened next was that the two-time NASCAR Cup Series champion swung to the inside, making a five-wide pass for second on the backstretch. Continuing his momentum, took the lead from fellow Cup Series driver Anthony Alfredo.
Before the driver of the virtual No. 38 Sim Seats Ford Mustang Super Late Model could challenge Busch for the lead, the caution waved. Another caution with three laps to go forced the race into overtime.
On the final restart, Busch ran about a lane above the white line in Turns 1 and 2 and held his momentum off the corner. That kept NASCAR Xfinity Series drivers Preston Pardus, Will Rodgers, and others at bay. When the checkered flag waved, Busch was 0.207 seconds ahead of Pardus and Rodgers. Max Kennon and David Schildhouse completed the top-five.
"We played it well to what we needed there, just being able to have a strong run," Busch explained. "Early on we got run into a little bit. Thought we were going to have to use our one reset there too early, but it all worked out. There towards the end, being able to have that awesome restart, we went from eighth to the lead by the time we got to Turn 3. That saved our race right there. That was the move of the day, got us the lead, and we were able to control it after that.
"Definitely running laps at Michigan (helped for tonight). For some reason these cars are just so radically different than anything we drive or that I've driven. Super Late Models is what I grew up driving but running them at Michigan is not similar to anything that I've ever done. That was certainly new, trying to figure that out, and learn the certain tricks of the trade were.
"I didn't get any practice laps, loaded up the sim three minutes before qualifying was over. I got two laps and then learned everything in the race. Great outcome for the Rowdy Energy Toyota Camry. That was cool, that was fun."
Monday Night Racing co-founder Ford Martin finished sixth. Brett Baldeck, Kase Kallenbach, Ryan Vargas, and DJ Cummings rounded out the top-10. Polesitter Justin Melillo finished 21st. James Bickford once again ran the fastest lap, but finished 33rd after a late-race accident.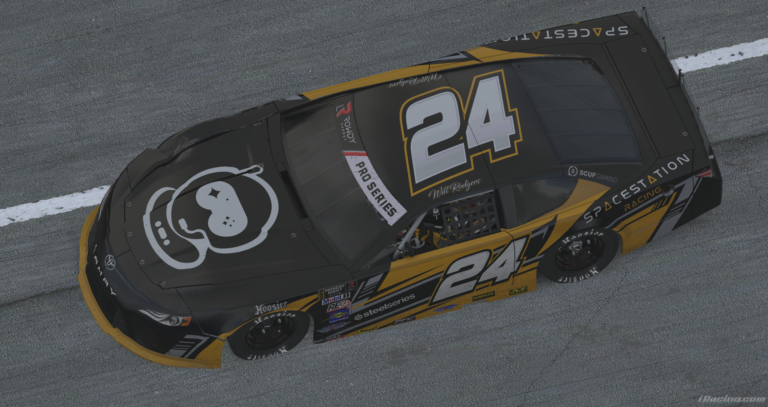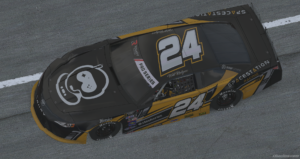 Another storyline in the race were the new 1v1 challenges. Rodgers was paired with Vargas while NFL Super Bowl Champion Bernard Pollard Jr went up against MLB Athletics Pitcher Cole Irvin. Both battles ebbed and flowed back and forth between both drivers in the pairings. Rodgers ultimately beat Vargas. Meanwhile Pollard scored his best career finish in Monday Night Racing in the virtual No. 31 Ally Chevrolet Super Late Model.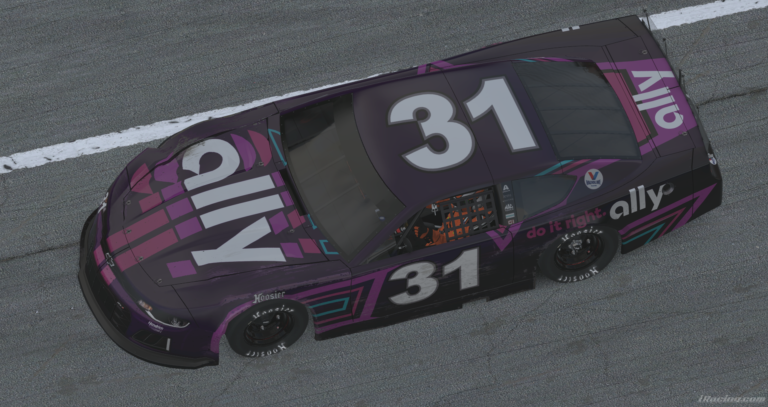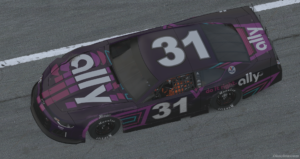 In total the race was slowed eight times for a total of 24 laps. The biggest incident of the night took place with three laps to go. Two separate wrecks happened at the same time on the backstretch. Bickford, Brad Perez Garrett Smithley, and NTT IndyCar Series driver Stefan Wilson crashed at the front of the back. Further back, contact between Steven Ellis and Collin Fern sent the virtual No. 68 Shenandoah Shine Chevrolet into the outside wall. Fern collected Seth Eggert, Melillo, and others in the melee.
Busch was not immune to the on-track incidents. He was swept up in an early incident and then nearly wiped out at the halfway mark of the race. Busch used his fast repair and climbed back up the running order en route to victory.
After a week off, Alfredo, Tim Dugger, and Dale Earnhardt Jr returned to the iRacing league. Both Dugger and Earnhardt struggled, being swept up in incidents throughout the race. Alfredo finished 19th with Dugger 20th and Earnhardt 40th.
The results:
1 51-Kyle Busch [38], 2. 42-Preston Pardus [18], 3. 24-Will Rodgers [6], 4. 21-Max Kennon [24], 5. 20-David Schildhouse [3], 6. 07-Ford Martin [12], 7. 4-Brett Baldeck [33], 8. 84-Kase Kallenbach [26], 9. 6-Ryan Vargas [27], 10. 10-DJ Cummings [7], 11. 99-Mark Rebilas [20], 12. 46-Steven Ellis [25], 13. 68-Collin Fern [30], 14. 01-Travis Brown [23], 15. 17-Adam Cabot [13], 16. 31-Bernard Pollard Jr [40], 17. 44-Rajah Caruth [11], 18. 19-Robby Lyons [28], 19. 38-Anthony Alfredo [9], 20. 33-Tim Dugger [36], 21. 53-Justin Melillo [1], 22. 41-Matt Stallknecht [39], 23. 52-Garrett Smithley [22], 24. 28-Ron Capps [35], 25. 27-Michael Massie [31], 26. 64-Drew Welker [29], 27. 57-Seth Eggert [17], 28. 63-Bryan Boris Cook [10], 29. 36-Garrett Miller [34], 30. 14-Dillon Welch [19], 31. 50-Gabe Wood [5], 32. 25-Stefan Wilson [16], 33. 29-James Bickford [9], 34. 13-Gary Sexton [14], 35. 91-Cole Irvin [37], 36. 11-Steve Auffant [21], 37. 30-Brad Perez [2], 38. 2-TJ Majors [15], 39. 77-Devon Henry [32], 40. 8-Dale Earnhardt Jr [4].
Lead Changes: 21 among 14 drivers.
Lap Leader(s): Justin Melillo (Pole) 0-0, Brad Perez 1, David Schildhouse 2, Will Rodgers 3, David Schildhouse 4-5, DJ Cummings 6-12, Adam Cabot 13, DJ Cummings 14-16, Adam Cabot 17, David Schildhouse 18-20, Max Kennon 21-27, James Bickford 28-29, Anthony Alfredo 30-34, Steven Ellis 35-38, Collin Fern 39-40, Garrett Smithley 41, Robby Lyons 42-43, Anthony Alfredo 44-50, Collin Fern 51-55, James Bickford 56-64, Anthony Alfredo 65-68, Kyle Busch 69-82.
Laps Led: Anthony Alfredo 16, Kyle Busch 14, James Bickford 11, DJ Cummings 10, Collin Fern 7, Max Kennon 7, David Schildhouse 6, Steven Ellis 4, Adam Cabot 2, Robby Lyons 2, Brad Perez 1, Will Rodgers 1, Garrett Smithley 1, Justin Melillo 0 (Pole).
Hard Charger(s): 51-Kyle Busch, Kyle Busch Motorsports / Joe Gibbs Racing (+37).
Rookie of the Race: 84-Kase Kallenbach, JD Motor eSports, Eighth.
Caution Flags: Eight for 24 Laps.
Margin of Victory: 0.207 seconds.
Time of Race: One hour, 17 minutes, 58.064 seconds.
Average Speed: 126.206 MPH.
Pole Winner: 53-Justin Melillo, 40.866 seconds (176.186 MPH).
Fastest Lap: 29-James Bickford, Lap 35, 40.628 seconds (177.218 MPH).
Featured Photo Credit: Photo by Seth Eggert / Kickin' the Tires