By Seth Eggert, Staff Writer
After a perfectly timed caution early in the Coca-Cola 150 setup a fuel mileage at Charlotte Motor Speedway, Matt Bussa crossed the line on fumes to take the win.
Bussa's Fuel Mileage Race
An early caution about 25 laps into the race allowed Bussa, Zack Novak, Malik Ray, and others to pit. An immediate caution on the ensuing restart gave the drivers another opportunity to save fuel. The timing of the two cautions would be crucial for many drivers.
When the green flag waved once again, Bussa immediately started saving. The Mode Media House Motorsports driver began to 'clutch and coast' at the very start of the green flag run. As race leader Michael Conti and others pitted the lead changed hands. First it went to Casey Kirwan on lap 70. 10 laps later, the XSET driver pitted.
Next to take the lead was iRacing Motorsports driver Ray. The No. 7 iRacing machine quickly climbed up the running order in the early laps of the 150-mile race. Now Ray appeared to be on the verge of his first career eNASCAR Coca-Cola iRacing Series victory. However, with just five laps to go, he too was forced to pit for fuel.
Winning eNASCAR's Crown Jewel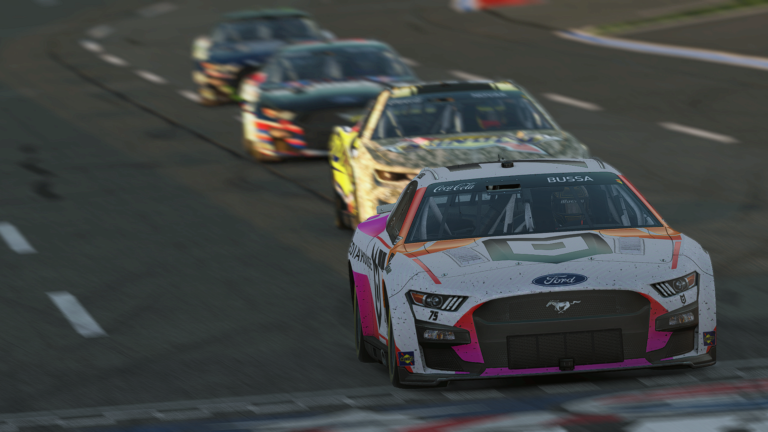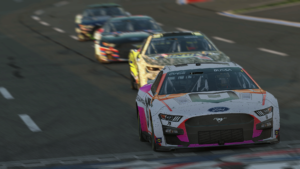 Just before Ray pitted, Bussa' No. 75 machine snuck by Novak. The 2019 eNASCAR champion was also attempting to stretch his fuel. By the time Ray pitted, it was a race to stretch the fuel between Bussa and the No. 5 Rise eSports driver. Both crossed the line on fumes, with Bussa ahead by 0.371 seconds. Ultimately, he stretched the fuel 74 laps, more than any other driver on track.
"I haven't thought about that, the title sponsor of the series sponsoring this event, Charlotte being the home track for NASCAR, and a big weekend coming up for the Coca-Cola 600 with our version the Coca-Cola 150, it's almost icing on the cake," Bussa said about his win in the crown jewel eSports event.
"Last year there were five or six races with this same strategy where you really had to save a lot of fuel to make it if the race went green. Every time there was a caution towards the end of the race. This time around I didn't get my hopes up, thought there would be a yellow. Surprisingly there wasn't one. Little did I know that we'd actually be racing for the win. I thought more people would make it."
Notables
Michael Guest, Jimmy Mullis, and Ray Alfalla completed the top-five. Steven Wilson, Garrett Manes, Keegan Leahy, Bobby Zalenski, and Garrett Lowe rounded out the top-10.
Polesitter Conti finished 23rd after being among the first to pit under green. Wilson ran the fastest lap of the race on lap 37, just after a restart.
Kirwan's later stop landed him a 16th-place finish. A pit road penalty for Ray relegated him to a 35th-place finish.
Next for the eNASCAR Coca-Cola iRacing Series is an inaugural trip to World Wide Technology Raceway at Gateway.
The Results
1. 75-Matt Bussa [28], 2. 5-Zack Novak [32], 3. 9-Michael Guest [6], 4. 46-Jimmy Mullis [19], 5. 51-Ray Alfalla [33], 6. 10-Steven Wilson [3], 7. 31-Garrett Manes [22], 8. 45-Keegan Leahy [4], 9. 18-Bobby Zalenski [20], 10. 21-Garrett Lowe [32], 11. 16-Blade Whitt [30], 12. 2-Liam Brotherton [29], 13. 36-Brian Mercurio [21], 14. 24-Cody Byus [15], 15. 54-Kyle Peddle [39], 16. 95-Casey Kirwan [7], 17. 23-Mitchell deJong [17], 18. 3-Corey Vincent [36], 19. 25-Nick Ottinger [8], 20. 19-Vicente Salas [5], 21. 48-Graham Bowlin [11], 22. 42-Darik Bourdeau [25], 23. 8-Michael Conti [1], 24. 15-Blake Reynolds [18], 25. 20-Donovan Strauss [13], 26. 79-Femi Olatunbosun [14], 27. 55-Allen Boes [10], 28. 33-Taylor Hurst [16], 29. 88-Briar LaPradd [26], 30. 4-Ryan Luza [23], 31. 41-Dylan Duval [9], 32. 14-Nickolas Shelton [37], 33. 12-Derek Justis [38], 34. 40-Dylan Ault [35], 35. 7-Malik Ray [12], 36. 17-Kaden Honeycutt [31], 37. 97-Logan Clampitt [24], 38. 69-Collin Bowden [2], 39. 6-Parker Retzlaff [27].
Lead Changes: Three among four drivers.
Lap Leader(s): Michael Conti 1-69, Casey Kirwan 70-79, Malik Ray 80-95, Matt Bussa 96-100.
Laps Led: Michael Conti 69, Malik Ray 16, Casey Kirwan 10, Matt Bussa 5.
Hard Charger(s): 5-Zack Novak (+32).
Rookie of the Race: 2-Liam Brotherton, Sadler eSports, 12th.
Caution Flags: Two for Eight Laps.
Margin of Victory: 0.371 seconds.
Time of Race: 58 minutes, 59.994 seconds.
Average Speed: 152.586 MPH.
Pole Winner: 8-Michael Guest, 29.495 seconds (183.082 MPH).
Fastest Lap: 10-Steven Wilson, Lap 37, 29.852 seconds (180.892 MPH).
Featured Photo Credit: Photo by Justin Melillo.