By Seth Eggert, Staff Writer
The race strategy fell into the hands of Adam Cabot at the virtual Chicagoland Speedway as the Monday Night Racing Rowdy Energy Pro Series set their playoff field.
Halfway into the Big Green Egg 120 at Chicagoland Speedway, it appeared that the iRacing league was set for a repeat of a fuel mileage race from one week earlier. Justin Melillo led those that were set to make the distance on fuel in his virtual No. 53 Traxion.GG Ford Mustang. Meanwhile Cabot led the way for those needing to pit once more in his virtual No. 17 Precision+ Race Setups Chevrolet Camaro.
A caution for an incident between James Bickford and NTT IndyCar driver Stefan Wilson with 30 to go erased the hopes of Melillo, Michael Massie, and others. It allowed Cabot, two-time NASCAR Cup Series champion Kyle Busch, Xfinity Series drivers Rajah Caruth, Ryan Vargas, and others to pit for fuel and tires.
With the field bunched back up, another quick caution allowed Cabot to battle for the lead once more. With 20 laps to go in the scheduled distance, the eSports Racing League champion and Monday Night Racing Season 3 Championship 4 driver took the lead from Busch. Repeated cautions continued to benefit Cabot, giving him an opportunity to hold off the real-life pros.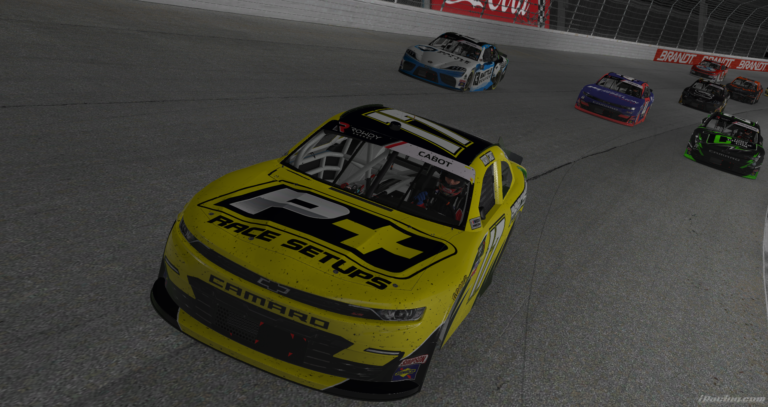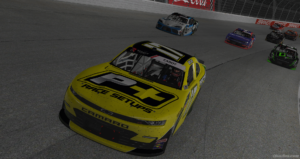 Four cautions in the final laps, including two attempts at overtime ended the night for many including Busch, Brad Perez, Shane van Gisbergen, Wilson, and others. On the final restart, Cabot comfortably gapped the competition as Caruth, David Schildhouse, and Gary Sexton battled for second. The three-wide pass moved Caruth onto the playoff grid, one point ahead of Melillo.
When the checkered flag waved, Cabot was 0.739 seconds ahead of Caruth. Schildhouse, Anthony Alfredo, and Sexton completed the top-five. Season 3 champion Robby Lyons, Will Rodgers, Gabe Wood, Melillo, and Max Kennon rounded out the top-10.
"That's incredible, how about that timing to get that moment coming into the playoffs," explained Cabot. "I got spoiled with that win back in May (in the IndyCar at Indianapolis Motor Speedway). I was hoping that I would be racking [wins] up. It turns out that it is damn hard to win these in this league. Even if its' due to luck or crashes, if you don't get the finishes, you start questioning if you've got what it takes.
"Have to give a shout out to my crew chief and spotter Bailey Turner, he was the one that made the call to get off sequence, pit early, and try to gamble there. We had to do something to get track position because it was so hard to pass. Everyone up in the front is so good and clean air is everything. I thought there would be more grooves that would work in, but it was tough to make things happen on the outside."
Monday Night Racing's Season 4 playoff grid has Schildhouse leading the way with two victories. Brandonbilt Motorsports' Collin Fern, Rick Ware Racing's Josh Bilicki, along with Busch, Cabot, and Vargas each have one victory. Making the playoff grid on points were Caruth, Kennon, Preston Pardus, and Rodgers.
Late-race accidents effectively eliminated Bickford, Steven Ellis, Lyons, and Ford Martin from the playoff picture. Lyons was four points behind Caruth with Bickford and Martin 10-points behind each. Ellis was 15-points out.
The results:
1. 17-Adam Cabot [7], 2. 44-Rajah Caruth [1], 3. 20-David Schildhouse [11], 4. 23-Anthony Alfredo [2], 5. 13-Gary Sexton [9], 6. 19-Robby Lyons [22], 7. 24-Will Rodgers [12], 8. 50-Gabe Wood [19], 9. 53-Justin Melillo [13], 10. 21-Max Kennon [14], 11. 12-Brandon Brown [17], 12. 91-Cole Irvin [34], 13. 29-James Bickford [32], 14. 42-Preston Pardus [4], 15. 99-Mark Rebilas [28], 16. 11-Steve Auffant [30], 17. 41-Matt Stallknecht [30], 18. 57-Seth Eggert [21], 19. 86-Collin Fern [8], 20. 07-Ford Martin [15], 21. 28-Ron Capps [29], 22. 52-Garrett Smithley [6], 23. 46-Steven Ellis [24], 24. 84-Kase Kallenbach [25], 25. 27-Michael Massie [27], 26. 6-Ryan Vargas [3], 27. 4-Brett Baldeck [26], 28. 51-Kyle Busch [23], 29. 91-Shane van Gisbergen [31], 30. 60-Brad Perez [10], 31. 25-Stefan Wilson [16], 32. 1-Josh Slate [18], 33. 64-Drew Welker [33], 34. 6-TJ Majors [5].
Lead Changes: 11 among six drivers.
Lap Leader(s): Rajah Caruth 0-0, Anthony Alfredo 1-34, Rajah Caruth 35-41, Anthony Alfredo 42-43, Rajah Caruth 44-76, Garrett Smithley 77, Justin Melillo 78-80, Adam Cabot 81-90, Anthony Alfredo 91-95, Garrett Smithley 96-97, Kyle Busch 98-100, Adam Cabot 101-125.
Laps Led: Anthony Alfredo 41, Rajah Caruth 40, Adam Cabot 35, Kyle Busch 3, Justin Melillo 3, Garrett Smithley 3.
Hard Charger(s): 91-Cole Irvin (+22).
Rookie of the Race: 91-Cole Irvin, 12th.
Caution Flags: Eight for 26 Laps.
Margin of Victory: 0.739 seconds.
Time of Race: One hour, 27 minutes, 7.866 seconds.
Average Speed: 129.116 MPH.
Pole Winner: 44-Rajah Caruth, 30.773 seconds (175.479 MPH).
Fastest Lap: 17-Adam Cabot, Lap 125, 31.115 seconds (173.550 MPH).
Featured Photo Credit: Photo by Seth Eggert / Kickin' the Tires