By Seth Eggert, Staff Writer
The first short track race of the eNASCAR Coca-Cola iRacing Series season saw a staggering 11 cautions and JR Motorsports' Michael Conti earn his 13th career win.
With 53 laps to go, Conti opted to stay out under caution in his virtual No. 8 WR1 Sim Chassis Chevrolet Camaro ZL1 1LE. He assumed the lead from Casey Kirwan as the XSET Gaming driver ducked onto pit road for fresh tires.
The ensuing restart homed in one the notion of 'cautions breed cautions.' Among those that were swept up in the incident was Kirwan. Meanwhile, Conti continued to manage the restarts, keeping Nick Ottinger, Taylor Hurst, and Graham Bowlin at bay.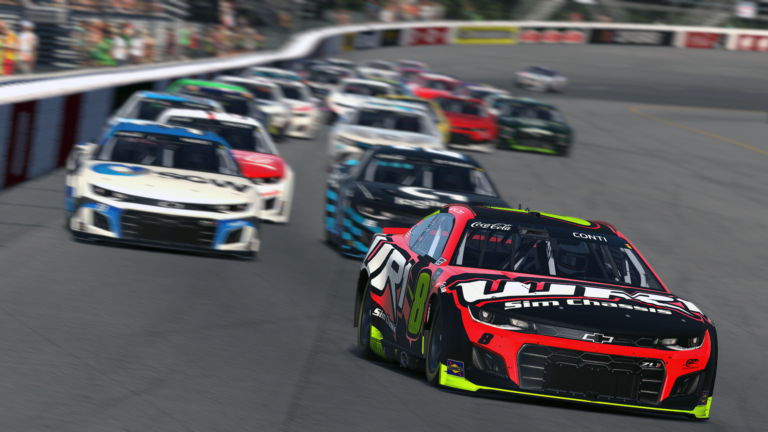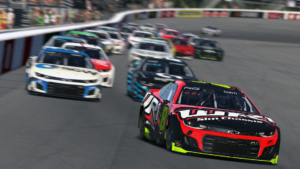 After multiple repeated cautions, the race came down to a four-lap sprint to the finish. While Bowlin was able to slip by Hurst and Ottinger, he struggled in the dirty air behind Conti. At the 0.75-mile short track, the Charlotte Phoenix driver was forced to settle for runner-up to the North Carolina sim racer.
Conti's win at 'The Action Track,' was his first in 11 starts at Richmond. It also further secured an eNASCAR playoff grid spot for 'eDriver 8.' Last season, two winners failed to make the eNASCAR playoffs with 12 winners for 10 spots.
"The positioning at the end (to be honest)," admitted Conti. "It was just caution after caution after caution. Most of these Richmond races have ended that way. We knew we had to position ourselves to be up there. When we had that split decision to who pitted and who didn't, we figured it would be best to stay out and keep the track position. It could have went either way, Graham was right there at the end.
"I think the cautions at the end definitely helped us. We just finally had track position, were finally the leader when that slew of cautions came. Ultimately that was certainly the difference."
Behind Conti and Bowlin in the top-five were Ottinger, Corey Vincent, and Michael Guest. Polesitter Hurst, Jimmy Mullis, Matt Bussa, Kollin Keister, and Garrett Lowe rounded out the top-10. Vincente Salas ran the fastest lap of the race and finished 12th. Donovan Strauss was the eRookie of the Race finishing 15th.
Team Dillon Management drivers Hurst and Vincent dominated the first third of the race. It wasn't until a round of pit stops that Hurst lost the lead. Kirwan pitted under an early caution and took two tires when the entire field pitted.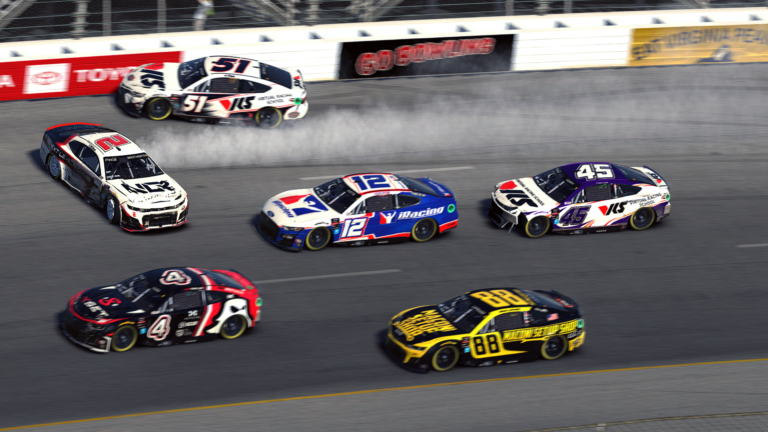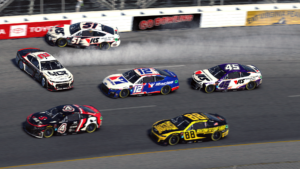 Though Conti broke through for his first win at Richmond, the race was a tale of two champions. The 2014 eNASCAR champion led the most laps and won the race. On the other hand, defending champion Keegan Leahy and four-time champion Ray Alfalla were involved in accidents. Alfalla's No. 51 VRS Toyota Camry was swept up in four of the 11 cautions flags throughout the night.
The next race for the eNASCAR Coca-Cola iRacing Series will be a historic first for the series, the Bristol Motor Speedway Dirt Track on April 12.
The results:
1. 8-Michael Conti [6], 2. 48-Graham Bowlin [7], 3. 25-Nick Ottinger [13], 4. 3-Corey Vincent [3], 5. 9-Michael Guest [38], 6. 33-Taylor Hurst [1], 7. 46-Jimmy Mullis [8], 8. 75-Matt Bussa [21], 9. 43-Kollin Keister [16], 10. 21-Garrett Lowe [36], 11. 10-Steven Wilson [20], 12. 19-Vicente Salas [17], 13. 5-Zack Novak [10], 14. 23-Mitchell deJong [5], 15. 20-Donovan Strauss [19], 16. 79-Femi Olatunbosun [15], 17. 18-Bobby Zalenski [11], 18. 7-Malik Ray [34], 19. 15-Blake Reynolds [29], 20. 42-Dark Bourdeau [28], 21. 69-Collin Bowden [2], 22. 4-Ryan Luza [24], 23. 2-Liam Brotherton [30], 24. 36-Brian Mercurio [36], 25. 17-Kaden Honeycutt [35], 26. 54-Kyle Peddle [33], 27. 40-Dylan Ault [37], 28. 88-Briar LaPradd [37], 29. 45-Keegan Leahy [9], 30. 51-Ray Alfalla [26], 31. 14-Nickolas Shelton [39], 32. 12-Derek Justis [40], 33. 41-Dylan Duval [25], 34. 24-Doy Byus [14], 35. 31-Garrett Manes [12], 36. 6-Parker Retzlaff [31], 37. 97-Logan Clampitt [4], 38. 95-Casey Kirwan [23], 39. 16-Blade Whitt [22], 40. 55-Allen Boes [18].
Lead Changes: Two among three drivers.
Lap Leader(s): Taylor Hurst 1-48, Casey Kirwan 49-77, Michael Conti 78-130.
Laps Led: Michael Conti 53, Taylor Hurst 48, Casey Kirwan 29.
Hard Charger(s): 9-Michael Guest, fifth. (+33).
Rookie of the Race: 20-Donovan Strauss, 15th, Williams eSports.
Caution Flags: 11 for 51 Laps.
Margin of Victory: 0.269 seconds.
Time of Race: One hour, 11 minutes, 34.098 seconds.
Average Speed: 81.740 MPH.
Pole Winner: 33-Taylor Hurst, 21.711 seconds (124.361 MPH).
Fastest Lap: 19-Vicente Salas, Lap 118, 21.940 seconds (123.063 MPH).
Featured Photo Credit: Photo by Justin Melillo.