By Seth Eggert, Staff Writer
A throwback race featured a classic finish as Ryan Doucette held off his Logitech G Altus teammate Michael Cosey Jr for the win in the Rockingham 508 benefitting the Dale Jr Foundation.
Battle for the Lead
A caution with 30 to go in the 500-lap, 508-mile charity race saw most of the field pit. Doucette and eNASCAR Coca-Cola iRacing Series driver Matt Bussa opted for a two-tire stop. However, Bussa was penalized for speeding on pit road. That placed Doucette behind Kevin Champagne, who stayed out.
On the restart the former eNASCAR Coca-Cola iRacing Series driver made quick work of Champagne. The virtual No. 77 VRS / Logitech Chevrolet Lumina quickly started to gap the car on older tires. That is until Cosey worked his way by the slower traffic. The winner of the 2021 Blue Emu Firecracker 400 worked multiple lanes to try to pass Doucette. In response, the real-life Tour-type Modified driver countered, taking the line away.
The Finish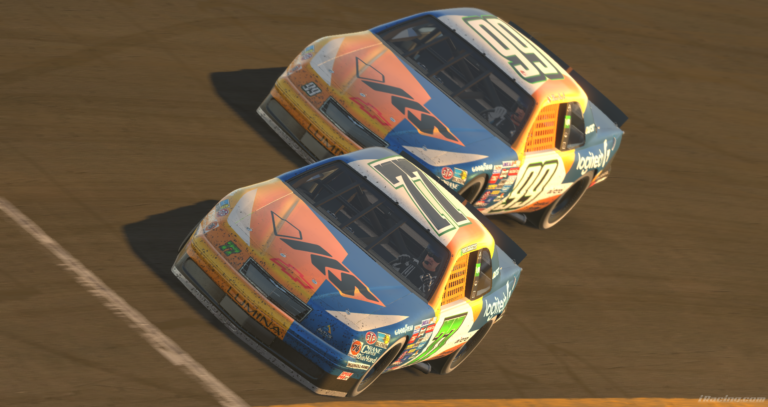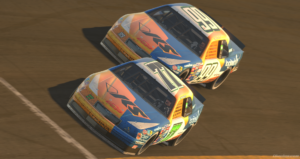 The teammates raced hard, but fair. Both drivers bounced off the outside wall, clipped the apron, and traded paint in the scramble to the finish. In the final laps Cosey pulled alongside Doucette before the momentum shifted back to the latter's favor. On the final lap, Cosey dove into Turn 3. Doucette blocked, setting up a classic finish between the two.
Exiting Turn 4, Doucette swung to the outside with Cosey on the inside at the virtual Rockingham Speedway. When the checkered flag waved, Doucette emerged as the winner. NASCAR Xfinity Series driver Landon Cassill finished third with Bryan Blackford and David Brown completing the top-five.
Post-Race Thoughts
"(Thank you to everyone) who put this event on, Blake (McCandless), Dale Earnhardt Jr, the Dale Jr Foundation, everyone who donated," stated Doucette. "It was an amazing event. Started off pretty good in fourth, ran up front in the first stint, burned my tires off with that fresh track state. During the second stint, I fell back, got stuck, and didn't get back up front until after halfway.
"I followed Bussa up to the top and it was just rolling. Didn't realize how fast it was up there, thought it was killing tires and it really didn't. Definitely burned my right front off a little bit but it was rolling. It made it tough to pass. I ended up with track position at the end and made it work."
Bussa, Blake Reynolds, Kevin McAdams, Parker White, and Champagne rounded out the top-10. Towle Owen in 11th was the final car on the lead lap. Polesitter Daniel Silvestri finished 31st after being swept up in an accident. Danny Thomson was the hard charger of the race, climbing from 42nd to finish 13th. Ronnie Osmer ran the fastest lap of the race on lap 353.
The Wrecks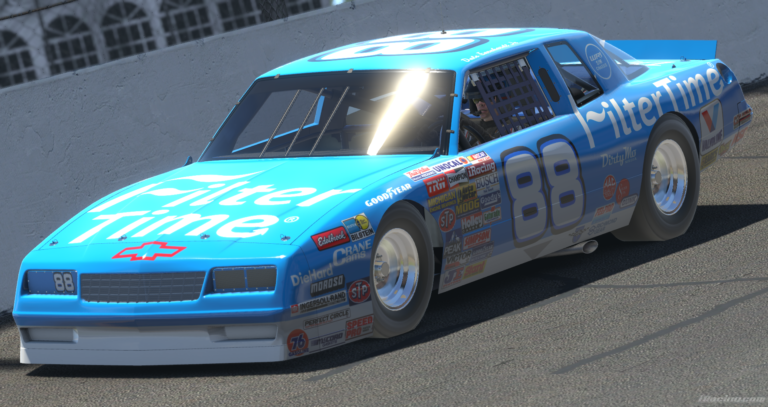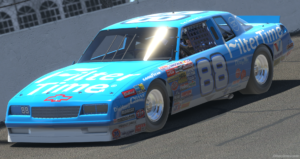 The old school marathon race was slowed just 13 times by cautions for a total of 52 laps. The biggest crash came late when 2022 FTF Barr Visuals 500 winner Cosmin Ioanesiu thought he was getting dive bombed. His reaction resulted in a parking lot in Turn 3 that swept up Dale Earnhardt Jr, Garrett Smithley, and others. Earnhardt finished 19th, one lap down.
"(I feel) worse than I thought, that was tough," admitted Earnhardt. "It's difficult to drive the cars with the tire wear. There was a long stretch in the middle of the race where I was overdriving the entry for some reason. It's funny because some runs you do really well with the tire and some runs that you don't do well at all. You didn't know who was saving, if they were saving, and what tires they were on.
"Really fun race, great idea, I really enjoyed it. I think everyone involved should be commended. It wasn't easy. We weren't even halfway and I was like 'good lord this is such a long ways to go.' I didn't know about the high line, didn't figure that out until late on old tires, and out to find a little pace.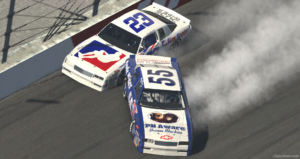 Another accident earlier in the race led to a chain of events that ended Anthony Alfredo's day. The Our Motorsports driver had nowhere to go when Ronnie Osmer, an Our Motorsports crew member, broke loose. Though the damage was minimal, the repairs put Alfredo in the back. He was swept up in another two accidents which ultimately broke his right front suspension.
Notables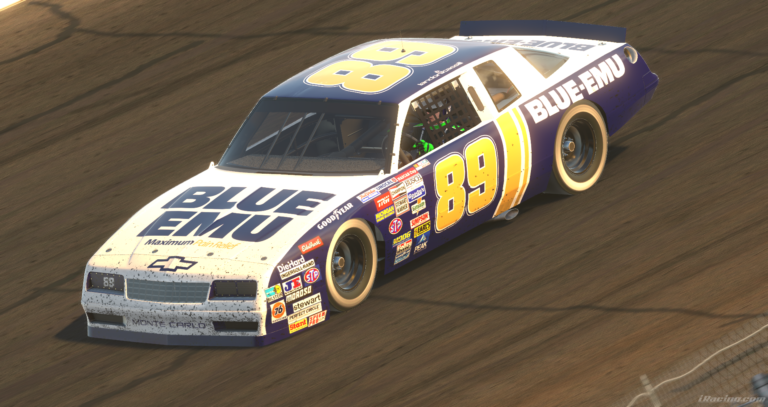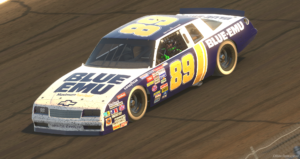 In total there were five real-life pro drivers in the race, of which four were provisionals. Cassill finished the best amongst the group in third. Landon Huffman was 18th, then Earnhardt, Smithley in 24th, and Alfredo in 41st. Other notables included Monday Night Racing Season 4 champion Adam Cabot in 16th and 2020 FTF Barr Visuals 500 winner Michael Frisch 15th.
Even with all of the cautions, the race run time was just over four hours and 20 minutes. Comparing that to the real-life Rockingham races from 1987 that used the same style of car, it was about five minutes longer.
For Charity
The race itself, though entertaining, was for a good cause. Race entries, paid in the form of donations, combined with sponsorships from Kickin' the Tires, musician Drew Parker, and others resulted in over $1,700 raised for the Dale Jr Foundation. The event was the brainchild of broadcaster Blake McCandless. Though, he originally thought of a 600-lap race before Earnhardt recommended 500 laps.
In the end, this is what matters most!

Thanks again to everyone who ran and those of you who contributed during the race last night. The @iRacing #Rockingham508 was a success because of you!! pic.twitter.com/uG4T3J35YE

— Blake McCandless (@MrF4Speed) May 19, 2022
The Results:
1. Ryan Doucette [4], 2. Michael Cosey Jr [22], 3. Landon Cassill [29], 4. Bryan Blackford [15], 5. David Brown [11], 6. Matt Bussa [2], 7. Blake Reynolds [18], 8. Kevin McAdams [17], 9. Parker White [3], 10. Kevin Champagne [35], 11. Towle Owen [33], 12. Spencer Burns [12], 13. Danny Thomson [42], 14. Blake Sasser [19], 15. Michael Frisch [7], 16. Adam Cabot [10], 17. Brendan Hmiel [23], 18. Landon Huffman [44], 19. Dale Earnhardt Jr [13], 20. Aiden Kirker [20], 21. Gilles Chatelain [34], 22. Tommy Rhyne [14], 23. Phillip Snipes [27], 24. Garrett Smithley [16], 25. Jake Poulin [43], 26. Justin Champagne [37], 27. Brad Cress [32], 28. Phillip Cecil McCandless [40], 29. Daniel Buttafuoco [5], 30. Ryan Daley [21], 31. Daniel Silvestri [1], 32. Ronnie Osmer [24], 33. Adam Martin [25], 34. Justin Monds [38], 35. Desy Desotell [36], 36. Cosmin Ioanesiu [31], 37. Craig Arvanites [26], 38. Matthew Zwack [8], 39. John Ellis [28], 40. 32-Shawn Butler [6], 41. Anthony Alfredo [30], 42. Bennett Allen [41], 43. Ryan Andrew [9], 44. Michael Strohl [39].
Lead Changes: 34 among 13 drivers.
Lap Leader(s): Daniel Silvestri 1-35, Matt Bussa 36-52, Daniel Buttafuoco 53-55, David Brown 56-70, Matt Bussa 71-104, David Brown 105, Matt Bussa 106-119, Shawn Butler 120-131, Blake Reynolds 132-135, Daniel Buttafuoco 136, Adam Cabot 137-162, Daniel Buttafuoco 163-166, Michael Cosey Jr 167-175, Parker White 176-187, Michael Cosey Jr 188-222, Matt Bussa 223-232, Cosmin Ioanesiu 233, Matt Bussa 234-287, Michael Cosey Jr 288-301, Matt Bussa 302-305, Michael Cosey Jr 306, Parker White 307-333, Michael Cosey Jr 334-366, Ryan Doucette 367-374, Landon Cassill 375, Ryan Doucette 376-432, Matt Bussa 433-434, Michael Cosey Jr 435-440, Landon Cassill 441-447, Michael Cosey Jr 448-453, Matt Bussa 454-470, Kevin Champagne 471-473, Ryan Doucette 474-500.
Laps Led: Matt Bussa 156, Michael Cosey Jr 100, Ryan Doucette 91, Parker White 39, Daniel Silvestri 35, Adam Cabot 26, David Brown 16, Shawn Butler 12, Daniel Buttafuoco 8, Landon Cassill 8, Kevin Champagne 4, Blake Reynolds 4, Cosmin Ioanesiu 1.
Hard Charger(s): Danny Thomson (+29).
Caution Flags: 13 for 52 Laps.
Margin of Victory: 0.195 seconds.
Time of Race: Four hours, 23 minutes, 14.767 seconds.
Average Speed: 113.962 MPH.
Pole Winner: Daniel Silvestri, 25.327 seconds (142.141 MPH).
Fastest Lap: Ronnie Osmer, Lap 353, 25.414 seconds (141.654 MPH).
Featured Photo Credit: Photo by Seth Eggert / Kickin' the Tires.