By Seth Eggert, Staff Writer
Collin Fern earned his first career Monday Night Racing Rowdy Energy Pro Series victory by fending off a charge from two-time NASCAR Cup Series champion Kyle Busch.
The Brandonbilt Motorsports team manager lined up ninth on a restart with 40 laps to go, the furthest up the running order on fresh tires.
"That's the million-dollar question for everyone at Brandonbilt Motorsports," Fern joked about his role on the team. "It's anything from setting up scales, to driving the car through tech, submitting rosters, credentials, anything like that. We've grown so much in the last two years that I've had some responsibilities taken away from me. I'm okay with that. We do run out of two shops and I'm the guy that goes back and forth between Virginia and North Carolina."
Fern maneuvered his way forward in the virtual No. 86 Shenandoah Shine Chevrolet Camaro ZL1 1LE, taking the lead with 21 laps to go in the Sim Seats 120. However, multiple cautions in the closing laps forced him to hold off repeated charges from Busch, David Schildhouse, and others.
On a restart with nine laps to go, Busch briefly took the lead down the Nellis Straightaway at the virtual Las Vegas Motor Speedway. By the time the duo reached the start-finish line, Fern's Chevrolet was back in front. Before Busch's virtual No. 51 Rowdy Energy Toyota Camry could make another charge, the caution waved yet again.
This time, on the restart Busch had to contend with Garrett Smithley, who was on old tires. That allowed Fern to breakaway. Yet another caution forced the race into overtime, erasing the NASCAR Xfinity Series crew member's lead.
In overtime, Fern got a good launch. After clearing Busch, he defended over the final two laps of the race. When the checkered flag waved, Fern was 0.093 seconds ahead of Busch. Defending Monday Night Racing champion Robby Lyons finished third with Gary Sexton and Adam Cabot rounding out the top-five.
"I don't know if it's so much anything I did (to hold of Busch), but he lost his push behind him," explained Fern. "Those guys got really racey third on back. (Busch) just didn't have any help to gain a run. These cars are so momentum based that without any help you're not going to get a really good run into two laps. I just took his air away on the last lap. That was about all that she wrote.
"I was trying to joke with Kyle there, he left the session too early. I was more excited about the fact that I get a 12-pack of Rowdy Energy for free. Never tried it and I'm excited to try some of that. Thanks to Ford Martin, Paul Sutton, and all of those guys that set the league up. I reached out to Ford in the middle of the season last year. He hooked me up with a spot. They got so many entries that I'm just lucky to get into the Pro Series. It's just a ton of fun."
Bryan Boris Cook, Rajah Caruth, Devon Henry, James Bickford, and Gabe Wood completed the top-10. NTT IndyCar Series driver Stefan Wilson ran the fastest lap of the race on lap 10.
Although Fern dominated the final 23 laps of the race, Busch led a race-high 56 laps. Most of the laps Busch led came during the two green flag runs in the first 90 laps.
"We had a good race there, it was pretty fun, enjoyed having an opportunity to be fast, lead a lot of laps, and run up front like that," stated Busch. "Unfortunately, there at the end, got a good restart on the outside, fell in line, and it dissolved behind me. You had to have some momentum, push from behind.
"When you get single-filed out with this style of cars, that's pretty typical of what goes down. The runs come so slow, and the blocks come so fast that you just can't overcome that. What's interesting to me though, if you back up to the final round of pit stops, Ryan Vargas (unbeknownst to Busch, Vargas was out of tires and pitted for fuel) went down pit road, came off first, I restarted second, and in Turn 1 he let everybody go. That took the control of the race away from me, him being able to control the restart. That I will remember."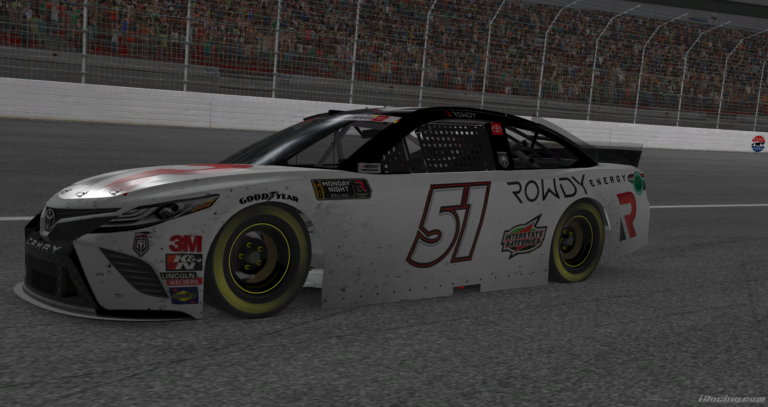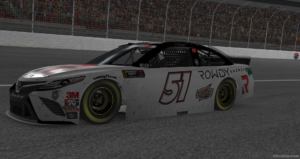 In total, the race was slowed nine times by cautions for a total of 28 laps. The biggest incident of the night took place with three laps to go. Contact between Max Kennon, Travis Brown and TJ Majors sent them spinning onto the apron entering Turn 3. The trio spun back up the track collecting Seth Eggert, Kase Kallenbach, Justin Melillo, and a host of others. In total, 13 cars were collected in the wreck.
Three drivers made their return to Monday Night Racing at Las Vegas Motor Speedway. After missing the first race of the season due to competing in the NHRA, Ron Capps finished 25th. Also returning was NASCAR Cup Series driver Josh Bilicki. Despite getting swept up in a wreck and briefly on his roof, Bilicki used a fast repair and rebounded to finish 13th.
Brad Perez also returned with sponsorship from the Mohawk Foundation on his virtual No. 30 Ford Mustang. If his partnership results in 5,000 donations, Perez will dye his hair pink. 10,000 donations and the NASCAR Xfinity Series and Camping World Truck Series crew member will have a pink mohawk. Unfortunately, his return was short lived. Internet connection issues relegated Perez to a last place finish.
Next for the Monday Night Racing league on iRacing is a trip to the virtual Michigan International Speedway with Super Late Models. Last time this combination was used, Preston Pardus earned the win. On the call for the Michigan race on November 15 will be NASCAR Cup Series Crew Chief of the year Gil Martin and NASCAR Hall of Famer Darrell Waltrip.
The results:
1. 86-Collin Fern [2], 2. 51-Kyle Busch [5], 3. 19-Robby Lyons [4], 4. 13-Gary Sexton [24], 5. 17-Adam Cabot [11], 6. 63-Bryan Boris Cook [8], 7. 44-Rajah Caruth [7], 8. 77-Devon Henry [22], 9. 29-James Bickford [1], 10. 50-Gabe Wood [13], 11. 24-Will Rodgers [14], 12. 25-Stefan Wilson [26], 13. 54-Josh Bilicki [6], 14. 10-DJ Cummings [10], 15. 27-Michael Massie [37], 16. 11-Steve Auffant [28], 17. 41-Matt Stallknecht [17], 18. 46-Steven Ellis [16], 19. 26-Chris Wilner [33], 20. 99-Mark Rebilas [30], 21. 53-Justin Melillo [18], 22. 4-Brett Baldeck [29], 23. 21-Max Kennon [20], 24. 20-David Schildhouse [15], 25. 28-Ron Capps [31], 26. 42-Preston Pardus [9], 27. 07-Ford Martin [21], 28. 64-Drew Welker [38], 29. 57-Seth Eggert [27], 30. 52-Garrett Smithley [36], 31. 36-Garrett Miller [32], 32. 91-Cole Irvin [35], 33. 2-TJ Majors [3], 34. 01-Travis Brown [19], 35. 84-Kase Kallenbach [39], 36. 31-Bernard Pollard Jr [34], 37. 6-Ryan Vargas [25], 38. 14-Dillon Welch [23], 39. 30-Brad Perez [12].
Lead Changes: 10 among eight drivers.
Lap Leader(s): James Bickford 1-8, Kyle Busch 9-38, Rajah Caruth 39-46, Preston Pardus 47-63, Rajah Caruth 64-65, Kyle Busch 66, Bryan Boris Cook 67-70, David Schildhouse 71, Kyle Busch 72-96, Ryan Vargas 97-99, Collin Fern 100-122.
Laps Led: Kyle Busch 56, Collin Fern 23, Preston Pardus 17, Rajah Caruth 10, James Bickford 8, Bryan Boris Cook 4, Ryan Vargas 3, David Schildhouse 1.
Hard Charger(s): 27-Michael Massie (+22).
Rookie of the Race: 86-Collin Fern, Brandonbilt Motorsports, first.
Caution Flags: Nine for 28 Laps.
Margin of Victory: 0.093 seconds.
Time of Race: One hour, 28 minutes, 8.950 seconds.
Average Speed: 124.562 MPH.
Pole Winner: 29-James Bickford, 30.311 seconds (178.153 MPH).
Fastest Lap: 25-Stefan Wilson, Lap 10, 29.878 seconds (180.735 MPH).
Featured Photo Credit: Photo by Seth Eggert / Kickin' the Tires