By Seth Eggert, Staff Writer
The FTF Cup Series championship came down to fuel mileage at the virtual Phoenix Raceway with Tyler Garey prevailing over the rest of the Championship 4 drivers.
Most of the field made their final pit stops with 75 laps to go. That was on the outside edge of the fuel mileage numbers at the virtual 1.0-mile track for the laser-scanned NASCAR Cup Series cars. Recognizing the opportunity in the Kickin' the Tires Season Finale 200, Garey immediately started saving fuel and tires in his virtual No. 026 Slipstream Creative Media Chevrolet Camaro ZL1 1LE.
Meanwhile, fellow Championship 4 driver Kevin King and Blake Reynolds continued the status quo. The two drivers battled with Logan Helton, Garrett Konrath, and others. It wasn't until Michael Frisch ducked onto pit road with about 50 laps to go that both King and Reynolds began to clutch on corner entrance to save fuel. The former eNASCAR Coca-Cola iRacing Series drivers slowed their pace by almost three seconds to save fuel.
With King leading the race, he was using more fuel than Reynolds. Garey bided his time, waiting until the final 10 laps to make his charge. As the pace for both King and Reynolds continued to slow and Frisch's charge slowed, the Chevrolet driver surged. Garey took second from Reynolds with five laps to go. A lap later, King ran out of fuel in Turn 1.
Now in the lead, Garey had to manage his fuel for the final four laps. By saving at the start of the run, he had 'money in the bank' and drove away from Reynolds. When the checkered flag waved, Garey was just over two seconds ahead of Reynolds. Konrath, Matthew Zwack, and Frisch completed the top-five. King finished 26th, three laps down.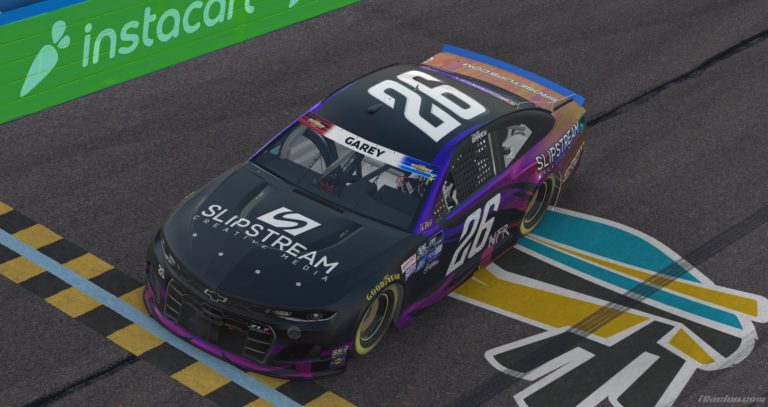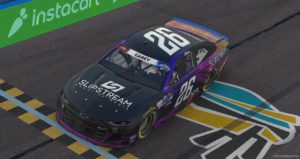 "I feel like all of the guys deserved to win but we'll take it no matter what," Garey explained. "Happy to win it. Definitely been feeling better about my driving lately. Being back home on my rig instead of my laptop helped late in the season. Phoenix has always been one of my better tracks. Always liked it in official racing and league racing. Wasn't sure how it was going to be with the updated version of Phoenix, but we're here.
"I was focusing on trying to save the rear tires. Did a little bit of practice and could tell that the rear tires were going to be important."
Helton, Ethan Courter, Chris Wetz, Jake Poulin, and Seth Noell rounded out the top-10. Poulin was the hard charger of the race, gaining 21 positions. King ran the fastest lap of the race.
Garey almost was unable to celebrate his race victory and FTF Racing League championship. After crossing the line, he ran out of fuel. Zwack pushed the No. 026 to pit road. After a little work and creativity, they were able to maneuver Garey's car into victory lane, a new feature at the updated Phoenix layout.
In total, the race was slowed five times by cautions for a total of 23 laps. Four of those cautions were for incidents. One was for technical difficulties in Discord and the broadcast booth, allowing drivers, spotters, and the broadcast team to rejoin their respective Discord servers.
Although none of the Championship 4 drivers were involved in cautions, there were two incidents throughout the race. Early in the 200-lap race, Frisch clipped another car climbing from 13th on the starting grid.
Just before halfway, Garey and Reynolds made contact. Reynolds was on old tires as Garey tried to push him forward. That sent the No. 026 into the outside wall exiting Turn 4. However, the damage was minor and Garey was ultimately able to recover from the incident.
The results:
1. 026-Tyler Garey [6], 2. 66-Blake Reynolds [2], 3. 9-Garrett Konrath [8], 4. 7-Matthew Zwack [9], 5. 58-Michael Frisch [13], 6. 063-Logan Helton [4], 7. 818-Ethan Courter [16], 8. 71-Chris Wetz [15], 9. 00-Jake Poulin [30], 10. 000-Seth Noell [21], 11. 65-Ashton Schleiss [22], 12. 62-Kyle Riley [19], 13. 078-Rudy Valentin [10], 14. 999-Thomas Miller [18], 15. 73-Jonathan Oates [34], 16. 39-Arnold Columbia [25], 17. 37-Ryan Nawrocki [12], 18. 12-Gary Waterworth [27], 19. 89-Brandon Hawkin [32], 20. 040-Lane Tidwell [24], 21. 53-Justin Melillo [26], 22. 615-Jordan Dworaczyk [20], 23. 48-Andy Margo [36], 24. 053-Devon Mistak [28], 25. 46-Robert Dorman [29], 26. 29-Kevin King [5], 27. 60-Spenser Ray [14], 28. 22-Alex Kolonics [7], 29. 64-Tyler Lahnen [23], 30. 26-Kevin McAdams [1], 31. 074-Cole Woody [17], 32. 212-Wyatt Tinsley [3], 33. 63-Ryan Pandiscio [35], 34. 54-Kenny Brady [11], 35. 112-Zachary Stultz [31], 36. 84-Cosmin Ioanesiu [33].
Lead Changes: 11 among six drivers.
Lap Leader(s): Kevin McAdams 1-9, Kevin King 10-52, Blake Reynolds 53-59, Jake Poulin 60, Kevin King 61-71, Blake Reynolds 72-78, Kevin King 79-125, Ryan Nawrocki 126, Kevin King 127-196, Tyler Garey 197-200.
Laps Led: Kevin King 171, Blake Reynolds 14, Kevin McAdams 9, Tyler Garey 4, Ryan Nawrocki 1, Jake Poulin 1.
Hard Charger(s): Jake Poulin (+21).
Caution Flags: Five for 23 Laps.
Margin of Victory: 2.337 seconds.
Time of Race: One hour, 46 minutes, 34.619 seconds.
Average Speed: 112.595 MPH.
Pole Winner: 26-Kevin McAdams, 26.430 seconds (136.209 MPH).
Fastest Lap: 29-Kevin King, 26.679 seconds (134.938 MPH).
Featured Photo Credit: Photo by Seth Eggert / Kickin' the Tires