By Seth Eggert, Staff Writer
The past met the present, and future, as Erik Jones snatched the eNASCAR iRacing Pro Invitational Series victory at Darlington Raceway.
At NASCAR's oldest superspeedway, Jones drove a virtual No. 43 STP John Andretti Throwback Tribute Chevrolet Camaro ZL1 1LE. Although it is the same paint scheme that the Richard Petty Motorsports driver will drive in Sunday's Goodyear 400, it was on the newly unveiled Next Gen car. NASCAR and iRacing teamed to showcase the first on-track action of the Next Gen car virtually.
A caution with 12 laps to go saw Jones, pole sitter Dale Earnhardt Jr., and others pit for four fresh tires. Timmy Hill stayed out while Chase Briscoe pitted for two tires. On the ensuing restart, Briscoe broke loose in front of the field. While many slammed into the wreck, Jones and Earnhardt avoided the mayhem on the expansive apron.
The seventh, and final restart of the night, saw Hill battling with Anthony Alfredo for the lead. Despite the lack of a nose to Alfredo's virtual No. 38 We Care Ford Mustang, the Front Row Motorsports driver still had plenty of speed. When Alfredo and Hill battled side-by-side on the frontstretch, Jones swept by the duo on the inside entering turn 1.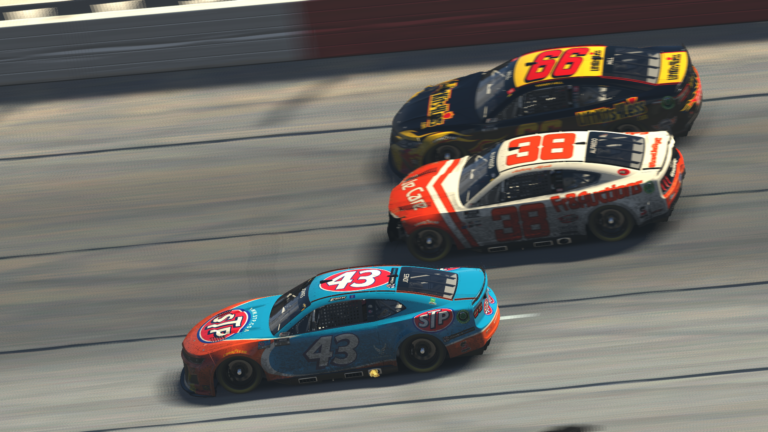 The Byron, MI native slipped away as contact between Alfredo and Hill put the virtual No. 66 Liftkits4less.com Rusty Wallace throwback in the outside wall. When the checkered flag waved, Jones had 0.268 seconds to spare over Alfredo. Earnhardt, Tyler Reddick, and Chase Elliott completed the top-five.
"It just kind of worked out for us," admitted Jones. "I felt okay all day, just the back half of the top-10. We restarted there in 11th, they wrecked in front of us, and we picked up a ton of spots. Then we were fourth, I didn't have damage, had fresh tires and it was sitting in my favor there towards the last restart. It was pretty cool to start this weekend with that while running the John Andretti scheme."
Kurt Busch, James Davison, Brad Keselowski, Jesse Iwuji, and Daniel Suarez rounded out the top-10. After leading with three laps to go, Hill crossed the line in 11th.
The race was slowed seven times for cautions. After two cautions in the first 12 laps, iRacing's race control held the caution for several incidents mid-race. Chris Buescher and Martin Truex Jr. were involved in one of those incidents. While Truex continued, Buescher was eventually disqualified by iRacing's coding as he drove with a damaged car with required repairs.
Cole Custer also learned about iRacing's nuances. The Stewart-Haas Racing driver was involved in several incidents throughout the race. At one point, he had nearly eight minutes of required repairs, apparently out of resets. Later, Custer blew his engine and was forced to tow back to pit lane, another feature he previously didn't know about.
Two-time eNASCAR iRacing Pro Invitational Series winner Denny Hamlin experienced a short night. Hamlin was involved in the first three cautions. The first two forced the Joe Gibbs Racing driver to use both fast repairs at his disposal. In the first wreck, he and Alfredo tangled off turn two. The second, he again was involved in a wreck sparked by Alfredo before being slammed into by Busch.
Most of the drivers on track ran paint schemes that will match their throwbacks in Sunday's race. Among drivers running the matching paint scheme was Jones.
"I never had a chance to meet John, which is unfortunate," admitted Jones. "I've only heard stories about him and what other people have to say. It means a lot to the Petty family, the scheme that we're running this weekend. John was really close to them. I thought it was a really cool way to honor him and his time at Richard Petty Motorsports."
Although Jones' win was virtual, it marked the first time that the No. 43 went to victory lane at 'The Track Too Tough to Tame' since Richard Petty won the Southern 500 in 1967. The last time a Petty-owned car won at Darlington, was Buddy Baker in 1971 for then-Petty Enterprises.
The Finish
1. 43-Erik Jones [22], 2. 38-Anthony Alfredo [3], 3. 88-Dale Earnhardt Jr. [1], 4. 8-Tyler Reddick [11], 5. 9-Chase Elliott [37], 6. 1-Kurt Busch [29], 7. 15-James Davison [9], 8. 2-Brad Keselowski [14], 9. 87-Jesse Iwuji [33], 10. 99-Daniel Suarez [39], 11. 66-Timmy Hill [10], 12. 47-Ricky Stenhouse Jr. [35], 13. 53-Joey Gase [26], 14. 51-Garrett Smithley [24], 15. 19-Martin Truex Jr. [13], 16. 20-Christopher Bell [5], 17. 10-Aric Almirola [27], 18. 23-Bubba Wallace [38], 19. 22-Joey Logano [23], 20. 4-Kevin Harvick [25], 21. 52-Josh Bilicki [21], 22. 00-Quin Houff [32], 23. 18-Kyle Busch [6], 24. 14-Chase Briscoe [7], 25. 24-William Byron [4], 26. 5-Kyle Larson [12], 27. 77-Justin Haley [15], 28. 48-Alex Bowman [18], 29. 3-Austin Dillon [16], 30. 25-Bobby Labonte [31], 31. 78-BJ McLeod [34], 32. 6-Ryan Newman [30], 33. 41-Cole Custer [17], 34. 7-Corey LaJoie [28], 35. 21-Matt DiBenedetto [8], 36. 17-Chris Buescher [19], 37. 34-Michael McDowell [20], 38. 11-Denny Hamlin [2], 39. 42-Ross Chastain [36].
Lead Changes: Five among four drivers
Lap Leader(s): Dale Earnhardt Jr. 1-47, William Byron 48-55, Timmy Hill 56-84, William Byron 85-108, Timmy Hill 109-118, Erik Jones 119-120.
Laps Led: Dale Earnhardt Jr. 47, Timmy Hill 39, William Byron 32, Erik Jones 2.
Hard Charger: 9-Chase Elliott (+32)
Caution Flags: Seven for 35 laps
Margin of Victory: 0.268 seconds.
Time of Race: One hour, 25 minutes, 1.546 seconds.
Average Speed: 115.730 MPH.
Pole Winner: 88-Dale Earnhardt Jr., 28.231 seconds (174.192 MPH).
Fastest Lap: 5-Kyle Larson, Lap 29, 28.459 seconds (172.796 mph).
Feature Photo Credit: Photo by Justin Melillo