By Seth Eggert, Associate Editor
The stars aligned for Garrett Lowe to embrace his inner 'intimidator' on his way to victory lane in Tuesday night's eNASCAR Coca-Cola iRacing Series race.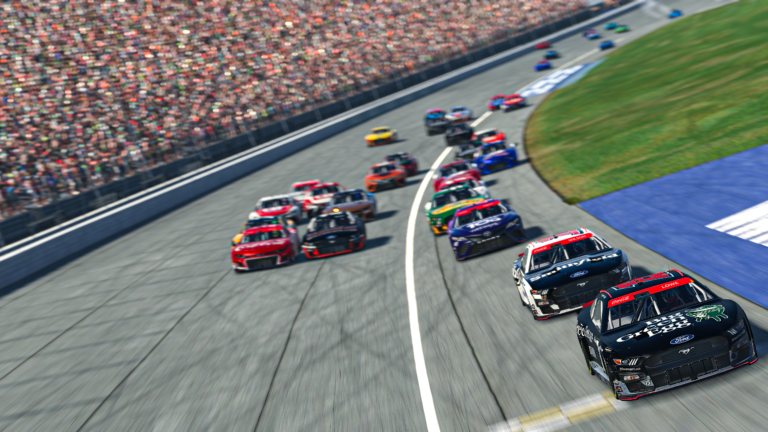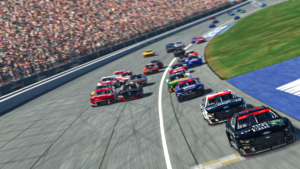 The Jim Beaver eSports driver was one of several eNASCAR Playoff drivers struggling to stay inside the top-15 on a long green flag run at the virtual Michigan Int'l Speedway. A late-race caution 100 feet from the white flag pushed the race into overtime. The driver of the virtual No. 15 Big Green Egg Ford Mustang opted to pit for fresh tires.
That decision to get tires proved to be crucial. On the first attempt at overtime, the Kyle Petty and Dale Earnhardt inspired 'protest paint scheme' surged forward. Lowe ducked onto the apron on the backstretch, gaining multiple positions.
As he blended back in line in Turn 3, fellow playoff driver Bobby Zalenski dove low. The duo collided, sending Zalenski spinning into the pack. At the same time contact between Ryan Luza and race leader Keegan Leahy sent the latter into the outside wall. The damage to Leahy's car forced the 2021 eNASCAR champion to pit road.
On the second attempt at overtime, Lowe once again surged ahead on fresher tires. He snuck to the inside of Luza in Turn 3 and took the lead and the white flag at the same time. As Steven Wilson, Michael Guest, and Luza battled three-wide, Lowe built a comfortable gap. Wilson closed in but ran out of time. Lowe took the victory with 0.134 seconds to spare. Wilson, Guest, Dylan Duval, and Jordy Lopez completed the top-five.
"Tonight, we didn't have the best car, it took some strategy, and I got into Bobby there into Turn 3 and took out some contenders there," Lowe admitted. "All in all, we hit the strategy there at the end. We were waiting on that caution, and we finally got it. We just had to take the opportunities when they came. We're going to Homestead."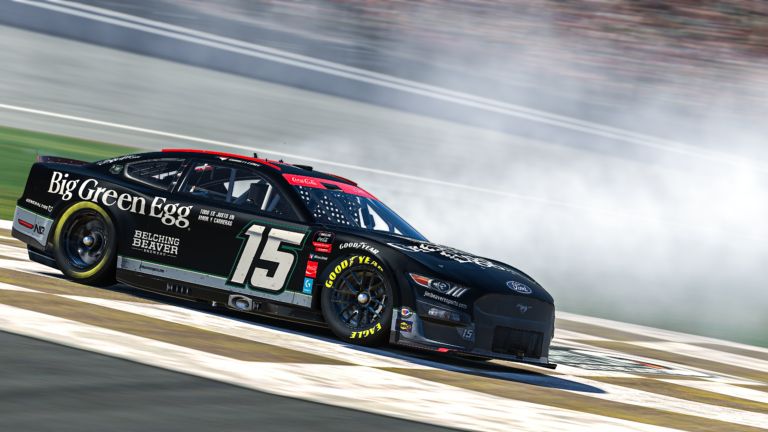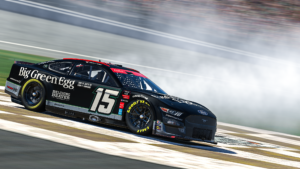 Garrett Manes, Zack Novak, Ryan Doucette, Donovan Strauss, and Darik Bourdeau rounded out the top-10. Polesitter and playoff driver Tucker Minter finished 24th after an accident. Of the rest of the playoff drivers, Michael Conti had the worst finish after being swept up in an accident. Driving a paint scheme that honored his mother, Gina, he finished 32nd.
In total, the race was slowed six times by cautions for a total of 18 laps. The two biggest wrecks of the night occurred in the final laps. Both wrecks collected playoff drivers Conti, Minter, Nick Ottinger, and Michael Conti.
With his win, Lowe is now locked into the Championship 4 and will compete for $100,000 and the Dale Earnhardt Jr. Championship Trophy in person at the NASCAR Hall of Fame. Wilson is second in points, nine above the cutline with Guest eight above the cutline in third. Lopez is fourth, just six points ahead of defending champion Casey Kirwan.
Zalenski is 11-points behind with Minter 16 behind. Jimmy Mullis is 21-points out after an early wreck with Ottinger 23-points out. 2014 champion Conti is 24-points outside of the eNASCAR Championship 4.
Next for the eNASCAR Coca-Cola iRacing Series is a trip to Dover Motor Speedway on Tuesday, August 29, at 9:00 p.m. ET. All eNASCAR races are streamed live at enascar.com/live.
The results:
1. 15-Garrett Lowe (P) [3], 2. 10-Steven Wilson (P) [9], 3. 45-Michael Guest (P) [24], 4. 41-Dylan Duval [10], 5. 3-Jordy Lopez (P) [19], 6. 12-Garrett Manes [25], 7. 75-Zack Novak [31], 8. 77-Ryan Doucette [26], 9. 51-Donovan Strauss [4], 10. 1-Darik Bourdeau [22], 11. 20-Wyatt Tinsley [17], 12. 31-Derek Justis [36], 13. 27-Cody Byus [34], 14. 95-Casey Kirwan (P) [16], 15. 43-Femi Olatunbosun [21], 16. 11-Parker White [29], 17. 7-Malik Ray [13], 18. 6-Timmy Holmes [23], 19. 4-Ryan Luza [18], 20. 34-Allen Boes [32], 21. 66-Tyler Garey [40], 22. 18-Bobby Zalenski (P) [5], 23. 42-Kollin Keister [11], 24. 33-Tucker Minter (P) [1], 25. 25-Nick Ottinger (P) [15], 26. 46-Jimmy Mullis (P) [38], 27. 17-Kaden Honeycutt [37], 28. 38-Michael Cosey, Jr. [7], 29. 88-Kevin King [33], 30. 69-Collin Bowden [12], 31. 40-Dylan Ault [30], 32. 8-Michael Conti (P) [6], 33. 36-Brandon McKissic [20], 34. 2-Corey Vincent [27], 35. 54-Daniel Faulkingham [8], 36. 97-Matt Bussa [28], 37. 48-Graham Bowlin [39], 38. 23-Keegan Leahy [2], 39. 14-Joey Brown [14], 40. 55-Vicente Salas [35].
Lead Changes: Nine among seven drivers.
Lap Leader(s): Tucker Minter 1-4, Keegan Leahy 5-8, Dylan Duval 9-45, Collin Bowden 46-49, Keegan Leahy 50-55, Joey Brown 56-59, Collin Bowden 60, Keegan Leahy 61-72, Ryan Luza 73-76, Garrett Lowe 77-78.
Laps Led: Dylan Duval 37, Keegan Leahy 22, Collin Bowden 5, Joey Brown 4, Ryan Luza 4, Tucker Minter 4, Garrett Lowe 2.
Hard Charger(s): 75-Zack Novak and 31-Derek Justis (+24).
Rookie of the Race: 3-Jordy Lopez, Team Dillon eSports, Fifth.
Caution Flags: Six for 18 Laps.
Margin of Victory: 0.134 seconds.
Time of Race: 1:08:00.959
Average Speed: 137.615 MPH
Pole Winner: 33-Tucker Minter, Team Dillon eSports, 38.219 seconds, 188.388 MPH.
Fastest Lap: 51-Donovan Strauss, Williams eSports, Lap 26, 38.629 seconds, 186.389.
*Race Scheduled for 70 Laps, Extended Due to Overtime*