By Seth Eggert, Staff Writer
Circumstances and strategy combined to earn Robert Malezcka III his second consecutive Elite Racing League Rich Mar Florist Indianapolis 500 Presented By Open Wheel Racing Jobs.
Strategy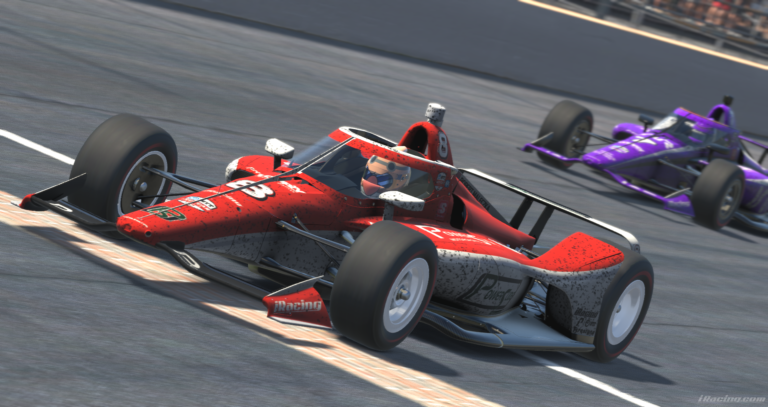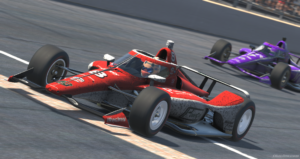 The timing of the penultimate caution pushed the field into fuel conservation. Instead of a drawn-out battle for the lead, many followed behind Alexander van de Sandt. The No. 1 Dallara was the class of the field, leading just shy of half of the race. However, the traditional glass of milk will have to wait until the next running of Elite Racing's Indianapolis 500.
iRacing Simulation issues for van de Sandt caused the championship contender to lose connection to the server with 30 to go. Malezcka took over the lead following the ensuing round of pit stops. With fuel mileage still at a premium, Chris Wilhite, Henry Bennett and others followed the No. 8 PowerSlide Motorsports Dallara.
Taking the Checkered
Fuel mileage, and the battle for the win, ended abruptly when the caution waved for a crash involving Eric Macedo with two laps to go. Much like some real-life Indianapolis 500s, the race at Indianapolis Motor Speedway ended under caution.
"It feels really good (to win back-to-back Indianapolis 500s)," said Malezcka. "It was quite a different race from last season when we ran here. Just massive fuel numbers, that's why we were over half a second off pace for about 70 laps there. We were all just trying to hit the number and I was just the best out of everyone there to make the fuel last and go long on that last stint.
"Short fueling worked out for me, that got me two spots there. Looking at my pit times, it saved me just under a second on pit road. Then I just had to get the lead and dominate from there."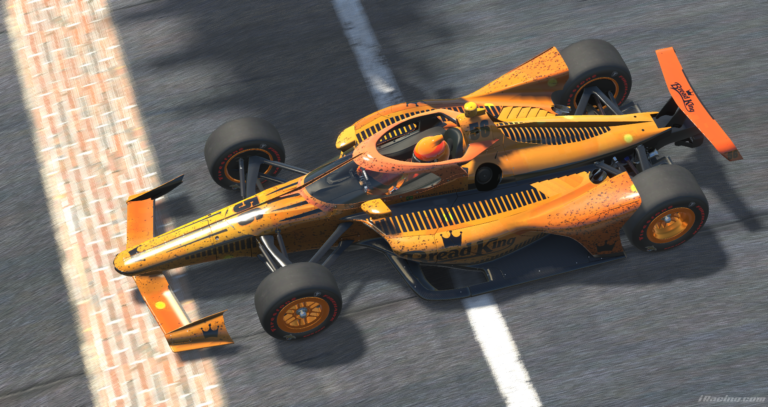 Malezcka took the win behind the pace car with Wilhite, Bennett, Rodrigo Franzoni, and Adriano Pinheiro taking the 2022 Season B championship due to van de Sandt's issues. Blaise Andrich, AJ Musselman, Nicholas Sudik, Shane Coogan, and real-life NTT IndyCar driver Sage Karam completing the top-10.
Race-Changing Crash
In total, the race was shortened five times for cautions. The first four cautions took place in the opening 105 laps.
The biggest crash of the race came on the 102nd lap. Monday Night Racing's defending champion Presley Sorah broke loose and collided with NTT IndyCar driver Oliver Askew. The resulting crash saw Tate Lightle drive under the airborne Sorah. The gap closed, collecting the No. 63 Kickin' the Tires Chevrolet Dallara of Seth Eggert.
Chad Frankenfield in the other Kickin' the Tires sponsored Dallara opted for an alternate strategy. As others stretched the fuel further than expected, Frankenfield had sacrificed a top-five finish for a 14th-place finish.
Notables
Other notables in the race included the aforementioned IndyCar and NASCAR Xfinity Series Karam. He led one lap during a round of pit stops before finishing 10th.
NTT IndyCar driver RC Enerson retired from the race, finishing 23rd.
Nick DeGroot was forced to retired from the race after internet connection issues plagued the Monday Night Racing Season 1 champion. The internet connection issues for DeGroot, a champion in Velocity Online Racing, iRacing's official Grand Prix Fixed Setup Series, Darkhorse IndyCar and other leagues ended his run of completing 99.9% of the laps in the Elite Racing Indianapolis 500.
The results:
1. 8-Robert Malezcka III [1], 2. 7-Chris Wilhite [9], 3. 07-Henry Bennett [6], 4. 13-Rodrigo Franzoni [3], 5. 56-Adriano Pinheiro [4], 6. 25-Blaise Andrich [25], 7. 54-AJ Musselman [7], 8. 87-Nicholas Sudik [12], 9. Shane Coogan [29], 10. 02-Sage Karam [24], 11. 57-Chris Wright [14], 12. 19-Matthieu Weeks [13], 13. 22-Kevin Birrell [20], 14. 15-Chad Frankenfield [2], 15. 69-Mark Murphy [12], 16. 03-Peter Dempsey [17], 17. 63-Seth Eggert [30], 18. 83-Eric Macedo [22], 19. 70-Cesar Cabral [28], 20. 29-Tate Lightle [28], 21. 06-Dudes Castroneves [33], 22. 14-Eric Troyano [10], 23. 50-RC Enerson [15], 24. 1-Alexander van de Sandt [5], 25. 27-Victor Del Porto [23], 26. 38-Oliver Askew [18], 27. 98-Presley Sorah [27], 28. 90-Scott Crump [16], 29. 30-Alexandre Rigon [31], 30. 89-Nick DeGroot [8], 31. 95-Gavin Hibbs [32], 32. 88-Jari Bruppacher [22], 33. 10-Jared Rexing [19].
Lead Changes: 26 among eight drivers.
Lap Leader(s): Chad Frankenfield 1-3, Robert Malezcka III 4-7, Chad Frankenfield 8-15, Oliver Askew 16, Presley Sorah 17-31, Robert Malezcka III 32-37, Alexander van de Sandt 38-40, Robert Malezcka III 41-48, Alexander van de Sandt 49, Chad Frankenfield 50-51, Alexander van de Sandt 52-82, Adriano Pinheiro 83-88, Alexander van de Sandt 89-102, Chad Frankenfield 103-114, Alexander van de Sandt 115-120, Adriano Pinheiro 121-134, Alexander van de Sandt 135-137, Robert Malezcka III 138, Sage Karam 139, Chad Frankenfield 140-143, Alexander van de Sandt 144-164, Adriano Pinheiro 165-166, Alexander van de Sandt 167-169, Adriano Pinheiro 170, Robert Malezcka III 171-172, Eric Macedo 173-174, Robert Malezcka III 175-200.
Laps Led: Alexander van de Sandt 82, Robert Malezcka III 47, Chad Frankenfield 29, Adriano Pinheiro 23, Presley Sorah 15, Eric Macedo 2, Oliver Askew 1, Sage Karam 1.
Hard Charger(s): 9-Shane Coogan (+20).
Caution Flags: Five for 17 Laps.
Margin of Victory: Under Caution.
Time of Race: Two hours, 36 minutes, 1.206 seconds.
Average Speed: 192.283 MPH.
Pole Winner: Robert Maleczka III, 227.912 MPH 4-Lap average.
Fastest Lap: 14-Eric Troyano, Lap 141, 40.530 seconds, 222.058 MPH.