By Seth Eggert, Associate Editor
A well-timed last lap pass allowed Justin Melillo to overcome a damaged front wing to win Saturday night's FTF Rectangle 500.
A late-race caution in the Modern Racing Prints FTF1 Series set up a 10-lap shootout to the finish. On the restart, contact between Australian Jamie Ritchie-Price and Traxion.gg writer Melillo broke the wing of the No. 5 Dallara iR-01. Jonathan Goke and pole sitter Brandon Hawkin quickly pounced, dropping the New Yorker to fourth.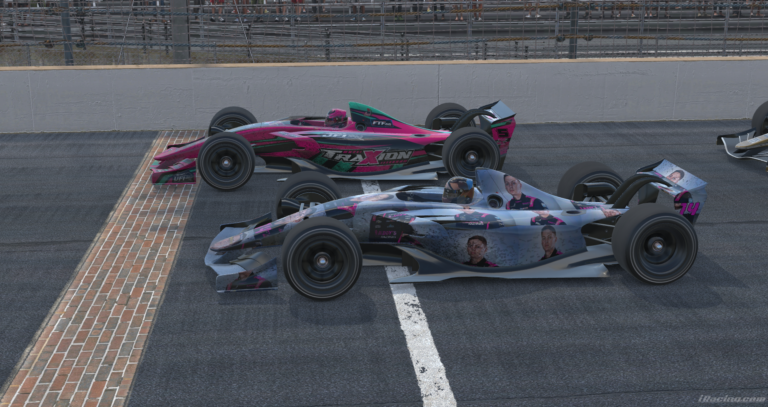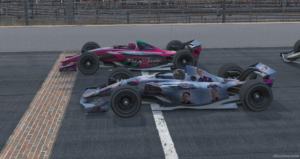 An intense battle between the four leaders over the final laps saw the lead change multiple times. Further contact between the leaders created incredible feats of virtual car control from both Hawkin and Ritchie-Price. That contact kept Melillo in position to take advantage of the loss of momentum.
First, Melillo snuck by Goke's No. 7 Kickin' the Tires machine. Then he followed Ritchie-Price's draft to sneak by when Hawkin broke loose on the final lap. Exiting the final corner of Indianapolis Motor Speedway, Ritchie-Price pinched low to protect the inside. Melillo swept to the outside, carrying his momentum down the straightaway.
The duo drag raced to the yard of bricks with both Goke and Hawkin battling for the final podium position. When the checkered flag waved, Melillo edged out Ritchie-Price by 0.009 seconds to take the win. Goke picked up the final podium position in a photo finish of his own with Hawkin. Dylan Connolly finished fifth, scoring his first top-five in FTF competition in about a decade.
"Oh my god I'm in disbelief right now," Melillo admitted. "I'm in disbelief, complete disbelief because I thought we had the strategy, and then we didn't have the strategy. We were working so damn hard to try and get up to those two up front.
Then (Ryan Nawrocki) just got too loose there. I felt like my chances for possibly winning were over for either of us. The two of us combined, I felt like we were unstoppable. Then I had to go and win it on my own. I didn't think I had it in me. Hawkin was playing the smartest race I have ever seen as a leader. He knew he couldn't let me get anything. He was pinching off the bottom, giving me no lane and Jamie just couldn't get him on the outside. I got so lucky going into Turn 3 on the final lap that he got loose and I saw the opportunity."
iRacing's Jake Poulin finished sixth with Seth Eggert seventh. Owen DeGroot, Brian Szabelski, and Craig Forsythe completed the top-10. Other notables in the field included Action Express Racing's assistant to special projects Josh Stoltz, 14th, and the first annual FTF Rectangle 500 winner Connor Harrington in 22nd.
The 500-mile race was slowed six times by cautions. One early wreck ended the race for the defending winner of the race, Harrington, though it was last held using the Dallara iR-18. The biggest wreck of the race happened on lap 75 when a lapped car attempted to let the leaders by.
An ill-timed check-up led to a multi-car accident that wiped out Ryan Pandiscio and Josh Stoltz in spectacular fashion. As the initial wreck happened with Pandiscio, Stoltz had no time to react and launched over another lapped car. Somehow Ray Nawrocki emerged from the carnage unscathed despite being in the middle of the carnage.
Next for the FTF1 Series is a trip to Watkins Glen Int'l for the Grand Prix at The Glen on Friday, August 4 at 10:00 p.m. EDT. The race will be streamed live at on the FTF.gg Twitch and Youtube channels.
The results:
1. 5-Justin Melillo [3], 2. 14-Jamie Ritchie-Price [11], 3. 7-Jonathan Goke [5], 4. 1-Brandon Hawkin [1], 5. 44-Dylan Connolly [17], 6. 999-Jake Poulin [28], 7. 6-Seth Eggert [12], 8. 37-Owen DeGroot [24], 9. 8-Brian Szabelski [8], 10. 42-Craig Forsythe [10], 11. 23-Ryan Nawrocki [26], 12. 92-Kodi Wear [14], 13. 95-Rafael Ruiz [25], 14. 22-Josh Stoltz [6], 15. 2-Ryan Pandiscio [7], 16. 38-Michael Deitch [22], 17. 78-Marcus Ciasco [16], 18. 46-Joseph Breuer [20], 19. 45-Adam Cantwell [27], 20. 10-Bryce Saucier [13], 21. 9-Nicholas Pressey [2], 22. 93-Connor Harrington [15], 23. 43-Andrew Player [23], 24. 3-Matthew Breuer [9], 25. 87-Bill Colley II [19], 26. 97-Robert Lowry [4], 27. 26-Andrew Schulte [18], 28. 4-Ben Goyette [21].
Lead Changes: 32 among six drivers.
Lap Leader(s): Brandon Hawkin 1-7, Justin Melillo 8-16, Jake Poulin 17-27, Ryan Nawrocki 28-38, Jake Poulin 39, Brandon Hawkin 40-87, Ryan Nawrocki 88-89, Brandon Hawkin 90-101, Craig Forsythe 102, Brandon Hawkin 103-107, Ryan Nawrocki 108-109, Craig Forsythe 110-117, Brandon Hawkin 118-139, Craig Forsythe 140, Justin Melillo 141-142, Ryan Nawrocki 143, Justin Melillo 144, Ryan Nawrocki 145, Jamie Ritchie-Price 146-147, Ryan Nawrocki 148-150, Justin Melillo 151, Ryan Nawrocki 152-154, Justin Melillo 155-164, Ryan Nawrocki 165-167, Craig Forsythe 168, Brandon Hawkin 169-175, Jamie Ritchie-Price 176-177, Brandon Hawkin 178-191, Jamie Ritchie-Price 192-193, Brandon Hawkin 194-195, Jamie Ritchie-Price 196, Brandon Hawkin 197-199, Justin Melillo 200.
Laps Led: Brandon Hawkin 120, Ryan Nawrocki 26, Justin Melillo 24, Jake Poulin 12, Craig Forsythe 11, Jamie Ritchie-Price 7.
Hard Charger(s): 999-Jake Poulin (+22).
Tough Luck: 97-Robert Lowry (-22).
Caution Flags: Six for 18 Laps.
Margin of Victory: 0.009 seconds.
Time of Race: 2:27:57.115
Average Speed: 202.769 MPH.
Pole Winner: 1-Brandon Hawkin, 37.944 seconds, 237.190 MPH (4-Lap Average).
Fastest Lap: 999-Jake Poulin, Lap 195, 37.366 seconds, 240.861 MPH.