By Seth Eggert, Staff Writer
In a battle between two of iRacing's U.S. Open Wheel racing veterans, Connor Harrington bested Nick DeGroot and FTF Racing's regulars in the FTF Rectangle 500.
Strategy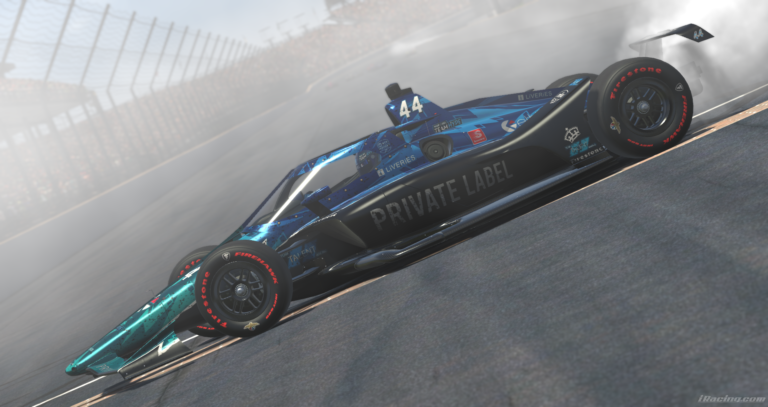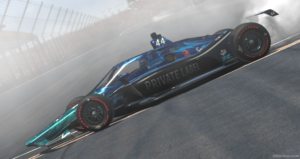 While Harrington's No. 44 Private Label Dallara IR-18 dominated much of the 500-mile race, there were moments in which a victory seemed in doubt. The Team Hype Sim driver pitted with 30 laps to go. That left DeGroot's No. 89 Motorsport.com Dallara out front.
Like Harrington before him, DeGroot had yet to make his final pit stop. FTF regulars Alex Kolonics, Nicholas Pressey, and Jake Poulin were all on pace to make it to the end on fuel. The dirty air hampered DeGroot, Harrington, and other's attempts to close in.
Race Changing Caution
Ultimately, the complexion of the race changed with 17 laps to go. Contact between Harry Grindell and Poulin sent the latter spinning into the Turn 2 wall. The ensuing caution, coming in the middle of a pit cycle, flipped the race upside down for many in the field.
Though DeGroot pitted, Harrington stayed out. That trapped half of the remaining field off of the lead lap. With Harrington the only driver to stay out, it set up a battle between the two iRacing U.S. Open Wheel (formerly called IndyCar on iRacing) drivers.
Two quick cautions, one which ended the race for Kolonics, shortened the battle from a 15-lap fight to a seven-lap duel.
Battle for the Win
While Harrington led, DeGroot used his years of experience on the motorsports simulation to chase down the leader. With five laps to go, DeGroot narrowly beat Harrington to the line. The Motorsport editor had been the only driver to make the outside lane work. That came to an abrupt end with four to go.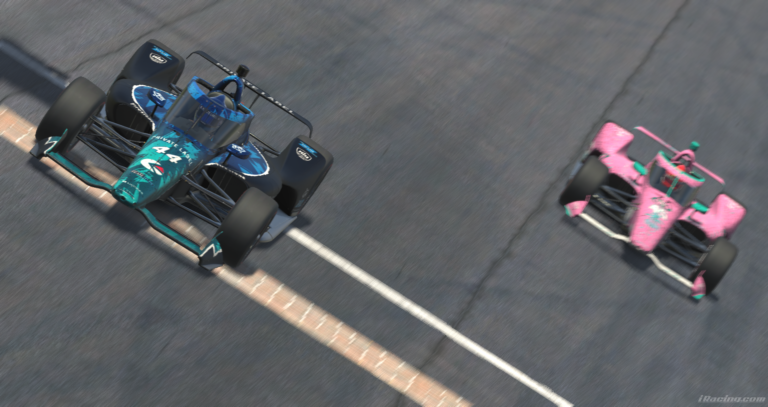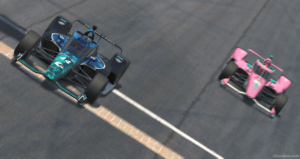 Contact between Harrington and DeGroot squeezed the No. 89 into the outside wall. As DeGroot's wounded Dallara slipped down the running order, FTF regular Ethan Courter rose to the occasion. Courter chased down Harrington, but ultimately ran out of time. Harrington took the checkered flag 0.116 seconds ahead of Courter.
"Man, it's never easy to win an Indy 500, and somehow we got it done," Harrington said. "Caution after caution at the end, I was really just hoping that it was going to go green and be a straight up fight between Blake (Reynolds) and myself.
"Although I think I would have ended up catching Ethan. I'm surprised he pitted under that yellow. Thought that would have been the yellow he needed to make it. We just got lucky. Then we were just praying and defending for our lives. Somehow we ended up in victory lane."
Notables
Brandon Hawkin, Pressey, and DeGroot completed the top-five. Grindell, Seth Eggert, Anthony Chrobak, Logan Helton, and former eNASCAR Coca-Cola iRacing Series driver Blake Reynolds rounded out the top-10.
Several drivers saw their chances end due to pit road speeding penalties. That included Michael Frisch, Ian Plasch, Reynolds, and more.
The race was slowed seven times by cautions, four before lap 100, and the final three in the final 20 laps. The first two came on the opening laps. The other two cautions, like the one that set up the battle between DeGroot and Harrington, came during pit cycles.
The more consequential early caution came when Andrew Coody spun exiting pit road. With several drivers off strategy, and some on pit road, it shook up the running order. The timing of the caution also caused FTF Racing co-owner, race promoter, and Traxion.gg writer Justin Melillo to run out of fuel. Melillo lost two laps and never recovered.
The Event
The race was organized by Melillo, under the FTF banner, shortly after the announcement of the changes for the Dallara IR-18. In only nine days Melillo, aided by the FTF competitors, came up with a qualifying setup, a race setup, had traditional qualifying, bump day qualifying, and ultimately the race itself.
Hours after that news dropped, I asked the FTF discord a simple question. Fast forward to just under an hour ago when Connor Harrington crossed the virtual Yard of Bricks. It's been an incredible week and then some. Definitely would have loved more time but I'm glad we got it in. pic.twitter.com/Xtrb8A8AVK

— Justin Melillo (@justinmelillo) December 31, 2022
The event itself was a 'send-off' for the Dallara IR-18. A part of the changes to the car is a broadcasting prohibition while licensing negotiations take place between iRacing and the sanctioning body that utilizes the car, the NTT IndyCar Series. That prohibition goes into effect on January 1, 2023.
The results:
1. 44-Connor Harrington [4], 2. 45-Ethan Courter [27], 3. 099-Brandon Hawkin [7], 4. 94-Nicholas Pressey [15], 5. 89-Nick DeGroot [6], 6. 70-Harry Grindell [32], 7. 57-Seth Eggert [28], 8. 81-Anthony Chrobak [19], 9. 63-Logan Helton [2], 10. 015-Blake Reynolds [14], 11. 73-Jonathan Oates [5], 12. 99-Josh Stoltz [26], 13. 01-Ian Plasch [8], 14. 91-Giffin Jones [33], 15. 69-Christopher Robertson [21], 16. 53-Justin Melillo [22], 17. 83-David Brown [11], 18. 59-Shawn Begley [29], 19. 15-Cole Fralick [20], 20. 4-Tyler Williams [30], 21. 18-Arron Brown [18], 22. 12-Alex Kolonics [3], 23. 7-Matthew Zwack [10], 24. 48-Jay Cook [31], 25. 11-Jake Poulin [23], 26. 23-JD Laird [16], 27. 00-Michael Cosey Jr [13], 28. 58-Michael Frisch [24], 29. 32-Seth DeMerchant [12], 30. 41-Josh Parker [1], 31. 5-Andrew Coody [17], 32. 5-Andrew Coody [17], 32. 77-Gary Owen [25], 33. 1-Nate Stewart [9].
Lead Changes: 24 among eight drivers.
Lap Leader(s): Josh Parker 1-29, Logan Helton 30-32, Connor Harrington 33, Alex Kolonics 34-35, Ethan Courter 36, Josh Parker 37-39, Connor Harrington 40-95, Ian Plasch 96, Nick DeGroot 97, Alex Kolonics 98-99, Connor Harrington 100-118, Ian Plasch 119, Logan Helton 120-127, Blake Reynolds 128, Nick DeGroot 129-131, Connor Harrington 132-148, Logan Helton 149-159, Nick DeGroot 160-162, Alex Kolonics 163-164, Connor Harrington 165-173, Blake Reynolds 174-175, Nick DeGroot 176-184, Connor Harrington 184-195, Nick DeGroot 196, Connor Harrington 197-200.
Laps Led: Connor Harrington 117, Josh Parker 32, Logan Helton 22, Nick DeGroot 17, Alex Kolonics 6, Blake Reynolds 3, Ian Plasch 2, Ethan Courter 1.
Hard Charger(s): 70-Harry Grindell (+26).
Caution Flags: Seven for 20 Laps.
Margin of Victory: 0.116 seconds.
Time of Race: Two hours, 40 minutes, 33.125 seconds.
Average Speed: 186.855 MPH.
Pole Winner: 41-Josh Parker, 39.758 seconds, 226.367 MPH (4-Lap Average).
Fastest Lap: 63-Logan Helton, Lap 100, 40.738 seconds, 220.924 MPH.