By Seth Eggert, Staff Writer
The decision not to pit under caution with under 10 laps to go in the Shawn Butler 200 at the virtual Rockingham Speedway ultimately proved decisive for Larry Pace.
Strategy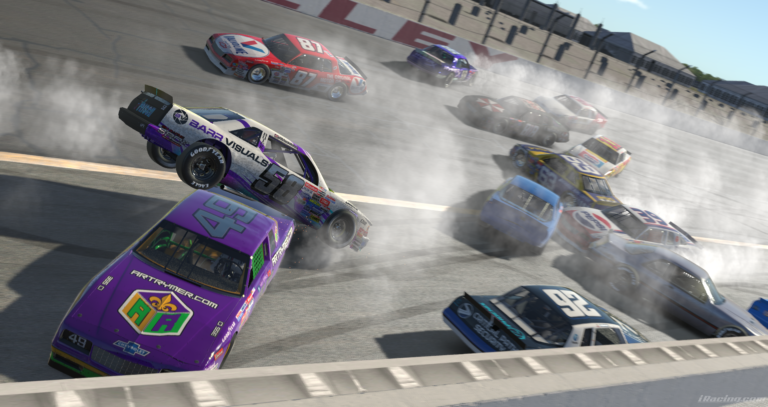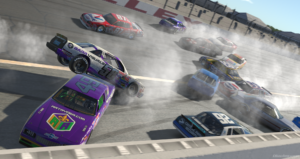 Contact with eight laps to go in the Shenandoah Shine Legends of the Future Series race between Kevin McAdams and Tyler Garey ultimately sent the No. 86 Dinoco Chevrolet spinning. Under the ensuing caution, the race's namesake Butler led most of the field onto pit road.
Eyeing an opportunity, Pace was one of five drivers that elected to stay on track. He had been running just inside the top-five most of the race. A few hundred yards after the restart, a four-wide move by Michael Frisch led to Ben Bafford clipping Butler. The contact sparked the first to two 'big ones' in the scheduled 200-lap iRacing race.
Pacing To The Win
That accident pushed the race into overtime. Pace remained in the lead in the virtual No. 00 Swag Dezigns Buick LeSabre. Three of the four other drivers that stayed out, Mitchell Riggs, Chris Jahnke, and Gabriel Mauricio still held second through fourth.
As the field entered the backstretch in overtime, contact in a four-wide battle inside the top-10 sparked a field-consuming wreck that echoed the 2002 Aaron's 312 NASCAR Busch Series race at Talladega. Only the top-five finishers escaped the melee undamaged.
Despite the huge melee, the caution did not wave. Pace held off two late charges from Riggs to take the win. Riggs, who was suffering from COVID-19 symptoms, finished 0.111 seconds behind Pace with Jahnke, Mauricio, and Michael Cosey Jr completing the top-five. Cosey was the hard charger of the race.
"I heard that there was calamity behind me, but I was full windshield mode," Pace said. "It sucks when races end with big wrecks like that. I definitely had to make a strategy call. I was third or fourth on that last stop. It worked out, I'm happy. It sucks for some of those guys for real, but it was a really fun race all things considered.
"I was super worried about (being on old tires if the race stayed green). Figured I could probably get maybe a lap if the seas parted for the guys that took tires. A lot of the time, especially at Rockingham, that's not how it works out. I hedged my bet there, hoped for the best. I'm not in it for the points, so I had the freedom to make that call."
Notables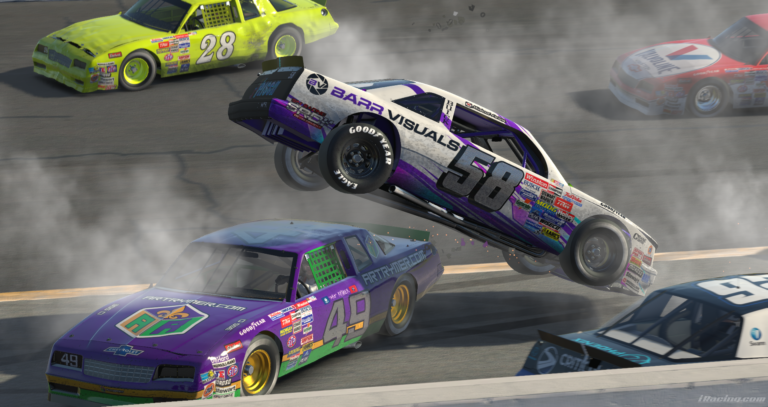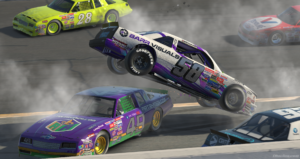 Dylan Roberts, Alex Kolonics, Davis Warren, Ethan Courter, and Adam Martin rounded out the top-10. Kolonics ran the fastest lap of the race, 25.240 seconds, 142.631 MPH, on the final lap, despite having to dodge several wrecked cars.
Polesitter Quami Scott finished 14th after he was collected in a late-race wreck and in the massive field consuming crash in overtime. However, he never led a lap in the race.
Ultimately, the Shawn Butler 200 sponsored by Chandler Parsons had several long green flag runs. Several single car spins did not warrant cautions. Of the six cautions, half took place around green flag pit stops, a by-product of high tire wear causing handling issues.
The next race for the Legends of the Future Series is a 150-lap trip to 'The Track Too Tough To Tame,' Darlington Raceway, on Thursday, January 5, 2023 at 8:45 p.m. ET on the FTF Racing Twitch channel.
The results:
1. 00-Larry Pace [12], 2. 09-Mitchell Riggs [22], 3. 14-Chris Jahnke [15], 4. 04-Gabriel Mauricio [7], 5. 99-Michael Cosey Jr [40], 6. 74-Dylan Roberts [5], 7. 22-Alex Kolonics [4], 8. 70-Davis Warren [29], 9. 818-Ethan Courter [35], 10. 87-Adam Martin [31], 11. 015-Michael Guariglia [37], 12. 17-Sean Peleg [16], 13. 58-Michael Frisch [6], 14. 76-Quami Scott [1], 15. 79-Danny Thomson [24], 16. 32-Shawn Butler [9], 17. 63-Logan Helton [18], 18. 11-Paul Gallimore [21], 19. 26-Kevin McAdams [3], 20. 23-Ben Bafford [38], 21. 026-Ryan Vargas [11], 22. 86-Tyler Garey [2], 23. 39-Daniel Faulkingham [36], 24. 49-Art Rymer [26], 25. 6-Christopher Norris [25], 26. 98-Matt Taylor [20], 27. 60-Tyler Dubosh [14], 28. 043-Joshua Cronin [34], 29. 83-David Brown [10], 30. 54-Cody McCorkle [23], 31. 28-John Gorlinsky [39], 32. 78-Matthew Zwack [13], 33. 97-Jackson van Volkinburg [27], 34. 47-Derek Norton [8], 35. 89-Mike Rasimas [17], 36. 61-Lane Tidwell [28], 37. 77-Terry Murphy [33], 38. 12-Jeremy Allen [19], 39. 53-Justin Melillo [30], 40. 121-Jake Poulin [32].
Lead Changes: 11 among 10 drivers.
Lap Leader(s): Quami Scott POLE-0, Tyler Garey 1-2, Alex Kolonics 3-26, Michael Frisch 27-41, Kevin McAdams 42-56, Derek Norton 57-93, Shawn Butler 94-101, David Brown 102-108, Shawn Butler 109-167, Tyler Garey 168-169, Matt Taylor 170-175, Shawn Butler 176-193, Larry Pace 194-204.
Laps Led: Shawn Butler 85, Derek Norton 37, Alex Kolonics 24, Michael Frisch 15, Kevin McAdams 15, Larry Pace 11, David Brown 7, Matt Taylor 6, Tyler Garey 4, Quami Scott 0.
Hard Charger(s): 99-Michael Cosey Jr (+35).
Caution Flags: Six for 27 Laps.
Margin of Victory: 0.111 seconds.
Time of Race: One hour, 49 minutes, 24.868 seconds.
Average Speed: 111.868 MPH.
Pole Winner: 76-Quami Scott 25.160 seconds, 143.084 MPH.
Fastest Lap: 22-Alex Kolonics, Lap 204, 25.240 seconds, 142.631 MPH.
*Race Scheduled for 200 Laps, Extended Due to Overtime*