By Seth Eggert, Staff Writer
As common as life is, everything has a beginning, an origin story. The first hat, the first tool, weapon, all of which had its first. Henry Ford famously said that the first race was "when the second car was built." So, what about a victory burnout in motorsports?
Alex Zanardi's Burnouts
The iconic NASCAR celebration has also been seen in other forms of motorsports including CART, F1, and IndyCar. Among those that have performed a burnout celebration are Alex Zanardi, Lewis Hamilton, and Sebastian Vettel.
Some have even credited Zanardi for the first burnout celebration following a victory in the Long Beach Grand Prix in 1997. It was the fourth win of Zanardi's career with Chip Ganassi.
Earnhardt and Gordon
Still others point towards Dale Earnhardt's celebration in the 1998 Daytona 500 or Jeff Gordon's at Rockingham Speedway near the end of the year, the 12th of his record-tying 13 win championship season.
Prior to that race in 1998, Gordon had performed minor wheelstands and burnouts during his first championship season in 1995. As the eventual four-time NASCAR Cup Series champion represented the changing of the guard and a new generation, the then unorthodox celebrations began to be associated with him.
Was Miller's Celebration the First Burnout?
However, before Earnhardt, Gordon, and Zanardi, there was another. In a race that is largely forgotten as having the closest finish to date in NASCAR, Butch Miller likely performed the first modern burnout celebration in NASCAR history for a National Touring Series points-paying race.
After a late-race battle with Mike Skinner, the duo took the checkered flag in the 1995 NASCAR Craftsman Truck Series TOTAL Petroleum 200 at Colorado National Speedway in a photo finish. Lapped traffic forced Miller to slow, giving Skinner the opportunity to jump to the inside, creating the photo finish.
Miller narrowly beat Skinner by 0.001 seconds according to NASCAR's electronic timing and scoring. That's the closest finish in the history of the Craftsman Truck Series to date.
Following his victory, on Saturday, July 15, 1995, Miller drove into the infield and did several 360 donuts. He then proceeded to perform a wheelstand in the No. 98 Raybestos Brakes Ford F-150, a signature part of the modern burnout before pulling into victory lane. While it wasn't an overly dramatic smoke machine compared to the burnouts of today it was impressive nonetheless.
https://www.youtube.com/watch?v=8jhIJ21_o90
The win was the first and only one in Miller's Truck Series career. It was also his third and final win in any of NASCAR's three National Touring Series. Miller would find further success in the final years of ASA.
"Never, ever could I be more thrilled than that," Miller said to Mike Joy post-race. "I didn't want it to be quite that exciting, I've got to say. I'm just a little rusty in traffic, I don't know what it is but I've got to work on it a little bit more. I have a hard time trying to figure out where they're going."
The First Accidental Burnout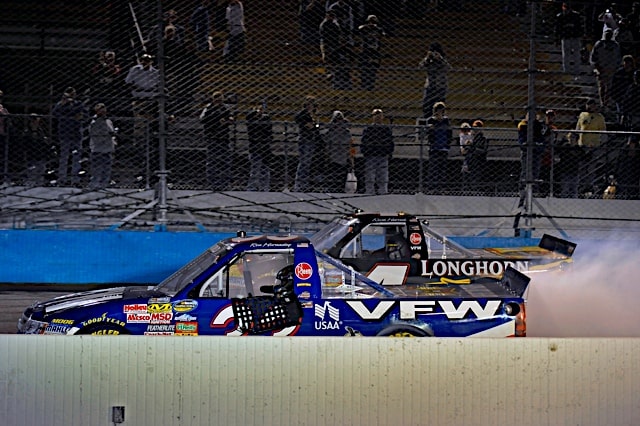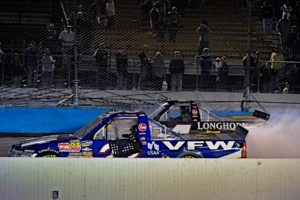 Eight races prior to Miller's celebration, Ron Hornaday Jr did produce some smoke when he celebrated his win at Mesa Marin Raceway. However, that came from a spin after he hit coolant on track. Then he lazily backed his truck into victory lane. Depending on the definition of a burnout, this could be considered one to some people.
"I think it was a mistake when I ran down low and there was somebody who wrecked earlier and there was coolant on the track," Hornaday said. "Then I went sideways. So, I just stayed in the gas and started going to burnout and Kevin Harvick says I was the first one to do it. I know I'm the first one to do it in Victory Lane.
"I went to do it at Charlotte, and I got fined because it scared the security guard, so I stopped that. I always wanted to win at Bristol on the new ramp to do a burnout all the way to the top of that thing and parked the car up there. When you drove for Earnhardt and Harvick and after you win, three or four races, they said it was really hard on equipment, drivetrain, wear and tear on the stuff, so that'll do it for special occasions."
Acceptance of the Celebration
It wouldn't be until Kevin Harvick's victory at Atlanta Motor Speedway in 2001 that burnouts started to become a true staple of NASCAR celebrations. In the Daytona 500, they wouldn't become commonplace until Dale Earnhardt Jr earned his first win in 'The Great American Race' in 2004.
While the burnout has become an expected part of the NASCAR weekend, drivers have still found ways to make them unique. Some, like Martin Truex Jr, pin the car against the wall as they perform their wheelstand. Others such as Kyle Larson disconnect the steering wheel before standing on the throttle.
Extreme Burnouts
Possibly the most extreme example of a burnout does not come from NASCAR. It is one performed by Shane van Gisbergen following his third career Repco Supercars championship in 2022. The New Zealander pinned his car against the wall, locked in the wheelstand.
Van Gisbergen then proceeded to climb out and on top of the car before jumping off and grabbing the trophy. He then climbed back into the car and performed more burnouts and donuts while holding the trophy.
https://twitter.com/MrMatthewCFB/status/1599287912910049280
Burnouts Today
Even with burnouts becoming iconic, there are still some drivers, like Ryan Blaney, that opt for the slow, traditional 'Polish Victory Lap' made famous by Alan Kulwicki.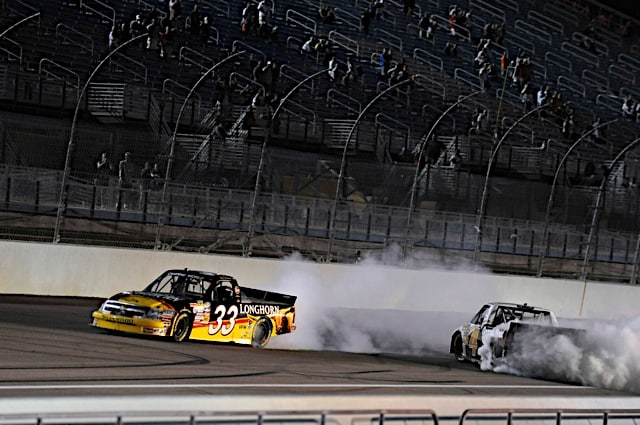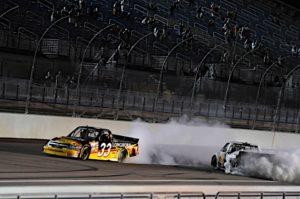 Hornaday and Harvick were also among the first to do dual burnouts when Harvick won the penultimate race of the 2009 NASCAR Craftsman Truck Series season at Phoenix Raceway. Hornaday clinched the championship driving for Kevin Harvick, Inc in the same race. The duo did dual burnouts the next race at Homestead-Miami Speedway as well.
The NASCAR Hall of Famer does teach some drivers in his driver development program how to perform a burnout, in addition to race craft. While he believes some are getting out of hand, the veteran acknowledged that the celebration ultimately is at the discretion of each driver and team owner.
"It's pretty cool to watch these kids do it nowadays, so I got to teach Landen (Lewis)," Hornaday said. "He can't do it in these Legends Cars. Just got to keep the wheel turned to the wrong way, not try to overcorrect. Some are getting out of hand, but it's the owner and the driver's discretion of when they blow a tire and how much they're allowed to tear up."
Celebrations throughout NASCAR's 75 year history have taken on a life of their own with each driver putting their own twist on the iconic burnout.