By Seth Eggert, Staff Writer
Record-setting eNASCAR Coca-Cola iRacing Series driver Ray Alfalla will not be on the 2023 series grid. Alfalla's relegation marks the end of a streak for the eNASCAR veteran.
Record Setting Career To Date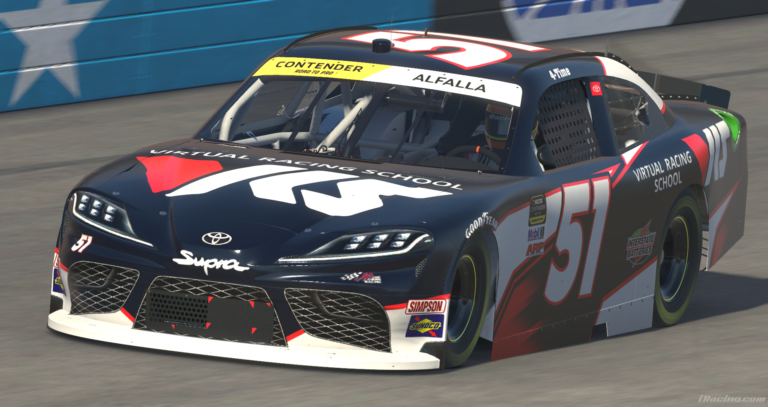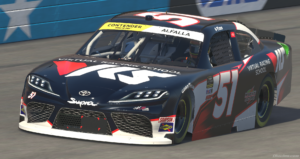 The Floridian driver has been a part of every single season of NASCAR's iRacing Series since its inception in 2010. Alfalla has a series-leading 27 victories, including the fourth race in series history. His most recent eNASCAR Premier Series victory came at Nashville Superspeedway in 2022.
Alfalla has been compared to real-life NASCAR Hall of Fame inductees Richard Petty and David Pearson. That's not to say that eNASCAR is comparable to real-life stats. Rather, the comparison that Alfalla's competitors have made is that he is the eNASCAR version of those legendary drivers.
"It's nice to have the respect and recognition from my peers!" Alfalla said humbly. "With that being said, my story is not finished. I want to be known as someone who drives hard but fair and has found success in several different generations of cars."
Relegation
Despite the victory at Nashville, Alfalla narrowly missed making the 2022 eNASCAR Playoff grid. As a result, he eventually missed finishing the season inside the top-20 in points and was relegated to the eNASCAR Contender iRacing Series.
While this was not Alfalla's first time facing relegation, it was the first that circumstances kept him from rising to the occasion. Issues in qualifying, short races, and tire wear prevented Alfalla from gaining points. The Legacy eSports driver finished outside the top-30 in points and was relegated out of the Coca-Cola Series completely for the first time in his career.
"Just about everything went wrong for us," Alfalla said. "Qualifying was a struggle, as the car was extremely unpredictable to drive. Once you start in the back, it's then almost impossible to pass, as everyone is so close in speed and tires wear very quickly if you push to make moves."
Adapting To New Packages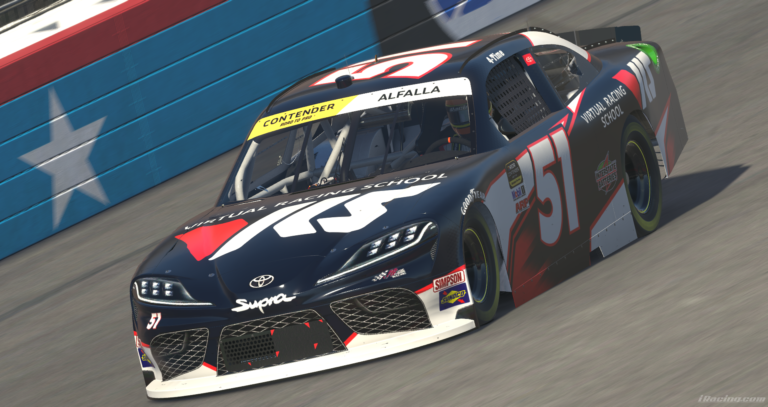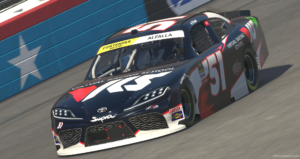 While the real-life pros have had to manage different generations of cars every few years, different rule packages each season, and track conditions, the eNASCAR competitors have another challenge.
Every 13 weeks, iRacing updates and upgrades their platform. The constantly moving mark to increase accuracy and realism leads to various changes from tire model to aerodynamics, graphics, and more.
"My opinion is that the tires are too sensitive to sliding, and too soft overall," Alfalla explained. "It penalizes drivers that push hard and requires driving several tenths under the limit of grip in order to make the tires last."
Much like the real-life drivers, some adapt better than others. Alfalla's position is reminiscent to Cole Custer's the past two seasons. In 2023 Custer moves from the NASCAR Cup Series to the Xfinity Series after struggles in the Premier Series.
Alfalla recognized that some of his competitors have adapted to the limit of the cars better than he has.
"There are drivers that have adapted to it better than me, of course," Alfalla admitted. "Everything that made me successful in the past, such as driving at the edge of the car's limit lap after lap, is now not the way to go fast anymore.
"There is a much more defined threshold right now with the tires, and the limit of the cars themselves is much higher than that of the tire. If you don't know where that tire limit is, you'll wear them out without even trying to."
Determined To Return
Now on the outside, looking in, the former Joe Gibbs Racing eNASCAR driver plans to make a comeback. To do so, Alfalla has to compete and advance through the two rounds of eNASCAR Road to Pro Qualifying iRacing Series, which utilizes the virtual NASCAR Craftsman Truck Series vehicles. Then he'd return to the Contender Series in the virtual Xfinity cars.
Should Alfalla return to the eNASCAR Coca-Cola iRacing Series, he wouldn't be the first veteran to do so. Joey Brown and Kevin King both qualified for the 2023 eNASCAR grid after nine and seven years away from the series respectively. Brown won the 2022 Contender Series championship.
"(It is motivating) for sure, if those old farts (Brown and King) made it back, so can I!" Alfalla joked.
Regardless of how far Alfalla advances in the 2023 eNASCAR Road to Pro ladder, he should prove to be a fierce competitor to all those on track.