By Seth Eggert, Staff Writer
Differing strategies in another caution-free race earned Cody Byus the victory in the final eNASCAR Contender iRacing Series race of the 2022 season.
Battle for the Lead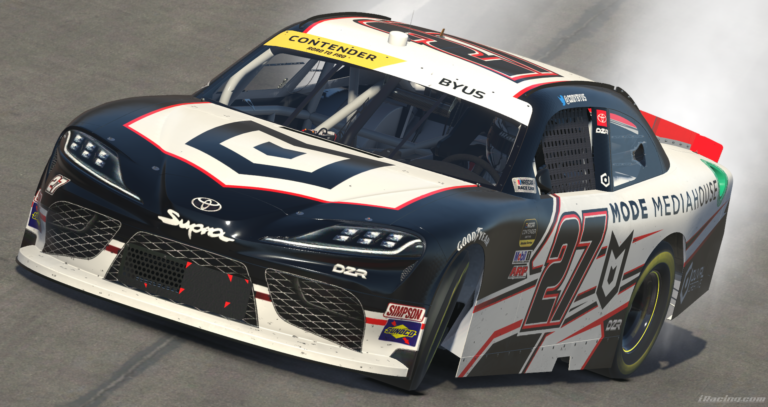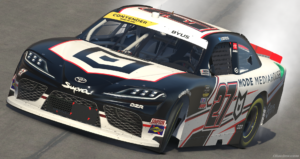 The lead at Texas Motor Speedway was split between polesitter Vicente Salas and Byus. The Deadzone Racing driver took the top spot from Salas seven laps into the race. He didn't give up the lead until green flag pit stops.
After the pit cycle, Salas' No. 55 Williams eSports Toyota Supra took the top spot by 2.7 seconds over Byus' No. 27 Mode Motorsports / Duval Creative Toyota. The independent driver recaptured the lead by hitting pit road early. However, the differences in tires proved crucial.
Taking the Win
In just 20 laps Byus ran down Salas. With 25 to go he cruised by his fellow eNASCAR driver to take the top spot. Byus never looked back and slowly increased his lead. When the checkered flag waved he was 1.8 seconds ahead of Salas, Seth DeMechant, Kaden Honeycutt, and Jordy Lopez Jr.
"(This momentum) means a lot," Byus said. "We've had great speed all year. I'd like to think we had a quiet year, not too many times that we were talked about. We were just around that sixth to 10th-place spot all year in the Contender Series. Tonight, we put everything together, had a lot of speed, clean air, and the car drove really good.
"As for momentum goes, what better way to end (the season) than with a win? Last year in the Coke Series it didn't go as well as I had hoped. But we're coming with a whole new outlook and a whole new game plan. I'm ready to go in a few weeks and I can't wait."
Rounding out the top-10 finishers were Kollin Keister, Collin Bowden, Brian Mercurio, Daniel Buttafuoco, and Derek Justis. Despite finishing outside the top-30, Joey Brown ran the fastest lap of the race shortly after green flag pit stops.
Transferring to the 2023 Grid
Returning to the eNASCAR Coca-Cola iRacing Series in 2023 include Dylan Ault, Allen Boes, Darik Bourdeau, Bowden, Brown, Ryan Doucette, Byus, Justis, Honeycutt, Keister, Kevin King, Malik Ray, and Salas. For Brown, Doucette, and King it's a return to eNASCAR's Premier Series after time away.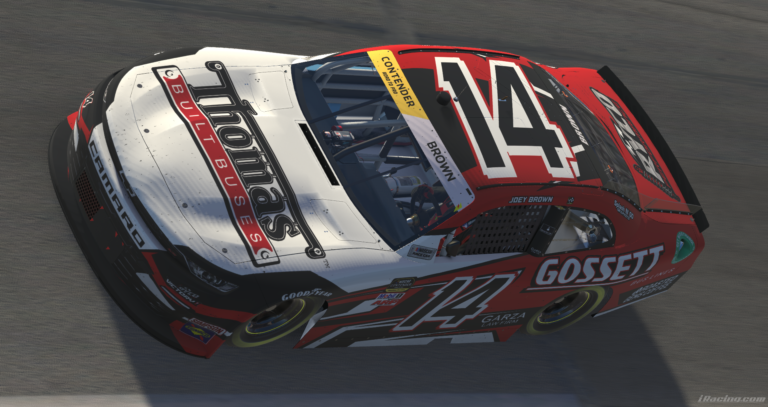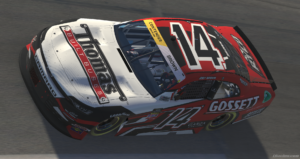 Though they made the grid, both Boes and Brown encountered issues in the final race of the Contender iRacing Series season. Boes lost an engine with just over 30 laps to go.
Brown spun onto pit road, but still had enough of a cushion to clinch the championship. His title for Victory1 GG / Ryco Performance ended a streak of eNASCAR Contender iRacing Series championships that Norse Force Racing had earned.
Once again, the eNASCAR Coca-Cola iRacing Series will likely have a stacked rookie field with nine drivers eligible. Michael Cosey Jr, Daniel Faulkingham, Timmy Holmes, Tyler Garey, Lopez, Brandon McKissic, Tucker Minter, Wyatt Tinsley, and Parker White make up the 2023 eNASCAR rookie class.
Among the now-former eNASCAR Coca-Cola iRacing Series drivers that must return to the trucks, the eNASCAR Road to Pro iRacing Qualifying Series, are four-time champion Ray Alfalla, Taylor Hurst, Briar LaPradd, Mercurio, and Blade Whitt.
The results:
1. 27-Cody Byus [3], 2. 55-Vicente Salas [1], 3. 57-Seth DeMerchant [6], 4. 30-Kaden Honeycutt [13], 5. 4-Jordy Lopez Jr [15], 6. 8-Kollin Keister [5], 7. 69-Collin Bowden [2], 8. 41-Brian Mercurio [4], 9. 13-Daniel Buttafuoco [19], 10. 31-Derek Justis [24], 11. 53-Brandon McKissic [17], 12. 10-Tucker Minter [12], 13. 99-Michael Cosey Jr [11], 14. 29-Kevin King [26], 15. 1-Malik Ray [32], 16. 67-Timmy Holmes [27], 17. 39-Daniel Faulkingham [20], 18. 26-Tyler Garey [22], 19. 20-Wyatt Tinsley [18], 20. 77-Ryan Doucette [23], 21. 28-Casey Tucker [7], 22. 88-Briar LaPradd [16], 23. 76-Blaze Crawford [34], 24. 04-Darik Bourdeau [30], 25. 42-Dylan Ault [25], 26. 96-Boyd Hoggan [33], 27. 43-James Wenzel [21], 28. 36-Brenden Koehler [35], 29. 11-Christopher Hill [38], 30. 66-Christopher Pfeffer [29], 31. 33-Taylor Hurst [10], 32. 6-Andrew Navarro [37], 33. 32-Daniel Smallwood [31], 34. 95-Parker White [14], 35. 14-Joey Brown [8], 36. 21-Allen Boes [9], 37. 51-Ray Alfalla [28], 38. 12-Jonathon Dulaney [36].
Lead Changes: Five among four drivers.
Lap Leader(s): Vicente Salas 1-6, Cody Byus 7-50, Collin Bowden 51, Boyd Hoggan 52, Vicente Salas 53-75, Cody Byus 76-100.
Laps Led: Cody Byus 69, Vicente Salas 29, Collin Bowden 1, Boyd Hoggan 1.
Hard Charger(s): 1-Malik Ray (+17).
Caution Flags: None.
Margin of Victory: 1.862 seconds.
Time of Race: 52 minutes, 34.538 seconds.
Average Speed: 171.182 MPH.
Pole Winner: 55-Vicente Salas, 29.058 seconds, 185.835 MPH.
Fastest Lap: 14-Joey Brown, Lap 51, 29.805 seconds, 181.178 MPH.
Strength of Field: 7,124 Average iRating.