By Seth Eggert, Staff Writer
A perfect pit stop netted Tucker Minter his first win in the eNASCAR Contender iRacing Series at the virtual Darlington Raceway.
Taking the Lead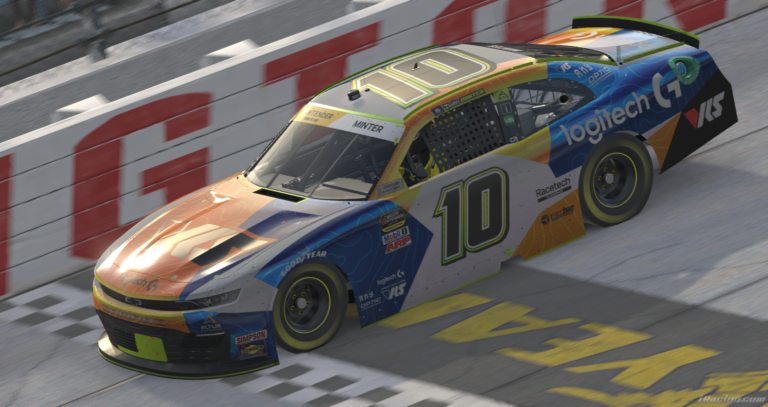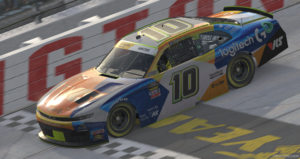 The Altus eSports driver took the lead during the only caution of the race. Minter's No. 10 VRS / Logitech G Chevrolet Camaro SS beat polesitter Cody Byus off of pit road. The potential 2023 eNASCAR Coca-Cola iRacing Series rookie cruised away from the field on the restart.
Minter only relinquished the lead to pit for fuel and fresh tires with 35 laps to go. After two others pitted, Allen Boes assumed the lead. The Deadzone Racing driver opted to stretch the fuel to the finish. However, that meant dramatic time loss over the course of the run.
Cruising to the Win
The VRS / Logitech G Altus colors swept by the No. 21 Duval Creative Toyota Supra with five laps to go. Joey Brown then took second has he chased down Minter. However, the multi-time Contender winner ran out of time to catch the leader.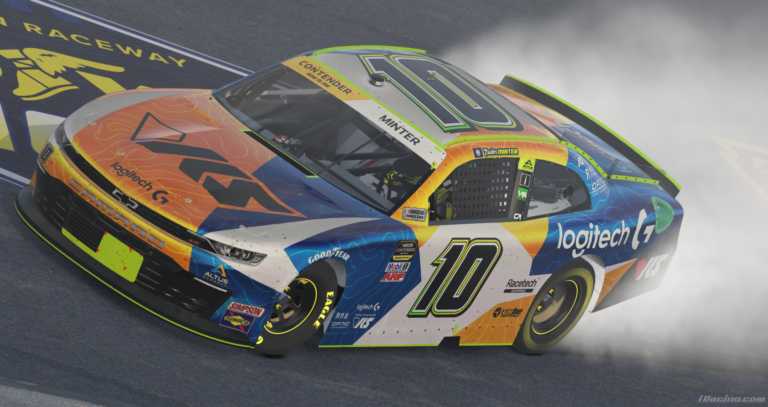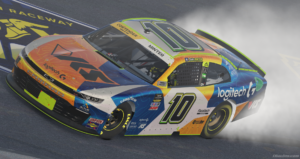 Minter took the checkered flag at the virtual 'Track Too Tough To Tame' with about one second to spare over Brown. Ryan Doucette and Parker White finished third and fourth. Boes took the checkered flag in fifth, nearly out of fuel.
"It feels amazing (to finally win a Contender race)," Minter said. "The last two years I've been fortunate to spot some great drivers. Every time I was sitting on the grid to spot, I've thought that it would be cool to be in this field. To not only be in the field but to win a race, I feel like we've finally got some good speed almost every race this year. It's incredible."
Byus, Vicente Salas, Kaden Honeycutt, Michael Cosey Jr, and Jordy Lopez Jr rounded out the top-10 finishers.
On-Track Incidents
For the first time since the race at Homestead-Miami Speedway one month ago the caution waved. Just over 40 laps into the 120-lap race, Ray Alfalla spun into the wall as he tried to avoid an incident in Turns 3 and 4. That caution ultimately aided Minter's victory, giving him control of the race.
Alfalla's engine failed shortly after the ensuing restart. However, he wasn't the only one hindered by damage. Blade Whitt, Brenden Koehler, and Seth DeMerchant each received damage at some point of the race at 'The Lady In Black.'
Points Outlook
With one race remaining, nine drivers have clinched a berth on the 2023 eNASCAR Coca-Cola iRacing Series grid. Pending the drop week, Brown has likely clinched the eNASCAR Contender iRacing Series championship.
Also advancing to the eNASCAR grid based on points are Boes, Byus, Honeycutt, Kollin Keister, Lopez, Minter, Salas, and Wyatt Tinsley. Though all drivers still must be approved to get an eNASCAR Coca-Cola iRacing Series (Pro/DWC) license.
11 drivers have been mathematically eliminated from being promoted to the eNASCAR Coca-Cola iRacing Series. Of those 11, four drivers were on the grid in 2022, including Whitt, Brian Mercurio, Taylor Hurst, and four-time champion Alfalla. Though still unofficial, the 2023 eNASCAR Coca-Cola iRacing Series grid would be the first without the iRacing stalwart.
With 20 drivers either clinched or eliminated that leaves half the field battling for potentially 11 spots at Texas Motor Speedway on Tuesday, December 20 at 9:00 p.m.
The results:
1. 10-Tucker Minter [3], 2. 14-Joey Brown [11], 3. 77-Ryan Doucette [4], 4. 95-Parker White [13], 5. 21-Allen Boes [10], 6. 27-Cody Byus [1], 7. 55-Vicente Salas [2], 8. 30-Kaden Honeycutt [7], 9. 99-Michael Cosey Jr [6], 10. 4-Jordy Lopez Jr [27], 11. 31-Derek Justis [14], 12. 39-Daniel Faulkingham [9], 13. 67-Timmy Holmes [16], 14. 28-Casey Tucker [8], 15. 69-Collin Bowden [23], 16. 13-Daniel Buttafuoco [30], 17. 29-Kevin King [29], 18. 96-Boyd Hoggan [21], 19. 88-Briar LaPradd [28], 20. 42-Dylan Ault [37], 21. 1-Malik Ray [32], 22. 26-Tyler Garey [17], 23. 53-Brandon McKissic [15], 24. 12-Jonathon Dulaney [35], 25. 20-Wyatt Tinsley [22], 26. 66-Christopher Pfeffer [36], 27. 33-Taylor Hurst [31], 28. 32-Daniel Smallwood [33], 29. 76-Blaze Crawford [28], 30. 6-Andrew Navarro [24], 31. 41-Brian Mercurio [34], 32. 8-Kollin Keister [12], 33. 43-James Wenzel [26], 34. 04-Darik Bourdeau [20], 35. 7-Blade Whitt [25], 36. 36-Brenden Koehler [18], 37. 57-Seth DeMerchant [5], 38. 11-Christopher Hill [39], 39. 51-Ray Alfalla [19].
Lead Changes: Four among four drivers.
Lap Leader(s): Cody Byus 1-45, Tucker Minter 46-84, Vicente Salas 85, Allen Boes 86-115, Tucker Minter 116-120.
Laps Led: Cody Byus 45, Tucker Minter 44, Alen Boes 30, Vicente Salas 1.
Hard Charger(s): 4-Jordy Lopez Jr and 42-Dylan Ault (+17).
Caution Flags: One for four laps.
Margin of Victory: 0.981 seconds.
Time of Race: One hour, five minutes, 12.589 seconds.
Average Speed: 150.824 MPH.
Pole Winner: 27-Cody Byus, 28.868 seconds, 170.348 MPH.
Fastest Lap: 27-Cody Byus, Lap 2, 29.449 seconds, 166.987 MPH.
Strength of Field: 7,121 average iRating.