By Vincent Delforge, Special to kickinthetires.net
Siblings in NASCAR is a tradition that dates back to the origins of the discipline. Indeed who has never heard of the Teague, Flock, Allison, Bodine, Labonte, Dillon,… and since the 2000s of the Busch brothers for example?
Coincidence or not, but if 2022 is the year of retirement for the eldest Busch, Kurt, as his brother Kyle leaves the Joe Gibbs Racing team with which he has enjoyed so much success. It was also this year that another sibling from Las Vegas, NV burst onto the screens in the world of NASCAR/ARCA, I named the Reifs with Tanner and his little brother Tyler.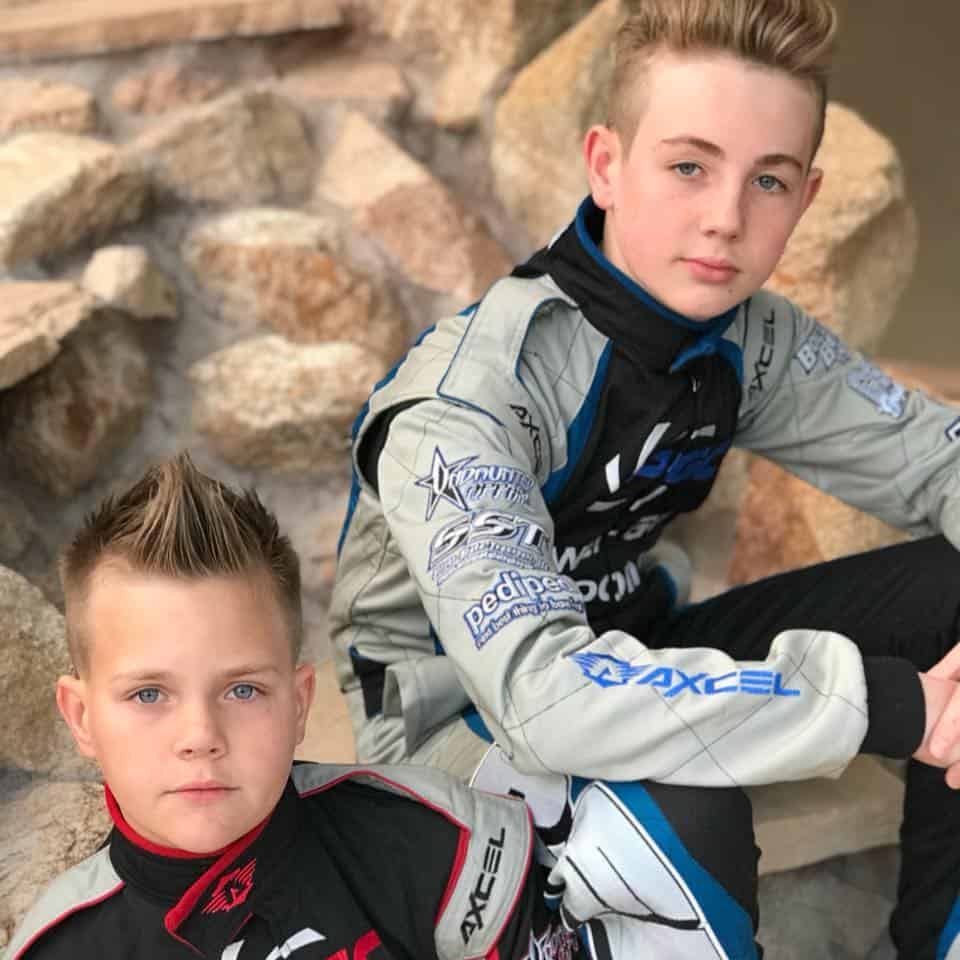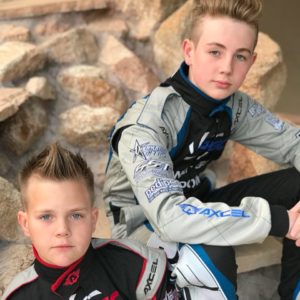 Already very successful on the tracks near their home since their youngest age where they have won a good number of races from Legend Cars to Super Late Models via Pro Late Models,… They graduated this season in ARCA Menards West Series.
And if the eldest, Tanner, was able to do the full season with Bruncati Sunrise Ford Racing, his little brother Tyler made his debut in the penultimate race of the season on his hometrack at the Las Vegas Bullring.
And what about the results? Simply impressive with regard to Tanner, a season punctuated by two victories, the Rookie of the Year award and the second position in the championship, only beaten by his teammate Jake Drew who made him his second full-time season in the series.
In 11 races, Tanner secured two victories including the first at Irwindale Speedway in California, in his second career race by leading the entire race from pole position. His second victory, obtained at Evergreen Speedway in Monroe, WA, was also from pole position. In all he got four top-fives and nine top-10s.
As for Tyler, he was heading for his first top-five for his first career race on the Bullring in Las Vegas when he was the collateral victim of an accident involving two other drivers. A big shock, fortunately without injuries.
During the final in Phoenix, for his first race on a one-mile oval, he drove his Ford No. 41 of Lowden-Jackson Motorsports, a small team also from Las Vegas, has a very good 12th position. A race, let us remember, where many drivers from the ARCA national series were present in addition to the regulars from the West Series.
So is 2022 the pivotal year marking the end of one of the most famous sibling for the benefit of another, also from Las Vegas? The future will tell.
So let's take advantage of this end of the year to come back with the Reif brothers on their journey in the West Series this season and discuss their future with them.
Let's start with the older sibling, Tanner.
Vincent Delforge: You told me at the start of the year that your goal was to win at least one race and obtain the ROTY title. Objective achieved and with style. The season has just ended but with one month of hindsight already, how do you consider your 2022 campaign. A success beyond your expectations?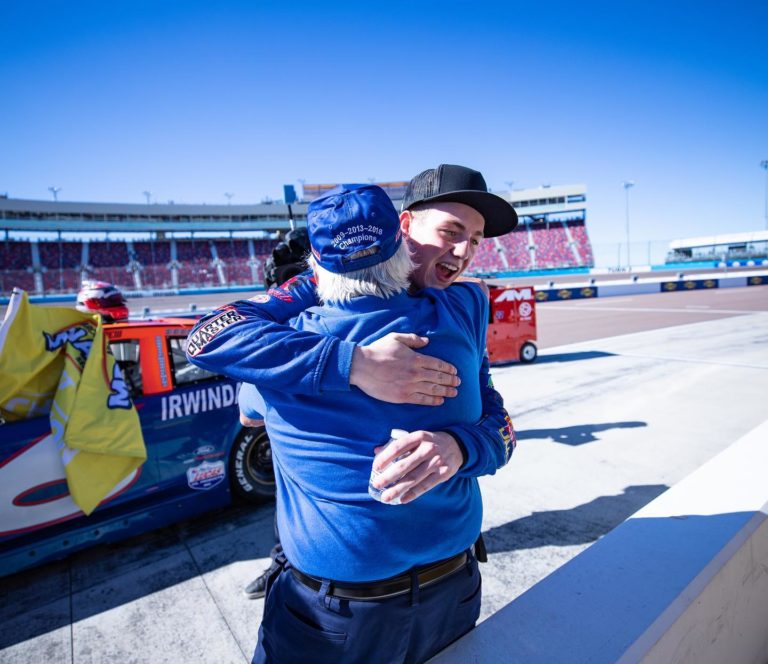 Tanner Reif: "Yes! I totally accomplished my goals for the 2022 season and I'm so happy to do so. After my first win at Irwindale Speedway I felt that we had a chance to also win the championship. That wasn't the case but secondnd place is great for my first year!"

VD: From your second race in Irwindale, you realize the perfect performance. Pole, all laps led and victory. An incredible performance. A pure state of grace. What memory do you keep of this first victory?

Tanner Reif: "The one thing all always remember from that day is the reminder that I can compete at the highest level available to me and be able to clean sweep the whole weekend. It's still one of the best days of my life and I'm still so happy that my team and I were able to pull it off."

VD: A rookie season is often made up of ups and downs. The first race in Portland in the rain and especially the big crash in Sonoma were a complicated passage. What impact has that had on your season? Do you think that's when the championship was potentially lost?
Tanner Reif: "Yeah, I believe that the couple of races where we had bad luck definitely cost us the championship. I believe if those two or three races had the result that we were running in prior to the accidents didn't happen we would have had a good shot at it."

VD: Nothing should ever be taken for granted in motorsport. As proof of your second race at Irwindale which was, excuse me for using this word, a fiasco. How is it that you were never in the game that day, especially after having dominated with such ease on this same short track four months earlier? What happened ?

Tanner Reif: "I believe that there was some problems with the entire team that weekend. From the car to preparation and even my headspace before the weekend. It was a mix of all things that led us to not have the best run."

VD: Disappointed in Phoenix, victorious in Irwindale. Disappointed at Irwindale, victorious at Evergreen! Do you think what you learn in defeat helps you come back even stronger? Because you seem to be living proof of it. Your ability to bounce back, for a rookie, was truly impressive. Your last restart at Evergreen was decisive.
A race full of control like a veteran. As a driver, between the start of the season at Phoenix and the mid-season at Evergreen, did you feel an evolution in your driving, your technical understanding?

Tanner Reif: "I felt a great progression as a driver. I believe that I am many times better now then I was at the beginning of the season. I believe that I am better in every aspect. From technical, to understanding the car and even stuff off the track. This year was a great learning experience and I believe it will much further help me in my future."
VD: Jeff Schrader, your crew chief, is a man of experience who has helped many rookies develop over the past 20 years. The driver/crew chief relationship is one of the keys to success in NASCAR/ARCA. How has Jeff contributed to your development this season and what has been the key to understanding each other?

Tanner Reif: "Jeff did a great job all year and it was nice to have someone on the team that always wanted the best for the team and I. He tried his hardest all year and I believe he's helped me as a driver."
VD: In addition to your victories, your top-10s, what impressed me the most about you is the way you drive. You are very clean on the track. Your fights with your opponents were a treat to watch.
You have just enough aggressiveness to know how to impose yourself like a boss in the pack while keeping this control of your car and your nerves. Respect for opponents is the hallmark of great champions. How do you manage stress, adrenaline rushes during a race?

Tanner Reif: "I appreciate the compliments, I believe years of experience and driving against a vast amount of drivers has done me very well. Dealing with each individuals driving style and the way they handle there cars. I believe that the vast amount of cars that I've drove has also helped. All of that combined is what helps most when it comes to those pressuring moments in the seat."

VD: You offered the championship double to Bob Bruncati. Usually the rookie on No. 9 would spend the next year on No. 6 with the goal of getting the title. But with Bruncati Sunrise Ford Racing stopping West Series activities, what is your future for 2023? Will you come back to the West Series? If so with whom? Can you already tell us more?

Tanner Reif: "I had hoped to come back with Sunrise again but with them going away I hope to find a seat in another car on the west coast to clench the championship. I'm sure that more we be revealed shortly. But expect to see me on the west coast next year."
And we continue with the little brother, just as ambitious, Tyler:
VD: Tyler, first of all congratulations on your 2022 season, all series combine. First home race at the Las Vegas Bullring. With Chris Lowden's small team, fighting for the top-five in his first race was impressive.
What a pity this accident right in front of you. A very violent shock, especially the second against the wall. What memories do you keep of this first experience in the West Series?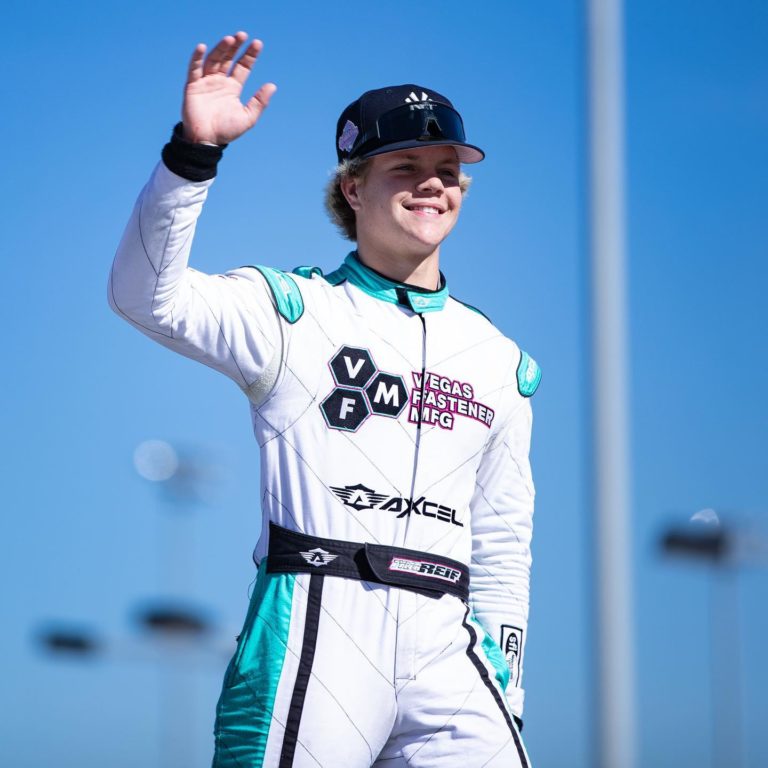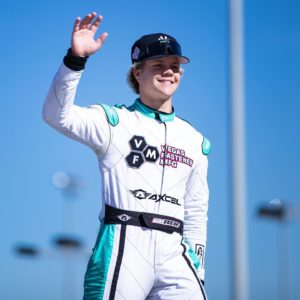 Tyler Reif: "Thank you first off but yeah I was a pretty good race battling for the top five struggling all practice and qualifying so it was definitely a confident booster and all running up front. I definitely kept in mind for the next race that the ARCA races get pretty rowdy throughout the whole top 15 on the restarts."
VD: Starting out on a short track that you know perfectly well, even with a new car, in a new series, is it easier or on the contrary does it change all the benchmarks you have, your way of driving?
Tyler Reif: "It was definitely a learning experience for me during practice and throughout the whole race half of the reason in practice I was not quick was some what of me driving it as I would my late model there. I think every part of the track was different for being in the different car."
VD: This may sound strange to you, but you impressed me more in Phoenix than in Las Vegas. Let me explain. On the Bullring, seeing you evolve from the top-10 to the top-five was already impressive, but you were "at home" in a way. On the other hand, you discovered Phoenix and a large one-mile oval. Your 12th position at the finish is a great result for me.
In addition to the regular West drivers, there were many drivers from the ARCA national series. What do you think of your Phoenix race? A great experience that will be useful to you for the future?
Tyler Reif: "I also struggled in Phoenix during practice ending up P24. For the first 50 of the race just learning trying new lines seeing what's fastest. Knowing I was gonna get two new right side tires at the midway break, finding the line I loved after we put the new tires on I was 110% the next first 10 laps trying to make positions up getting 2-4 cars in one corner some times!
"We're running up in the top-10 at ninth place and eighth before had some bad luck leading to us dropping back to 15th on a restart but I had drove it back up to 12th for a decent finish."
VD: Precisely the future, let's talk about it. You will come back in 2023 in the West Series? Full time? With which team? Can you already tell us more?
Tyler Reif: "Yeah so I will be running the full ARCA West Series with the Lowden-Jackson Motorsports team. Struggled this year with getting cars ready little short handed and under equipment, but been working the off season for a great successful 2023 season!"
Finally, I asked the two brothers the same question to compare their points of view on each other.
VD: There is a sibling from Las Vegas who is very famous in NASCAR, I mean of course the brothers Kurt and Kyle Busch. 2022 marks the beginning of the end for them. Kurt retires from full-time competition and Kyle begins what is possibly the final part of his racing career.
But 2022 is also the year in which the Reif siblings come to light. Do you think you two are the potential future stars of the Cup Series? If you had a crystal ball, where do you see yourself in a few years? Cup Series champion, is that your ultimate goal?
Tanner Reif: "I do truly believe that me and my brother have the ability to make it to that level and succeed greatly. It is in my greatest hopes that both of us are able to climb the ranks and make it to the top. I do see us in the top series of nascar In the next 10 years."
Tyler Reif: "Yeah 100% are goal is to be better then the Busch brothers but If I could just I would definitely love to run in Cup for wins and championships but we definitely need some help with sponsors and exposure getting there but that is my goal is racing the rest of my life."
VD: Between Tyler and you, who is the better driver? More precisely, what are your common qualities and your differences? Fighting against each other in the same race, is that an extra motivation? Are we more cautious or on the contrary are we more daring because we know our opponent perfectly? And in the event of a crash, how is the family dinner that follows?
Tanner Reif: "Tyler and I both have are individuality when it comes to driving. We are both great drivers in our own ways. We both have our pros and cons. As brothers it's our goals to add more pros and take away the cons, we can do this by learning from each other and helping each other.
"Whenever something like that happens it's quite funny. There's been moments but never anything to crazy at the end of the day we are both drivers and we can see further in the future."
Tyler Reif: "That's such a hard question, I have always been behind Tanner following in his foot steps since of are year and a half age gap but I think these last two years of racing I have been better/stronger having higher finishes and being a little more consistent and being in front of him in my first ARCA race before getting wrecked.
"We definitely push each other to the best we can because we always know it'll help each other. The times we have fought about racing it wrecked each other we where obviously upset at each other but at the end of the day we make up because we are brothers and it's all love to make the best of each other."
VD: If you have people or sponsors to thank, now is the time.
Tanner Reif: "I would like to thank everyone that makes this possible, I couldn't do it without them I would also like to thank my sponsors for their ever going support : Vegas Fasteners Manufacturing, Dewar Farms, Undaunted Apparel, Jackson Race Cars, Advanced Racing Suspensions, Swift Springs, Hightower Transmission, Powdercoating Plus, Competition Carburetion, ARbodies, CSM Graphics, SST Trucking."
Tyler Reif: "First off I would like to thank my parents and grandparents non of this would be possible without them and huge thanks to Lowden-Jackson Motorsports for helping me out and Power Gen Components and Vegas Fastener Manufacturing, on top of that thanks to the rest of my sponsors, Shreddy, Blake Wilkey, Undaunted Apparel, CSM Graphics, and everyone for making this possible!"
Thank you both and rest assured that we will follow your races closely in 2023 on Kickin The Tires.