By Seth Eggert, Staff Writer
A combination of tire management and flawless pit stops earned Joey Brown his second eNASCAR Contender iRacing Series victory of the 2022 season.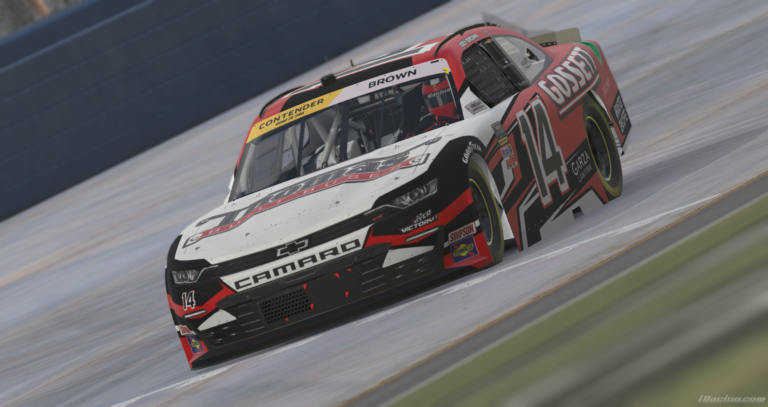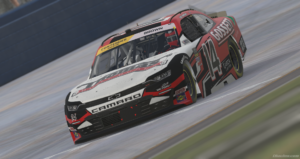 The outside polesitter cruised behind Parker White for the first quarter of the 100-lap race. As the virtual Goodyear tires began to wear, Brown's virtual No. 14 Thomas Built Buses / Gossett Bus Lines Chevrolet Camaro SS swept by for the lead.
Brown never looked back until green flag pit stops at the halfway mark of the race. Meanwhile White faded into the clutches of Derek Justis and Allen Boes. The virtual No. 95 Toyota Supra was the only car that was within range of Brown on the short run.
However, White never got to show it after pit stops. As Brian Mercurio attempted to pit, White was caught in the middle with nowhere to go. He rear-ended the 2022 eNASCAR Coca-Cola iRacing Series rookie. The damage was severe enough that White was forced to pit to remove tape. He ultimately finished 37th.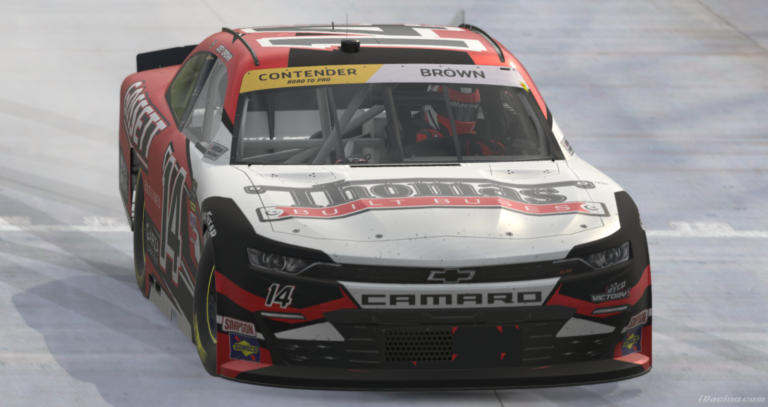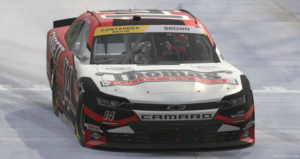 Meanwhile, Brown opened up a substantial lead once the pit cycle had completed. The Victory 1 driver was over four seconds ahead of Darik Bourdeau with 30 laps to go. Unopposed, he increased the lead to over seven seconds when the checkered flag finally waved.
"Man, that was awesome," Brown said. "Our goal coming into today was a top-five finish. A top-five we felt like was going to be good to lock us into Coke next year. We put a lot of time and effort into it. To have a win and as fast as that was, it was pretty awesome.
"I think that our (Victory 1's) focus is on the Xfinity car until the end of the series. We're going to finish it out, finish strong. We're in a position now where there's a good shot at the points championship. I think that's the next goal. There's plenty of time after the series to get up to speed with the Next Gen. We'll be pretty good there."
While the race for the lead was a breeze for Brown, the battle for second was a three-horse race. Boes, Bourdeau, and Kaden Honeycutt had a spirited battle over the final 30 laps for the runner-up spot. Their battle ultimately aided to increase Brown's lead.
Boes' No. 21 Duval Creative machine was on the freshest tires of the trio. Honeycutt joked that "that didn't last long" after the Deadzone Racing swept by him. Boes eventually took second from Bourdeau in the closing laps. The Deadzone Racing drivers finished second and third.
Honeycutt finished fourth after nearly missing the race entirely. Connection issues earlier in the day left the NASCAR Craftsman Truck Series driver scrambling to find a way to compete.
I have a massive issue with iRacing right now and I can't race tonight without someone's help. PM me please

— Kaden Honeycutt (@KadenWHoneycutt) November 29, 2022
Justis completed the top-five. Wyatt Tinsley, Cody Byus, Michael Cosey Jr, Jordy Lopez Jr, and Kevin King rounded out the top-10.
Though the race went caution-free it was not without incident. Early race contact between Seth DeMerchant and Vicente Salas hampered both of their efforts.
A slide by Blade Whitt collected both Tucker Minter and Malik Ray. All three drivers collected damage and finished outside the top-30 as a result.
Next for the eNASCAR Contender iRacing Series is a trip to 'The Monster Mile,' Dover Motor Speedway, on Tuesday, December 6, at 9:00 p.m. ET. Coverage will be streamed at enascar.com/live.
The results:
1 14-Joey Brown [2], 2. 21-Allen Boes [4], 3. 04-Darik Bourdeau [7], 4. 30-Kaden Honeycutt [9], 5. 31-Derek Justis [3], 6. 20-Wyatt Tinsley [5], 7. 27-Cody Byus [11], 8. 99-Michael Cosey Jr [18], 9. 4-Jordy Lopez Jr [12], 10. 29-Kevin King [26], 11. 36-Brenden Koehler [16], 12. 76-Blaze Crawford [17], 13. 43-James Wenzel [13], 14. 6-Anthony Navarro [6], 15. 53-Brandon McKissic [19], 16. 26-Tyler Garey [24], 17. 8-Kollin Keister [39], 18. 67-Timmy Holmes [33], 19. 77-Ryan Doucette [22], 20. 41-Brian Mercurio [23], 21. 88-Briar LaPradd [14], 22. 11-Christopher Hill [37], 23. 39-Daniel Faulkingham [28], 24. 57-Seth DeMerchant [34], 25. 69-Collin Bowden [29], 26. 96-Boyd Hoggan [16], 27. 66-Christopher Pfeffer [30], 28. 28-Casey Tucker [25], 29. 51-Ray Alfalla [35], 30. 32-Daniel Smallwood [36], 31. 42-Dylan Ault [32], 32. 55-Vicente Salas [38], 33. 13-Daniel Buttafuoco [10], 34. 1-Malik Ray [27], 35. 7-Blade Whitt [21], 36. 12-Jonathon Dulaney [20], 37. 95-Parker White [1], 38. 10-Tucker Minter [31], 39. 33-Taylor Hurst [8].
Lead Changes: Five among five drivers.
Lap Leader(s): Parker White 1-24, Joey Brown 25-51, Kollin Keister 52, Dylan Ault 53-64, Jonathon Dulaney 65, Joey Brown 66-100.
Laps Led: Joey Brown 54, Parker White 24, Dylan Ault 12, Johnathon Dulaney 1, Kollin Keister 1.
Hard Charger(s): 8-Kollin Keister (+22).
Caution Flags: None.
Margin of Victory: 7.459 seconds.
Time of Race: 52 Minutes, 35.231 seconds.
Average Speed: 152.090 MPH.
Pole Winner: 95-Parker White, 29.760 seconds, 161.250 MPH.
Fastest Lap: 30-Kaden Honeycutt, Lap 54, 30.237 seconds, 158.702 MPH.
Strength of Field: 7,107 Average iRating.