By Seth Eggert, Staff Writer
About a month has passed since Shawn Butler lost the Yankee 600 in a heartbreaking finish at the virtual Michigan International Speedway. The new Legends of the Future Series gave Butler the redemption he sought with a win in the Motor City 240 presented by ArtRymer.com.
Yankee 600 Flashback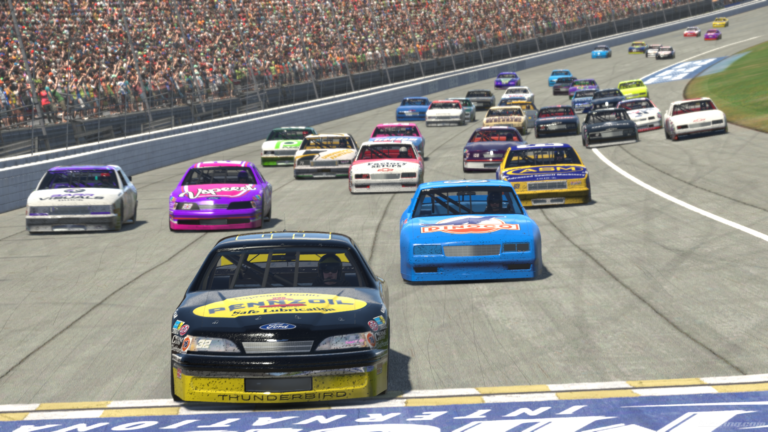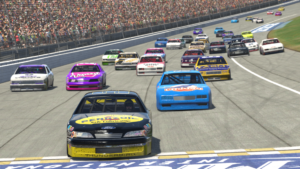 Butler was leading on the final lap of the Yankee 600 when Ashton Schleiss' last lap desperation sparked a massive pileup. The duo were among the nearly 20 cars swept up in the final corner accident that night.
Much like the special event one month ago, Butler's virtual No. 32 Pennzoil Ford Thunderbird was pitted against the best in the 1987 NASCAR Cup Series cars. He battled with Michael Frisch, Kevin McAdams, eNASCAR commentator Blake McCandless, and Yankee 600 winner Phillip McCandless.
Butler, Tyler Garey, McAdams, and Blake McCandless were the class of the field. The four drivers combined to lead 113 of the 123 laps. Like the Yankee 600, Butler led the most laps.
Overtime Finish
The Music City 240 ultimately came down to an overtime finish. Butler got the jump on the field, clearing Garey in Turn 1. He opened the gap while Garey, Bafford, and Frisch battled for second.
While Butler's competition did make a lunge for the lead, unlike the Yankee 600, it didn't result in contact. He comfortably cruised to victory with 0.170 seconds to spare over Garey. Bafford, Frisch, and polesitter Logan Helton rounded out the top-five.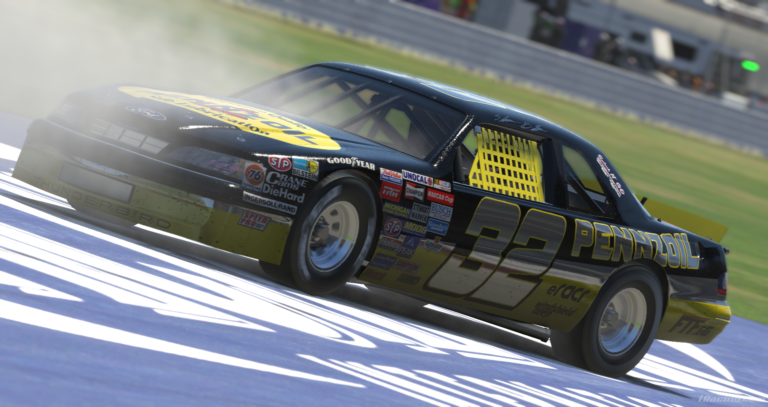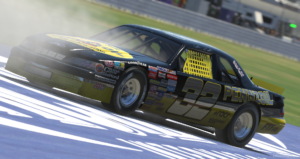 "I was supposed to hear (winner at Michigan) a couple months ago," Butler said. "It was a really good race. All of us had an absolute blast. Whether I won or not it was an awesome race. I hope you guys (Bryan Blackford and Josh Mendoza) enjoyed watching and broadcasting it. It was a lot of fun, I'm very happy right now. The monkey is off of my back.
"No, (I was not happy to see that yellow) because they were side-by-side for a long time. I really wanted them to keep racing and to let me pull away a little bit. It was just nuts this whole race. That yellow came out and stacked us all back up. I was deciding if I wanted to take the high side or not, decided to take it, went a little early in the restart zone to try to catch everybody off guard.
"I got a little bit of space, didn't want to give anyone enough room to make a move at the end. Garey gave it a shot which is a funny story because he was spotting for Ashton Schleiss in the Yankee 600 when the move happened. Overall, really glad how this thing played out."
Notables
Dylan Kehm, Blake McCandless, Phillip McCandless, Mitchell Riggs, and McAdams completed the top-10. Santiago Tirres finished 19th after running the fastest lap of the race on lap six.
Ultimately the race was slowed eight times by incidents. Most cautions took place after a driver lost control or due to contact. David Brown, a heavyweight from the 1987 NASCAR Cup car community on iRacing was wiped out in one of those cautions.
Also swept up into accidents were John Adams, Daniel Faulkingham, and Alex Kolonics. 2020 Firecracker 400 winner Brandon Kettelle also crashed late.
11 drivers failed to qualify for the Music City 240. Among those that watched from the virtual garage were Traxion.GG's Justin Melillo and 2021 Firecracker 400 winner Michael Cosey Jr.
The results:
1. 32-Shawn Butler [2], 2. 86-Tyler Garey [8], 3. 23-Ben Bafford [36], 4. 58-Michael Frisch [3], 5. 63-Logan Helton [1], 6. 9-Dylan Kehm [13], 7. 71-Blake McCandless [10], 8. 109-Phillip McCandless [41], 9. 09-Mitchell Riggs [25], 10. 26-Kevin McAdams [7], 11. 97-Jackson Von Volkinburg [30], 12. 41-Brian Mercurio [26], 13. 04-Gabriel Mauricio [17], 14. 044-J.D. Willis [14], 15. 14-Chris Jahnke [35], 16. 17-Sean Peleg [19], 17. 00-Larry Pace [6], 18. 76-Quami Scott [9], 19. 35-Santiago Tirres [15], 20. 13-Trevor Perry [34], 21. 80-Brandon Kettelle [12], 22. 79-Danny Thomson [42], 23. 28-John Gorlinsky [20], 24. 90-Michael Sturgill [39], 25. 015-Michael Guariglia [11], 26. 49-Art Rymer [43], 27. 29-Matthew Tyrrell [24], 28. 98-Matt Taylor [28], 29. 40-Andy Trupiano [22], 30. 70-Davis Warren [40], 31. 67-Andrew Schwartz [18], 32. 37-Ryan Nawrocki [29], 33. 31-David Cabrera [37], 34. 81-Jon Adams [31], 35. 87-Adam Martin [27], 36. 24-Aaron Morgan [23], 37. 89-Mike Rasimas [16], 38. 39-Daniel Faulkingham [5], 39. 60-Tyler Dubosh [38], 40. 74-Dylan Roberts [23], 41. 34-Corey Carpenter [32], 42. 22-Alex Kolonics [4], 43. 83-David Brown [21].
Lead Changes: 27 among 10 drivers.
Lap Leader(s): Logan Helton POLE-0, Shawn Butler 1-4, Blake McCandless 5-6, Kevin McAdams 7, Shawn Butler 8, Kevin McAdams 9, Shawn Butler 10-12, Tyler Garey 13-14, Shawn Butler 15, Tyler Garey 16, Shawn Butler 17-38, Blake McCandless 39-46, Shawn Butler 47-53, Brandon Kettelle 54-57, Blake McCandless 58-60, John Gorlinsky 61, Blake McCandless 62-64, Tyler Garey 65-71, Michael Frisch 72-75, Blake McCandless 76-78, Art Rymer 79-80, Blake McCandless 81-93, Shawn Butler 94-98, Michael Frisch 99-105, Tyler Garey 106-107, Michael Frisch 108-111, Shawn Butler 112-116, Ben Bafford 117, Shawn Butler 118-123.
Laps Led: Shawn Butler 54, Blake McCandless 32, Michael Frisch 15, Tyler Garey 12, Brandon Kettelle 4, Kevin McAdams 2, Art Rymer 2, Ben Bafford 1, John Gorlinsky 1, Logan Helton 0.
Hard Charger(s): 23-Ben Bafford and 109-Phillip McCandless (+33).
Caution Flags: Eight for 24 Laps.
Margin of Victory: 0.170 seconds.
Time of Race: One hour, 48 minutes, 57.075 seconds.
Average Speed: 135.473 MPH.
Pole Winner: 63-Logan Helton, 41.533 seconds, 173.356 MPH.
Fastest Lap: 35-Santiago Tirres, Lap 6, 41.702 seconds, 172.654 MPH.
Did Not Qualify: Cody McCorkle, Ben Billard, Matthew Zwack, Paul Gallimore, Chris Davis, Justin Melillo, Michael Cosey Jr., Andy Hunter, Ashton Schleiss, Terry Murphy, Joshua Cronin.
*Race scheduled for 120 Laps, extended due to Overtime.*
Full Race Replay: https://www.twitch.tv/videos/1655775541