By Seth Eggert, Staff Writer
Timing the pit stop right, Deadzone Racing's Allen Boes drove away from the competition to win the eNASCAR Contender iRacing Series race at the virtual Auto Club Speedway.
Perfect Pit Stop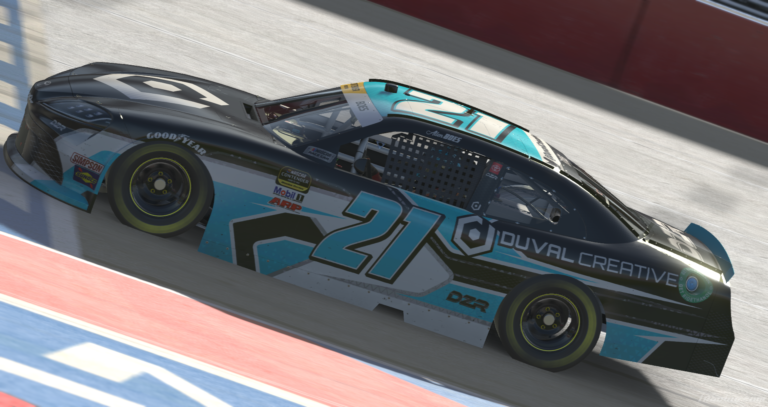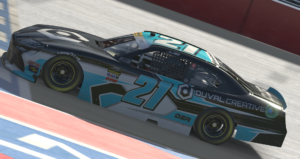 Boes ducked onto pit road from the lead at the halfway mark of the 120-mile race. After pit stops, the virtual No. 21 Duval Creative Toyota Supra had slipped back to third. However, as the tires of his competitors started to wear, Boes pounced.
First, he picked off fellow Duval Creative sponsored driver Darik Bourdeau before sneaking by G Altus' Tucker Minter. With 20 laps to go, Boes set his sights on race leader Parker White. Two laps later, he caught the Norse Force Racing driver.
Vicente Salas meanwhile stayed out as long as possible hoping for a caution that never came. Shortly after White took the lead from him, and Boes passed, he pitted.
Taking the Win
Boes took the lead with 18 laps to go. He then held off a challenge from Bourdeau and White before pulling away. With five laps to go, Boes had gapped his competitors by about two seconds. While his competitors closed in, they ran out of time. Boes took the checkered flag with just over one second to spare.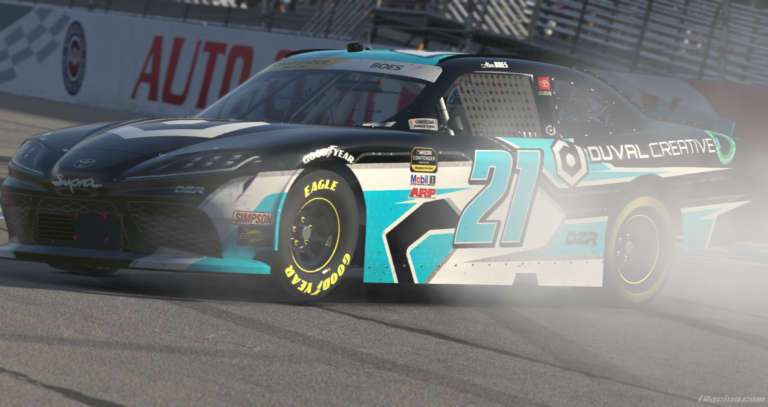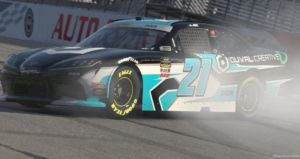 "After the pit stop, coming out right behind (Bourdeau, Minter, and White), I felt pretty good," Boes said. "I had fresher tires, and our long run pace was good all night. Even going into the race, I felt pretty good about it. This is one of my better tracks.
"Bourdeau and Kollin Keister) seemed like they wanted to race it out pretty early so I figured I'd wait. It worked out, they burned their stuff up and I was able to get back around them. Patience was key and it usually is at Auto Club because these races tend to go green. The longer the run the more patient you want to be at the start of it."
White, Minter, Malik Ray, and Keister completed the top-five. Jordy Lopez Jr, Dylan Ault, Collin Bowden, Bourdeau, and Cody Byus rounded out the top-10.
Notables Encountering Problems
Boes started fifth but took the lead on the opening lap. That was in part due to pole sitter Salas getting black-flagged for jumping the start. He pitted on the first lap to serve the penalty. Never getting a caution to aid his efforts, he finished 39th, last of those that started the race.
Salas was not the only driver to encounter problems at Auto Club Speedway. Derek Justis, who qualified third, missed the grid. An issue getting his spotter online and loading the setup forced the No. 31 Baskin Robbins Toyota to start from pit road.
Whelp started pit cause trying to fix where I the Spotters couldn't get into my box. Then the race setup took 10 seconds to load and that's why I missed the grid. Started with 10.5 seconds behind the leader the finished 9.9 at the end of the race. I'm livid right now!!!

— KCP Derek Justis (@DerekJustis) November 16, 2022
While Salas was unable to recover any positions, Justis climbed from 39th to finish 28th. Though it was a far cry from the pace that he had, the points he salvaged could prove the difference between making the 2023 eNASCAR Coca-Cola iRacing Series grid and being forced back through the Road to Pro gauntlet.
Both Justis and Salas will have the opportunity to make up the ground the lost in the next race at the virtual Nashville Superspeedway on November 29. The eSports race will be streamed at enascar.com/live and iRacing's social media channels.
The results:
1. 21-Allen Boes [5], 2. 95-Parker White [9], 3. 10-Tucker Minter [11], 4. 1-Malik Ray [8], 5. 8-Kollin Keister [4], 6. 4-Jordy Lopez Jr [10], 7. 42-Dylan Ault [20], 8. 69-Collin Bowden [6], 9. 04-Darik Bourdeau [7], 10. 27-Cody Byus [2], 11. 26-Tyler Garey [19], 12. 53-Brandon McKissic [13], 13. 20-Wyatt Tinsley [17], 14. 29-Kevin King [21], 15. 28-Casey Tucker [18], 16. 30-Kaden Honeycutt [16], 17. 88-Briar LaPradd [25], 18. 96-Boyd Hoggan [24], 19. 39-Daniel Faulkingham [28], 20. 76-Blaze Crawford [29], 21. 14-Joey Brown [27], 22. 57-Seth DeMerchant [22], 23. 77-Ryan Doucette [30], 24. 51-Ray Alfalla [35], 25. 33-Taylor Hurst [26], 26. 7-Blade Whitt [36], 27. 11-Christopher Hill [38], 28. 31-Derek Justis [3], 29. 12-Jonathon Dulaney [34], 30. 66-Christopher Pfeffer [15], 31. 13-Daniel Buttafuoco [37], 32. 99-Michael Cosey Jr [31], 33. 36-Brenden Koehler [32], 34. 6-Andrew Navarro [12], 35. 32-Daniel Smallwood [39], 36. 43-James Wenzel [33], 37. 41-Brian Mercurio [14], 38. 67-Timmy Holmes [23], 39. 55-Vicente Salas [1].
Lead Changes:
Lap Leader(s): Allen Boes 1-5, Darik Bourdeau 6-13, Kollin Keister 14, Darik Bourdeau 15-20, Allen Boes 21-30, Malik Ray 31, Daniel Smallwood 32-34, Vicente Salas 35-37, Parker White 38-41, Allen Boes 42-60.
Laps Led: Allen Boes 34, Darik Bourdeau 14, Parker White 4, Vicente Salas 3, Daniel Smallwood 3, Kollin Keister 1, Malik Ray 1.
Hard Charger(s): 42-Dylan Ault (+13).
Caution Flags: None.
Margin of Victory: 1.087 seconds.
Time of Race: 42 Minutes, 7.222 seconds.
Average Speed: 170.939 MPH.
Pole Winner: 55-Vicente Salas, 39.292 seconds, 183.243 MPH.
Fastest Lap: Kollin Keister, Lap 3, 40.017 seconds, 179.924 MPH.
Strength of Field: 7,119 average iRating.