By Seth Eggert, Staff Writer
BROOKLYN, MI – With shades James Buescher's 2011 Daytona International Speedway win, Phillip Cecil McCandless captured the Yankee 600 benefitting the Brad Keselowski Checkered Flag Foundation in unbelievable fashion.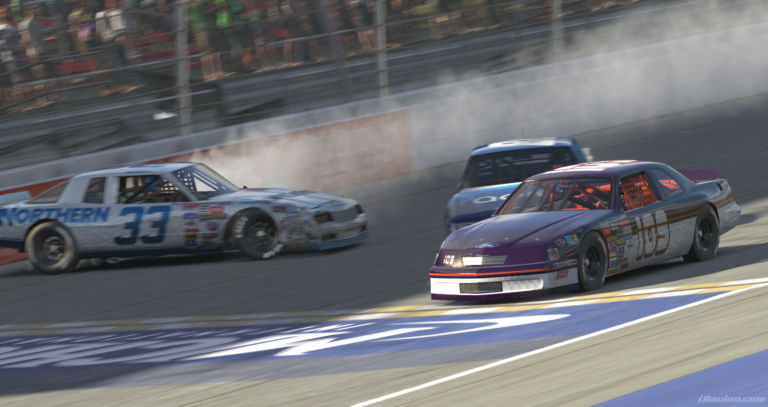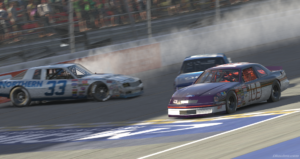 The U.S. Navy sailor took the white flag in eighth. McCandless' virtual No. 109 Ford Thunderbird was well behind race leader Shawn Butler as the field entered Turn 3.
However, pure pandemonium broke out. In a move of desperation, Ashton Schleiss dove into Turn 3. Schleiss hoped to simply move Butler's No. 32 Pennzoil Ford out of the lead. The hit was harder than expected, sending both cars spinning in front of the field.
Of those inside the top-five, only Brandon Kettelle snuck through. The driver of the virtual No. 80 Radius Chevrolet Monte Carlo drag-raced with Bryan Blackford's No. 33. An evasive move to avoid a lapped car sent both drivers spinning into the outside wall.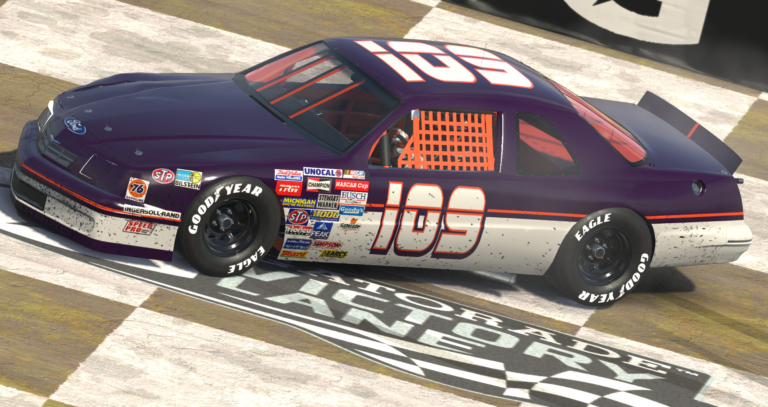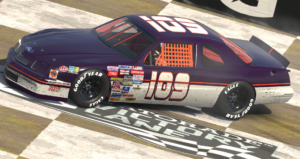 Emerging through the smoke and the chaos was McCandless. While Blackford and Kettelle spun closer and closer to the checkered flag, he closed in. In a photo finish, McCandless took the win by just 0.084 seconds over Kettelle.
"Oh man, what a day," McCandless said. "You know, I was rooting for Shawn on Discord right when that (wreck) happened. I wanted him to win but he got dumped. Everything cleared right at the end. Blackford was trying to make a move. Him and I raced clean. I actually messaged him before the final restart, 'hey man, I'll push,' because we were working together, letting each other go really well.
"I just can't believe I won it. When we came down for that last pit stop, the thought was I'll just take four tires just because some are going to stay out, some are going to take two. I just wanted to have a car that I like being able to be in control. I wasn't going to go to the front of the pack on no tires and wreck everybody. That last lap I don't even know what position I was in going to the white flag. We just found our way through it.
"Thanks for putting this on for the Brad Keselowski Checkered Flag Foundation, the sailor gets to take the checkered flag home."
HAVE YOU EVER??? @iBeButlerr gets spun on the white flag by @asschleiss, sending the field in disarray through 3&4. Through the fire and flames @ultraracingphil comes out of the smoke to win the #Yankee600 Presented by the @BKCFF. pic.twitter.com/rJNxJWf7mW

— FTF.gg (@watchFTFgg) October 14, 2022
Blackford, Matthew Zwack, and Alex Kolonics completed the top-five. Monday Night Racing champion Presley Sorah, Cole Fralick, Schleiss, Sean Peleg, and Derek Fulton rounded out the top-10.
Butler, who had dominated the race, leading 104 of the 300 laps spun across the line for 15th. Polesitter and eNASCAR Coca-Cola iRacing Series driver Matt Bussa finished 40th after a scheduling conflict forced an early end to his race.
"I don't know what to say," an emotional Butler explained. "I had an idea of how everything worked. I saved the tires well. I know the sorry Shawn meme is one of the most popular things around the Mooncar community, but … I don't know what to say to that really. It's just really bad."
Schleiss apologized immediately after the incident and several hours later on social media.
This was the first time I've ever been in contention for one of these big races, and I went in completely over my head for no reason. No excuses for it. Thanks to Blake for putting on a hell of an event. And thanks to Shawn for reaching out to me after. Way better man than I am.

— Ashton Schleiss (@asschleiss) October 14, 2022
The 600-mile iRacing race, inspired by the original 'Yankee 600' that was shortened by rain was the latest event promoted by Blake McCandless. It joins the ranks of the Rockingham 508 and World 600.
Like those events, it also benefitted charity, this time the Brad Keselowski Checkered Flag Foundation. As of the green flag, the event had raised around $700, with the number projected to increase further by the checkered flag.
The race was ultimately slowed by cautions 14 times for a total of 41 laps. However, the first 85 laps went caution free.
The unusual early green flag pit stops caused problems for several on pit road. Kettelle and Peleg missed their box. The latter had to come back down pit road, spun, ran out of gas, and was forced to tow for nine seconds to reach his pit box.
The results:
1. 109-Phillip Cecil McCandless [28], 2. 80-Brandon Kettelle [37], 3. 33-Bryan Blackford [33], 4. 23-Matthew Zwack [22], 5. 22-Alex Kolonics [6], 6. 98-Presley Sorah [21], 7. 15-Cole Fralick [41], 8. 68-Ashton Schleiss [13], 9. 32-Sean Peleg [39], 10. 70-Derek Fulton [26], 11. 13-Daniel Buttafuoco [8], 12. 90-Michael Sturgill [27], 13. 75-James Gibson [15], 14. 18-Anthony Chrobak [16], 15. 32-Shawn Butler [12], 16. 58-Michael Frisch [38], 17. 41-Brandon Gass [30], 18. 21-Jake Poulin [40], 19. 06-Spencer Burns [7], 20. 46-Teemu Toikka [9], 21. 89-Lucas Hoitsma [18], 22. 00-Larry Pace [4], 23. 69-Jonathon Caddell [29], 24. 17-Chase Pierce [2], 25. 26-Kevin McAdams [3], 26. 34-Danny Thomson [34], 27. 5-Matt Kemp [10], 28. 31-James Holtzer [20], 29. 59-Jamie Ritchie-Price [35], 30. 60-Jerry Nadeau [32], 31. 14-Chris Jahnke [23], 32. 27-Maxwell Castro [31], 33. 83-David Brown [5], 34. 72-Chandler Parsons [24], 35. 16-Adam Cabot [11], 36. 88-Ryan Andrew [19], 37. 53-Justin Melillo [36], 38. 1-Brian Hicks [42], 39. 66-Justin Smith [25], 40. 42-Matt Bussa [1], 41. 4-Nate Stewart [14], 42. 19-Thomas Lewandowski [17].
Lead Changes: 54 among 18 drivers.
Lap Leader(s): Matt Bussa POLE-0, Larry Pace 1, Alex Kolonics 2-13, David Brown 14-15, Larry Pace 16-18, James Gibson 19, David Brown 20-31, Kevin McAdams 32-38, James Gibson 39-44, Kevin McAdams 45-47, James Gibson 48, Kevin McAdams 49-51, James Gibson 52, Spencer Burns 53-54, Lucas Hoitsma 55-58, Shawn Butler 59-61, Chandler Parsons 62, Shawn Butler 63-64, Chandler Parsons 65-69, Shawn Butler 70-83, Matt Bussa 84-85, Lucas Hoitsma 86-87, Matt Bussa 88-117, Chris Jahnke 118-119, Matt Bussa 120-129, Shawn Butler 130-137, James Gibson 138, Shawn Butler 139-140, Ryan Andrew 141, Shawn Butler 142-145, Ryan Andrew 146-156, Shawn Butler 157-164, James Gibson 165, Shawn Butler 166-167, James Gibson 168-171, Shawn Butler 172-174, Teemu Toikka 175-179, Shawn Butler 180-191, Michael Frisch 192, Shawn Butler 193, James Gibson 194-196, Michael Frisch 197-201, Brandon Kettelle 202-216, Shawn Butler 217-242, Ryan Andrew 243-244, Brandon Kettelle 245-251, Shawn Butler 252-254, Chase Pierce 255-257, Brandon Kettelle 258-259, Shawn Butler 260-268, Bryan Blackford 269-271, Daniel Buttafuoco 272-278, Brandon Kettelle 279-293, Shawn Butler 294-299, Phillip Cecil McCandless 300.
Laps Led: Shawn Butler 104, Brandon Kettelle 39, James Gibson 18, Ryan Andrew 14, David Brown 14, Kevin McAdams 13, Alex Kolonics 12, Daniel Buttafuoco 8, Lucas Hoitsma 6, Chandler Parsons 6, Teemu Toikka 5, Michael Frisch 4, Larry Pace 4, Chase Pierce 4, Bryan Blackford 2, Spencer Burns 2, Chris Jahnke 2, Phillip McCandless 1.
Hard Charger(s): 80-Brandon Kettelle (+35).
Caution Flags: 14 for 41 Laps.
Margin of Victory: 0.084 seconds.
Time of Race: 4 Hours, 12 minutes, 56.726 seconds.
Average Speed: 142.323 MPH.
Pole Winner: 42-Matt Bussa, 41.479 seconds, 173.582 MPH.
Fastest Lap: 41-Brandon Gass, Lap 232, 41.817 seconds, 172.179 MPH.