By Jerry Jordan, Editor
FORT WORTH – Three-time NASCAR Cup Series Champion Tony Stewart stopped by Texas Motor Speedway on Wednesday as part of the Smoke Show Racing Fantasy Camp event that has now raised more than $1.5 million over the past 13 years for the Texas chapter of Speedway Children's Charity.
While in town, he also talked some about his drag racing team's efforts coming into this weekend at Texas Motorplex in Ennis, TX, but declined to discuss fines levied against his Cup Series teams by NASCAR.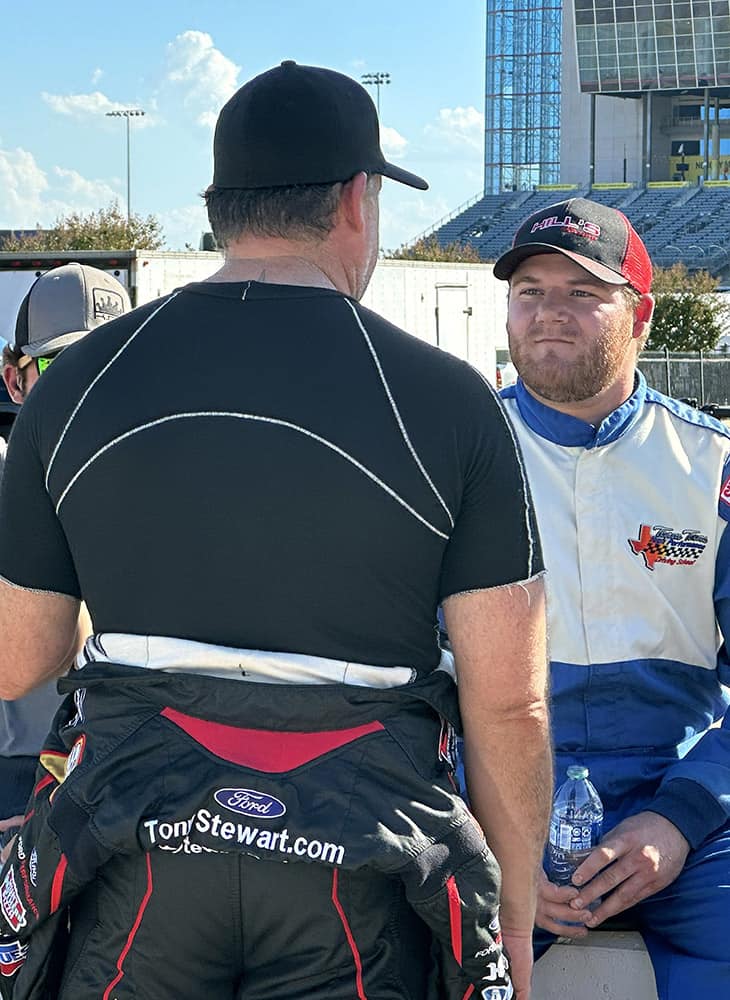 The charity event gives donors a chance to spend the day learning about stockcar racing and puts them in the driver's seat of real racecars operated by the Team Texas High Performance Driving School, co-owned by NASCAR driver, David Starr. And if that weren't enough, they also get to make laps in a two-seater racecar with Stewart as their driver.
"I am excited to be back here,' Stewart said, during a question-and-answer session with Kickin' the Tires, the Associated Press and PRN. "Obviously, we took two years off because of COVID but the demand was still there to come and do this and it is an event that I like to do. I enjoy the charity aspect of it, for sure, and we have had people come to this and they have not missed a year since year one that we started doing it. So, I have always said that as long as they still want to come I will be here.
"We've seen these people enough years that some of them are friends. We go to dinner when we are in town and we definitely stay in touch when we are not here. But the number one reason we are doing it is because it is for a great cause and we have fun doing it."
Stewart said the event is small enough that it had become "personal." And while the event is fun, the focus is on raising money for the Speedway Children's Charity and participating in the program is $6,000 per person. This year, there were 27 people who came out to ride with Smoke and get behind the wheel of a racecar to imagine themselves taking the green flag in a NASCAR race and passing is allowed.
"The good thing is the Starr Family (owners of the racing school) does an awesome job and they bring cars here that you feel like you can hustle it as hard as you can hustle the car," Stewart said. "We run as hard as we can run the car. We don't hold anything back because they pay good money for the experience and we want them to feel like what it truly feels like in the car when you are running hard."
In addition to having a smile on his face about getting to do something good for kids, Stewart was also beaming about his NHRA team, which is taking to the track just down the road about 75 miles to Texas Motorplex.
His wife, Leah Pruett, will compete in the Top Fuel dragster division and Matt Hagan will make the 200-plus mph runs in the Top Fuel Funny Car division. So far, Pruett has picked up one national win this year when she took home the Wally at the NHRA Mile High Nationals at Bandimere Speedway in Morrison, Colo. Hagan has three national wins, so far, this season with one each at Gainesville, Houston and Epping.
"I am excited for the weekend," Stewart said. "I think our Funny Car program we are really close, we're a little bit off but I don't think it is something where we are in panic mode by any means. It's a small adjustment here, a small adjustment there that is going to get us the rest of the way," Stewart said. "The Top Fuel side, I feel like the last couple of months, has been more of a challenge. I feel like we are, kind of, losing the handle a little bit but you know it's a rookie crew chief and a rookie team, first-year team, so I think it is still part of the growing pains and the growing process. I think we got off to a way better start than I anticipated and I think the reality is, kind of, catching up. I mean, your gonna trip and fall the first year with a rookie crew chief like this.
"No matter how the season ends up with the Top Fuel car, I feel like we've had a good year. I didn't expect to win a race with that car this year, honestly, but to get a win and have some good races and some good rounds of qualifying, I mean, the potential is there. It's just a matter of getting the rest of the way."
Stewart said that while drag racing isn't easy, he is still having a lot of fun.
As for his teams in the NASCAR Cup Series, the co-owner of Stewart-Haas Racing, appeared to be less than thrilled about the current situation. After Kevin Harvick criticized NASCAR over the parts used in the Next Gen car, his statement of "Crappy-Ass Parts" became somewhat of a mantra for fans siding with the drivers, especially after Kurt Busch and Alex Bowman were both been sidelined due to concussion-like symptoms.
As if by coincidence, following the race at Talladega Superspeedway, NASCAR randomly selected the No. 4 car driven by Harvick and the No. 19 car driven by Martin Truex Jr. to be taken back to the Research and Development Center. Once there, officials looked over numerous parts and pieces and fined the team and crew chief a total of $200,000 saying the decklid was illegal.
There were no issues reported by NASCAR regarding the No. 19 car.
And this past week, NASCAR penalized Cole Custer and crew chief Mike Shiplett with a $100,000 fine for each of them. NASCAR said they believe Shiplett told his drier to slow on the backstretch to change the outcome of the race and help the No. 14 SHR car advance into the next round of the playoffs.
"I am not going to talk about it. I am so mad at NASCAR right now, I am not talking about it," Stewart said, when asked about his thoughts on the penalties. "Nope. I am glad I am going drag racing this weekend, super glad I am going drag racing this weekend.
"I love it. The atmosphere is way different, way different and I like the atmosphere there. I have all year."