By Seth Eggert, Staff Writer
Fuel mileage, tire wear, and timing combined to hand Michael Frisch a thrilling victory in the Speedway Children's Charities World 600.
Run to the Finish
A caution with 65 laps to go brought all of the lead lap cars onto pit road at the virtual Charlotte Motor Speedway. Throughout the entirety of the race to that point, tires were lasting on average about 45 laps per run. Despite this, Ryan Andrew, Seth DeMerchant, Frisch, and others were determined to stretch their Goodyear Eagles as long as possible.
After a quick battle with Ryan Doucette and eNASCAR Coca-Cola iRacing Series driver Dylan Ault, Andrew cruised to a substantial lead. With 20 laps to go, the driver of the No. 65 Tango Paints Chevrolet Monte Carlo had built a 7.5-second lead over DeMerchant, Landon Huffman, Frisch, and others. Both DeMerchant and Huffman spent the early run battling with Andrew. Meanwhile Frisch worked with Ault and Brown to conserve their tires.
Battle for the Lead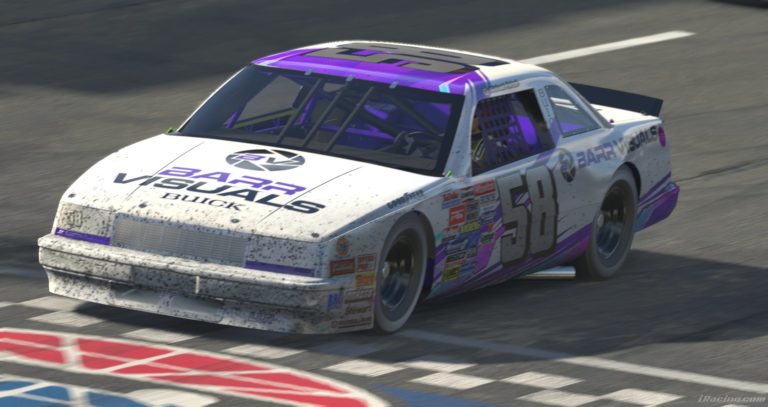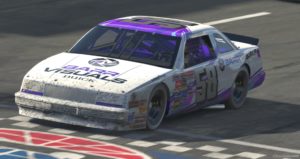 The varying approaches came to a head with 10 laps to go. The tire wear caught up with Andrew. His lead quickly evaporated after he tagged the outside wall with six laps to go. DeMerchant, Huffman, and the rest of the field cruised by Andrew with three laps to go as he blew a tire. However, race control held back on throwing the caution with the No. 65 safely out of the way.
The opportunity led to a frantic battle between DeMerchant and Frisch for the lead. Behind them Huffman battled Brandon Hawkin, Brown, and Ault for third. On the final lap Frisch maneuvered his No. 58 Barr Visuals Buick LeSabre to the inside of DeMerchant's No. 57 VRS / Logitech G Altus machine.
It appeared that the duo would drag race to the finish. However, in Turn 4 on the final lap, DeMerchant's car sputtered, out of fuel. Frisch took the lead and the victory with 0.230 seconds to spare over Hawkin.
"Honestly, David, Dylan, and I, we separated ourselves from the main pack during the last run, and we just chilled out and saved the tires to the end and go hard," admitted Frisch. "I'm still trying to soak it all in. This is so awesome to make a last lap pass in a 400-lap, (600-mile) race, I can't put it into words. This sits up there with the FTF 500. The FTF 500 is pretty big, but this will easily take second place (in terms of biggest wins).
"This is such a mental and physical game. Halfway through the race I was leading and then all of a sudden it went away. Your brain was clicking on and off with 'are you doing the right thing with tires?' It was fun but stressful at times. I've never drove so hard in my life than I did against Seth right there those final laps to actually have a shot against him. He's a very, very talented driver that knows how to wheel a racecar. Just to go toe-to-toe with him after 400 laps, I'll cherish that forever."
ARE. YOU. KIDDING. ME.

Michael P Frisch wins the #SCCWorld600 in REMARKABLE fashion!! Last 3 laps… truly unbelievable!@ERLracing l @watchFTFgg l @jacobhitz_sutv l @PFrisch_ l @Merch_N57 l @SCC_Charlotte l @iRacing l @GameSyns pic.twitter.com/MLE9nZ9Vge

— Blake McCandless (@MrF4Speed) July 15, 2022
Notables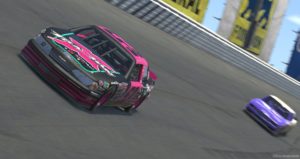 Huffman, Brown, and Ault completed the top-five. DeMerchant coasted to a sixth-place finish. Maxwell Castro, Ryan Doucette, Bryan Blackford, and Towle Owen rounded out the top-10.
Other notables in the field included 2021 Firecracker 400 winner Michael Cosey Jr in 17th. Cosey also ran the fastest lap of the race with eight laps to go. Traxion.GG's Justin Melillo finished 18th after getting caught in an early wreck. 2020 Firecracker 400 winner Brandon Kettelle finished 22nd. eNASCAR Coca-Cola iRacing Series driver Matt Bussa led the most laps before losing a tire, finishing 29th. 2022 Barr Visuals FTF 500 winner Cosmin Ioanesiu was swept up in a wreck on a restart, leaving him 34th.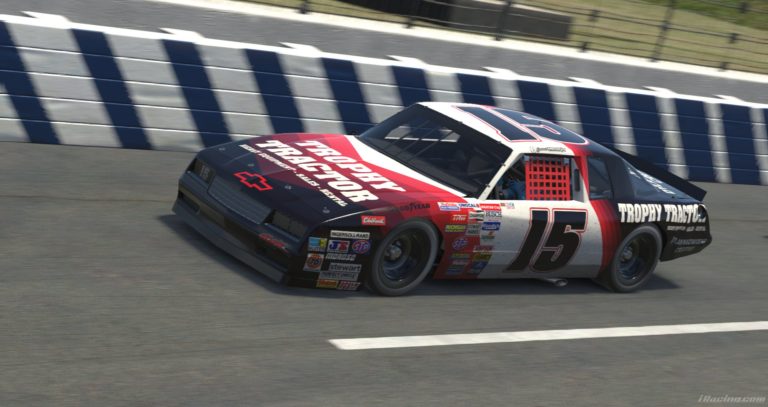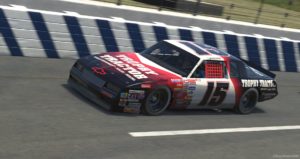 NASCAR Cup Series driver Garrett Smithley finished 25th after cutting a tire late in the race. Smithley was one of three provisional drivers in the field. NASCAR pit crew member George Balfanz Jr was another. Balfanz, like DeMerchant and Smithley started outside the top-40 and climbed up into the top-five. Like Smithley, he too lost a tire late and finished 21st.
Incidents
With the high tire wear, the race was slowed 11 times by cautions. Of the 11, eight were for accidents caused by blown tires. The other three were incidents that took place on restarts as the field jockeyed for position.
The first cut tire of the night was Kettelle. On Lap 38 he spun while running inside the top-10. Alex Kolonics and others couldn't avoid Kettelle's stationary Chevrolet and were collected in the incident.
Another unique incident that took place happened on Lap 89. Phillip Cecil McCandless, brother of race organizer and commentator Blake McCandless, keyed up in the driver chat. Phillip McCandless reported that he was experiencing an earthquake at his Ridgecrest, Calif. home. Despite the 4.6-magnitude earthquake, McCandless never lost power and continued in 12th. A late race accident ended his day with 65 laps to go.
Charity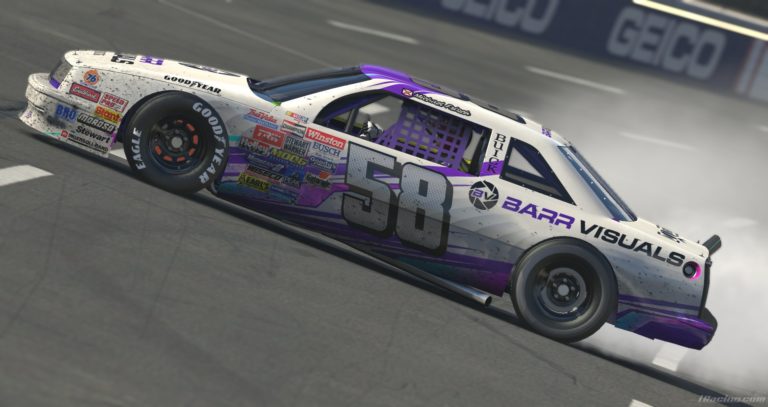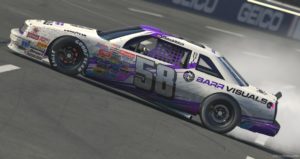 After his win, Frisch decided to forgo his winnings. Instead, the $125 prize from Battle Beaver was added to the money raised for Speedway Children's Charities. Between the donations from the competitors, sponsors, and viewers, Blake McCandless raised over $500. Post-race McCandless stated that the choice of charity was inspired by the recent passing of O. Bruton Smith.
The results:
1. 58-Michael Frisch [19], 2. 19-Brandon Hawkin [9], 3. 75-Landon Huffman [25], 4. 83-David Brown [14], 5. 40-Dylan Ault [1], 6. 57-Seth DeMerchant [40], 7. 27-Maxwell Castro [20], 8. 77-Ryan Doucette [13], 9. 33-Bryan Blackford [11], 10. 09-Towle Owen [33], 11. 41-Justin Monds [30], 12. 35-Hayden Swank [26], 13. 999-Joseph Selby [36], 14. 26-Kevin McAdams [10], 15. 65-Ryan Andrew [15], 16. 31-James Holtzer [3], 17. 99-Michael Cosey Jr [8], 18. 53-Justin Melillo [37], 19. 63-Logan Helton [7], 20. 21-Colton Harvey [27], 21. 94-George Balfanz Jr [41], 22. 80-Brandon Kettelle [5], 23. 18-Cody Smith [22], 24. 02-Craig Janczak [32], 25. 15-Garrett Smithley [39], 26. 9-Colton Zimmer [29], 27. 23-Blake Sasser [23], 28. 109-Phillip Cecil McCandless [18], 29. 77-Matt Bussa [2], 30. 49-Joe Huson [38], 31. 34-Jake Poulin [34], 32. 55-Jeff Shell [31], 33. 111-Gilles Chatelain [28], 34. 84-Cosmin Ioanesiu [12], 35. 37-Daniel Buttafuoco [4], 36. 86-Tyler Garey [16], 37. 17-Chase Pierce [17], 38. 16-Alex Crumb [42], 39. 13-Thomas Lloyd [35], 40. 39-Aiden Kirker [6], 41. 22-Alex Kolonics [24], 42. 70-Aaron Smith II [21].
Lead Changes: 31 among nine drivers.
Lap Leader(s): Dylan Ault 1-17, Matt Bussa 18-24, Dylan Ault 25-29, Matt Bussa 30-80, Michael Frisch 81-93, Matt Bussa 94-114, Michael Frisch 115-122, Brandon Hawkin 123-150, Dylan Ault 151-157, Matt Bussa 158-191, Ryan Doucette 192, Matt Bussa 193-194, Ryan Doucette 195-197, Dylan Ault 198-206, Ryan Doucette 207-208, Matt Bussa 209-223, Ryan Doucette 224-225, Matt Bussa 226-228, Ryan Doucette 229-238, Dylan Ault 239-246, Jake Poulin 247, Ryan Doucette 248-288, Michael Cosey Jr 289-322, Seth DeMerchant 323-338, Brandon Hawkin 339, Dylan Ault 340-343, Seth DeMerchant 344-348, Brandon Hawkin 349-351, Ryan Andrew 352-397, Seth DeMerchant 398-399, Michael Frisch 400.
Laps Led: Matt Bussa 132, Ryan Doucette 60, Dylan Ault 52, Ryan Andrew 46, Michael Cosey Jr 34, Brandon Hawkin 30, Seth DeMerchant 23, Michael Frisch 22, Jake Poulin 1.
Hard Charger(s): 57-Seth DeMerchant (+34).
Caution Flags: 11 for 44 Laps.
Margin of Victory: 0.230 seconds.
Time of Race: Four Hours, 24 Minutes, 32.727 seconds.
Average Speed: 136.083 MPH.
Pole Winner: 40-Dylan Ault.
Fastest Lap: 99-Michael Cosey Jr, Lap 393, 32.243 seconds (167.478 MPH).
Featured Photo Credit: Photo by Seth Eggert / Kickin' the Tires.