By the Kickin' the Tires Staff
Known for his business acumen, philanthropic endeavors and shrewd business sense, Ollen Bruton Smith, one of racing's most venerable leaders passed away Wednesday, June 22, 2022, at the age of 95.
Smith's Humble Beginnings
Born March 2, 1927, Smith was the youngest of nine children and grew up on a modest farm in Oakboro, North Carolina. As a member of the Greatest Generation, Smith learned the value of hard work early in life. With an inspiring determination and relentless optimism, Smith built a business empire in the automotive and motorsports industries and left a legacy to inspire generations of his family, friends and colleagues.
Smith was the founder of Speedway Motorsports Inc. and the visionary behind the building of Charlotte Motor Speedway. He turned his love of racing and savvy business style into a billion-dollar enterprise that serves as one of the cornerstones of stock car auto racing and automotive history. The entrepreneur partnered with NASCAR driver Curtis Turner, building the 1.5-mile facility for $1.5 million in 1959. The track opened in 1960, hosting the first annual World 600, now known as the Coca-Cola 600, NASCAR's longest mileage race on the schedule.
RELATED ARTICLE: Legendary Businessman, Philanthropist, and NASCAR Hall of Famer Bruton Smith Passes Away
Before Smith partnered with Turner to build Charlotte Motor Speedway, in 1949 he led the National Stock Car Racing Association (NSCRA). The fledging series was a direct competitor to NASCAR. A year later he took over the lease of the original Charlotte Speedway. Smith was drafted into the United States Army as a paratrooper. After two years fighting in the Korean War, he returned to find the NSCRA dissolved.
Being Remembered
Despite his battles with NASCAR through the years, which included outbidding then-International Speedway Corporation headed by the France Family, in its efforts to purchase Las Vegas Motor Speedway, Smith's SMI and NASCAR learned to work together, so to speak, in building stock car racing into the most-watched and most-attended form of auto racing in the United States.
"Race fans are, and always will be, the lifeblood of NASCAR," said Jim France, NASCAR Chairman and CEO, in a statement from the sanctioning body. "Few knew this truth better than Bruton Smith. Bruton built his race tracks employing a simple philosophy: give race fans memories they will cherish for a lifetime. In doing so, Bruton helped grow NASCAR's popularity as the preeminent spectator sport. His vision and legacy inspired many, and his fan-first mentality remains today through his son Marcus. On behalf of the France family and all of NASCAR, I offer my deepest condolences to the family and friends of Bruton Smith, a giant of our sport."
Following the announcement, members of the racing community shared their memories and thoughts on Smith's passing.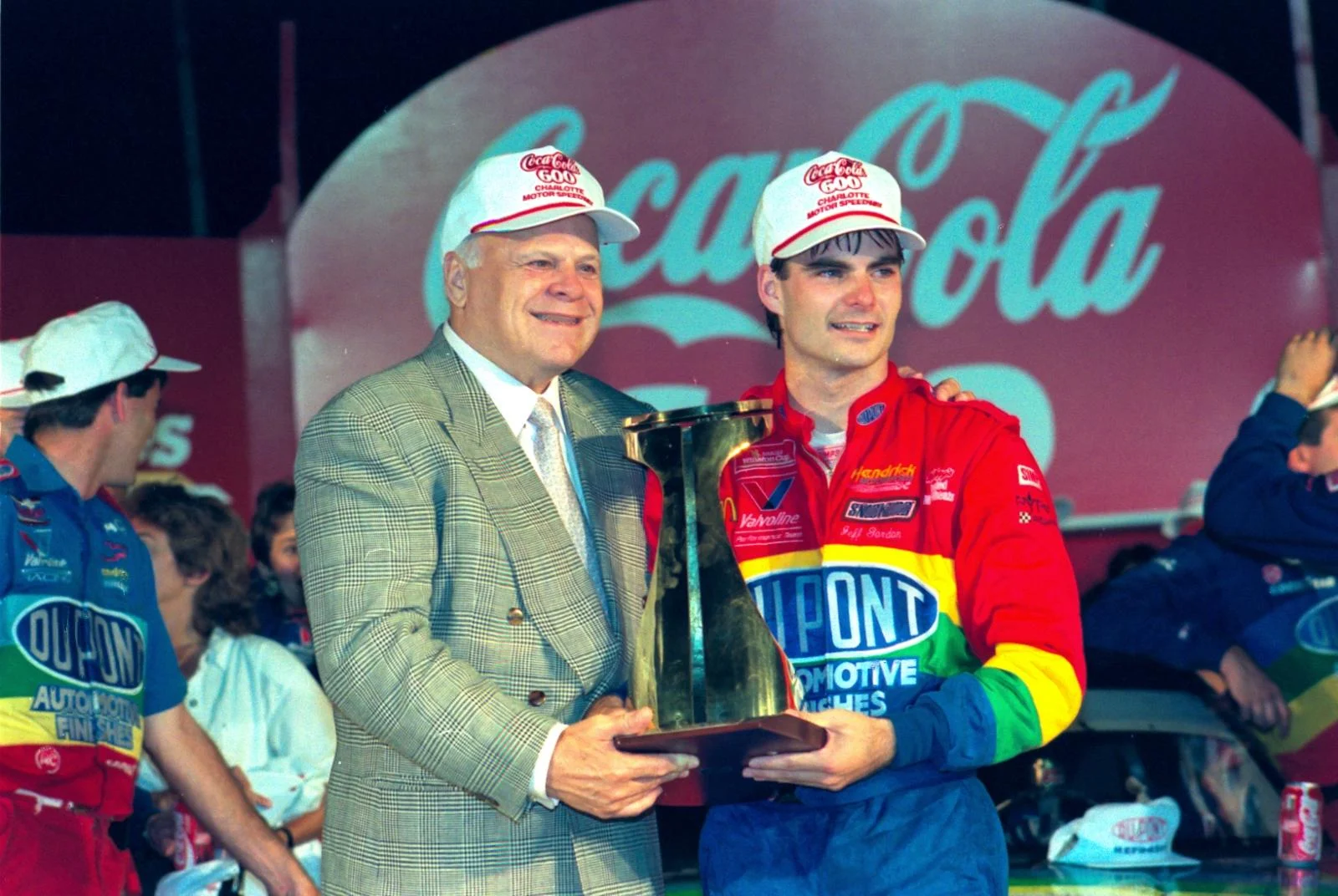 Several teams including Hendrick Motorsports, owned by Rick Hendrick, are based near Charlotte Motor Speedway, Smith's flagship track. Hendrick has 24 victories at Charlotte, 21 on the oval configuration and three on the ROVAL configuration. Hendrick remembered Smith attended the announcement at City Chevrolet of the formation of Hendrick Motorsports.
"Bruton and I both grew up on farms, and we shared a passion for racing and for the car business," recalled Hendrick in a statement released through his Hendrick Motorsports team. "In 1983, I held a press conference at City Chevrolet (in Charlotte, North Carolina) to announce a new NASCAR team that would become Hendrick Motorsports. He was there that day, and his support was something I never took for granted.
"Although most knew him as a savvy and successful businessman, I will remember Bruton first and foremost as a father, a family man and a dear friend. He was so proud of his children, and our families have always been close. On behalf of Linda (Hendrick), our family and our entire organization, I offer my deepest sympathies to the Smith family and the many, many people who loved and respected Bruton."
Upon hearing of his passing, Richard Petty, 84, known as The King of NASCAR, reflected on his friendship and dealings with Smith through the years. Petty said, he remembered Smith as a promoter in the 1950s but that was just the beginning.
"With heavy hearts, we join the NASCAR community in mourning the passing of Bruton Smith," said Petty in a statement sent out by the Petty GMS Racing team. "I remember first meeting Bruton in the 50s at a dirt race where dad was racing and Bruton was the promoter at the time. Since then, Bruton became so much more than a track owner and promoter. He was a pioneer of our sport and instrumental in building it to what it is today.
"His vision and passion to make the sport better was seen and felt across many decades and generations of fans. From racetracks to Speedway Children's Charities, Bruton touched the lives of so many and impacted the lives of everyone he met. Our hearts are with the Smith family during this difficult time."
Don Hawk, who is now the CEO of the Camping World SRX Racing Series, worked alongside Smith for years at SMI and was one of his closest friends, said, "SRX offers its condolences to the entire Smith family after hearing of the passing of Chairman Bruton Smith. Bruton was an incredible leader, mentor, and father. His contributions to NASCAR, INDYCAR and NHRA are immeasurable. As an industry, we are forever in his debt. Bruton was a passionate visionary and a champion on behalf of all fans. He leaves the motorsports and automobile business better than he found it.
"His passions and visions far surpassed the motorsports industry with the founding of Speedway Children's Charities where he continued to have an impact and raise funds for children in need. Personally, he's left a mark on me that I'll cherish the rest of my life. I am one of the most blessed of men to have been by his side for so many years and not just call him my boss, but a true friend. It's not bye, it's only bye for now Chief."
Leaving Behind a Legacy
The business empire that Smith created, Speedway Motorsports Inc., currently owns subsidiaries SMI Properties, U.S. Legend Cars International, Performance Racing Network and zMAX Micro Lubricants. In 2019, Smith and his business empire – Sonic Automotive – took the publicly-traded SMI private, buying out all of the company's shareholders for more than $225 million.
The consolidation of Smith's motorsports holdings in December 1994 and February 1995 marked the founding of Speedway Motorsports, Inc. (SMI). The company was the first motorsports organization to be traded on the New York Stock Exchange. Today, the privately-held SMI owns 11 racetracks dotted across the United States, Atlanta Motor Speedway, Bristol Motor Speedway, Charlotte Motor Speedway, Dover Motor Speedway, Kentucky Speedway, Las Vegas Motor Speedway, Nashville Superspeedway, New Hampshire Motor Speedway, North Wilkesboro Speedway, Sonoma Raceway, and Texas Motor Speedway.
Dover and Nashville are the most recent acquisitions by Speedway Motorsports. Atlanta recently received a reconfiguration and North Wilkesboro is currently in the beginning stages of a racetrack revival. SMI has also leased Circuit of the Americas in Austin, Tx. for the past two years to host NASCAR road course events at the premiere facility.
The company Smith leaves behind also holds U.S. Legends Cars International, which operates at most SMI-owned facilities. The Legends Cars are also utilized at local tracks across the country and in series around the world. The Performance Racing Network, based out of Charlotte Motor Speedway, provides radio broadcasting for most NASCAR races held at SMI-owned tracks.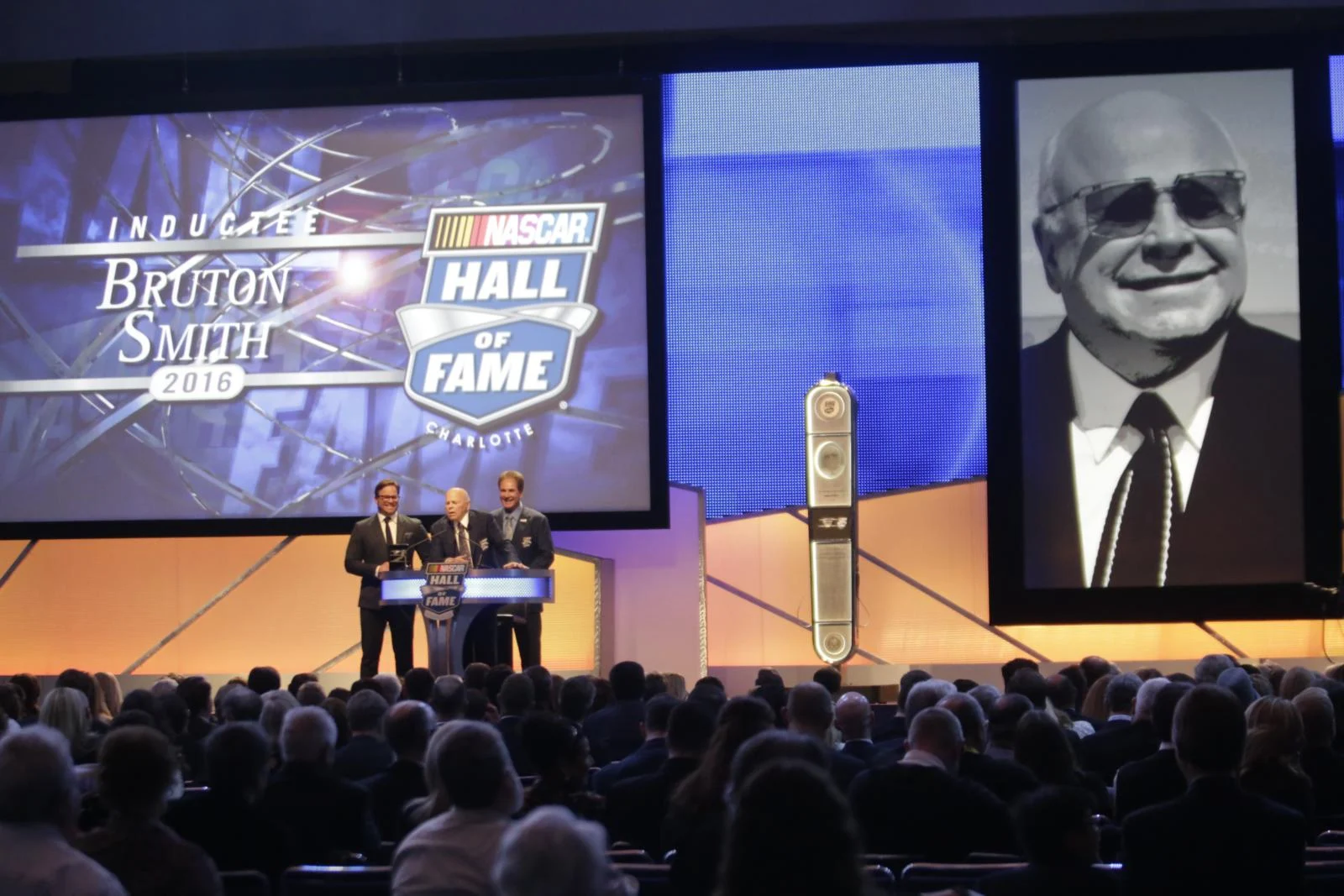 In 2006, Smith was inducted into the National Motorsports Press Association Hall of Fame, the North Carolina Business Hall of Fame and Stock Car Racing Hall of Fame. A year later he was inducted into the International Motorsports Hall of Fame. Ultimately, he was inducted into the NASCAR Hall of Fame in 2016.
Featured Photo Credit: Photo by Charlotte Motor Speedway