By Seth Eggert, Staff Writer
As the intensity of the eRacr Blue Emu Firecracker 400 boiled over on the last lap, Michael Cosey Jr. emerged through the chaos to win.
Intense Final Two Laps
A late-race caution setup a two-lap shootout to determine the winner of the second annual Firecracker 400. eNASCAR Coca-Cola iRacing Series driver Michael Guest led the field to the restart. Almost immediately, chaos broke out as fellow eNASCAR driver Logan Clampitt was turned in the tri-oval. Guest and others got out of shape leaving the battle for the lead between Logan McAnally and Eddie Kerner.
Through the chaos 4th the virtual Daytona International Speedway flew Dale Earnhardt Jr. The 15-time NASCAR Cup Series Most Popular Driver jumped from 16th to the top-five in his virtual No. 88 FilterTime Chevrolet Monte Carlo. Coming to the white flag, he made a fateful decision to give Cosey's virtual No. 00 Logitech G Altus eSports Chevrolet a push.
Repeating History
As the field caught Kerner and McAnally on the final lap, JR Motorsports' eNASCAR driver Michael Conti dove low as Kerner blocked high. In a wreck reminiscent to the finish of the 2021 Daytona 500, Kerner spun to the outside with Conti's virtual No. 5 FilterTime Chevrolet to the inside. With no one lifting on the final, chaos ensued.
Multiple drivers were swept up in the wreck. Meanwhile, the seas parted for Cosey, McAnally, Earnhardt, Guest, and Brandon Hawkin. The wreck gave Cosey a 10-car length lead over Earnhardt Jr, Guest, and McAnally. While the trio battled for position, Cosey cruised to a $2,000 payday and victory lane with 0.333 seconds to spare.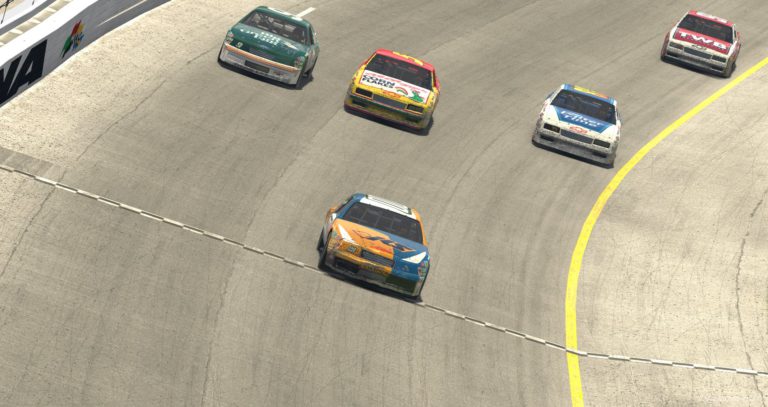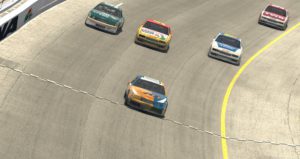 "How about that?" Cosey yelled after taking the checkers. "Second in the Carnomaly 500, I was so upset about it. It hurt for months. We came back here, I don't know what the hell just happened, but we won. Oh my God! I didn't lift going into three, I almost wrecked.
"I about wrecked like eight times today. Got some damage coming up through there. We wrecked, we wrecked?! Then we got up to third with a two-car breakaway up there (for the leaders). Everybody caught me too quick, and I just didn't want to hop up in front of the car behind me there and stack us all up.
"I just went with the flow. Knew there was going to be something stupid there going down the back, so I was trying to be patient with it. Don't know what I did for that kind of luck, everybody going up the hill and then coming back down. That is the craziest two laps I have ever had in my sim (racing) career."
ARE YOU KIDDING ME?!

Michael Cosey (@windVOW8820) WINS the Firecracker 400! (Via @eRacr_gg) pic.twitter.com/L3ez35zoR1

— NASCAR on NBC (@NASCARonNBC) July 1, 2021
Notables
Guest ultimately crossed the line in second with McAnally third, Earnhardt Jr fourth, and Hawkin fifth. Rounding out the top-five were eNASCAR's Caine Cook, FTF Racing League's Kevin McAdams, as well as Bryan Blackford, Tucker Minter, and Brian Mercurio.
The intensity of 'The Greatest Historic Show in Sim Racing' built up over the course of the first 395 miles. Three-wide racing, combined with a new damage model and Earnhardt Jr's diligence to provide a more realistic feel to the virtual 1987 NASCAR Cup Series cars proved crucial.
Attrition
At lap 120, only one car in the 43-car field was out of the race. With two others damaged and multiple laps down, 40 drivers had a realistic chance to win. Several late-race accidents, including two in the final two laps, knocked the field down to just 23 finishing on the lead lap. The new damage model provided several spectacular scenes for accidents.
Among those caught up in the wrecks included eNASCAR drivers Blake Reynolds, Dylan Duval, and Nick Ottinger. Ottinger, the defending eNASCAR Coca-Cola iRacing Series champion, won the pole for the eRacr Blue Emu Firecracker 400. He took the Radius Last to First Challenge and dropped to 43rd before the start. Ottinger climbed into the top-five with under 10 laps to go when he was collected in a wreck with Duval and Reynolds.
Defending Firecracker 400 winner Brandon Kettelle proved to have the strongest car throughout the race. His virtual No. 80 Radius Chevrolet Monte Carlo sliced through the field with ease. Kettelle led the most laps of the race, leading the field for 32 circuits. After getting swept up in a late race accident, he was credited with 38th.
Leaders and Lead Changes
While Kettelle led 32 laps, only four others led more than 10 laps. Roush Fenway's Nathan Lyon led 26 laps, Kerner led 19 laps with Blake McCandless ahead for 17 laps. Richmond Raceway eSports' Zack Novak led 13 laps. Race winner Cosey only led one lap.
— Michael Cosey Jr. (@windVOW8820) July 1, 2021
In total, there were 66 lead changes between 19 drivers.
Successful Event
The 2021 eRacr Blue Emu Firecracker 400 marked the third major event that promoters Landon Cassill and Parker Kligerman had organized. In total, $52,000 has been awarded in race purses. eRacr manager and race control Joshua Mendoza kept all 43 drivers in line on race day.
In total, 430 drivers attempted to qualify for the second running of the Firecracker 400. 88 advanced through from the prelims to qualifying. The 42 fastest drivers made the Firecracker 400 field with 43 scheduled to start the Firecracker 'MoonSplit' 200 field. Earnhardt Jr. was chosen as the eRacr promoter provisional for the 400-mile race after initially failing to make the top-42.
Among those that failed to transfer from the preliminary races were two-time NASCAR Cup Series champion Kyle Busch and four-time eNASCAR champion Ray Alfalla. eNASCAR drivers Ryan Doucette, Garrett Manes, and Jake Matheson transferred from the prelims, but failed to qualify for the 400-mile race.
Earnhardt Jr., Larry McReynolds, Kyle Petty, and Doug Richert participated in a pre-race documentary as part of the historic throwback feel of the iRacing event. The NASCAR Hall of Famer and iRacing Executive Director explained how he turned to drivers and crew chiefs that competed with the 1987 NASCAR Cup cars to improve iRacing's product.
Earnhardt Jr. also stated in the pre-race documentary that he would continue to attempt to make the field as long as the Firecracker 400 is running.
The results:
1. 00-Michael Cosey Jr. [7] ($2,000), 2. 9-Michael Guest [25], 3. 5-Logan McAnally [15], 4. 88-Dale Earnhardt Jr. [43], 5. 96-Brandon Hawkin [33], 6. 55-Caine Cook [21], 7. 26-Kevin McAdams [24], 8. 33-Bryan Blackford [18], 9. 01-Tucker Minter [31], 10. 44-Brian Mercurio [10], 11. 09-Colton Salek [19], 12. 71-Christian Pedersen [8], 13. 42-Dylan Ault [32], 14. 75-Landon Huffman [39], 15. 24-Jake Nichols [14], 16. 6-Nathan Lyon [6], 17. 81-Adam Gilliland [41], 18. 32-Shawn Butler [34], 19. 18-Will Norton [26], 20. 43-Collin Bowden [22], 21. 25-Nick Ottinger [1], 22. 8-Michael Conti [2], 23. 41-Dylan Duval [37], 24. 98-Eddie Kerner [28], 25. 86-Joseph Gulotta [2], 26. 27-Michael Gonzales [23], 27. 211-Blake McCandless [12], 28. 54-Joshua Chin [14], 29. 77-Bob Bryant [3], 30. 38-Casey Kirwan [13], 31. 66-Blake Reynolds [9], 32. 94-Justin Knoblock [38], 33. 97-Logan Clampitt [16], 34. 16-Blade Whitt [36], 35. 48-Will Cline [29], 36. 10-Graham Bowlin [11], 37. 11-Malik Ray [20], 38. 80-Brandon Kettelle [5], 39. 90-Zack Novak [35], 40. 21-John Gorlinsky [4], 41. 29-Rajah Caruth [30], 42. 02-Cody Dutton [41], 43. 47-Jon Adams [27].
Lead Changes: 66 among 19 drivers.
Lap Leader(s): Michael Conti 1, Bob Bryant 2, Nathan Lyon 3, John Gorlinsky 4, Nathan Lyon 5-7, John Gorlinsky 8-9, Nathan Lyon 10, John Gorlinsky 11-12, Nathan Lyon 13, Michael Conti 14, Nathan Lyon 15-21, Michael Conti 22-25, Cody Dutton 26, Michael Conti 28-29, Nathan Lyon 30-31, Brandon Kettelle 32-36, Adam Gilliland 37, Brandon Kettelle 38-40, Adam Gilliland 41-44, Casey Kirwan 45-46, Graham Bowlin 47-48, Brandon Kettelle 49-55, Cody Dutton 56, Brandon Kettelle 57, Joseph Gulotta 58-59, Brandon Kettelle 60-61, Blake Reynolds 62-68, Brandon Kettelle 69, Blake McCandless 70-71, Dylan Duval 72-74, Brandon Kettelle 75, Dylan Duval 76, Brandon Kettelle 77-78, Dylan Duval 79, John Gorlinsky 80, Brandon Kettelle 81-85, Blake McCandless 86-89, Zack Novak 90, Blake McCandless 91-92, Zack Novak 93, Blake McCandless 94-95, Zack Novak 96-97, Blake McCandless 98-100, Zack Novak 101-105, Blake McCandless 106, Zack Novak 107-108, Cody Dutton 109-110, Zack Novak 111, Nathan Lyon 112, Zack Novak 113, Nathan Lyon 114, Cody Dutton 115, Blake McCandless 116-117, Eddie Kerner 118-119, Brandon Kettelle 120, Eddie Kerner 121-123, Collin Bowden 124, Eddie Kerner 125-128, Dylan Duval 129, Eddie Kerner 130-133, Brandon Kettelle 134-137, Nathan Lyon 138-146, Casey Kirwan 147-148, Eddie Kerner 149-154, Michael Guest 155-158, Logan McAnally 159, Michael Cosey Jr. 160.
Laps Led: Brandon Kettelle 32, Nathan Lyon 26, Eddie Kerner 19, Blake McCandless 17, Zack Novak 13, Michael Conti 9, Blake Reynolds 7, John Gorlinsky 6, Cody Dutton 5, Dylan Duval 5, Adam Gilliland 5, Michael Guest 4, Casey Kirwan 4, Graham Bowlin 2, Joseph Gulotta 2, Collin Bowden 1, Bob Bryant 1, Michael Cosey Jr. 1, Logan McAnally 1.
Hard Charger(s): 88-Dale Earnhardt Jr. (+39).
Caution Flags: Nine for 27 Laps.
Margin of Victory: 0.333 seconds.
Time of Race: Two hours, 24 minutes, 46.728 seconds.
Average Speed: 165.770 MPH
Pole Winner: 25-Nick Ottinger, 42.915 seconds (209.717 MPH).
Fastest Lap: 10-Graham Bowlin, Lap 147, 42.352 seconds (212.505 MPH).
Featured Photo Credit: Photo by Seth Eggert / Kickin' the Tires.