By Seth Eggert, Staff Writer
A strategy gamble on a late caution with 12 laps to go ultimately put Joe Gibbs Racing's Ray Alfalla in position to win at Nashville Superspeedway.
Alfalla In Control
The four-time eNASCAR Coca-Cola iRacing Series champion was the first off pit road. Crew chief Bryan Blackford opted for a two-tire strategy, putting the veteran driver towards the front. Logan Clampitt and Darik Bourdeau both stayed out during the caution.
On the restart, Clampitt launched well out of the new iRacing Restart Zone (featured only on all NASCAR oval tracks currently). In Turn 1, Alfalla just cleared the William Byron eSports driver for the lead before the caution waved once again. Successive cautions pushed the race into overtime.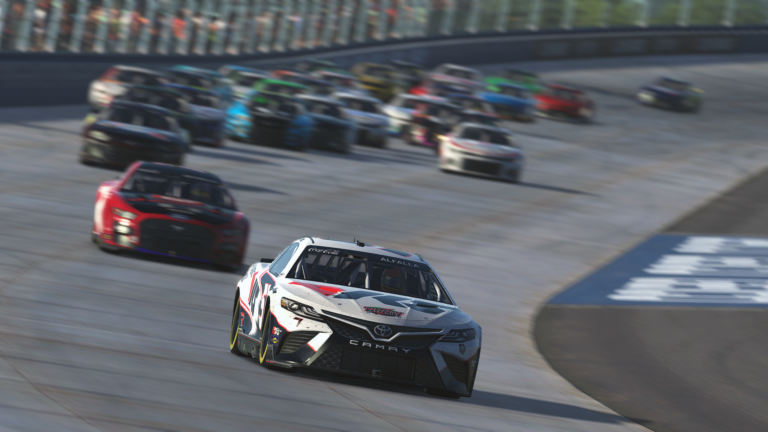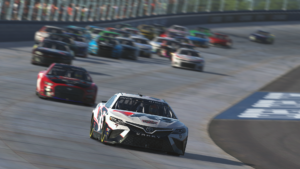 On each restart Alfalla masterfully jumped ahead of the field when leaving the restart zone in his virtual No. 51 Virtual Racing School Toyota Camry. Though he would be challenged by Rise eSports' Zack Novak, the challenge came too late. When Alfalla took the checkered flag, he had a gap of about two car lengths back to Novak.
"What a season it's been for the VRS Camry," admitted Alfalla. "I'm so happy to get back to victory lane. We messed up in qualifying, which has unfortunately been the case a lot. We got a good break with the yellow, we were top three there. I knew we had pretty good speed, were second in happy hour, but it's really difficult to pass from the back. Once we were up front, we had a pretty good car to contend.
"Then my old teammate, Bryan Blackford, made a good call. I was about to take four and he said, 'what if you take two.' Zero tires seemed to work decently. We tried it and the car didn't feel bad at all."
History
The win marked Alfalla's 27th career eNASCAR win, increasing his record. The 2022 season is the 12th of 13 seasons that the 33-year-old has won in. Alfalla's first eNASCAR win came at Martinsville Speedway the inaugural season in 2010. The Floridian is the only remaining driver from the inaugural series still on the grid.
"I had dreams of (eNASCAR) being where it is today with all of the coverage, exposure," explained Alfalla. "We know that COVID, 2020, accelerated everything exponentially. The series has grown a lot, there's a lot of interest in the series. There's a lot of good drivers in the series, I think I'm the only one still left from the original (season). Even I had to drop down to the Contender Series after 2019 to get back in. It's never easy."
Notables
Blake Reynolds, Michael Guest, and Michael Conti completed the top-five. Steven Wilson, Casey Kirwan, Corey Vincent, Matt Bussa, and Dylan Duval rounded out the top-10.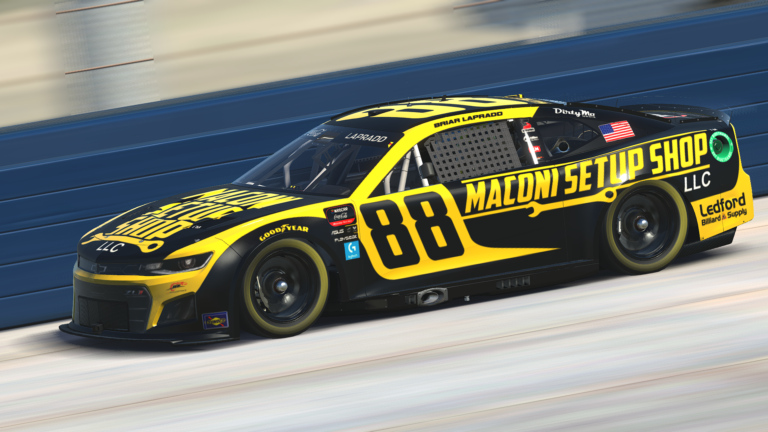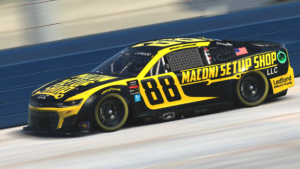 Polesitter Briar LaPradd finished 20th after a late-race caution. He was the first rookie to lead laps during the 2022 eNASCAR season.
Novak ran the fastest lap of the race on the final lap. eRacr's Collin Bowden was the Rookie of the Race, finishing in 13th.
For the second consecutive eNASCAR race a caution in the middle of green flag pit stops changed the complexion of the race. JR Motorsports' LaPradd dominated the first 18 laps of the race before Charlotte Phoenix's Graham Bowlin took over the race lead. The caution waved when Parker Retzlaff and Femi Olatunbosun spun on the frontstretch.
Storylines
One driver had a unique day of racing. Wood Brothers Racing's Garrett Lowe ran double duty on the day of the eNASCAR race. About 90 minutes before the green flag, Lowe competed at Charlotte Motor Speedway in the Cook Out Summer Shootout Series. He finished fourth in the Pro Division Legends Cars. Lowe was swept up in a late-race accident in the eNASCAR race, leaving him 35th.
Busy day Tuesday between sim and seat at Summer Shootout and the @NASCAR Coca-Cola @iRacing Series! P4 in the Pro division at Shootout after starting 9th. Unfortunately got taken out in a wreck with 10 to go in the Coca-Cola Series race finishing 35th. @woodbrothers21 @SRPRRacing pic.twitter.com/sg0RA2uypf

— Garrett Lowe (@GarrettLowe_6) June 24, 2022
Next for the eNASCAR Coca-Cola iRacing Series is a trip to 'The State Park of Auto Racing,' Road America. Though, Alfalla will have a little real-world seat time before then, getting the chance to test a Late Model at Hickory Motor Speedway for Huffman Racing in conjunction with Joe Gibbs Racing.
NEWS: 4-time eNASCAR @iRacing @CocaCola Series Champion & most recent winner @rayalfalla to test a late model at @hickoryspeedway

Sunday, June 25th in partnership w/@realVRS @interstatebatts & @JoeGibbsRacing pic.twitter.com/cK7KSJEQer

— Huffman Racing (@HuffmanRacing_) June 22, 2022
The results:
1 51-Ray Alfalla [37], 2. 5-Zack Novak [3], 3. 15-Blake Reynolds [19], 4. 9-Michael Guest [16], 5. 8-Michael Conti [25], 6. 10-Steven Wilson [21], 7. 95-Casey Kirwan [14], 8. 3-Corey Vincent [20], 9. 75-Matt Bussa [39], 10. 41-Dylan Duval [9], 11. 55-Allen Boes [7], 12. 48-Graham Bowlin [5], 13. 69-Collin Bowden [29], 14. 97-Logan Clampitt [32], 15. 6-Parker Retzlaff [15], 16. 23-Mitchell deJong [26], 17. 4-Ryan Luza [28], 18. 18-Bobby Zalenski [30], 19. 42-Darik Bourdeau [32], 20. 88-Briar LaPradd [1], 21. 24-Cody Byus [4], 22. 79-Femi Olatunbosun [17], 23. 20-Donovan Strauss [6], 24. 43-Kollin Keister [2], 25. 36-Brian Mercurio [33], 26. 12-Derek Justis [40], 27. 16-Blade Whitt [36], 28. 40-Dylan Ault [27], 29. 14-Nickolas Shelton [38], 30. 25-Nick Ottinger [18], 31. 2-Liam Brotherton [34], 32. 45-Keegan Leahy [35], 33. 54-Kyle Peddle [31], 34. 31-Garrett Manes [24], 35. 21-Garrett Lowe [23], 36. 33-Taylor Hurst [8], 37. 46-Jimmy Mullis [10], 38. 7-Malik Ray [12], 39. 19-Vicente Salas [11], 40. 17-Kaden Honeycutt [13].
Lead Changes: 10 among nine drivers.
Lap Leader(s): Briar LaPradd 1-18, Graham Bowlin 19-45, Allen Boes 56, Steven Wilson 57-59, Matt Bussa 60, Mitchell deJong 61-75, Steven Wilson 76, Mitchell deJong 77, Zack Novak 78-84, Logan Clampitt 85-88, Ray Alfalla 89-103.
Laps Led: Graham Bowlin 37, Briar LaPradd 18, Mitchell deJong 16, Ray Alfalla 15, Zack Novak 7, Logan Clampitt 4, Steven Wilson 4, Allen Boes 1, Matt Bussa 1.
Hard Charger(s): 51-Ray Alfalla (+36).
Rookie of the Race: 69-Collin Bowden, 13th, eRacr.
Caution Flags: Five for 21 Laps.
Margin of Victory: 0.194 seconds.
Time of Race: One hour, 10 minutes, 26.178 seconds.
Average Speed: 116.941 MPH.
Pole Winner: 88-Briar LaPradd, 29.678 seconds (161.696 MPH).
Fastest Lap: 5-Zack Novak, Lap 103, 29.769 seconds (161.201 MPH).
*Race scheduled for 100 laps, extended due to Overtime.
Featured Photo Credit: Photo by Justin Melillo.