By Seth Eggert, Staff Writer
Raw speed and a little luck netted Graham Bowlin his first win of the 2022 eNASCAR Coca-Cola iRacing Series season and the first for Charlotte Phoenix.
Bowlin Runs Away with the Race
On the long run, Bowlin ran down both polesitter Cody Byus and race leader Casey Kirwan with easy. Not overdriving the tires allowed the virtual No. 48 Charlotte Phoenix Toyota Camry to cruise by Kirwan at World Wide Technology Raceway at Gateway. Bowlin quickly opened up a three second lead over the XSET driver.
As green flag pit stops began, Bowlin bided his time. He waited until the halfway mark of the race to pit. Moments after crossing the pit commitment line the caution waved. A rare mistake by Jimmy Mullis saw the Rise eSports driver lock up the brakes and spin Garrett Manes. Legally on pit road, Bowlin pitted. However, about one-third of the field was forced to pit for fuel before pit road had opened. eNASCAR officials handed out end of line penalties to multiple drivers.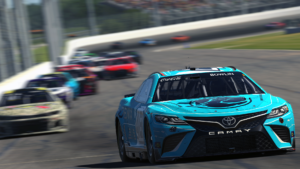 By virtue of his good luck, Bowlin restarted in the lead. He never looked back as he opened up a nearly three second lead once again. This time, Bowlin put the race on cruise control, maintaining his lead over 2019 eNASCAR champion Zack Novak. When the checkered flag waved, Bowlin was 2.837 seconds ahead of Novak. Logan Clampitt, Malik Ray, and Ryan Luza completed the top-five.
First Win for Charlotte Phoenix
Bowlin's win was the first for Charlotte Phoenix in the eNASCAR Coca-Cola iRacing Series. The first win for the organization in a major series came three weeks ago with James Bickford in Monday Night Racing.
"It's amazing, and the way I won, pure domination," explained Bowlin. "That's the best car that I've ever driven. It was pretty fast. I saw a video from Ryan Vargas on Twitter, they (those at the Carolina eSports Hub watch party), were jumping around, hollering. It was pretty cool to see that. Hopefully we can continue this.
"I wish I won there (at the Pro Battle), but I'm just happy to get [Charlotte Phoenix] their first win. I see no reason to stop here. We can get a couple playoff points. Hopefully we can get into the playoffs."
Notables
Last week's winner Matt Bussa finished sixth after starting 39th. Garrett Lowe, Vincente Salas, Nick Ottinger, and Corey Vincent rounded out the top-10. Mitchell deJong ran the fastest lap of the race on lap 57 after he pitted under green. The caution briefly trapped the 23XI Racing driver a lap down, forcing him to take the wave around.
Polesitter Byus finished 24th. The Mode Media House driver was battling inside the top-10 with about 20 laps to go. Hectic racing and worn tires dropped him down the running order.
RFK Racing's Parker Retzlaff was the rookie of the race. The real-life NASCAR Xfinity Series driver took the checkered flag in 15th.
Only one driver failed to finish the race, eRacr's Darik Bourdeau. Bourdeau was the biggest mover and fastest driver in the first 20 laps. Before the rookie could showcase what he had, contact with Blake Reynolds sent the No. 42 into the inside wall. The caution did not wave, but a broke suspension ended Bourdeau's night.
One driver did not take part in the race at Gateway. Kyle Peddle worked his day job as a First Officer for Porter Airlines. Pre-race Peddle joked that he would 'spy on Keegan Leahy as he flew overhead.'
The results:
1. 48-Graham Bowlin [4], 2. 5-Zack Novak [19], 3. 97-Logan Clampitt [6], 4. 7-Malik Ray [30], 5. 4-Ryan Luza [23], 6. 75-Matt Bussa [39], 7. 21-Garrett Lowe [11], 8. 19-Vicente Salas [5], 9. 25-Nick Ottinger [9], 10. 3-Corey Vincent [27], 11. 45-Keegan Leahy [8], 12. 41-Dylan Duval [13], 13. 18-Bobby Zalenski [12], 14. 51-Ray Alfalla [32], 15. 6-Parker Retzlaff [21], 16. 95-Casey Kirwan [2], 17. 46-Jimmy Mullis [26], 18. 55-Allen Boes [3], 19. 23-Mitchell deJong [16], 20. 20-Donovan Strauss [35], 21. 17-Kaden Honeycutt [31], 22. 8-Michael Conti [20], 23. 88-Briar LaPradd [29], 24. 24-Cody Byus [1], 25. 10-Steven Wilson [33], 26. 31-Garrett Manes [17], 27. 69-Collin Bowden [14], 28. 43-Kollin Keister [24], 29. 36-Brian Mercurio [22], 30. 40-Dylan Ault [7], 31. 79-Femi Olatunbosun [18], 32. 16-Blade Whitt [15], 33. 33-Taylor Hurst [10], 34. 14-Nickolas Shelton [36], 35. 12-Derek Justis [38], 36. 15-Blake Reynolds [25], 37. 2-Liam Brotherton [28], 38. 9-Michael Guest [37], 39. 42-Darik Bourdeau [34].
Lead Changes: Four among four drivers.
Lap Leader(s): Cody Byus 1-2, Casey Kirwan 3-21, Graham Bowlin 22-59, Zack Novak 60-61, Graham Bowlin 62-120.
Laps Led: Graham Bowlin 97, Casey Kirwan 19, Cody Byus 2, Zack Novak 2.
Hard Charger(s): 75-Matt Bussa (+33).
Rookie of the Race: 6-Parker Retzlaff, 15th.
Caution Flags: One for four laps.
Margin of Victory: 2.837 seconds.
Time of Race: One hour, 14 minutes, 16.681 seconds.
Average Speed: 121.166 MPH.
Pole Winner: 24-Cody Byus 33.827 seconds (133.030 MPH).
Fastest Lap: 23-Mitchell deJong, Lap 57, 34.323 seconds (131.107 MPH).
Featured Photo Credit: Photo by Justin Melillo.