By Seth Eggert, Staff Writer
The eNASCAR Coca-Cola iRacing Series Pro Battle at the Carolina eSports Hub for the top level of NASCAR's only sanctioned sim racing series.
The Event
Hosted by the Charlotte Phoenix team, their drivers, Graham Bowlin and Kollin Keister competed on stage with both Michael Conti and Briar LaPradd from JR Motorsports. The four drivers competed at the virtual Kansas Speedway in front of a live audience of about 60 fans and Charlotte Phoenix representatives. The race recap and be found here.
While the in-sim results for the drivers were mixed, the experience of racing in front of a live audience in unlike none other. None of the four drivers were bothered by the distraction of the crowd. In fact, they drew off of the crowd's energy for motivation during the race itself.
JR Motorsports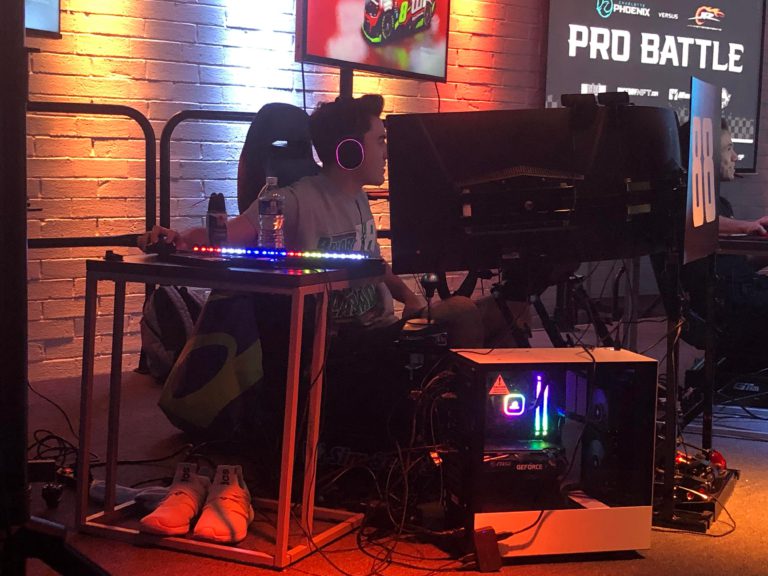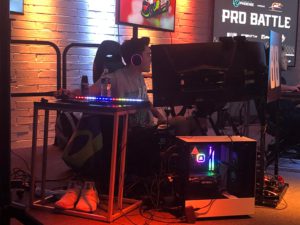 Of those on stage, eNASCAR Coca-Cola iRacing Series rookie, and JR Motorsports driver, LaPradd had the best finish. After qualifying 22nd, having to drive through the backstretch apron skid pad on a restart, he drove the No. 88 Ledford Billiard Supply Chevrolet Camaro ZL1 1LE to his first career top-10 finish at eNASCAR's top level.
One reason for LaPradd success could be attributed to his comfort level. While his three competitors competed on unfamiliar rigs, the JR Motorsports rookie brought his six hours from home. LaPradd was the only driver with triple monitors, streaming from the Carolina eSports Hub, and was one of the first to arrive at the venue.
"It's awesome, honestly it was a really cool experience," explained LaPradd. "I really hope I can do more of this. Obviously being six hours away doesn't help, but I was the only one who took my stuff. Hopefully we can come out here and do more of this.
"I'd like to see all 40 drivers out here, but you know it's obviously it's a little bit tougher than just four. Hopefully one day we make that happen because the energy in the crowd was incredible, especially when Graham was up front. Obviously, we're in Charlotte Phoenix, so they're pretty much their arena so, but here in the energy from the crowd was pretty cool."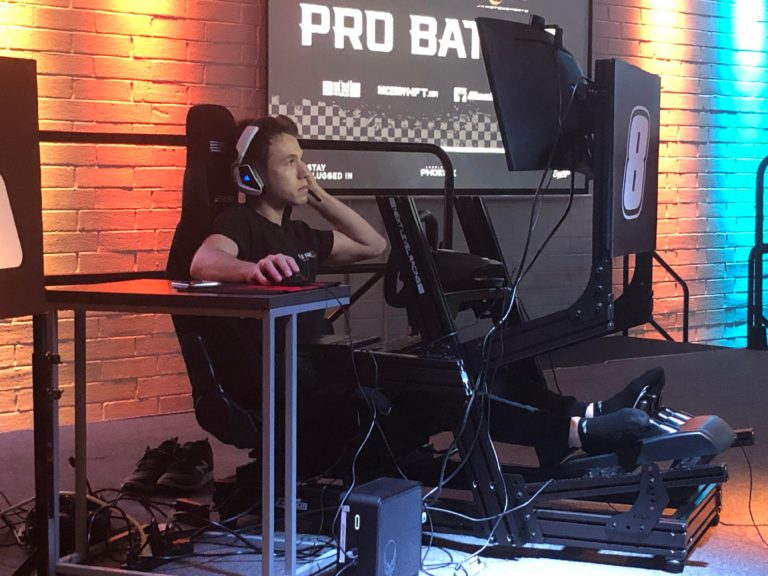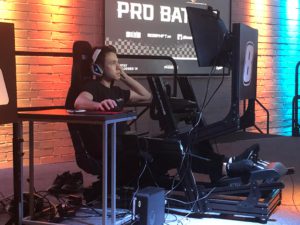 Although Conti bettered the two Charlotte Phoenix drivers, he finished 17th. The elder statesman of those on stage was swept up in an accident early in the 100-lap race. The crowd cheered as he managed to escape with relatively minimal damage on his No. 8 WR1 Sim Chassis Chevrolet Camaro ZL1 1LE inside a multi-car melee.
"[The Pro Battle, making history,] that's a really cool deal," admitted Conti. "That's why we all came down here. We knew that there would probably be a little bit of a disadvantage performance-wise because you're running on equipment that's not familiar. But, you know, the crowd was really good. It's fantastic. Ultimately, that's great."
Basis of the Pro Battle
Though the idea of racing on stage is new for the eNASCAR Coca-Cola iRacing Series, the concept is not new. Other leagues have operated events like this in the past. For the Carolina eSports Hub, this was their second time hosting a major event on this scale. Earlier this year they hosted multiple drivers from the Monday Night Racing league for their season finale.
The mastermind behind the Pro Battle, Monday Night Racing's drivers racing on stage, and the Charlotte Phoenix team itself is James Bickford. The former NASCAR K&N Pro Series West driver introduced the eSports team to the world of iRacing last year. First, he brought them into the league co-founded by Ford Martin and Paul Sutton. Using momentum from that, Bickford brought Charlotte Phoenix to eNASCAR, partnering with real-life drivers like Ryan Vargas in the process.
"When I actually made my calls for the (eNASCAR) draft and I was talking to drivers, the first question that I would ask them is are you comfortable racing in front of a live audience, is that something that you would be okay doing?" recalled Bickford. "The reason why I always had an intention to do a pro battle type event. Graham agreed to it, Kollin agreed to it.
"Now, as we continued into the season, it was already February. I planned the Pro Battle with our two Charlotte Phoenix drivers racing on stage. The details worked themselves out as we got through two, three months. I started to understand the community more and then turned it into the awesome event that it was."
Charlotte Phoenix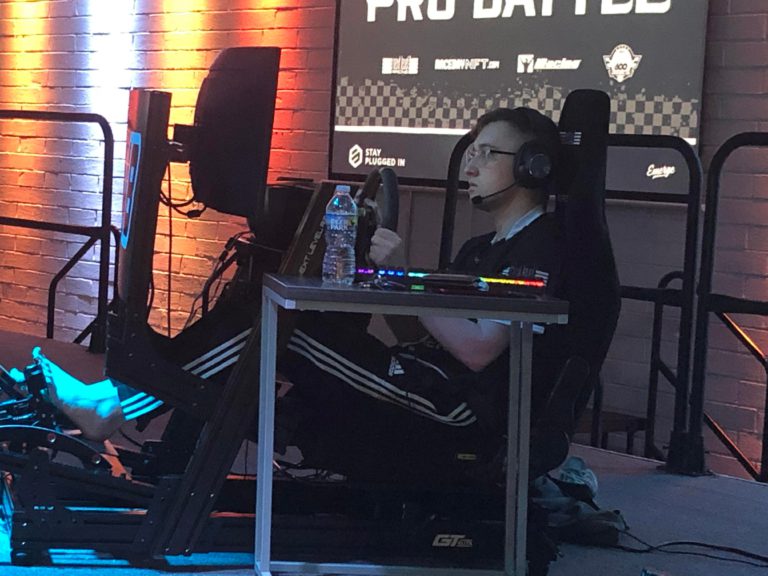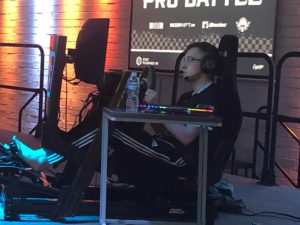 Of the four drivers on stage, Bowlin had the best race overall, though his results don't show it. The driver of the virtual No. 48 Charlotte Phoenix Toyota Camry started 16th. Bowlin drove to the lead, staying out front for 23 laps, much to the delight of a hometown crowd. Contact ended his race with just under 10 laps to go.
"It feels great [to make eNASCAR history]," admitted Bowlin. "I wish the outcome was different, but it was really fun. I heard the crowd the whole time when I was making moves. There's really good racing. Obviously, I wish I finished first instead of [33rd], but it was really fun. There was one time where I was pinching Casey (Kirwan) really hard. It was just so loud and if anything, it made me focus more."
Keister, meanwhile, had quietly picked his way through the field after starting in 19th. The driver of the virtual No. 43 Charlotte Phoenix machine was inside the top-10 when Bowlin crashed. Unfortunately, Keister had nowhere to go and was collected in the incident, leaving him 32nd.
"It feels pretty good [to be a part of eNASCAR history]," admitted Keister. "I was happy to be here, and this was pretty good turn out for a really good event. I like the atmosphere and was just happy to do it."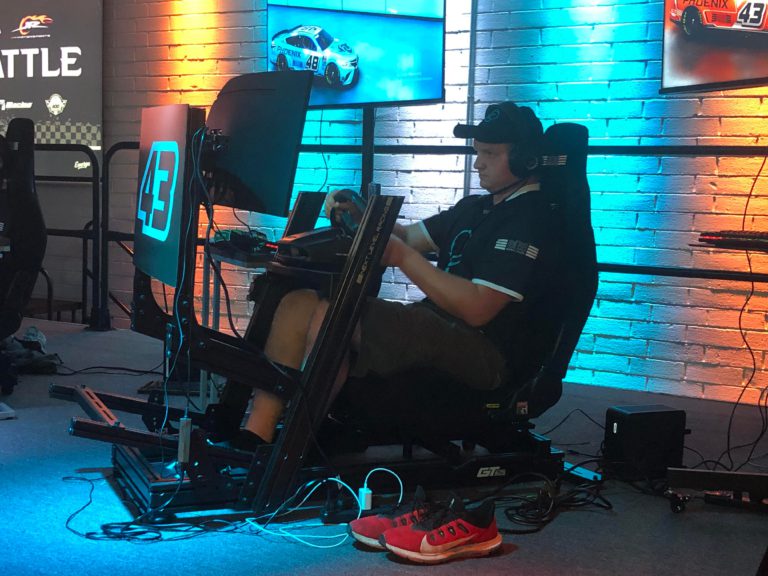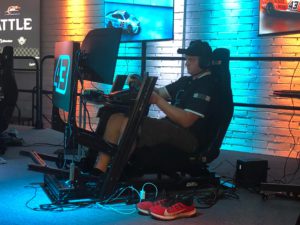 While the race didn't start until 9:00 p.m. ET, the doors opened to the Carolina eSports Hub at 6:30 p.m. ET. Audience members had options of competing on other sim rigs at the virtual Kansas Speedway. Conor Horn ran the fastest time, winning a $50 iRacing gift card. Other door prizes included shirts, iRacing memberships, iRacing gift cards, and a foldable sim rig. All audience members also got a free NFT from Raceday NFTs and a free ticket to the Coca-Cola 600 later this month.
Future Events
As for the next Pro Battle, if could feature four drivers from four different teams. It could be Charlotte Phoenix pitted against another team, whether it's William Byron eSports, Team Dillon Management, or Jim Beaver eSports. Regardless of who participates and when, Charlotte Phoenix and the Carolina eSports Hub have shown that iRacing can enter similar arenas with competitors on stage and draw an audience. Though it will take time to get to the same audience levels of Fortnite, League of Legends, Rainbow Six Siege, Rocket League, and other eSports.
"I like to think (that this is a proof of concept for NASCAR and iRacing)," stated Charlotte Phoenix Community Manager David Schildhouse. "You never really know what you got until you do it and you can't make history until you take that first step. I look at the Monday Night Racing championship race and tonight for the Coke series as history and taking that first step in showing that you can have a live event, you can have the drivers away from their comfort zone and put them in front of an audience and have them block all that out and still perform at the highest level. I would say both events have proven that and shown that with the right resources the right people you can make that happen."
Featured Photo Credit: Photo by Seth Eggert / Kickin' the Tires.