By Seth Eggert, Staff Writer
A four-tire stop and late-race charge netted Garrett Lowe his first eNASCAR Coca-Cola iRacing Series victory since 2019.
With 10 laps to go, the Wood Brothers Racing driver ran down race leaders Graham Bowlin, Mitchell deJong, and Casey Kirwan. Both Bowlin and deJong were on two tires while Kirwan was on four. The Charlotte Phoenix driver was trying to keep the XSET Gaming No. 95 at bay. With more momentum, Lowe shot through the middle in his virtual No. 21 Motorcraft Ford Mustang.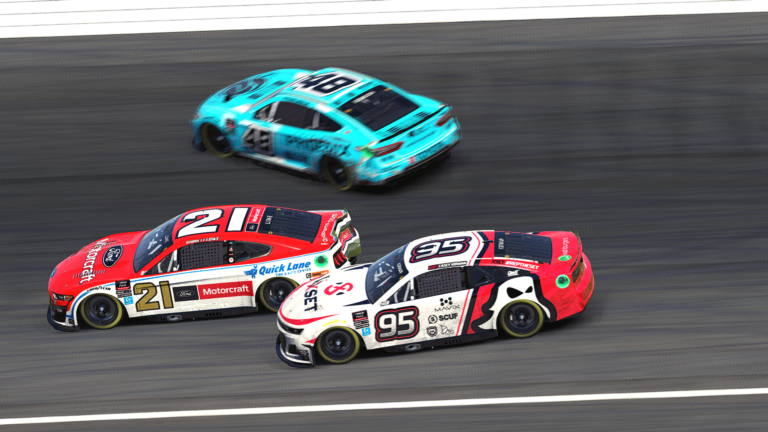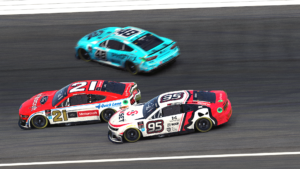 At the same time, Bowlin moved down to blow. The contact sent the No. 48 Toyota Camry spinning into the outside wall. The wreck collected several contenders, leaving the battle for the lead to be settled between Lowe, Kirwan, and Daytona winner Femi Olatunbosun. The tire disadvantage dropped Kirwan back to third on the restart. In the five lap sprint Lowe ran defensively, keeping Olatunbosun at bay to take the checkered flag first.
"It's hard to comprehend at the moment, it takes a while for these wins to sink in," explained Lowe. "Wins are extremely difficult to come by, you have to have really good cars. You have to put yourself in the right spots all night. It takes a lot to turn your season around when you're 20th in points. The last two years that's about where I've been. It's a big swing. Now that we're locked in the playoffs it changes the whole perspective for what we have to do the rest of the year."
Entering the virtual Kansas Speedway, Lowe was on the edge of relegation. The win locks him into the eNASCAR Coca-Cola iRacing Series playoffs if he can stay inside the top-20. In recent years, Lowe has solidly run around the 20th position in points. The win allows him and his Legacy eSports backend team to change strategy moving forward.
"We've been waiting to turn the season around all year," admitted Lowe. "We got off to a decent start, but then just fell into a hole and we were trying to dig ourselves out. I just can't thank this Legacy eSports crew enough for giving me a fantastic Motorcraft Ford Mustang. This car was on rails all night."
Vicente Salas and Donovan Strauss rounded out the top-five. Strauss' top-five earning him the eNASCAR Rookie of the Race. Zack Novak, Taylor Hurst, Michael Guest, Liam Brotherton, and Briar LaPradd completed the top-10.
Polesitter deJong was 20th after being swept up in an accident. In fact, the 23XI Racing driver tied with William Byron eSports' Logan Clampitt for the pole winning time. iRacing gave the nod to deJong.
The caution waved six times in the 100-lap race. In the first accident Michael Conti was collected. Conti, along with his JR Motorsports teammate Briar LaPradd, and Charlotte Phoenix's Bowlin and Kollin Keister were competing live on stage at the Carolina eSports Hub. LaPradd was the only competitor there to finish with an uneventful race. The JR Motorsports rookie scored his first top-10 finish.
The results:
1. 21-Garrett Lowe [28], 2. 79-Femi Olatunbosun [14], 3. 95-Casey Kirwan [11], 4. 19-Vicente Salas [34], 5. 20-Donovan Strauss [12], 6. 5-Zack Novak [24], 7. 33-Taylor Hurst [10], 8. 9-Michael Guest [21], 9. 2-Liam Brotherton [35], 10. 88-Briar LaPradd [22], 11. 7-Malik Ray [25], 12. 51-Ray Alfalla [26], 13. 46-Jimmy Mullis [15], 14. 31-Garrett Manes [31], 15. 3-Corey Vincent [20], 16. 75-Matt Bussa [9], 17. 8-Michael Conti [5], 18. 41-Dylan Duval [23], 19. 45-Keegan Leahy [3], 20. 23-Mitchell deJong [1], 21. 15-Blake Reynolds [27], 22. 12-Derek Justis [38], 23. 10-Steven Wilson [8], 24. 6-Parker Retzlaff [32], 25. 4-Ryan Luza [36], 26. 14-Nickolas Shelton [37], 27. 16-Blade Whitt [30], 28. 24-Cody Byus [7], 29. 36-Brian Mercurio [33], 30. 25-Nick Ottinger [4], 31. 42-Darik Bourdeau [18], 32. 43-Kollin Keister [19], 33. 48-Graham Bowlin [16], 34. 17-Kaden Honeycutt [29], 35. 18-Bobby Zalenski [6], 36. 97-Logan Clampitt [2], 37. 69-Collin Bowden [39], 38. 40-Dylan Ault [17], 39. 55-Allen Boes [13].
Lead Changes: 10 among seven drivers.
Lap Leader(s): Mitchell deJong 1-13, Bobby Zalenski 14-17, Steven Wilson 18-26, Graham Bowlin 27-44, Steven Wilson 45-73, Corey Vincent 74-76, Mitchell deJong 77-84, Graham Bowlin 85-87, Casey Kirwan 88, Graham Bowlin 89-90, Garrett Lowe 91-100.
Laps Led: Steven Wilson 38, Graham Bowlin 23, Mitchell deJong 21, Garrett Lowe 10, Bobby Zalenski 4, Corey Vincent 3, Casey Kirwan 1.
Hard Charger(s): 19-Vicente Salas (+30).
Rookie of the Race: 20-Donovan Strauss, Fifth, Williams eSports.
Caution Flags: Six for 23 Laps.
Margin of Victory: 0.366 seconds.
Time of Race: One hour, 10 minutes, 21.999 seconds.
Average Speed: 127.9318 MPH.
Pole Winner: 23-Mitchell deJong, 30.357 seconds (177.918 MPH).
Fastest Lap: 95-Casey Kirwan, Lap 84, 30.709 seconds (175.844 MPH).
Featured Photo Credit: Photo by Justin Melillo.