By Seth Eggert, Staff Writer
A strategy gamble, timely caution, and a timing and scoring error at Iowa Speedway worked in Collin Fern's favor, gifting him a spot in the Monday Night Racing Rowdy Energy Pro Series Championship 4.
As the leaders in the Sim Seats Challenge peeled off the track for fresh tires and fuel with 30 laps to go, Fern stayed on track. The Brandonbilt Motorsports team manager gambled on a late-race caution to be on fresh tires and trap his playoff competitors a lap or more down. That caution ultimately came.
Gary Sexton broke loose exiting Turn 4 with 15 laps to go. Adam Cabot was too close to the virtual No. 13 Dirty Air Toyota Tundra to stay off the bumper. The contact sent Sexton spinning down the frontstretch. The caution allowed Fern's No. 86 Brandonbilt Motorsports Chevrolet Silverado and those that hadn't pitted to do so. It also ended the gamble of Justin Melillo and Seth Eggert who were attempting to stretch the distance on fuel.
Under that ensuing caution a timing and scoring error creeped into the picture. Race control was forced to red flag the race, parking the field onto pit road as they worked to fix the running order. During the 20-minute red flag, the Monday Night Racing competitors made the best of the situation, Tweeting their best Brad Keselowski 2012 Daytona 500 impressions.
Is this the @iRacing equivalent of @keselowski's "Fire! My view!" 🤔@MonNightRacing | @PodiumeSports | @KicknTheTires | #eSports pic.twitter.com/Nzeq85M3DO

— Seth Eggert (@SethEggert91) January 25, 2022
Once the racing resumed, a combination of aggression and cold tires sparked a rash of cautions. Anthony Alfredo, Brandon Brown, Cabot, Ford Martin, David Schildhouse and others were among those swept up in the accidents.
Each caution allowed Fern time to keep his competitors at bay. When the checkered flag finally waved in overtime, he was 0.106 seconds ahead of DJ Cummings. Garrett Smithley, Matt Stallknecht, and Melillo completed the top-five.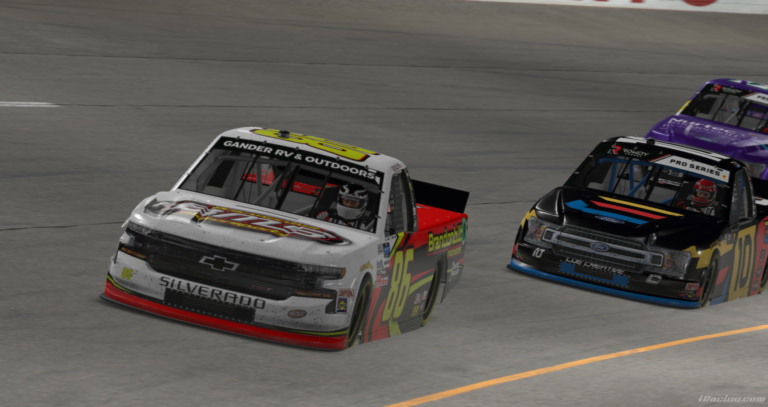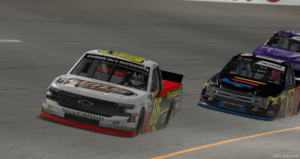 "It's been a lot of fun this entire season," admitted Fern. "Obviously going into the playoffs, I felt pretty comfortable into the first round. This second round being only two races, one bad race can set you out. To have the luck that we did with when the yellow falling when it did, made those late race restarts exciting. We'll do laps next week and get ready for Fontana.
"Max was a lap down and Rajah was a lap down, and Vargas sped on pit road. Those three playoff guys were having major trouble. I just felt like we could gamble and try to catch a caution, get track position and a tire advantage. I was pretty content with running it out until 10 to go. Luckily the caution came out with about 15 to go and it fell right into our laps. It was awesome."
Robby Lyons, Steve Auffant, Will Rodgers, Preston Pardus, and Alfredo rounded out the top-five. Playoff driver Rajah Caruth finished 11th with Schildhouse 15th and Max Kennon 16th. Ryan Vargas was 28th after a pit road speeding penalty during green flag pit stops. Cabot was out of the race in 30th.
Both Rodgers and Schildhouse have a five-point gap over the playoff cutoff, held by Caruth. Kennon is five points behind with Vargas and Cabot 14 and 16-points out respectively.
Only one race remains before the season finale. The season finale will take place live at the Charlotte eSports Arena. The final race of the Round of Seven will featured the Super Late Models at Nashville Superspeedway on Monday, January 31.
The results:
1 86-Collin Fern [16], 2. 10-DJ Cummings [11], 3. 52-Garrett Smithley [2], 4. 41-Matt Stallknecht [23], 5. 53-Justin Melillo [13], 6. 19-Robby Lyons [17], 7. 11-Steve Auffant [28], 8. 24-Will Rodgers [8], 9. 42-Preston Pardus [7], 10. 23-Anthony Alfredo [4], 11. 44-Rajah Caruth [1], 12. 60-Brad Perez [15], 13. 77-Devon Henry [32], 14. 4-Brett Baldeck [26], 15. 20-David Schildhouse [5], 16. 21-Max Kennon [14], 17. 50-Gabe Wood [10], 18. 27-Michael Massie [29], 19. 29-James Bickford [20], 20. 12-Brandon Brown [6], 21. 57-Seth Eggert [22], 22. 1-Josh Slate [19], 23. 93-Garrett Miller [30], 24. 88-Mike Clay [27], 25. 84-Kase Kallenbach [25], 26. 99-Mark Rebilas [24], 27. 13-Gary Sexton [9], 28. 6-Ryan Vargas [3], 29. 07-Ford Martin [18], 30. 17-Adam Cabot [12], 31. 97-Shane van Gisbergen [31], 32. 63-Bryan Boris Cook [21].
Lead Changes: Seven among five drivers.
Lap Leader(s): Rajah Caruth 1-2, Anthony Alfredo 3-34, David Schildhouse 35-77, Collin Fern 78-93, Will Rodgers 94, Collin Fern 95-99, David Schildhouse 100-111, Collin Fern 112-137.
Laps Led: David Schildhouse 55, Collin Fern 47, Anthony Alfredo 23, Rajah Caruth 2, Will Rodgers 1.
Hard Charger(s): 11-Steve Auffant (+21).
Rookie of the Race: 86-Collin Fern, Brandonbilt Motorsports, First.
Caution Flags: Six for 28 Laps.
Margin of Victory: 0.109 seconds.
Time of Race: One hour, 15 minutes, 38.636 seconds.
Average Speed: 95.084 MPH.
Pole Winner: 44-Rajah Caruth, 23.042 seconds (136.707 MPH).
Fastest Lap: 10-DJ Cummings, Lap 137, 23.375 seconds (134.759 MPH).
Time of Red Flag: 20 minutes.
Featured Photo Credit: Photo by Seth Eggert / Kickin' the Tires.