By Seth Eggert, Associate Editor
Repeated cautions, overtime, and contact on the final lap of Tuesday night's eNASCAR Coca-Cola iRacing Series race earned Jimmy Mullis his first victory of the 2023 season.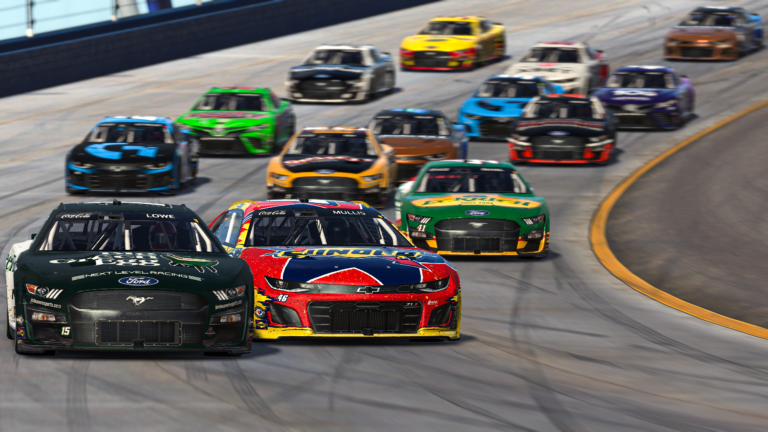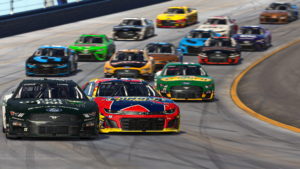 Mullis took the lead in the virtual No. 46 Sunoco Toyota Camry with 32 laps to go at Nashville Superspeedway. He fended off charges from Steven Wilson, Dylan Duval, and Nick Ottinger as the laps clicked off. A caution with about 10 laps to go split the strategies. Mullis, Duval, and others stayed on track. Garrett Lowe, Ottinger, Malik Ray, and Vincente Salas all pitted.
That one caution proved that the adage of 'cautions breed cautions' holds true on iRacing just as much as it does in real-life. The back-to-back cautions hindered the ability of those on fresh tires to make a strong charge for the lead, cutting the opportunities down. Eventually those cautions pushed the race into eNASCAR Overtime.
Like the other restarts, Mullis launched well, opening a nearly five car length lead over Duval. However, Lowe, on fresh tires, also broke free from the pack. The Jim Beaver eSports driver made quick work of the Canadian before setting his sights on Mullis.
On the final lap, the Rise esports driver blocked on the backstretch, forcing Lowe to pass on the outside. The duo made contact in the center of Turns 3 and 4. Both drivers regained control with Lowe nearly clear of Mullis on corner exit. That didn't last as contact from the virtual Toyota sent the No. 15 Big Green Egg Ford Mustang into the outside wall.
Mullis took the checkered flag in first with Duval sneaking into second and Lowe sliding across the line in third. Ray and Salas completed the top-five. Ottinger, Garrett Manes, Matt Bussa, Michael Guest, and Bobby Zalenski rounded out the top-10.
"It honestly is difficult (to win a race like that)," Mullis admitted. "I feel good, happy that I just won a race and I've been working so hard to win this year, but I've raced Garrett for a really long time and people are probably not going to believe me.
"The contact we had in Turns 3 and 4, that was going to happen, I was not going to back out of the throttle. Once I got sideways from hitting him, I thought he was gone, that he was clear. I had no idea that I was going to make any other contact off Turn 4. That's why coming to the line I looked confused. I didn't know if I should be happy or if I did something wrong. It takes the win excitement away a little bit."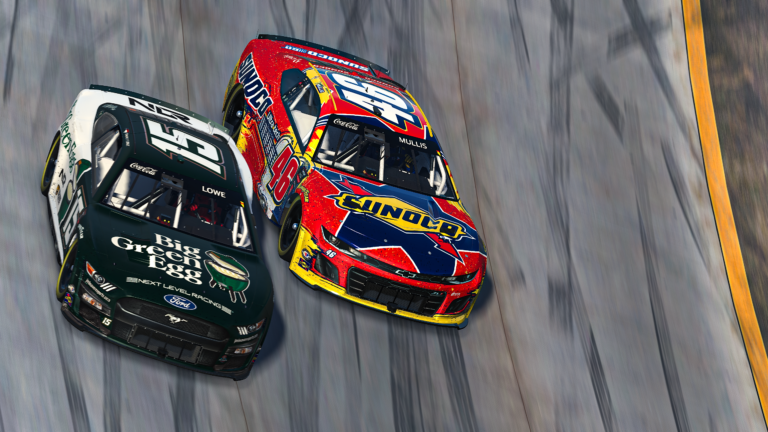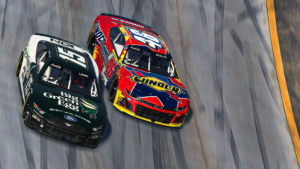 While Mullis was remorseful for the contact, he still enjoyed the victory. The 'win and you're in' format allows the Rise driver to earn an eNASCAR Playoff berth if he finishes the regular season inside the top-20. Currently, he is five-points below 20th in points.
The fight to make the playoffs may not be a simple one for Mullis. Lowe plans to race his competitor differently moving forward after their incident at Nashville.
"I got wrecked for the win," Lowe said. "That basically sums it up. I thought I'd be nice, I could have shipped him off into the corner, drove through him like there wasn't any tomorrow, and had myself a nice win, be in the playoffs.
"But I thought I'd be courteous and at least race him with some respect when he threw the block. I knew I had the tire advantage to run on the outside. He decided that he didn't want to race like that. Rest assured the 46 will never be raced clean again."
Whether Mullis moves into the top-20 in points or not has the potential to create a ripple effect. Ray and Ottinger are among those currently in on points. If Mullis can finish out the regular season inside the top-20, lessens the number of positions to make it on points by one.
The next eNASCAR event, a return to the virtual New Hampshire Motor Speedway, is schedule for Tuesday, July 25, at 9:00 p.m. ET. All eNASCAR events are streamed live at enascar.com/live.
The results:
1. 46-Jimmy Mullis [6], 2. 41-Dylan Duval [24], 3. 15-Garrett Lowe [14], 4. 7-Malik Ray [3], 5. 55-Vicente Salas [9], 6. 25-Nick Ottinger [1], 7. 12-Garrett Manes [34], 8. 97-Matt Bussa [4], 9. 45-Michael Guest [35], 10. 18-Bobby Zalenski [5], 11. 10-Steven Wilson [11], 12. 95-Casey Kirwan [7], 13. 34-Allen Boes [30], 14. 51-Donovan Strauss [25], 15. 17-Kaden Honeycutt [39], 16. 54-Daniel Faulkingham [20], 17. 23-Keegan Leahy [29], 18. 88-Kevin King [18], 19. 66-Tyler Garey [32], 20. 6-Timmy Holmes [2], 21. 40-Dylan Ault [37], 22. 27-Cody Byus [10], 23. 11-Parker White [8], 24. 1-Darik Bourdeau [13], 25. 33-Tucker Minter [17], 26. 75-Zack Novak [31], 27. 42-Kollin Keister [16], 28. 48-Graham Bowlin [36], 29. 31-Derek Justis [32], 30. 2-Corey Vincent [23], 31. 43-Femi Olatunbosun [21], 32. 77-Ryan Doucette [12], 33. 38-Michael Cosey Jr. [33], 34. 3-Jordy Lopez [38], 35. 8-Michael Conti [19], 36. 36-Brandon McKissic [28], 37. 69-Collin Bowden [27], 38. 20-Wyatt Tinsley [26], 39. 4-Ryan Luza [15].
Lead Changes: Six among six drivers.
Lap Leader(s): Nick Ottinger 1-9, Malik Ray 10-18, Nick Ottinger 19-31, Vincente Salas 32-46, Allen Boes 47-70, Steven Wilson 71-78, Jimmy Mullis 79-104.
Laps Led: Jimmy Mullis 26, Allen Boes 24, Nick Ottinger 22, Vicente Salas 15, Malik Ray 9, Steven Wilson 8.
Hard Charger(s): 12-Garrett Manes, FGR Accel eRacing (+27).
Rookie of the Race: 54-Daniel Faulkingham, Joe Gibbs Racing, 16th.
Caution Flags: Nine for 33 Laps.
Margin of Victory: 0.125 seconds.
Time of Race: 1:18:27.87
Average Speed: 106.009 MPH.
Pole Winner: 25-Nick Ottinger, William Byron eSports, 29.406 seconds, 163.191 MPH.
Fastest Lap: 41-Dylan Duval, Stewart-Haas eSports, Lap 66, 29.474 seconds, 162.815 MPH.
Race schedule for 100 Laps, extended to 104 due to Overtime.