By Seth Eggert, Associate Editor
The trip to the 'Magic Mile' for the NASCAR Xfinity Series Ambetter Health 200 has Ryan Ellis representing local New England companies on his Alpha Prime Racing Chevrolet.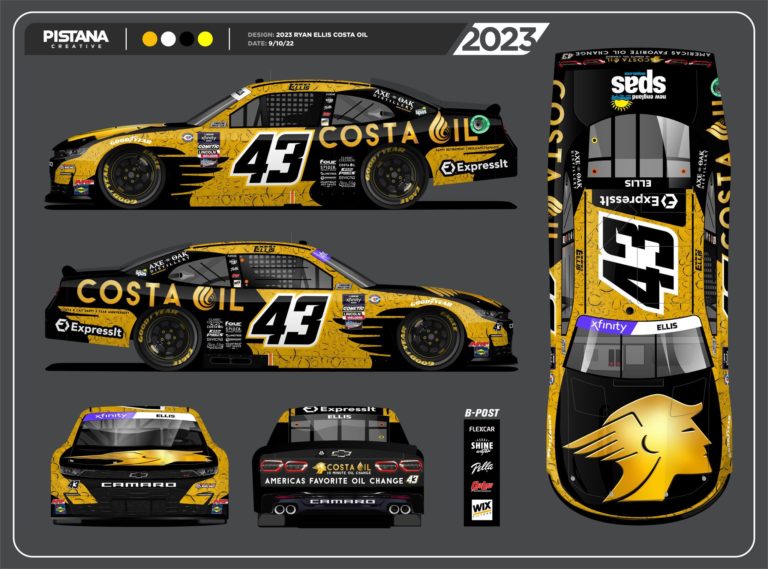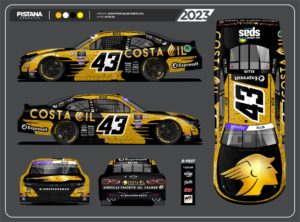 While the main sponsor of Ellis' No. 43 Chevrolet Camaro SS is Costa Oil, he has additional sponsors on the decklid and quarter panel at New Hampshire Motor Speedway. On the decklid and C Post is New England Spas with ExpressIt Delivery on the quarter panel, lower quarter panel, and roof. The two companies compliment the growing list of partners for the 33-year-old.
"We're really excited to represent a bunch of local companies in ExpressIT and NE Spas on our Costa Oil Chevy this weekend," Ellis said. "One of the coolest parts of what we're able to do is represent small businesses and their employees on a national stage. I'm really looking forward to meeting everyone from these companies and hope we can grow these partnerships into next year!"
The Saturday race marks Ellis' first trip to the Loudon, NH track since 2016. That day he started 40th and finished 37th in the NASCAR Cup Series. Ellis has one other start at the 1.058-mile track in the Xfinity Series in 2014. Transmission trouble ended that race early.
Fast forward to 2023 and Ellis is having a career season. NASCAR's trip to New England, home to New England Spas, marks his 16th race of the season, matching his career-high for starts in a single Xfinity season, set in 2016. Two of Ellis' five best finishes in the Xfinity Series, including his career best finish, 11th at Talladega Superspeedway, have come this year.
"We are thrilled to be sponsoring Ryan Ellis in the July 15th race in New Hampshire," Ginny Nolan, Brand Manager of New England Spas said. "Ryan is such a talented driver as well as a great person and we're proud to partner with him. Partnering with an athlete like Ryan is a tremendous opportunity to let race fans know about our products. After an exhilarating race, jumping in a hot tub is the perfect way to unwind, relax, and recover. We look forward to cheering Ryan on and seeing our logo represented on his car!"
Much like other 'journeyman' drivers in the NASCAR Craftsman Truck Series and Xfinity Series Ellis has landed multiple partners throughout the season. Outside of getting swept up in 'the big one' at Daytona Int'l Speedway and Darlington Raceway, something that is out of his control, he's been able to represent his sponsors well in his other starts throughout the year.
Like Ryan Vargas in the Truck Series, Ellis has cultivated a relationship with the sponsors and partners that he has represented throughout his career. That has allowed the Ashburn, VA native to expand the partnerships overtime, whether it's' with local or national brands.
"We are thrilled to announce that ExpressIt Delivery has partnered with NASCAR driver Ryan Ellis for an exciting sponsorship opportunity," Meredith Miceli, Director of Marketing for ExpressIt Delivery said. "As a leader in the transportation and logistics industry, ExpressIt Delivery recognizes the tremendous speed, precision, and dedication that characterize NASCAR racing, making it a perfect fit for our brand.
"This sponsorship provides us with an incredible platform to engage with fans, customers, and partners, as well as showcase our commitment to delivering exceptional service. We believe that the thrilling, high-energy environment of NASCAR aligns perfectly with our own mission to exceed expectations and provide seamless delivery and logistics solutions. We are honored to support Ryan Ellis as he races towards victory!"
Those relationships that Ellis has with his partners extend well beyond the track. In the case of New England Spas, the company gives back to local communities, including local military veterans, through the 'Wish for Our Heroes' program. That provides veterans and their families with free hot tubs.
"Since 1978 New England Spas has been the most trusted hot tub dealer in Massachusetts, providing products and services that deliver relaxation and health benefits to customers throughout New England," Nolan, stated.
"We're proud to support our local communities that we've been a part of for so many years. Especially our involvement in the Wish for Our Heroes program where, in partnership with Sundance Spas, we provide free hot tubs to military veterans and their families. The hydrotherapy that the spas provide is so beneficial to the veterans in helping with any pain and discomfort caused by injuries sustained from military service.
"Hot tubs also promote mental wellness, providing relaxation and easing the symptoms of stress. It means so much to us all here at New England Spas to be able to give back to these veterans who have given so much."
Several veterans from Massachusetts have received these free hot tubs. The gift of the hot tubs have helped their quality of life, their mental health, and overall their bond with the community.
"Thank you for helping me obtain a better quality of life," Richard Olson, U.S. Army Airborne Ranger said. "This is helping my pain, sleep, and bonding with my children."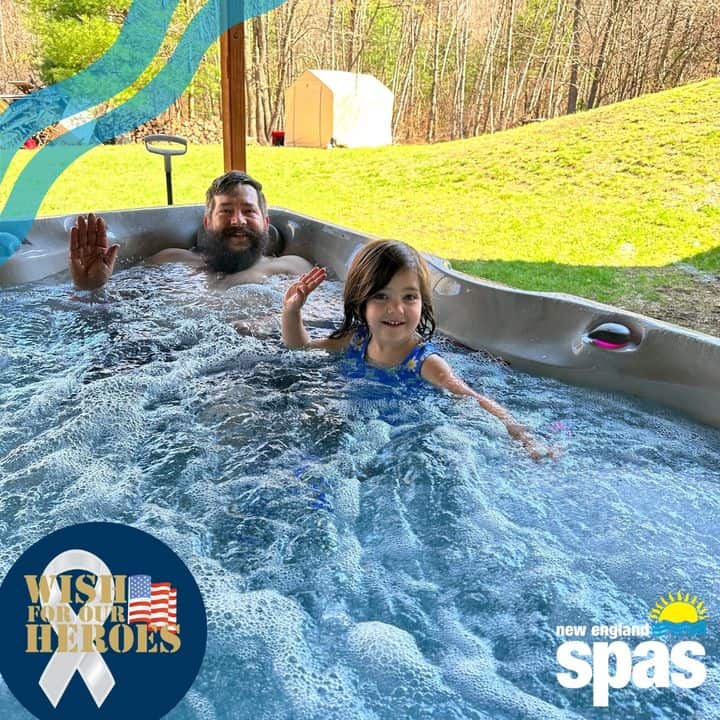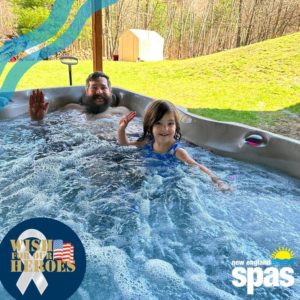 Through the partnership with New England Spas, Ellis is supporting this cause for American military veterans. The advertising that comes with being on his Xfinity Series Chevrolet brings more eyes to the company donating the hot tubs.
"It has been amazing so far; I've gone in it almost every day and it def takes some of the pain away on my lower back," Doug Sylvestre, U.S. Army Airborne Infantry Parachutist explained. "When I feel it start to tighten up during the day, I'll just go in and it'll feel so much better. Thanks again for everything."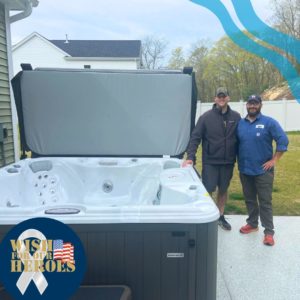 The struggle for those that have served in the military is unique. It's even more complicated when it's a dual-military and combat family. The weight of New England Spas' program is not lost on those that receive the hot tubs.
"As a dual-military and combat veteran family, our struggle is complicated and unique," Natalie Fleury, admitted as she and her husband David are both U.S. Army veterans. "To be recipients of such incredible generosity and compassion truly feels amazing! And reminds us that we are not forgotten or alone."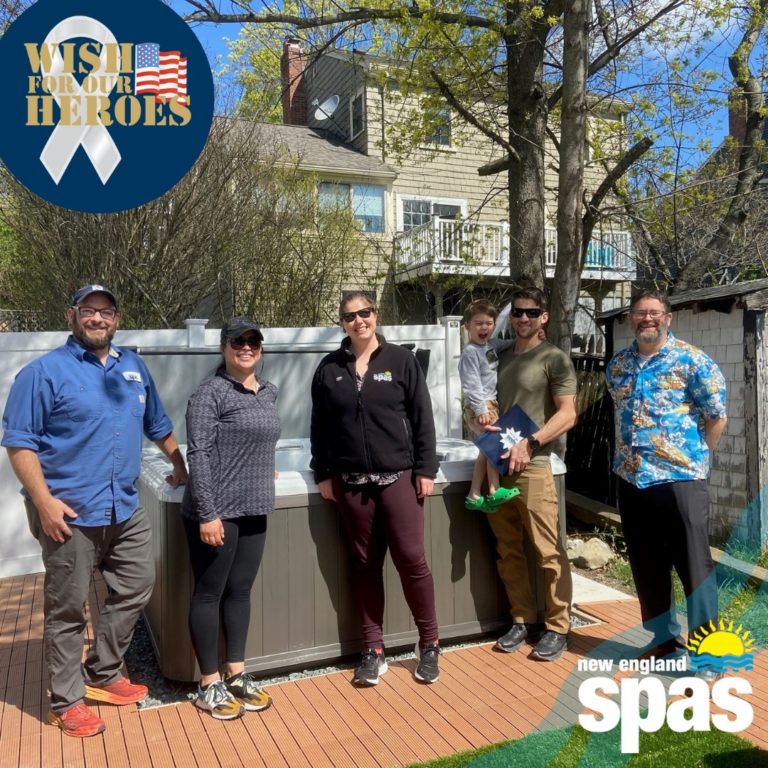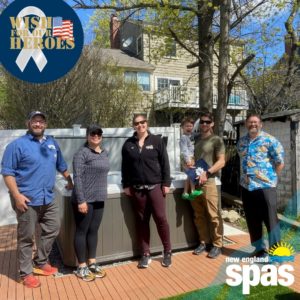 With all of that riding on Ellis, he'll make his return to New Hampshire Motor Speedway as a driver for the first time in seven years. The Ambetter Health 200 is scheduled for Saturday, 3:00 p.m. ET on USA Network. The race will also be broadcast on the Performance Racing Network and SiriusXM NASCAR Radio, channel 90.