By Seth Eggert, Staff Writer
eNASCAR Coca-Cola iRacing Series veteran Nick Ottinger wins his first championship at Homestead-Miami Speedway while Chris Shearburn earned his first career win.
Race Changing Moments
The nature of the eNASCAR season finale changed when the caution waved with 25 laps to go. While title contenders Nick Ottinger and Michael Conti stayed out, Bobby Zalenski and Ryan Luza pitted for fresh tires. The split strategy saw both Luza and Zalenski surge forward while Conti and Ottinger slid down the running order.
The Virtual Racing School driver moved back into the lead with just under 15 laps to go. However, Luza was not far behind and dueled with Zalenski. The Williams eSports driver briefly took the lead on the backstretch when a mis-timed cross-over move by Zalenski turned the virtual No. 53 Ford Mustang into the outside wall.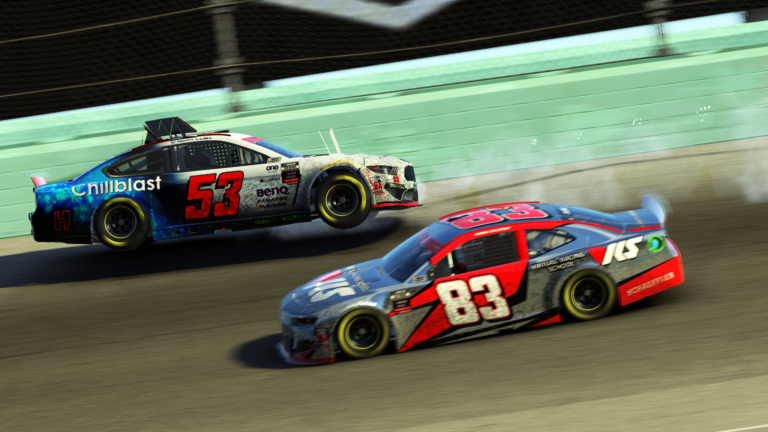 Championship Fight
While Zalenski stayed out, in the lead, Conti and Ottinger pitted for fresh tires. In overtime, the William Byron eSports driver began to move forward in his virtual No. 25 Logitech G Chevrolet Camaro ZL1 1LE. Two more back to back cautions allowed Ottinger to jump from outside the top-15 to eighth on the final restart.
On the final attempt at overtime, Zalenski drifted back on old tires as Shearburn swept by for the lead. As more drivers on fresh tires swarmed the No. 83 Virtual Racing School Chevrolet Camaro ZL1 1LE, Ottinger seized his opportunity. Coming to the white flag, he passed his Championship 4 rival.
As Shearburn held off Chris Overland and Eric J. Smith for his first career eNASCAR victory, Ottinger took the championship and the $100,000 grand prize. Caine Cook completed the top-five.
"It's huge," Ottinger admitted about the magnitude of his championship. "I've got the best dang team owner there is in William Byron. He's believed in me from day one. 2020 has definitely been a weird year.
"It was very worrying up to this weekend, a lot of preparation challenges that I had to overcome this week. I didn't have power or internet for about 3 days in a row, tried to go to one of my buddies' house to try to race. Got power back last night and it was time to come home. It's just a huge amount of challenges, just like how our race went. It's a huge ordeal, I never thought that the series would get this big."
Virtual Racing School won the team championship with both Zalenski and Ray Alfalla's wins.
New Equipment
On route to his first eNASCAR championship, Ottinger utilized new equipment. Just past the halfway point of the season, his William Byron eSports team and sponsor Logitech G provided the iRacing veteran with a new G923 Racing Wheel. It replaced Ottinger's seven-year-old Logitech Driving Force GT Wheel. The new wheel allowed Ottinger to more accurately feel the car and the track through the force feedback settings.
"It made a big difference," explained Ottinger. "I don't want to sound cliché here, but it made a true feedback at every point in the corner. I could feel how well, or how not well I was loading the front tires, especially with how hard in the corners I was driving in turn one. It was a game changer for me.
"Now I've adapted to a new wheel fairly quickly and run so much better. There is so much preparation that goes into a wheel that gives accurate feedback."
One of the first initiatives that team owner William Byron implemented was to upgrade his driver's equipment. Driver comfort was at the top of the list for Ottinger and John Gorlinsky.
"Honestly whether it's sim racing or real racing, you've got to have equipment to get where you want to go," stated Byron. "That was probably one of the first things that Nick worked on was his equipment. Getting with Sim Seats, monitors, things like that just to get him comfortable.
"There's a lot of different ways to get to (the championship) in sim racing, but you've got to be really comfortable. You've got to have the visuals, the feel that you want to have. Nick did a great job of identifying what he wanted. We had great sponsors with Logitech and Sim Seats. They gave us the products we wanted with the goal of performing with them. Luckily Nick did all of those things.
"I think it was great. I've used Logitech products myself, Sim Seats for a while. Glad he got to race on his sim tonight because that's a big deal too. Good for him that everything worked out there."
First Time Winner
Shearburn's victory came down to tire strategy. The Letarte eSports driver wheeled his virtual No. 36 Mane N' Tail Chevrolet Camaro ZL1 1LE to the front over the course of the overtime restarts. While Shearburn has shown speed throughout the race, and the 2020 season, he had not yet reached victory lane in his eNASCAR career.
Earlier this season, Shearburn finished runner-up at Indianapolis Motor Speedway. The veteran sim racer started on older platforms, including iRacing's predecessor, Papyrus' NASCAR Racing Season 2003.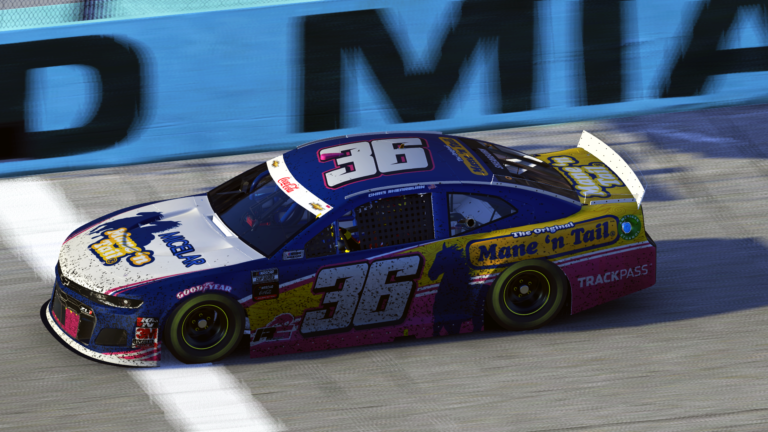 "It's been a long time coming," admitted Shearburn. "I've felt like I've had a lot of wins slip through my fingers, especially this year. The luck certainly hasn't been on my side, but for once, for once I finally got a break. Caught a in the traffic there on the first restart, and that probably got me the win more than anything. It feels great, it's amazing.
"Honestly, ironically, I think this makes me the oldest winner in the series now. I think Dale Earnhardt Jr. had it before at 37-years-old, and I turned 39 yesterday. We actually started around the same time, within a year or two of each other in the mid-90s. It's cool to be able to still compete. I can still run with my competitors pretty decently.
Christian Challiner, Zalenski, Michael Guest, Casey Kirwan, and Conti rounded out the remainder of the top-10.
Early Race
The first 90 laps of the season finale went caution free. Early on Ottinger was off sequence compared to his competition. He was among the first to pit on lap 45, joining Brian Schoenburg.
Conti meanwhile stretched his fuel out to lap 65, just two laps shy of a one-stop race under green. A caution for a crash between his JR Motorsports teammate Brad Davies and Alex McCollum ended that strategy with 35 laps to go.
Relegation
The relegation battle came to a close with Casey Kirwan making a big charge on the final restart. When the green flag waved for the final time, Kirwan was outside the top-20. Over the final two laps, the Denny Hamlin Racing driver sliced through the field to finish ninth.
Kirwan jumped ahead of Nathan Lyon and into the top-20 in points, guaranteeing a spot in the 2021 eNASCAR Coca-Cola iRacing Series season. The final driver to make the top-20 and avoid relegation was Ottinger's teammate, Gorlinsky.
Both of Roush Fenway Racing's drivers, Lyon and Kollin Keister, Stewart-Haas eSports' Justin Bolton and Dylan Duval, as well as Clint Bowyer Racing's Brandon Kettelle and Brian Schoenburg were all relegated to the iRacing Pro Series. Both drivers from Jim Beaver eSports, Michael Guariglia and Smith, and G2 eSports McCollum and Jarl Teien were also relegated.
2019 eNASCAR champion and Richmond Raceway eSports' Zack Novak was also relegated. Novak was on the bubble entering Homestead. He appeared set to jump into the top-20 when he was swept up in the accident with Luza.
The Finish
1. 36-Chris Shearburn [7], 2. 16-Chris Overland [37], 3. 9-Eric J. Smith [16], 4. 25-Nick Ottinger [9] (Champion, $100,000), 5. 55-Caine Cook [26], 6. 37-Christian Challiner [15], 7. 83-Bobby Zalenski [3], 8. 33-Michael Guest [27], 9. 23-Casey Kirwan [23], 10. 8-Michael Conti [4], 11. 46-Jimmy Mullis [20], 12. 32-Keegan Leahy [1], 13. 21-Garrett Lowe [24], 14. 3-Blake Reynolds [29], 15. 2-Ray Alfalla [2], 16. 77-Bob Bryant [11], 17. 79-Brian Schoenburg [33], 18. 27-Corey Vincent [12], 19. 88-Brad Davies [17], 20. 90-Zack Novak [21], 21. 18-Graham Bowlin [13], 22. 54-Alex McCollum [35], 23. 6-Nathan Lyon [14], 24. 75-Philip Diaz [31], 25. 5-Matt Bussa [10], 26. 97-John Gorlinsky [8], 27. 24-Jake Nichols [19], 28. 41-Dylan Duval [6], 29. 10-Justin Bolton [18], 30. 47-Steve Sheehan [34], 31. 53-Ryan Luza [5], 32. 17-Kollin Keister [22], 33. 51-Malik Ray [30], 34. 14-Brandon Kettelle [32], 35. 66-Jarl Teien [28], 36. 4-Santiago Tirres [36], 37. 15-Michael Guariglia [25].
Lead Changes: 13 among seven drivers.
Lap Leader(s): Bobby Zalenski 1, Ryan Luza 2-5, Bobby Zalenski 6-20, Ryan Luza 21-49, Michael Conti 50-63, Michael Guest 64-69, Ryan Luza 70-90, Bobby Zalenski 91-93, Eric J. Smith 94-96, Ryan Luza 97-100, Bobby Zalenski 101-105, Zack Novak 106-118, Bobby Zalenski 119-140, Chris Shearburn 141-147.
Laps Led: Ryan Luza 58, Bobby Zalenski 46, Michael Conti 14, Zack Novak 13, Chris Shearburn 7, Michael Guest 6, Eric J. Smith 3.
Hard Charger: 16-Chris Overland (+35).
Tough Break: 53-Ryan Luza (-26).
Cautions: 6 for 24 laps.
Margin of Victory: 0.339 seconds.
Time of Race: One hour, 38 minutes, 23.629 seconds.
Average Speed: 134.460 MPH.
Pole Winner: 32-Keegan Leahy, 30.061 seconds (179.635 MPH).
Fastest Lap: 36-Chris Shearburn, Lap 147, 30.806 seconds (175.291 MPH).
Strength of Field: 6,733 average iRating.
Photo by Seth Eggert / Kickin' the Tires