By Seth Eggert, Staff Writer
After three days of qualifying, heat races, last chance qualifiers, and duel races, the fourth annual Podium 500 ultimately came down to the final 100ft in overtime.
Qualifying started on Friday night with Logan Helton taking the pole and Nathan Rabideau taking the front row. The entrants were then whittled down through eight heat races, and two last chance qualifier races to 84 drivers between the two duels. Those races determined the 44 starters for the Podium 500.
A caution with two laps to go at the virtual Daytona International Speedway saw inaugural Podium 500 winner Seth DeMerchant leading. However, with the quick nature of the virtual NASCAR Next Gen in the draft, the lead changed hands multiple times over the final two laps. At the white flag, eNASCAR Coca-Cola iRacing Series driver Liam Brotherton held the lead with the Logitech G Altus driver in tow.
The duo led the pack, tandemmed down around the high banks of the 2.5-mile Tri-Oval. Meanwhile Brotherton's teammate Garrett Manes was being pushed by Lake Peterson. NASCAR Xfinity Series driver Rajah Caruth took the opportunity to break the latter duo up with the side draft. As DeMerchant looked to the outside of Brotherton to make the pass for the lead, all hell broke loose.
Brotherton blocked DeMerchant up to the wall, going across his nose. The seas parted for both Manes and Peterson. The driver of the virtual No. 09 Aether Chevrolet Camaro ZL1 1LE attempted to side draft the No. 31 Chevylinvers.com Chevrolet. Contact sent Manes spinning head-on into the outside wall as Peterson took the victory. Manes spun across the line second with Caruth, Daniel Faulkingham, and Justin Melillo rounding out the top-five.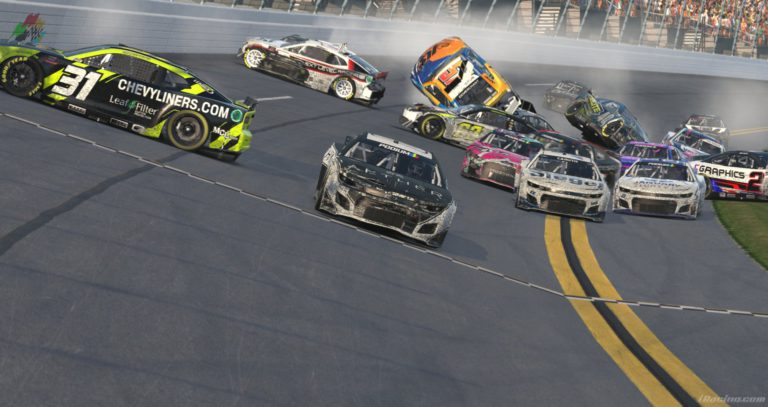 "Insane, especially when you come into this event," a shocked Peterson stated. "Just happy to be a part of it. I feel like anyone who signs up for this stuff has an inner competitiveness in them. They're all trying to win this. But, when you're stacked against Coke drivers, you've built up a big reputation in this thing. To come in this in my first actual attempt, I have no words.
"Got a pretty good restart on the top. It was just pushing and shoving all the way to the start-finish line. As we were coming to the start-finish line it was kind of like the seas parted and there was an opening. I took the opening to maximize the finishing position, not knowing that it was to win the damn thing.
"Went down, tried to make a race-winning more. By no means was it intentional wrecking. I know I haven't built up much of a reputation amongst the iRacing community. I don't want that to be what I'm known for, especially for this win. Truly honored to have the opportunity and even more so to capitalize on the opportunity."
However, after the race was over, Manes filed an appeal to the finish. Race control initially ruled that the incident was not 100% the fault of either driver. The Gaming Council ruled otherwise, handing Peterson an end of line penalty, initially demoting him to 19th.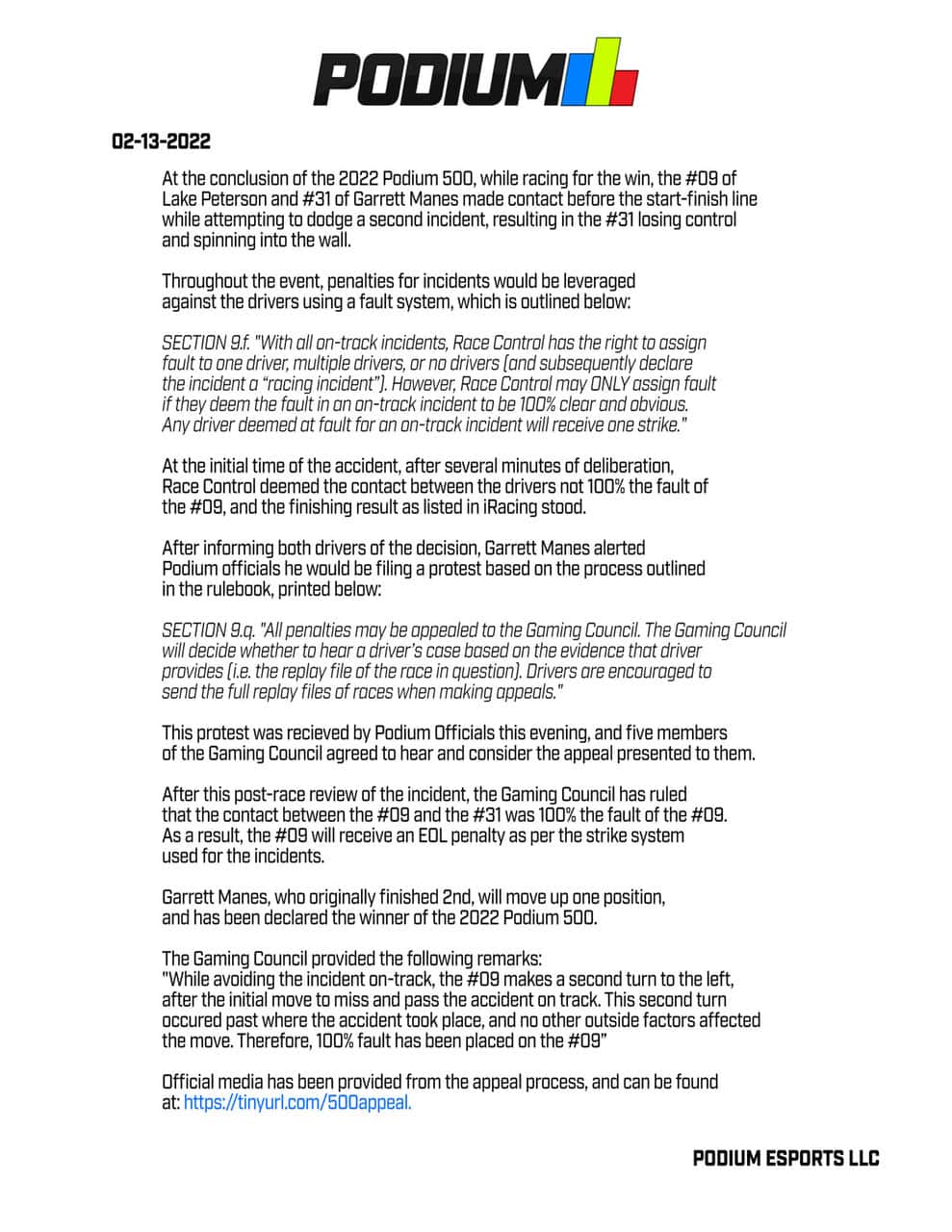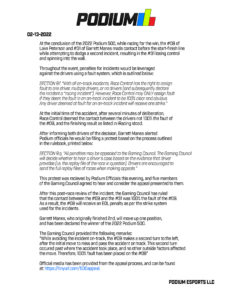 However, the ruling was reversed on Monday, Feb 14.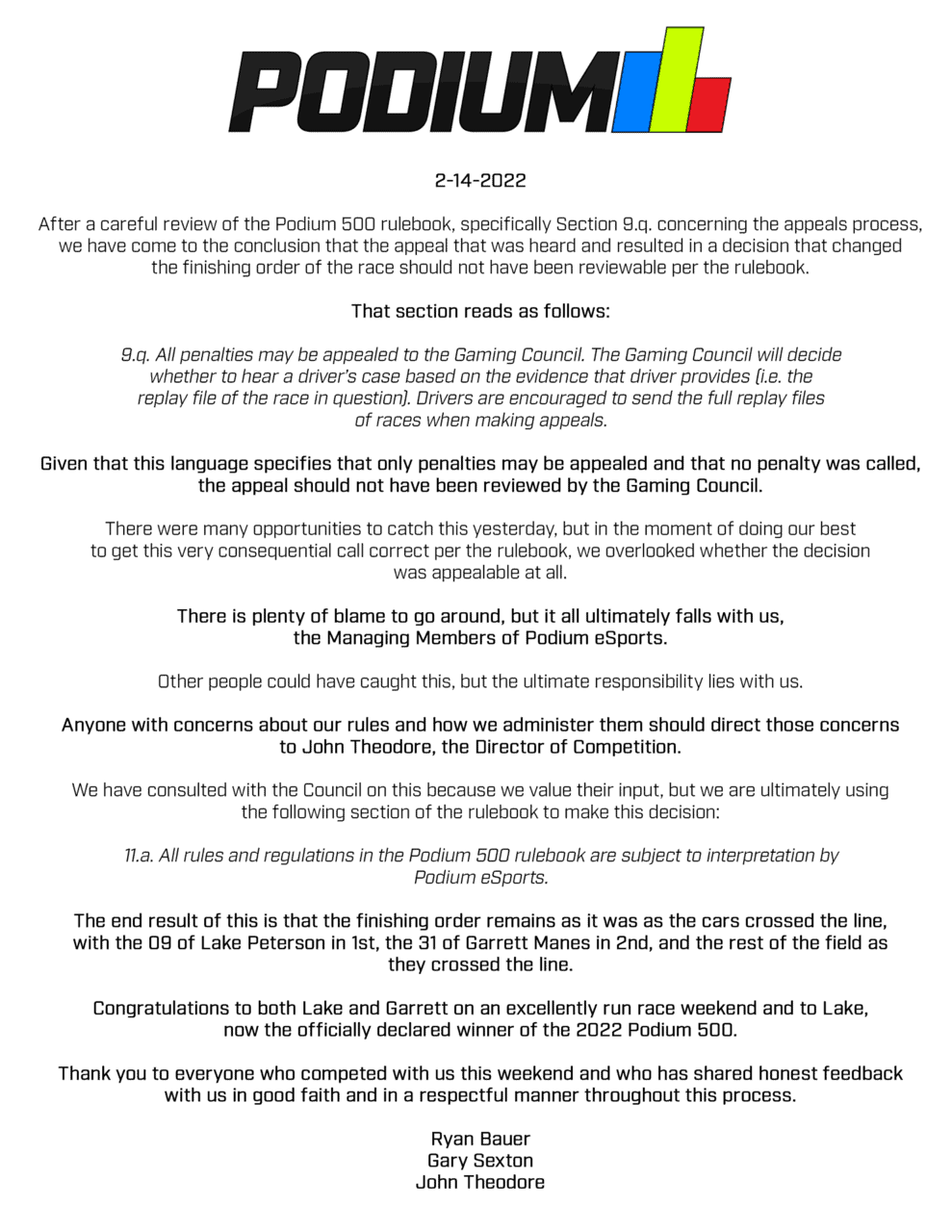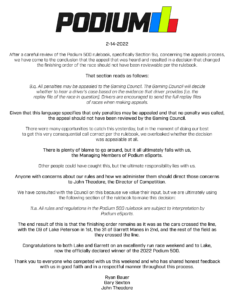 Conor Horn, Jared T Darling, Josh Robbin, Hayes Booth, and Rabideau completed the top-10. Monday Night Racing Season 3 champion and Xfinity driver Robby Lyons completed his best Clint Bowyer 2007 Daytona 500 impression, crossing the line on his roof and in the grass for 11th.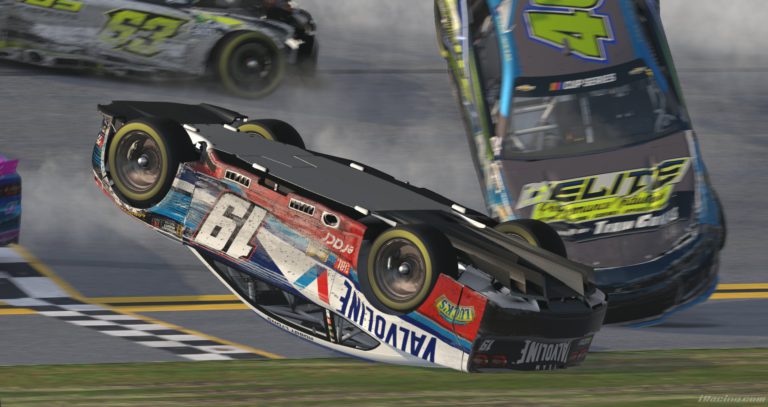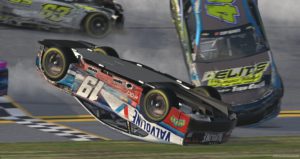 In total, the Podium 500 was slowed just eight times for cautions for a total of 25 laps. The biggest wreck came just after halfway. An ill-timed bump sent eNASCAR driver Donovan Strauss spinning in front of the field. The Williams Racing driver collected Rise eSports' Zack Novak, and about 15 other drivers.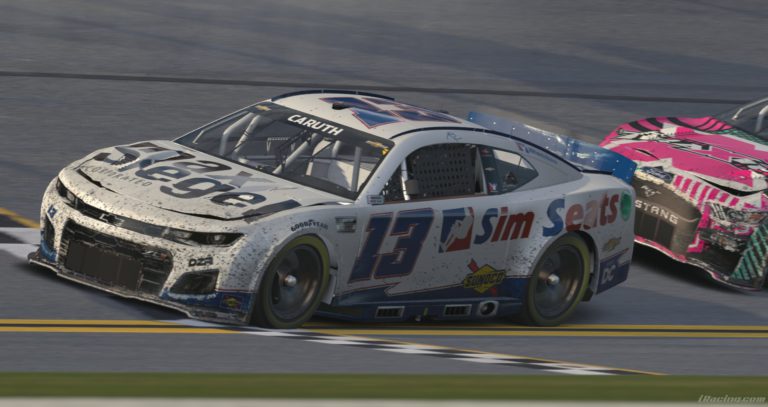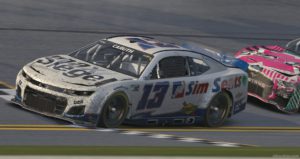 The Podium 500 was also a story of rebounds. Both Caruth and Melillo had to bounce back from falling a lap down. For Caruth, a hardware issue with his pedals forced him to miss the draft. With vice grips on his pedals, the Drive for Diversity competitor picked up a timely caution to move back onto the lead lap.
"I was pushing Liam, he got clear, and I lost all the momentum," Caruth explained. "I just didn't time it right because Garrett side drafted me off Turn 4. We had a great run. It's just kind of predicting where the energy and momentum will go. Pretty happy with a third.
"I have Thrustmaster (pedals) and for whatever reason, they just locked in place. Eventually I started messing with it, and the springs went across the room. My dad is in town, he came into my crib and fixed it. There's vice grips on my pedals right now. My dad is the real MVP for this."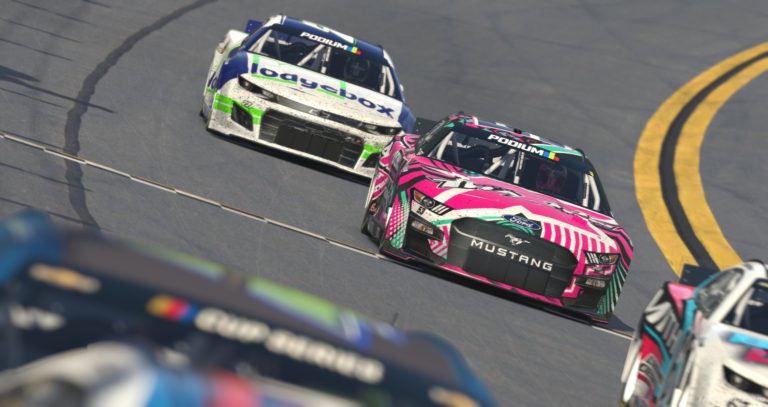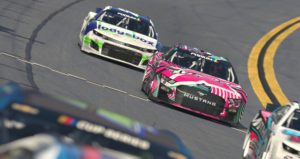 Meanwhile, Melillo played the strategy game. He aimed to avoid getting swept up in the big one to have a chance on the final lap. However, that strategy caused him to lose the draft several times. Twice the Traxion.GG writer went a lap down. Both times the eSports journalist was able to catch a timely caution and climb through the field.
"I cannot believe the finish," a bewildered Melillo explained. "I was a lap down for what felt like most of the race. It's just crazy right now. The whole family is upstairs, heard them cheering when there was no doubt that I was going to get no worse than fifth. It's so cool. We're going to celebrate a fifth-place finish tonight, I cannot believe it."
The results:
1. 09-Lake Peterson [39] ($1,000), 2. 31-Garrett Manes [5] ($500), 2. 13-Rajah Caruth [28], 4. 39-Daniel Faulkingham [43], 5. 53-Justin Melillo [21], 6. 67-Conor Horn [27], 7. 14-Jared T Darling [37], 8. 8-Josh Robbin [38], 9. 22-Hayes Booth [33], 10. 93-Nathan Rabideau [2], 11. 19-Robby Lyons [8], 12. 63-Logan Helton [1], 13. 40-Craig Janczak [6], 14. 9-Brandon Hauff [15], 15. 57-Seth DeMerchant [3], 16. 33-Justin Levine [35], 17. 2-Liam Brotherton [22], 18. 54-Kenny Brady [7], 19. 45-Eric Papineau [30], 19. 09-Lake Peterson [39], 20. 16-Garrett Brown [16], 21. 34-Sean Boundy [14], 22. 84-Cosmin Ioanesiu [10], 23. 90-Daniel Eberhardt [44], 24. 28-Jesse Atchison [24], 25. 4-Chris Akers [31], 26. 60-Ryan White [23], 27. 21-Austin Johnson [12], 28. 72-Chandler Parsons [20], 29. 6-Josh Ball [26], 30. 15-Ricky Hardin [42], 31. 02-Josh Kossek [32], 32. 17-Matthew Dula [41], 33. 24-Nick Olsen [36], 34. 95-Casey Kirwan [4], 35. 77-Jacob Bell [25], 36. 7-Jason D Manes [34], 37. 5-Zack Novak [9], 38. 99-Jordan Koontz [18], 39. 20-Donovan Strauss [11], 40. 27-Michael Fenlason [13], 41. 1-Justin Knoblock [17], 42. 11-Dylan C Jones [40], 43. 30-Jeremy E Miller [29], 44. 81-Alex Caron [19].
Lead Changes: 72 among 21 drivers.
Lap Leader(s): Logan Helton POLE-0, Garrett Manes 1-5, Kenny Brady 6-11, Zack Novak 12, Kenny Brady 13, Casey Kirwan 14-16, Zack Novak 17, Casey Kirwan 18-28, Zack Novak 29-30, Casey Kirwan 31, Lake Peterson 32, Casey Kirwan 33, Lake Peterson 34, Casey Kirwan 35-36, Garrett Manes 37-38, Casey Kirwan 39-41, Jason D Manes 42-44, Seth DeMerchant 45-46, Michael Fenlason 47, Liam Brotherton 48-49, Seth DeMerchant 50-64, Daniel Faulkingham 65, Justin Knoblock 66-68, Seth , DeMerchant 69-70, Zack Novak 71, Daniel Faulkingham 72, Zack Novak 73-77, Casey Kirwan 78-79, Ricky Hardin 80-82, Donovan Strauss 83-85, Zack Novak 86-89, Daniel Faulkingham 90-95, Zack Novak 96-102, Jesse Atchison 103, Donovan Strauss 104-105, Josh Robbin 106, Donovan Strauss 107, Jesse Atchison 108, Donovan Strauss 109-110, Jesse Atchison 111-114, Seth DeMerchant 115, Chris Akers 116-118, Casey Kirwan 119, Chris Akers 120, Casey Kirwan 121, Jesse Atchison 122-124, Daniel Faulkingham 125, Kenny Brady 126-127, Daniel Faulkingham 128, Rajah Caruth 129, Logan Helton 130-131, Rajah Caruth 132-135, Daniel Faulkingham 136, Chris Akers 137-148, Craig Janczak 149, Chris Akers 150-152, Brandon Hauff 153-159, Conor Horn 160-161, Robby Lyons 162, Conor Horn 163-174, Brandon Hauff 175, Daniel Faulkingham 176-179, Kenny Brady 180-181, Daniel Faulkingham 182-184, Kenny Brady 185-188, Daniel Faulkingham 189-191, Kenny Brady 192, Daniel Faulkingham 193-194, Kenny Brady 195-197, Liam Brotherton 198, Seth DeMerchant 199-202, Liam Brotherton 203, Lake Peterson 204.
Laps Led: Casey Kirwan 25, Seth DeMerchant 24, Daniel Faulkingham 23, Zack Novak 21, Chris Akers 19, Kenny Brady 19, Conor Horn 14, Jesse Atchison 9, Brandon Hauff 8, Garrett Manes 7, Rajah Caruth 5, Liam Brotherton 4, Ricky Hardin 3, Justin Knoblock 3, Jason D Manes 3, Lake Peterson 3, Logan Helton 2, Michael Fenlason 1, Craig Janczak 1, Robby Lyons 1, Josh Robbin 1.
Hard Charger(s): 39-Daniel Faulkingham (+39).
Caution Flags: Eight for 25 Laps.
Margin of Victory: 0.078 seconds.
Time of Race: Three hours, Five minutes, 53.028 seconds.
Average Speed: 164.619 MPH.
Pole Winner: 63-Logan Helton, 50.410 seconds (178.536 MPH).
Fastest Lap: 95-Casey Kirwan, Lap 113, 45.457 seconds (197.989 MPH).
Featured Photo Credit: Photo by Seth Eggert / Kickin' the Tires.