By Seth Eggert, Staff Writer
In a season unlike any other for the Rowdy Energy Monday Night Racing Pro Series, Adam Cabot overcame the odds to win a historic championship.
Over the course of 14 weeks, many featuring car and track combinations from NASCAR, Sports Cars, and more, Monday Night Racing whittled the battle for the title down to four drivers. Just shy of 50 competitors took part throughout the fourth season of the iRacing league. Over 30 of those drivers competed full-time.
Monday Night Racing's Championship 4 came down to three drivers that work in the industry, and Cabot. He earned his spot in the league after winning the eSports Racing League title last year. The three industry insiders were NASCAR Xfinity Series driver Ryan Vargas, Brandonbilt Motorsports Technical Director and Team Manager Collin Fern, and Charlotte Phoenix eSports Team Manager David Schildhouse.
The Championship 4 drivers competed live, in-person, on stage at the Carolina eSports Hub with 10 others. Among those that competed in person were league co-founder Ford Martin, NASCAR's Matt Stallknecht, Xfinity Series driver Anthony Alfredo, ARCA Menards Series driver Brad Perez, and Oakland Athletics Pitcher Cole Irvin. Representing the media on the sim rigs were Motor Racing Network's Chris Wilner and Traxion.GG's Justin Melillo.
The opportunity to race in person is not new to eSports, nor to iRacing. Other sim racing leagues, including the eNASCAR Heat Pro League, have hosted LAN events. First-person shooter leagues and series often have in-person events. However, this might have been the first time that an in-person event on this scale had taken place for the sim racing world, especially by a grassroots, invitational league. The work of Monday Night Racing and Podium eSports presents a road map for future events for the eNASCAR Coca-Cola iRacing Series and others.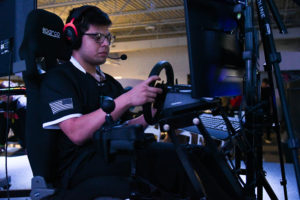 "This was definitely the biggest challenge," Cabot stated about racing in an unfamiliar rig. "The rig and equipment were slightly better than what I was used to. The single screen was a huge adjustment. I think all four of us were very used to having the triple screens and being able to see what's going on next to us.
"(The crowd) was actually less of a distraction than I was expecting it to be. Once I got focused in during the race, I was able to filter most of that out.
"The coolest moment of the entire event was when it came down to the end of the race. We could hear the crowd reacting to my battle with Schildhouse. It was at that moment I was reminded that this was a big deal, that there was a live audience, and that I was up on a stage with everyone watching. For a lap or two my heart was beating out of my chest. "
The race itself started with drama. Repco Supercars driver Shane van Gisbergen broke loose in Turn 1. As his car walked up the track, he collected Fern. That sent the two-time Monday Night Racing spinning into the wall head-on. Fern took his fast repair but was out of contention for the title without the aid of a caution.
The drama continued during the first round of green flag pit stops. As Vargas pitted in his virtual No. 6 Get Wet eSports Chevrolet Camaro SS, the fuel stopped before the tank was full. A rare in-sim error forced the Xfinity Series driver to pit early for fuel during the second round of green flag pit stops, effectively eliminating his championship hopes.
That left both Cabot and Schildhouse battling for the title. Schildhouse led the way in the title battle, running second to polesitter and Xfinity Series driver Rajah Caruth. On differing pit strategies, Cabot ran long to utilize fresher tires later in the race. With 10 laps to go, he chased down Schildhouse for second place on track and the championship lead.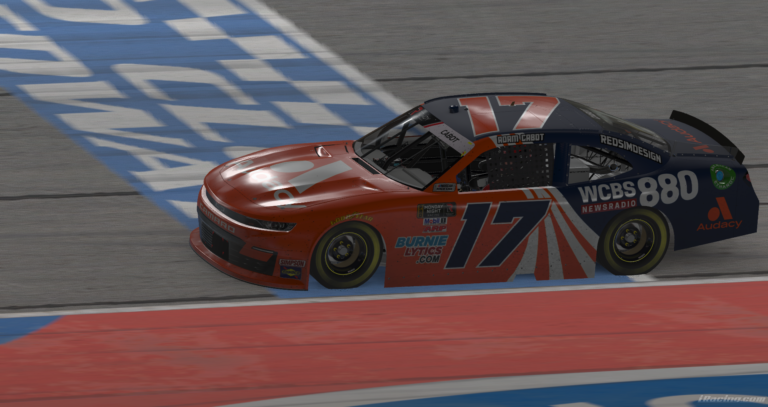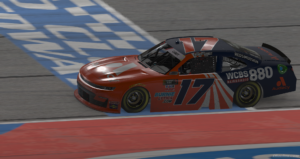 The duo battled for several laps over the championship. Cabot's fresher tires ultimately made the difference as he successfully completed the pass, drawing cheers from the live crowd. He cruised to finish second on track, about two seconds behind Caruth, and just over a second ahead of Schildhouse for the championship.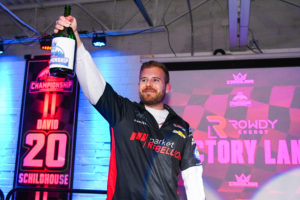 "I've always been very confident in my driving abilities," admitted Cabot. "I knew it would be a challenge racing in MNR. But I always felt like if I worked hard and the circumstances played out the way I needed them to, that I could be very successful in this league. I love being challenged, and the diversity of the drivers, cars, and tracks in this league are a challenge I've really enjoyed.
"There's a lot of very talented Sim racers out there who I've learned a ton from racing against. These guys may not have any real-world experience, but they are just as dedicated to their craft as the real life drivers and industry members. I'm just the lucky one to have the opportunity to compete at this level."
The prize for the Monday Night Racing championship was a brand-new trophy. The Bob Jenkins Memorial Cup was named after the late announcer and broadcaster. Jenkins called races in NASCAR, IndyCar, and even during Seasons 1 and 2 of Monday Night Racing. The legendary broadcaster lost his battle with brain cancer in August 2021. Jenkins was honored, posthumously, as the Squier-Hall Award for NASCAR Media Excellence recipient in the 2022 class of inductees for the NASCAR Hall of Fame.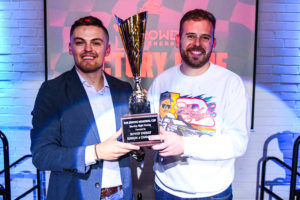 "I think it's slowly starting to sink in, but I don't think I'm fully appreciating the moment yet," Cabot explained about the title. "That time probably won't come until weeks or months from now when I look back on the event and try to process everything that happened."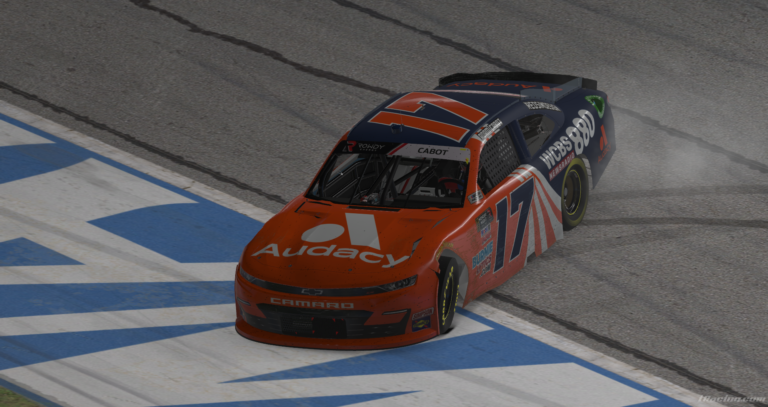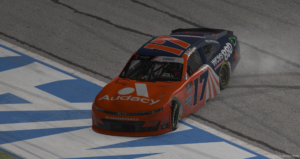 With this being the first event on this scale for the Carolina eSports Hub, Monday Night Racing, and Podium eSports, there were some technical gremlins, some on the broadcast, and some in-person. However, the overall feedback was positive.
For an in-person account of the action and the atmosphere, check out Melillo's article on Traxion:
https://traxion.gg/how-monday-night-racings-live-championship-event-was-a-game-changer/
Details on Monday Night Racing's fifth season was still being discussed. But, as the reigning champion, Cabot was asked what combination he would choose for a race next season if he had the opportunity. His choice, the Legacy NASCAR Car of Tomorrow at Atlanta Motor Speedway, a combination seen in the eRacr associated Hard to Drive 300.
"I think this should actually be a rule for MNR!" Cabot said. "I would choose something like the car of tomorrow at Atlanta with a loose set up. Something that's low grip and high horsepower. Being able to slide around, run multiple grooves, and have to manage a lot of power is when racing is at its best in my opinion."
Featured Photo Credit: Photo by Erick Messer / Podium eSports.