By Seth Eggert, Associate Editor
A race of survival combined with late-race pit strategy earned Jared Rexing the win in Elite Racing League's Rich Mar Florist Classic 500.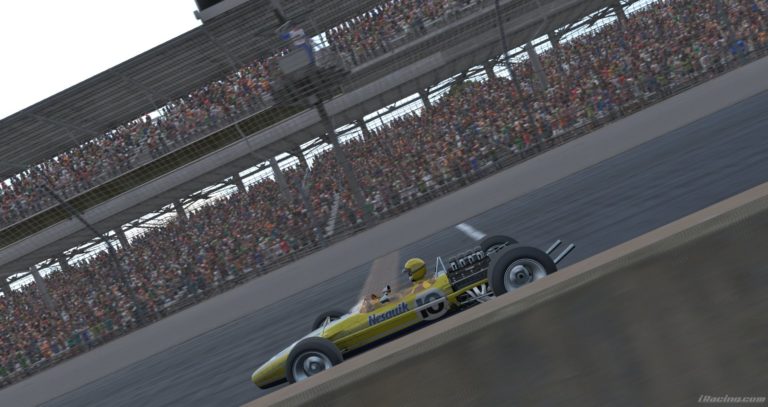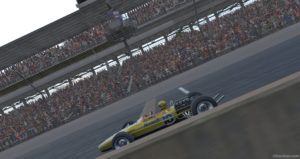 As one of the many iRacing leagues forced to change cars due to the changes to the IndyCar earlier this this year, Elite Racing League's Rebilas Photo division changed to iRacing's laser-scanned recreation of the Lotus 49. The historic Formula 1 car offered a dramatic change and classic racing feel to competitors. It also meant more fragility and attrition when competing.
The Classic 500 at the Indianapolis Motor Speedway fulfilled those categories as caution after caution eliminated several competitors. The biggest caution of the race came at the halfway mark of the 200-lap race.
Polesitter Togo Hisada ran into the back of Chad Frankenfield entering Turn 3. Frankenfield had checked up to keep from doing the same to the leaders ahead of him. The wreck collected half of the remaining field that was on the lead lap. Following the wreck, Tyler Foti led the eight lead lap cars onto pit road.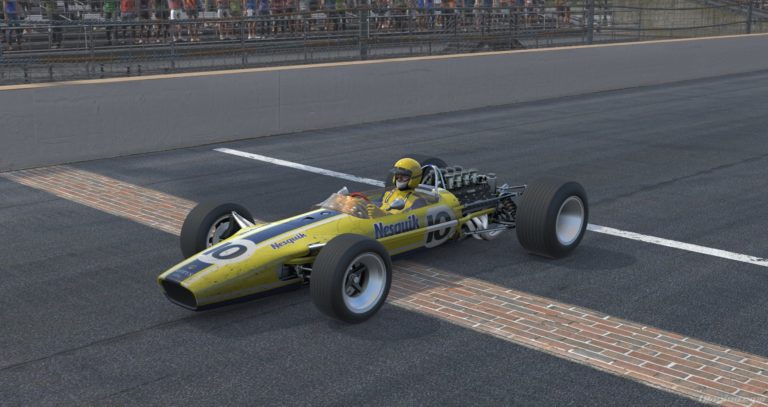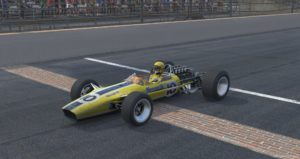 Foti continued to lead following the restart. As the laps clicked off, it was clear that the final half of the race would run caution-free. That pushed the leaders into green flag pit stops. The strategy then became who could get onto and off pit road the fastest.
Ultimately, Foti elected to be the first to pit, ducking onto pit road with 25 laps to go. Ethan Stanner and Cameron Rich followed a few laps later. The duo returned to the track about three seconds ahead of Foti.
Meanwhile Rexing and Hunter Smith waited until 10 laps to go to pit. By doing so, they leapfrogged not only Foti, but Rich, Stanner, and Bill Tyler. Both Rexing and Rich traded the lead back and forth throughout the final laps.
With two laps to go Rexing took control of the top spot. Rich opted to wait to make a final lap pass with the powerful draft of the Lotus 49. However, a challenge from Smith kept Rich from closing in. Rexing cruised to the Classic 500 victory as Smith and Rich completed the podium 0.778 seconds behind.
"I'm worn out, that was a tough race mentally and physically," Rexing admitted. "I played the easy strategy all race and just tried to save fuel, save tires so I could have the shortest pit stop at the end, and I did. I still had to hold the guys off at the end. It was a good, hard, clean fight. They made me earn it, that's for sure. I can't believe it, feels great to win."
The Elite Racing League only had one real-life IndyCar driver join them for the Classic 500, RC Enerson. The pro driver dominated the first 40 laps before he had to retire from the race.
In total, the 500-mile race was slowed by cautions nine times for a total of 27 laps. The majority of those cautions came in the first half of the race.
The first caution of the race waved on the opening lap. Michael Hossack's steering wheel failed. With no control of the virtual car, he went straight into Turn 3 before drifting back into traffic. Robert Smith had nowhere to go and slammed into Hossack, ending both of their races.
Of the 27 starters, only 12 were running when the checkered flag waved. Veteran sim racer and reporter Nick DeGroot finished eighth, one lap down after early damage and inexperience in the Lotus 49 put him behind. Frankenfield also limped to the finish with damage, taking 12th, the last spot that pays points.
The results:
1. 10-Jared Rexing [20], 2. 17-Hunter Smith [23], 3. 47-Cameron Rich [23], 4. 40-Tyler Foti [3], 5. 91-Ethan Stanley [11], 6. 44-Jim Herrick [14], 7. 23-Bill Tyler [4], 8. 89-Nick DeGroot [26], 9. 45-Jordan Owens [24], 10. 62-Rory Collins [12], 11. 27-Craig Forsythe [8], 12. 15-Chad Frankenfield [15], 13. 31-Billy Colley II [16], 14. 2-Mike Gibson [27], 15. 26-Justin Fortener [6], 16. 7-Andy Trupiano [5], 17. 51-Togo Hisada [1], 18. 92-Logan Simmons [21], 19. 49-Seb Alexander [10], 20. 67-Jorge Nieva [18], 21. 16-Johnny Thomas [25], 22. 4-Ryan Schuld [12], 23. 1-Brandon Burns [19], 24. 50-RC Enerson [2], 25. 6-Justin Wadsworth [22], 26. 24-Michael Hossack [9], 27. 88-Robert Smith [17].
Lead Changes: 44 among 11 drivers.
Lap Leader(s): Togo Hisada POLE-0, RC Enerson 1, Bill Tyler 2-7, Johnny Thomas 8, Andy Trupiano 9, Johnny Thomas 10-12, Tyler Foti 13-14, Johnny Thomas 15, RC Enerson 16-22, Jared Rexing 23, Tyler Foti 24, RC Enerson 25-26, Tyler Foti 27, RC Enerson 28-30, Jorge Nieva 31, RC Enerson 32-38, Bill Tyler 39-40, Chad Frankenfield 41-44, Tyler Foti 45-53, Ethan Stanley 54-57, Cameron Rich 58-63, Jared Rexing 64-66, Ethan Stanley 67-71, Jared Rexing 72-74, Ethan Stanley 75, Tyler Foti 76, Ethan Stanley 77-80, Cameron Rich 81-82, Tyler Foti 83-91, Cameron Rich 92, Tyler Foti 93-103, Ethan Stanley 104-114, Cameron Rich 115-117, Tyler Foti 118-175, Cameron Rich 176-181, Bill Tyler 182, Jared Rexing 183-187, Hunter Smith 188, Jared Rexing 189, Hunter Smith 190, Cameron Rich 191-193, Jared Rexing 194, Cameron Rich 195-197, Jared Rexing 198-200.
Laps Led: Tyler Foti 91, Cameron Rich 25, Ethan Stanley 25, RC Enerson 20, Jared Rexing 17, Bill Tyler 9, Johnny Thomas 5, Chad Frankenfield 4, Hunter Smith 2, Jorge Nieva 1, Andy Trupiano 1, Togo Hisada 0.
Hard Charger(s): 47-Cameron Rich (+20).
Tough Luck: 50-RC Enerson (-22).
Caution Flags: Nine for 27 Laps.
Margin of Victory: 0.778 seconds.
Time of Race: Three Hours, 23 Minutes, 15.903 Seconds.
Average Speed: 147.591 MPH.
Pole Winner: Togo Hisada, 167.056 MPH (4-Lap Average).
Fastest Lap: 23-Bill Tyler, Lap 190, 53.567 seconds, 168.014 MPH.