By Seth Eggert, Staff Writer
After a race-long battle Vicente Salas scored a virtual 'Grand Slam' in the eRacr Roval Racing Series at the virtual Indianapolis Motor Speedway (IMS) Road Course.
The driver of the virtual No. 55 Spacestation Racing Ford Mustang battled with fellow eNASCAR Coca-Cola iRacing Series competitor Casey Kirwan. The duo traded barbs on the virtual track as they fought for the lead. Despite repeated contact, Salas kept the virtual No. 38 XSET Gaming Ford Mustang at bay.
MORE contact between @CaseyKirwan23 and @vicente_salas14 this time in turn 6!

Great sportsmanship from Casey giving the spot back to Vicente!

TUNE IN: https://t.co/JbB9zqXFpH pic.twitter.com/653cwVLze2

— eRacr.gg (@eRacr_gg) July 31, 2021
In the first half of the one-hour race Kirwan kept in close contact with Salas. However, after the halfway break contact between the two drivers allowed the Temecula, Calif native to pull away. Salas ultimately won the pole, led every lap, ran the fastest lap, and won the race on route to his first eRacr 'Grand Slam.' He had an 11-second gap over Kirwan at the checkered flag with Matt Danson taking the final podium spot.
"Honestly, that was an absolute blast," admitted Salas. "I didn't expect Casey to go in for some of those. When we got side-by-side we trusted each other to race hard and race well. I had a great time. It was awesome.
"What makes [the IMS Road Course] unique is that the surface is a little bit different than others. The way the track flows is just so much different to other tracks. The way you have to attack it and learn it is so much different to anywhere else. It makes it so much fun."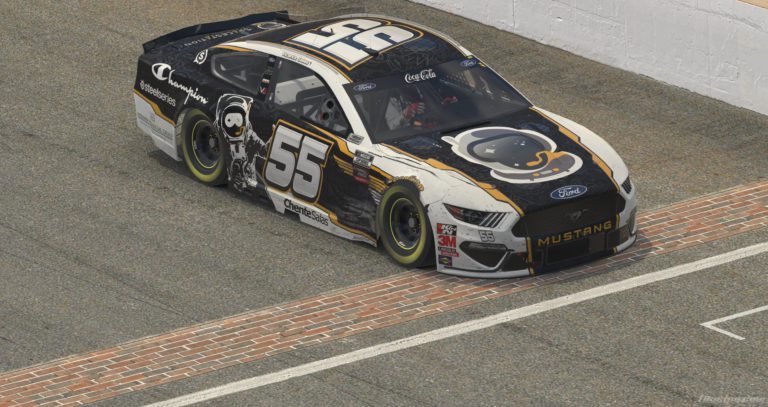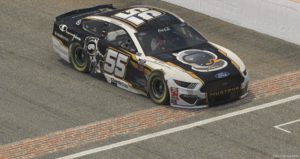 In the B Class division, Matt Taylor once again dominated the showing. At the halfway break he had lapped all but one of the other cars in his class. Taylor finished ninth overall, taking the B Class win in the virtual No. 8 eRacr Chevrolet Camaro SS. Gary Weaver and Brian Szabelski rounded out the podium.
"Part of [my win tonight] was the really difficult setup," explained Taylor. "Coming up to the oval and any bump would just kick the rear end out. Being off the throttle over the bumps and onto the oval section was just key to keeping the car from coming out from under you. Doing that was a big part of the victory tonight."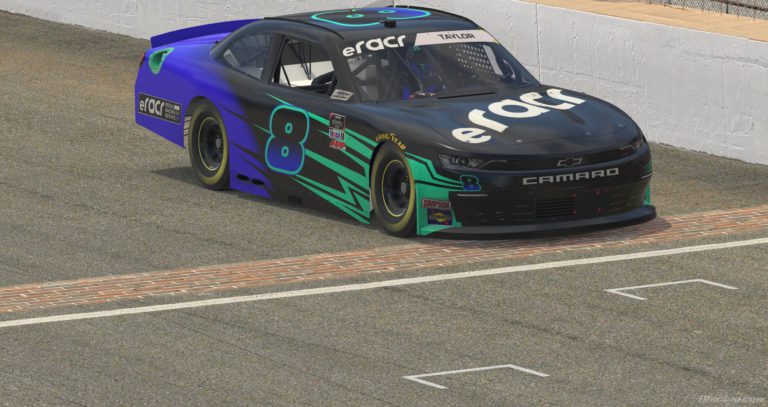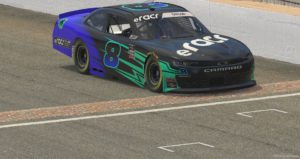 A lap one incident ultimately impacted the Ballistipax C Class division. The class points leader David Grantham was caught up in a chain reaction wreck that resulted in a blown motor. While Grantham joked about waiting out repairs while his team 'ate ice cream,' the Ballistipax C Class battle took place on track.
Hunter Reeve captured his first Ballistipax C Class victory with Pocono winner Jeremy Breault second. Christopher Colon completed the podium.
"This was pretty good compared to last week when I didn't do so well," stated Reeve. "This class has a lot of fast guys in it. In practice I think the top-five is separated by a few hundredths of a second. There's a lot of fast guys here.
"I felt like it was my race to lose (going into the halfway break). Tire management was key to this, at least for the Trucks. If you didn't keep the tires underneath you, you were going backwards fast."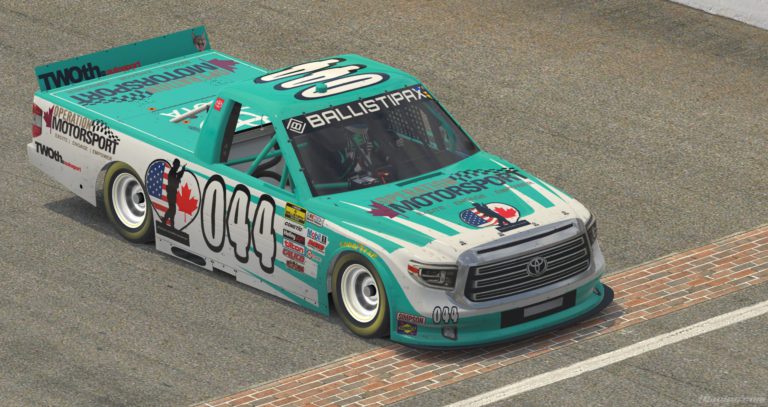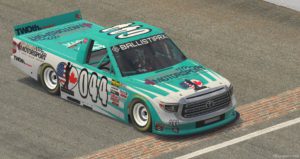 Also of note, Phillip Bupp joined the session with an A Class car despite being a B Class driver. As a result, he was not classified and earned zero points in the event.
Next for the eRacr Roval Racing Series is a trip to the virtual New Hampshire Motor Speedway Road Course.
The results:
1 55-Vicente Salas (A) [1], 2. 38-Casey Kirwan (A) [2], 3. 30-Matt Danson (A) [3], 4. 57-Seth DeMerchant (A) [4], 5. Christian Pedersen (A) [5], 6. 7-Andy Trupiano (A) [9], 7. 24-John Weitendorf (A) [8], 8. 02-Liam Sheen (A) [6], 9. 8-Matt Taylor (B) [13], 10. 044-Hunter Reeve (C) [26], 11. 07-Gary Weaver (B) [14], 12. 74-Jeremy Breault (C) [21], 13. 99-Christopher Colon (C) [22], 14. 85-Brian Szabelski (B) [15], 15. 26-DG Swiss (C) [23], 16. 87-Clint Roberts (C) [25], 17. 82-James D. Gibson (A) [7], 18. 56-Corey Deal (C) [24], 19. 49-Arthur Rymer (B) [16], 20. 53-Justin Melillo (B) [17], 21. 22-Brandon Watkins (C) [28], 22. 1-Dustin Ping (C) [20], 23. 77-Riley Dunn (C) [27], 24. 44-Lucas Cram (A) [10], 25. 6-David Grantham (C) [18], 26. 3-Vinnie McDonnell (C) [19], 27. 17-Cole Woody (A) [11], 28. 21-Thomas Fensler (C) [29] DNS, 29. 13-Phillip Bupp (A*) [12] Not Classified.
Lead Changes: Zero
Lap Leader(s): Vicente Salas 1-38.
Laps Led: Vicente Salas 38.
Caution Flags: One for three laps.
Margin of Victory: 11.080 seconds.
Time of Race: One hour, one minute, 15.988 seconds.
Average Speed: 97.130 MPH.
Pole Winner: 55-Vicente Salas, One minute, 29.221 seconds (105.312 MPH).
Class Designation: A (NASCAR Cup Cars), B (NASCAR Xfinity Cars) C (NASCAR Camping World Trucks).
Featured Photo Credit: Photo by Seth Eggert / Kickin' the Tires.