By Seth Eggert, Staff Writer
While some have used sim racing to enhance their motorsports career, others started their career on the virtual platform. Where Traxion.GG's Justin Melillo used sim racing as a platform to enhance his career, TSJ Sports' Noah Lewis started his broadcasting career in eSports.
The Beginning for Noah Lewis
The High Point University student first started announcing races on MaxSpeedTV and RaceSpot in 2017 and 2018. Still a couple years away from covering his first NASCAR events in person, iRacing gave Lewis a place to hone his craft as a broadcaster. It wasn't until 2019 that he covered his first race in-person.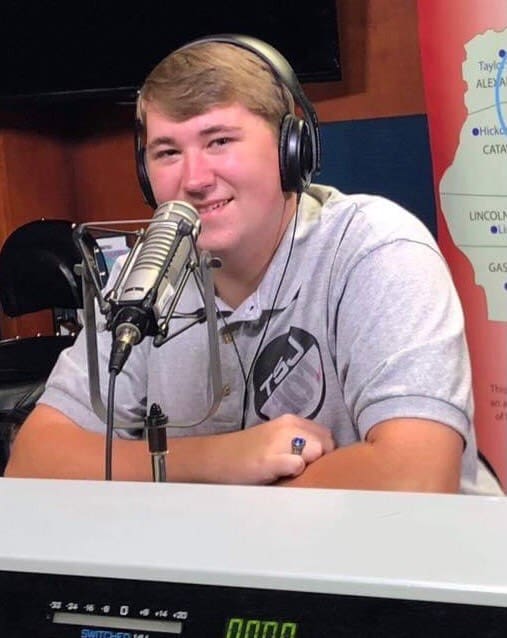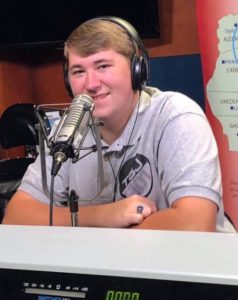 Today, Lewis writes for TSJ Sports, but that's just one of his roles as a journalist in motorsports media. He is an announcer for the Carolina Pro Late Model Tour at Florence Speedway, Hickory Motor Speedway, and Orange County Speedway. Lewis also is a radio co-host for Steering Wheel Nation.
The ability to start a broadcasting career with sim racing gave Lewis a chance to find his footing. He could make mistakes, learn production, and trade off calls with his broadcast partners in the virtual booth or on the virtual pit road.
"I've had the privilege to do play-by-play for both sim racing and real-life racing," explained Lewis. "They both give you an immense understanding of production, following the screen viewers are seeing, working well with your booth partner, etc. It also gave me the opportunity to mess up a little and gain my rhythm as a broadcaster. If I would have been thrown in the real-life booth without that experience, I'm not too sure how it would have gone initially.
"I certainly felt way better prepared to get in the real-life booth. I ran through the same process I do when calling a sim racing event. Gathered driver information, standings sheets, entry lists, and other things. I also like to ask drivers on both the sim side and real-life side what their cars feel like, how the track drives, and something interesting I can bring up about them. It's great fluff content to fill time when needed and that's something I did on both the sim and real-life side."
Lewis' Advantage of Extra Practice
That extra practice works as a bit of an advantage for Lewis. He could build credibility and create demo tapes of calls from the virtual world. The production quality from sim racing broadcasting outlets RaceSpot, Podium eSports, eRacr, Watch FTF and others strive to match those of NASCAR on FOX, NASCAR on NBC, and more.
With the increased broadcast quality came a need to call sim racing events in a similar style to real-life events. Those at the track in the grandstands below the announcer's booth can only see portions of the track, maybe the entirety in some cases. In the same line of thinking, the viewers at home watching a race on TV, or a sim-race on a Twitch or YouTube stream can only see what the camera is showing them. The similarities between both aided Lewis in how to guide the viewer, producer, or radio listener to know what is happening on track.
"With both, you can see the whole track, but you have to pay attention to what the viewer sees," explained Lewis. "When I'm doing a sim-race, I'll scan the track with my own camera settings to make sure we aren't missing anything and that our producer is aware of all going on. Sometimes you have to steer the producer to a certain battle because they can't pick up on everything all the time.
"The same is true in real-life. You can look out of the booth window and see everything, but the viewer can only see what our camera is focused on. However, I've learned a good broadcaster knows how and when to steer the camera somewhere else when needed. That applies in both."
The experience on iRacing has aided Lewis in an additional attribute. Coupled with the practice in calling races on the motorsports simulation platform, the TSJ Sports writer has competed in official races, the Kickin' the Tires Lower Half Dash, and Monday Night Racing. That racing experience, though excluding the risks real drivers face, and without the 'seat of the pants feel' has given Lewis a recognition of car behavior characteristics in real-life.
"My colleague Peter Stratta gets annoyed with me sometimes because I'll hit his shoulder and say, 'that car is about to slide off the corner,' or 'nope, he's going to get tight with that entry' and sure enough it happens! That's another beauty of sim racing. Things are so well done and advanced that the broadcaster can really see what the cars are about to do before it happens because they've tested the car before the race. It helps me a lot on the call!"
The Similarities and Differences Between Sim and Reality
iRacing's and sim racing's ability to produce both traditional and wild car and track combinations keeps broadcasters on their toes. In Monday Night Racing alone, over 15 different cars have been used in the course of five seasons on nearly 25 tracks. That's in addition to the official iRacing series that mirror the real-life schedules. Both allow broadcasters and writers to diversify what they're covering.
"(Sim racing allow you) the ability to diversify your coverage!" reflected Lewis "On iRacing, you have such a variety of tracks, cars, combinations, etc. that isn't in reach of someone on a traditional route. I remember covering a 6-hour endurance race once, which was way outside of my comfort zone! Without sim racing, I couldn't see myself ever having the opportunity or desire to do anything like that. In today's real-world age of being hired to cover multiple types of racing, that type of sim experience becomes priceless."
Lewis Reflects on His Head Start
Overall, iRacing allowed Lewis to get a head start on work in the motorsports world. He started working on the sim about two years before getting his first break in the real world. Though sim racing broadcasting can be loose, its' still held to a relatively professional standard.
"As I've mentioned, the similarities between the two are immense and any experience is valuable," stated Lewis. "I credit my early work in iRacing at 15-16 years old for my continued drive to eventually break into the real-life NASCAR circuit as media at age 17. Both are held to a professional standard. You may have some more leeway in sim racing, but there are people that understand its worth and take it very seriously. You learn very early in both sim racing and real-racing media to assure accuracy and build credibility."
For Lewis, 'Sim 2 Reality,' is more than just a concept, its' his origin story.
*Editors' Note: This is the second in a series of articles on both drivers and journalists using sim racing and 'Sim 2 Reality' to advance their careers.
Featured Photo Credit: Photo by Peter Stratta, Courtesy of Noah Lewis.