By Seth Eggert, Staff Writer
In a race marked by ill-timed bumps and pushes, an ill-timed bump netted Matt Stallknecht the Monday Night Racing Rowdy Energy Pro Series victory at the virtual Talladega Superspeedway.
The final restart in the Sim Seats 215 was a natural green-white-checkered setup. Leading the field were Brandon Brown and Justin Melillo. The duo proved to be a formidable pairing throughout the race. As soon as Melillo cleared Brown's No. 12, he moved his No. 53 Traxion.GG Ford F-150 to the inside lane.
Stallknecht meanwhile stayed in line on the outside. His No. 41 eNASCAR Chevrolet Silverado was pushed by Rajah Caruth's No. 44 Market Rebellion Chevrolet. The two pairs of drivers stayed neck and neck throughout the final two laps. In Turn 4 on the final lap, Brad Perez was clipped, setting off a massive accident that wiped out the back half of the field.
Up front, the two lines of virtual NASCAR Camping World Truck Series vehicles stayed firm. That is until a bump pushed Brown up into Caruth. That set off another accident, wiping away the moment from both Melillo and Stallknecht. The NASCAR employee had the upper hand and cleared Melillo before the start-finish line to take the win by 0.091 seconds.
"I don't know about brain space, but I think the big thing in my case there was that I knew if I could keep Raj behind me as long as possible that I'd have enough of a run to maintain through the Tri-Oval," Stallknecht explained. "Just an awesome, awesome race. It was awesome to work with my teammates from Crypto Autosport all night long. It was a great team effort.
"Coming to the Tri-Oval, having that middle lane is critical. I've been in that spot before at the racetrack in this league. My first race with Monday Night Racing, Kyle Busch snuck under me coming to the Tri-Oval in the exact same spot. I was determined to cover that spot this time. Felt like I learned from it. I just wanted to keep my bumper on Raj's nose. It worked out, they wrecked behind me, and I brought home a checkered flag."
Steven Ellis, last season's Talladega Truck winner, finished third after a trip through the grass to avoid the melee. NASCAR driver Garrett Smithley and photographer Mark Rebilas completed the top-five. Robby Lyons, Anthony Alfredo, David Schildhouse, Max Kennon, and Collin Fern rounded out the top-10.
NASCAR Xfinity Series driver, and Monday Night playoff contender, Ryan Vargas finished 11th after some pre-race banter with Alfredo. Alfredo recently changed numbers on iRacing to reflect his No. 23 entry in the Xfinity Series with Our Motorsports. Vargas' No. 23 Ry-N-Vargas Chevrolet featured an ARCA-style facelift courtesy of JD Motorsports tire specialist Gabe Wood. Covering the No. 23 on Vargas' truck was some virtual duct tape and his Xfinity Series No. 6.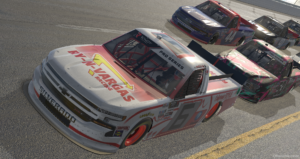 Of the six accidents throughout the night, five were caused by an ill-timed bump draft. The final caution of the race took place when musician Tim Dugger's No. 33 Chevrolet hit Dillon Welch and then collected James Bickford.
After Talladega, Schildhouse leads the playoff grid with Fern and Vargas in tow. Kennon sits fourth with Preston Pardus fifth. Will Rodgers is sixth, just one point ahead of Adam Cabot and the cutoff. Both Josh Bilicki and Caruth are five points out with Busch 10 behind. Next for the Monday Night Racing Rowdy Energy Pro Series playoffs is a trip to the Red Bull Ring with the virtual Porsche 911 RSR.
The results:
1. 41-Matt Stallknecht [4], 2. 53-Justin Melillo [10], 3. 46-Steven Ellis [28], 4. 52-Garrett Smithley [2], 5. 99-Mark Rebilas [20], 6. 19-Robby Lyons [12], 7. 23-Anthony Alfredo [33], 8. 20-David Schildhouse [35], 9. 21-Max Kennon [14], 10. 86-Collin Fern [34], 11. 6-Ryan Vargas [21], 12. 50-Gabe Wood [18], 13. 14-Dillon Welch [32], 14. 42-Preston Pardus [36], 15. 4-Brett Baldeck [38], 16. 2-TJ Majors [7], 17. 24-Will Rodgers [3], 18. 13-Gary Sexton [1], 19. 17-Adam Cabot [5], 20. 57-Seth Eggert [26], 21. 44-Rajah Caruth [6], 22. 07-Ford Martin [31], 23. 11-Steve Auffant [39], 24. 54-Josh Bilicki [23], 25. 12-Brandon Brown [8], 26. 60-Brad Perez [37], 27. 26-Chris Wilner [25], 28. 84-Kase Kallenbach [30], 29. 91-Cole Irvin [17], 30. 29-James Bickford [19], 31. 33-Tim Dugger [29], 32. 27-Michael Massie [13], 33. 64-Drew Welker [40], 34. 10-DJ Cummings [9], 35. 1-Josh Slate [16], 36. 77-Devon Henry [15], 37. 51-Kyle Busch [27], 38. 25-Stefan Wilson [22], 39. 93-Garrett Miller [24], 40. 63-Bryan Boris Cook [11].
Lead Changes: 34 among 15 drivers.
Lap Leader(s): Gary Sexton POLE-0, Matt Stallknecht 1, Rajah Caruth 2-3, Garrett Smithley 4, Matt Stallknecht 5-7, Garrett Smithley 8-10, Brandon Brown 11-16, Josh Bilicki 17, DJ Cummings 18-21, Ryan Vargas 22, Rajah Caruth 23, Matt Stallknecht 24, Ford Martin 25, Matt Stallknecht 26-27, DJ Cummings 28, Rajah Caruth 29-30, Matt Stallknecht 31-33, Kyle Busch 34-37, Rajah Caruth 38-40, Anthony Alfredo 41-42, Justin Melillo 43-45, Brandon Brown 46-47, Rajah Caruth 48, Brandon Brown 49-52, Rajah Caruth 53, Brandon Brown 54, Preston Pardus 55, Brandon Brown 56-62, Rajah Caruth 63, Brandon Brown 64-66, Tim Dugger 67, Adam Cabot 68-69, Rajah Caruth 70-73, Brandon Brown 74-79, Matt Stallknecht 80-81.
Laps Led: Brandon Brown 29, Rajah Caruth 15, Matt Stallknecht 12, DJ Cummings 5, Kyle Busch 4, Garrett Smithley 4, Justin Melillo 3, Anthony Alfredo 2, Adam Cabot 2, Josh Bilicki 1, Tim Dugger 1, Ford Martin 1, Preston Pardus 1, Ryan Vargas 1, Gary Sexton (Pole) 0.
Hard Charger(s): 20-David Schildhouse (+27).
Rookie of the Race: 86-Collin Fern, Brandonbilt Motorsports, 10th.
Caution Flags: Six for 16 Laps.
Margin of Victory: 0.091 seconds.
Time of Race: One hour, 32 minutes, 35.892 seconds.
Average Speed: 139.610 MPH.
Pole Winner: 13-Gary Sexton, 55.994 seconds (171.018 MPH).
Fastest Lap: 24-Will Rodgers, 50.577 seconds (189.355 MPH).
Featured Photo Credit: Photo by Seth Eggert / Kickin' the Tires.