By Seth Eggert, Staff Writer
Every new year, new NASCAR season, marks another grind for drivers to land rides and find sponsorship. Among those that aim to secure their future for the upcoming 2022 NASCAR Xfinity Series season is Ryan Vargas.
In 2021, Vargas competed in 29 of the 33 races on the Xfinity Series season. Sponsorship ultimately sidelined the La Mirada, Calif. native for four of the road course events during the season. Despite that, the 2021 season marked the most Xfinity races that Vargas has competed in during a single season. His best finish of the 2021 season was 14th at Atlanta Motor Speedway, halfway into the year.
Heading into the 2022 season, the optimism is at a high point for the 2021 JD Motorsports with Gary Keller driver. For all of the 'no's' in the search for funding, Vargas has still found companies that say 'yes.' It's those approvals that allow the NASCAR Drive for Diversity alum to continue to pursue his dream behind the wheel of a racecar.
"Things are looking good," Vargas admitted. "This has probably been like the best situation wise I've been in. I've never entered a season and just had been in a good enough spot to where I can control my destiny a little bit. That's what's been really nice about this season is that I've gone into the off season, knowing I have X in sponsorship and I'm able to figure out what I can do and try and find more.
"I've heard thousands and thousands of 'no's' for sponsorships. But those yeses are the ones that keep you going. I can name all the yeses on maybe four or five hands for every hundred, but it's those yeses are the reason why I'm here. Those yeses are the reason why I'm able to strap into a racecar on Saturdays and chase that dream that 17-year-old me wasn't supposed to chase."
While several companies to come onboard over the years, Vargas' first chance came when JD Motorsports, in his eyes, gambled on him. The Johnny Davis-owned team first welcomed the 21-year-old at Iowa Speedway in 2019. Vargas finished 17th in his debut. Since then, he earned one of the organization's 45 top-10 finishes in nearly 1,500 starts. He also accounts for three of the 110 laps that the company has led on track.
Since his debut, Vargas has very much become a part of the JD Motorsports family. He ran an emotional tribute car at Pocono Raceway last year, honoring late crew member Brian Lear. An early race accident swept up his No. 6 Every Life is Worth Saving Chevrolet Camaro SS. The emotions spilled over in an interview outside the care center that resulted in an outpouring of support for the up-and-coming driver.
"They've believed in me since my first start really," Vargas recalled. "When I made my first start in 2019, it was really a risk allowing me to drive a racecar because in my opinion, I was a washed-up K&N driver who didn't really have much to show for it. That was really an opportunity for me to go out there and kind of make a last-ditch effort to see if I belong. And that race turned that opinion around of myself and allowed me to have opportunities like I do now racing in the NASCAR Xfinity Series.
"We're all figuring out the details. There's still a lot of work. Nothing's ever guaranteed in racing, but I have a great home here at JD Motorsports."
From the emotions at the track the family atmosphere also extends to the virtual world. On iRacing, Vargas often competes with Gabe Wood, a tire specialist at JD Motorsports, and his crew chief, Kase Kallenbach. The trio compete in several leagues including Monday Night Racing, CORE, among others. Wood helped Vargas adjust the paint scheme for the opening round of the Monday Night Racing playoffs at Talladega.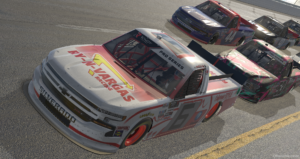 An added benefit of being a regular on the iRacing platform is the continuation of building sponsor relationships. Earlier in the Monday Night Racing season, Vargas signed Get Wet Sports as a sponsor. Although the partnership was first attempted on the real-life car, it eventually led to an opportunity in the motorsports simulation.
"That was a pretty cool one that came out through a tweet," Vargas explained. "I had actually reached out to them a little bit about doing some stuff on the real car. But they just couldn't do it at the time. They wanted to make sure we kept contact and stuff like that. Kind of out of the blue, I was sitting at my desk at home, like I've been doing all this Monday Night Racing stuff and I was like, 'what if I got a sponsor for this?' So, I shot them a message, shot them a price that was fair. And, lo and behold, it worked out."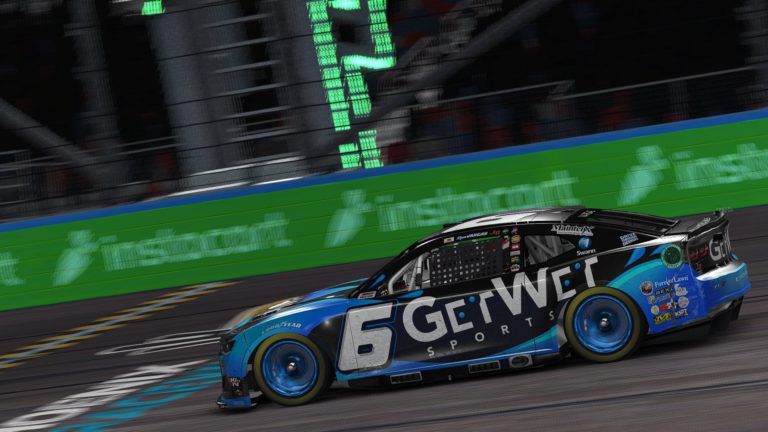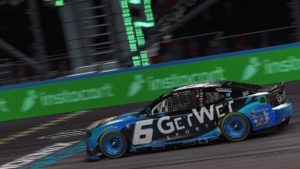 Vargas is not alone in signing sponsors for leagues on iRacing. Fellow NASCAR Xfinity Series drivers Anthony Alfredo and Rajah Caruth also signed sponsorship deals for Monday Night Racing. With the iRacing league pulling in an audience in the thousands, the value to sponsors is tangible.
"It's definitely something, but at the end of the day, it has to be tangible," Vargas continued. "You have to be able to relay back to the partner, who's seeing it, what the number of eyeballs are and so on and so forth. For me, I'm able to go to a partner and say, okay, 40,000 people watch this iRacing race and you guys were front and center. We led a lap so on and so forth, that's tangible. That's something that these partners can look at and say, 'okay, we got a little bit of value out of that.' At the end of the day, yeah, you can do it but it's still pixels. You have to put the value there somewhere."
While Vargas has signed sponsors for Monday Night Racing, he also runs cars that match his real-life Xfinity Series cars. The added tool of in-sim sponsorship is attractive to sponsors as the attention they receive on iRacing is effective.
Vargas not only runs the paint schemes in leagues but in official iRacing races and ones that he's hosted for additional practice. In the hosted races, which he's streamed on his Twitch channel, he invites the iRacing community to participate. Vargas often posts the server name and password on social media for anyone who wants to join the session.
"I think it's one of those things where maybe you can use it as a tool. I use it a lot when it comes to driving my real-life cars. Like I run Swan Security, cars, MaintenX, Monarch Roofing. Any time I have a sponsor each weekend, I try and keep my car iRacing, similar to the car that I'll be racing that weekend. I did that a lot this past year, every race we had a different partner or something like that. So, I would change the paint scheme as the weeks went on.
"That was a pretty cool thing. The sponsors, they saw that, and they loved it. They got that extra value that they really didn't buy into. That wasn't something that they paid for, but they got the additional exposure. That was something that they really liked, and it's proven to be a pretty effective tool."
Ultimately, Vargas has found that sense of belonging over the years at JD Motorsports. Coming full circle, between those on the team that he competes with on iRacing, those he works with every day at the shop, and those at the track, its' a group that believes in him. Although the results, so far, don't show it, Vargas has already gone further than the NASCAR Next alum could have ever imagined about five years ago.
"There's days where it's tough, but I've had an incredible opportunity here," Vargas stated. "The folks at JD Motorsports are like a family here. Everyone here knows each other, is good friends with each other, and looks out for each other.
"It's a good group of people that have believed in me. They have allowed me to drive racecars further beyond where I ever thought I'd go. I should have been done racing Late Models when I was 17 because we ran out of money. But we're here and it's all thanks to all the partners, fans, people that kind of continue to push this."
While Vargas' plans for the 2022 season are still in the works, he remains optimistic. Until any plans are finalized, he's competing for the Season 4 championship in the Monday Night Racing Rowdy Energy Pro Series, and keeping his NASCAR future in perspective.
Featured Photo Credit: Photo by NKP / NKP Photo.