By Seth Eggert, Staff Writer
Stewart-Haas eSports' Steven Wilson was untouchable throughout the eNASCAR Coca-Cola iRacing Series event at the virtual Road America.
Road America Domination
Wilson qualified on the pole in the No. 10 Smithfield Ford Mustang. With several of eNASCAR's road course specialists on his heels, he powered away on the opening lap. While Mitchell deJong, Casey Kirwan, Graham Bowlin, and Bobby Zalenski battled amongst themselves, Wilson comfortably built up a 3.5-second lead.
Without cautions on road courses in eNASCAR competition, the only chance for the fellow iRacing competitors to close in on Wilson were green flag pit stops. 23XI Racing's deJong cut the gap to the Stewart-Haas driver from 3.5 seconds to about 2.8 seconds before pit stops. The top-eight drivers all pitted with seven laps to go.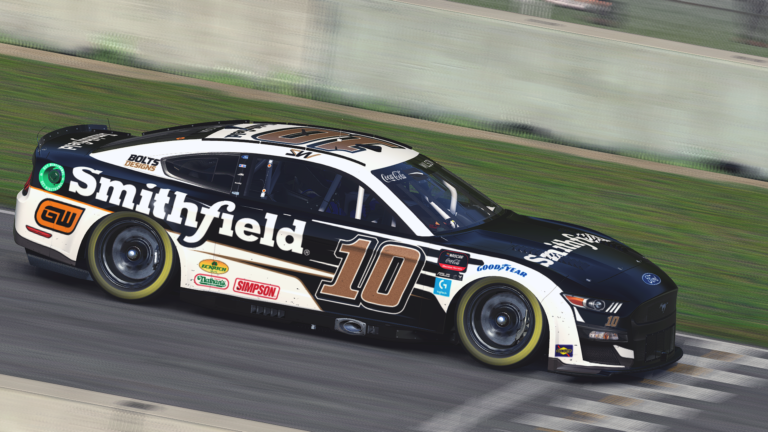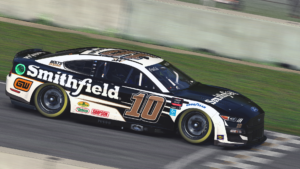 After pit stops, deJong had closed Wilson's lead down to about 1.5-seconds. Over the course of the final laps, the gap narrowed slowly. When the checkered flag waved, Wilson was 1.1-seconds ahead of the defending Road America race winner. The win moves the Stewart-Haas driver back into the overall points lead.
"It was tough (having deJong in my mirrors), luckily, I had that huge gap," admitted Wilson. "Second through eighth were battling all through Lap 1, that really helped. My pace was just good enough to hold on. I was losing my left front tire just before I pitted. I was struggling to turn, made some adjustments in the pits to help me turn. It helped even though Mitchell took less fuel and gained some time on us."
Notables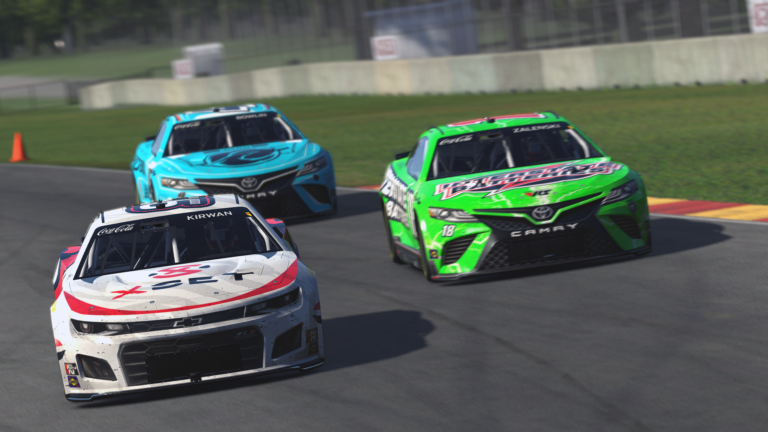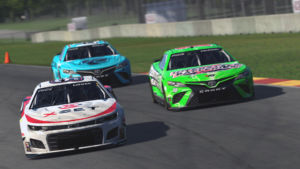 Meanwhile, after pit stops, the battle for third intensified. Zalenski left pit road with the position. However, both Kirwan and Bowlin were hot on the Joe Gibbs Racing driver's heels. An intense battle throughout the out lap saw Zalenski drop first to fourth and then fifth. Kirwan took third with Bowlin and Zalenski completing the top-five.
Vicente Salas, Garrett Manes, Blake Reynolds, Michael Conti, and Nick Ottinger rounded out the top-10. Donovan Strauss was the Rookie of the Race in 12th. Logan Clampitt was the hard charger of the race, climbing from 36th to finish 16th.
Incidents
With no cautions in use on road courses on iRacing, those involved in incidents were left to their own devices. Dylan Duval was spun entering Turn 6. After sliding through the grass he collected both Manes and Keegan Leahy. Duval spun again a few corners later before heading to pit road for repairs. He finished 37th.
Half a straightaway later, Dylan Ault and Matt Bussa spun into the wall on driver's right. Manes' attempt to rejoin the racing surface put the field into a tight four-wide position on a narrow straightaway.
The damage Leahy suffered ultimately proved to be his undoing. Five laps into the 25-lap race, the Canadian's engine expired ironically in Canada Corner. The defending eNASCAR Coca-Cola iRacing Series champion finished the race 39th.
The only other major incidents saw Ray Alfalla spin, Nickolas Shelton crash around the halfway mark of the race, and Ault get wrecked for 32nd in the final corner on the final lap.
The results:
1. 10-Steven Wilson [1], 2. 23-Mitchell deJong [2], 3. 95-Casey Kirwan [6], 4. 48-Graham Bowlin [3], 5. 18-Bobby Zalenski [5], 6. 19-Vicente Salas [4], 7. 31-Garrett Manes [14], 8. 15-Blake Reynolds [10], 9. 8-Michael Conti [17], 10. 25-Nick Ottinger [8], 11. 21-Garrett Lowe [20], 12. 20-Donovan Strauss [16], 13. 55-Allen Boes [15], 14. 46-Jimmy Mullis [18], 15. 42-Darik Bourdeau [21], 16. 97-Logan Clampitt [36], 17. 4-Ryan Luza [22], 18. 2-Liam Brotherton [23], 19. 75-Matt Bussa [13], 20. 33-Taylor Hurst [24], 21. 88-Briar LaPradd [28], 22. 36-Brian Mercurio [26], 23. 5-Zack Novak [29], 24. 6-Parker Retzlaff [31], 25. 24-Cody Byus [19], 26. 69-Collin Bowden [25], 27. 79-Femi Olatunbosun [39], 28. 7-Malik Ray [33], 29. 17-Kaden Honeycutt [27], 30. 3-Corey Vincent [11], 31. 16-Blade Whitt [30], 32. 9-Michael Guest [34], 33. 43-Kollin Keister [32], 34. 40-Dylan Ault [12], 35. 51-Ray Alfalla [35], 36. 12-Derek Justis [38], 37. 41-Dylan Duval [7], 38. 14-Nickolas Shelton [37], 39. 45-Keegan Leahy [9].
Lead Changes: None.
Lap Leader(s): Steven Wilson 1-25.
Laps Led: Steven Wilson 25.
Hard Charger(s): 97-Logan Clampitt (+20).
Rookie of the Race: 20-Donovan Strauss, 12th.
Caution Flags: None.
Margin of Victory: 1.140 seconds.
Time of Race: 53 minutes, 48.899 seconds.
Average Speed: 112.831 MPH.
Pole Winner: 10-Steven Wilson, Two minutes, 7.244 seconds (114.526 MPH).
Fastest Lap: 95-Casey Kirwan, Lap 25, Two minutes, 6.794 seconds (114.933 MPH).
Featured Photo Credit: Photo by Justin Melillo.