By Seth Eggert, Staff Writer
After two attempts at eNASCAR Overtime at Darlington Raceway, Steven Wilson walked off with the win, becoming the favorite entering the eNASCAR Coca-Cola iRacing Series Playoffs.
Taking the Lead.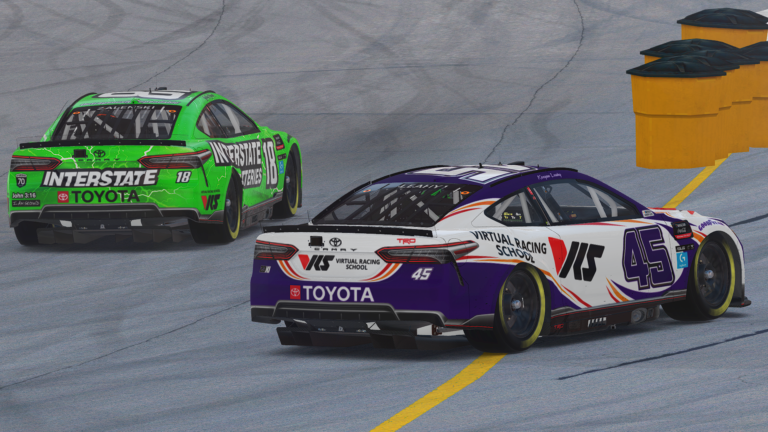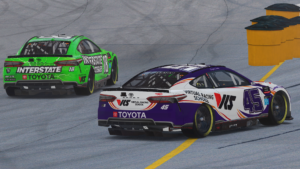 On the first attempt at overtime, the Stewart-Haas eSports driver lined up third. Wilson's No. 10 Smithfield Ford Mustang was the first off pit road with two tires. Bobby Zalenski, who entered pit road as the leader, lined up seventh after taking four tires. Needing to win to make the eNASCAR Playoffs, defending champion Keegan Leahy made a late decision to stay out. Only Garrett Manes joined him.
Wilson made quick work of those on older tires, taking the lead before the exit of Turn 2. Before he could take the white flag, a multi-car wreck further back in the pack brought out the caution. Involved in the wreck was four-time eNASCAR champion Ray Alfalla. The Joe Gibbs Racing driver was 26-points behind the eligibility cutline. The wreck effectively knocked Alfalla out of the playoffs.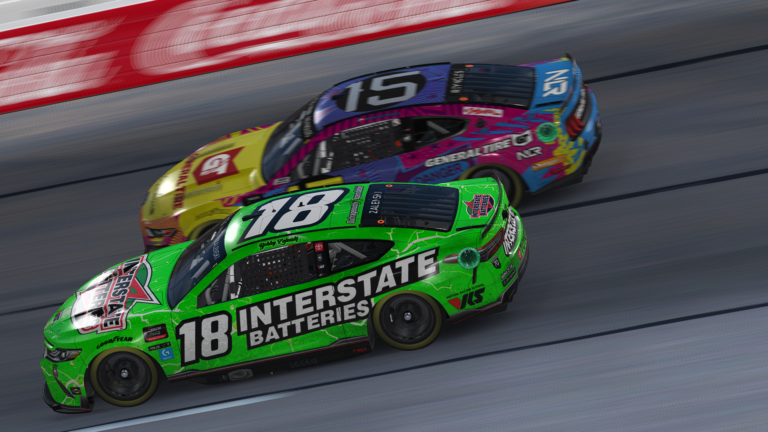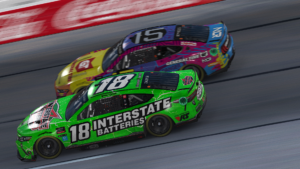 On the second attempt at overtime, Wilson's launch left Zalenski to battle with Blake Reynolds for second. The battle allowed the second year eNASCAR driver to cruise to a comfortable third victory of the season. Though Reynolds edged out Zalenski for second in the race, the driver of the No. 18 Interstate Batteries Toyota Camry clinched the final spot in the eNASCAR Playoffs on points.
"I had a little mishap in [qualifying], but it wasn't too big though and started pretty good," explained Wilson. "The first run was all about saving tires. That was key tonight. The second run, after we pitted, everyone was just going so slow, stacking up. My thought was to be different, try to get the lead and see what happens. I was hoping for a caution, was going to finish fourth without that. Under the caution we took two tires and were the first ones out on two. That definitely helped to bring us home the win."
Notables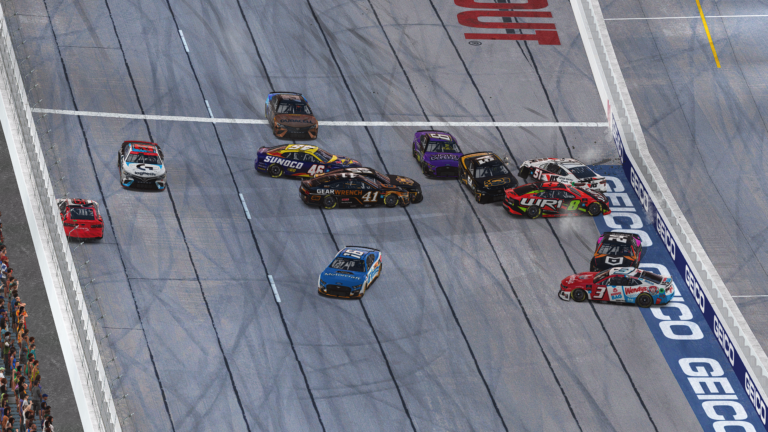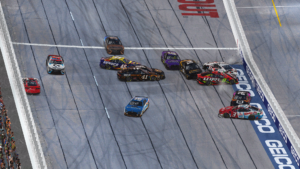 Ryan Luza and Michael Guest, who was the hard charger of the race, rounded out the top-five on track. Vicente Salas, rookie Collin Bowden, Matt Bussa, Darik Bourdeau, and Femi Olatunbosun completed the top-10. Polesitter Leahy finished 21st and was eliminated from the playoffs. Garrett Lowe ran the fastest lap of the race on Lap 38 but finished 30th after getting caught in the wreck on the first overtime attempt.
Prior to the two cautions at the end of the race, the only other incident took place during green flag pit stops. Dylan Ault spun after contact while attempting to make it to pit road. The caution that sent the race into the first overtime came when 2020 eNASCAR champion crashed with Malik Ray and others in Turn 3.
The 2022 eNASCAR Playoff Grid is Set
Following the eNASCAR Coca-Cola iRacing Series race at Darlington Raceway, the Playoff Grid is now set. Wilson leads with a series-high three victories. Ottinger and Michael Conti are second and third with two victories each. Fourth through ninth with one victory each are Casey Kirwan, Bussa, Graham Bowlin, Mitchell deJong, Olatunbosun, and Lowe. Zalenski is the only driver to make it into the playoffs on points.
"It's a little boost to the ego (being the No. 1 Seed and championship favorite)," admitted Wilson. "I do have a lot of confidence. I'm pretty good at every track. We were really good at Bristol last year, so hopefully we can carry that (into the race). Big thanks to all of the Stewart-Haas guys, Smithfield, just grateful to be a part of this team. To be the one with the most wins, most playoff points going in, I hope that we can keep that going."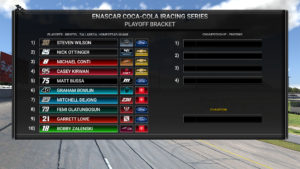 The start of the Round of 10 for the eNASCAR Coca-Cola iRacing Series Playoffs starts at Bristol Motor Speedway on Tuesday, September 13 at 9:00 p.m. ET. The race is broadcasted at enascar.com/live and on iRacing's social media channels including Facebook, Twitch, and YouTube.
The results:
1. 10-Steven Wilson [11], 2. 15-Blake Reynolds [10], 3. 18-Bobby Zalenski [2], 4. 4-Ryan Luza [23], 5. 9-Michael Guest [33], 6. 19-Vicente Salas [7], 7. 69-Collin Bowden [22], 8. 75-Matt Bussa [3], 9. 42-Darik Bourdeau [28], 10. 79-Femi Olatunbosun [25], 11. 43-Kollin Keister [29], 12. 97-Logan Clampitt [29], 13. 36-Brian Mercurio [24], 14. 46-Jimmy Mullis [16], 15. 41-Dylan Duval [8], 16. 16-Blade Whitt [18], 17. 23-Mitchell deJong [14], 18. 31-Garrett Manes [34], 19. 20-Donovan Strauss [27], 20. 14-Nickolas Shelton [38], 21. 45-Keegan Leahy [1], 22. 6-Parker Retzlaff [30], 23. 3-Corey Vincent [5], 24. 33-Taylor Hurst [15], 25. 2-Liam Brotherton [4], 26. 88-Briar LaPradd [12], 27. 24-Cody Byus [13], 28. 55-Allen Boes [21], 29. 95-Casey Kirwan [36], 30. 21-Garrett Lowe [26], 31. 40-Dylan Ault [17], 32. 51-Ray Alfalla [31], 33. 8-Michael Conti [9], 34. 54-Kyle Peddle [19], 35. 5-Zack Novak [32], 36. 7-Malik Ray [35], 37. 25-Nick Ottinger [6], 38. 12-Derek Justis [37].
Lead Changes: Five among three drivers.
Lap Leader(s): Keegan Leahy 1-29, Bobby Zalenski 30-76, Steven Wilson 77-93, Bobby Zalenski 94-115, Keegan Leahy 116-119, Steven Wilson 120-126.
Laps Led: Bobby Zalenski 69, Keegan Leahy 33, Steven Wilson 24.
Hard Charger(s): 9-Michael Guest (Jim Beaver eSports), +28.
Rookie of the Race: 69-Collin Bowden (eRacr), Seventh.
Caution Flags: Three for 12 Laps.
Margin of Victory: 0.682 seconds.
Time of Race: One hour, 13 minutes, 25.339 seconds.
Average Speed: 140.652 MPH.
Pole Winner: 45-Keegan Leahy (23XI Racing), 28.763 seconds, 170.970 MPH.
Fastest Lap: 21-Garrett Lowe (Wood Brothers Racing), Lap 38, 29.430 seconds, 167.095 MPH.
*Race scheduled for 120 Laps, extended due to overtime.
Featured Photo Credit: Photo by Justin Melillo.