By Seth Eggert, Staff Writer
Although Donovan Strauss was under the weather, a dominant car at the virtual Nashville Superspeedway certainly brightened his day.
Strauss got little sleep the night before the eNASCAR Contender iRacing Series event due to flu-like symptoms. Despite a fever over 100, the Spacestation Racing driver maintained his focus throughout the 167-lap race. That focus allowed Strauss' virtual No. 51 Spacestation Racing Ford Mustang to lead 135 of the 167 laps. He only yielded during green flag pit cycles.
"I went to sleep last night, woke up at 3:45 this morning… felt absolutely miserable," explained Strauss. "Felt like I was 180 degrees. When I woke up, I still was not feeling well. Took care of myself all day, stayed hydrated. I sweated a lot that race, racing with a 101-degree fever. This is just emotional."
Strauss recaptured the lead for the final time with 33 laps to go. Blake McCandless had yet to pit, circulated on old tires. McCandless was the only driver that opted to go long during the fuel runs. A timely caution allowed the virtual No. 15 Fast.co Chevrolet Camaro SS to jump from 36th to the top-five.
On the restart with 27 laps to go, Strauss pulled away from Kaden Honeycutt and Briar LaPradd. As the final run went caution-free, he cruised to a 1.455 second victory. Honeycutt, LaPradd, Kyle Peddle, and Blake Reynolds completed the top-five.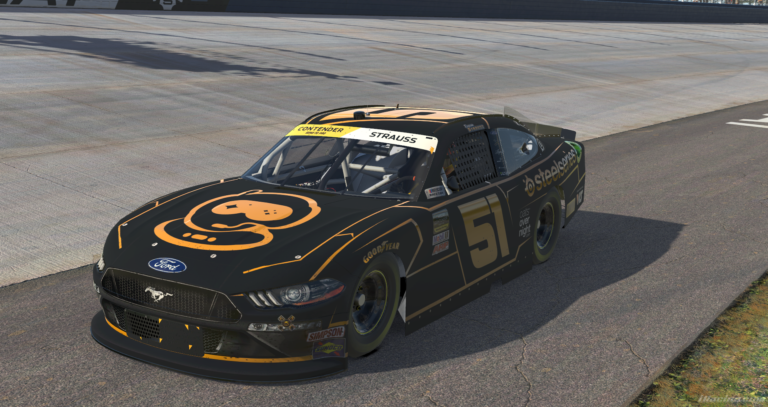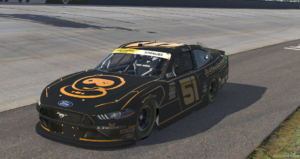 "Qualified on the pole, led the most laps, we put it all together," stated Strauss. "That was a Michael Jordan performance right there. That was just awesome. I didn't expect this (having two wins) to be the case when I came back in [to the eNASCAR Contender iRacing Series]. Knew that I would have a shot making it, but I didn't expect this at all. When I got on the sim in 2019, I could not have imagined being here, in this position, to make it to the top. I've learned a lot, hopefully matured a lot."
Jordy Lopez Jr, Kollin Keister, Femi Olat, Blade Whitt, and Darik Bourdeau rounded out the top-10. McCandless slipped out of the top-10 in the closing laps and finished 11th.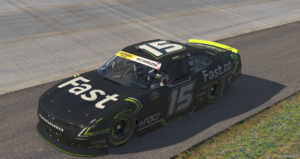 While the only caution in the race was for a slide by Derek Justis after contact with Olat, several drivers encountered issues. Daniel Eberhardt appeared to be the hard charger of the race. He climbed from 37th to be inside the top-15 before his engine failed shortly after the first round of green flag pit stops.
Taylor Hurst, Jake Nichols, and Santiago Tirres also encountered their own issues on pit road. Hurst received a speeding penalty during the final round of green flag pit stops. Nichols spun onto pit road during his first attempt to pit. Tirres meanwhile had mechanical issues.
The results:
1. 51-Donovan Strauss [1], 2. 10-Kaden Honeycutt [4], 3. 35-Briar LaPradd [7], 4. 54-Kyle Peddle [9], 5. 66-Blake Reynolds [14], 6. 4-Jordy Lopez Jr [6], 7. 8-Kollin Keister [5], 8. 18-Femi Olat [16], 9. 7-Blade Whitt [27], 10. 04-Darik Bourdeau [10], 11. 15-Blake McCandless [36], 12. 40-Dylan Ault [30], 13. 42-Parker Retzlaff [2], 14. 36-Chris Shearburn [11], 15. 41-Brian Mercurio [34], 16. 1-Malik Ray [24], 17. 31-Derek Justis [17], 18. 57-Seth DeMerchant [13], 19. 19-Liam Brotherton [33], 20. 99-Michael Cosey Jr [20], 21. 46-Collin Bowden [29], 22. 28-Casey Tucker [25], 23. 5-Nickolas Shelton [21], 24. 44-Zack Nichols [23], 25. 62-Anthony Burroughs [31], 26. 6-Garrett Lowe [22], 27. 53-Brandon McKissic [18], 28. 74-Taylor Hurst [8], 29. 23-Christian Pedersen [35], 30. 24-Jake Nichols [3], 31. 21-Allen Boes [26], 32. 27-Cody Byus [19], 33. 77-Ryan Doucette [28], 34. 17-Santiago Tirres [12], 35. 52-Jake Matheson [32], 36. 90-Daniel Eberhardt [37], 37. 98-Ashton Crowder [15], 38. 88-Brad Davies [38].
Lead Changes: Six among four drivers.
Lap Leader(s): Donovan Strauss 1-58, Blake McCandless 59-69, Donovan Strauss 70-114, Anthony Burroughs 115-116, Ryan Doucette 117-121, Blake McCandless 122-134, Donovan Strauss 135-167.
Laps Led: Donovan Strauss 136, Blake McCandless 24, Ryan Doucette 5, Anthony Burroughs 2.
Hard Charger(s): 15-Blake McCandless (+25).
Caution Flags: One for Four Laps.
Margin of Victory: 1.455 seconds.
Time of Race: One hour, 32 minutes, 7.281 seconds.
Average Speed: 144.990 MPH.
Pole Winner: 51-Donovan Strauss, 29.947 seconds (160.243 MPH).
Fastest Lap: 35-Briar LaPradd, Lap 143, 30.433 seconds (157.684 MPH).
Strength of Field: 6,988 average iRating.
Featured Photo Credit: Photo by Seth Eggert / Kickin' the Tires.